When browsing about the best lakes in Michigan, one almost always finds Lake Michigan, Lake Superior, Lake Erie, and Lake Huron on the top of the list. While these four lakes are indeed beautiful, their sheer scale overshadows other smaller but equally picturesque ones. Michigan, the "Great Lakes State", is home to a plethora of such not so much hidden, but just underrated gems. Here are ten lakes in the "Mitten State" that when visited offer a lake experience like no other.
Torch lake (Antrim County)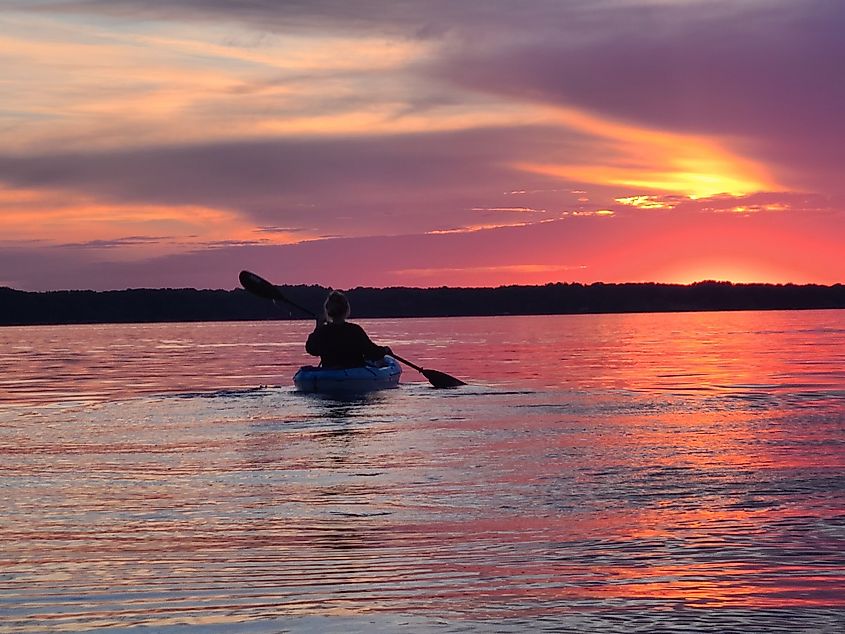 There are two Torch Lakes in Michigan, and not to disparage the Torch Lake in Houghton County, but the Torch Lake of Antrim County is considered an attraction in and of itself.  The lake is sizable, featuring the deepest depth and largest volume of all inland lakes in Michigan. A shoreline view is tantalizing. The cyan skies and horizon blues seem to dance and mingle under light fluffy clouds. Fishing is one of the many active sports at Torch lake, where pike, trout, and even Atlantic salmon are abundant. Obviously, with fishing comes hiking- many trails surround Torch lake with hidden spots for diving and canoeing nestled into the shoreline.
Lake Charlevoix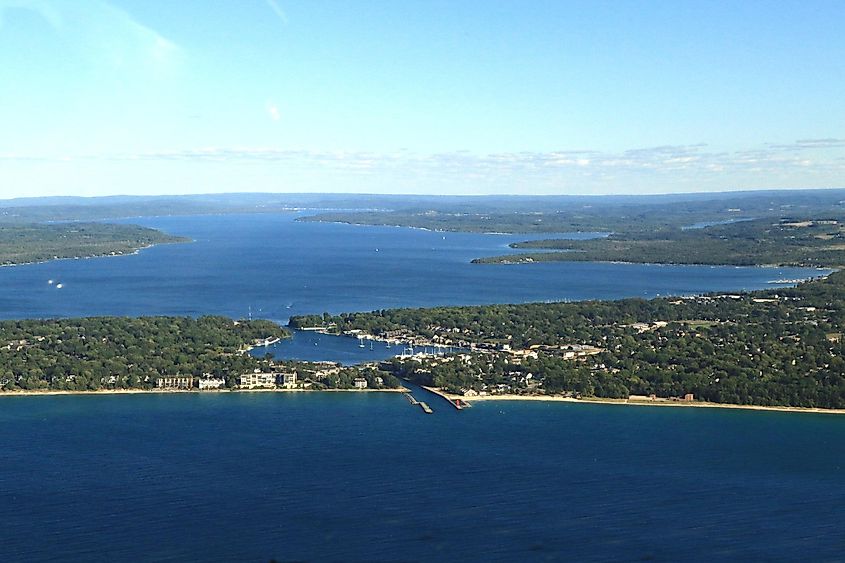 The third largest in the state, Lake Charlevoix takes up a surface area of 70km2 and possesses 90 km of shoreline. The lake has several adjancet towns to reside or shop in. Sailing is as common as fishing here, with many public access boat ramps available. The two main inflow rivers are Boyne River and Jordan river, and sandy beaches dot the perimeter of lake Charlevoix providing sanctuaries to rest and tan.
Lake St. Clair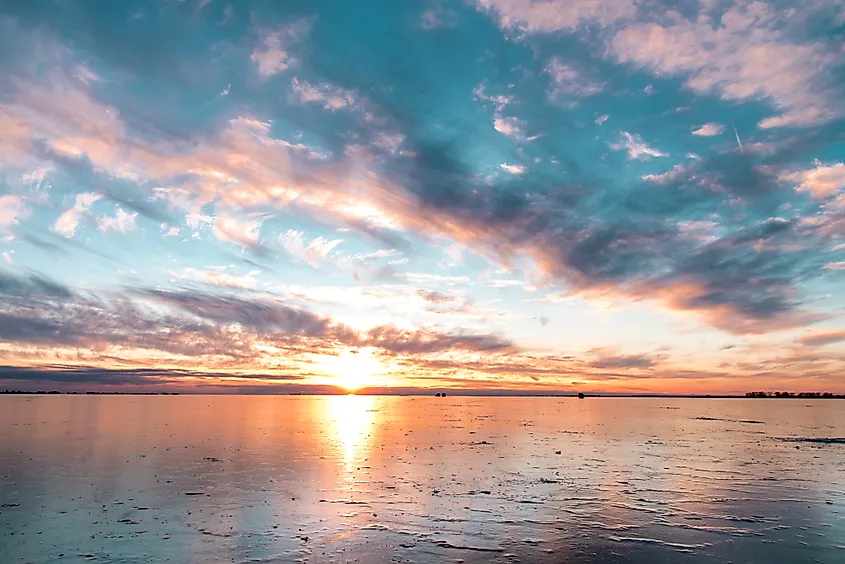 One of the third largest fisheries on the planet, Lake St. Clair had been titled "whirlpool" by the indigenous population prior to a French Explorer sighting it on the feast day of Saint Clair. Clair also boasts clear waters next to rough waves, depending on the day. Though, there are protected waters for water-skiing, tubing, and kayaking. A recommended beach for newcomers is Belle Isle Beach, due to the level of care it has received and the quality of the water and sand coating the bottom.
Burt Lake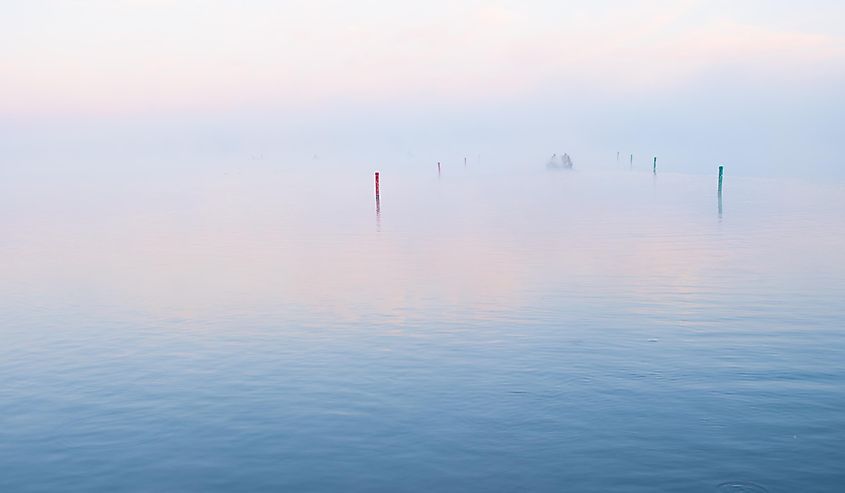 First surveyed in 1840 by William Austin Burt, Burt lake is a 69 square kilometer lake that is fed by the Maple River. The lake is fairly accessible with towns, an interstate, and even a YMCA camp hugging it adjacently. Some of the largest sturgeon in the US reside in Burt lake, having a history of records. Crooked Vine Vineyard and an 18 hole adventure golf site are two of the numerous activities for families to visit and do together in the area.
Portage Lake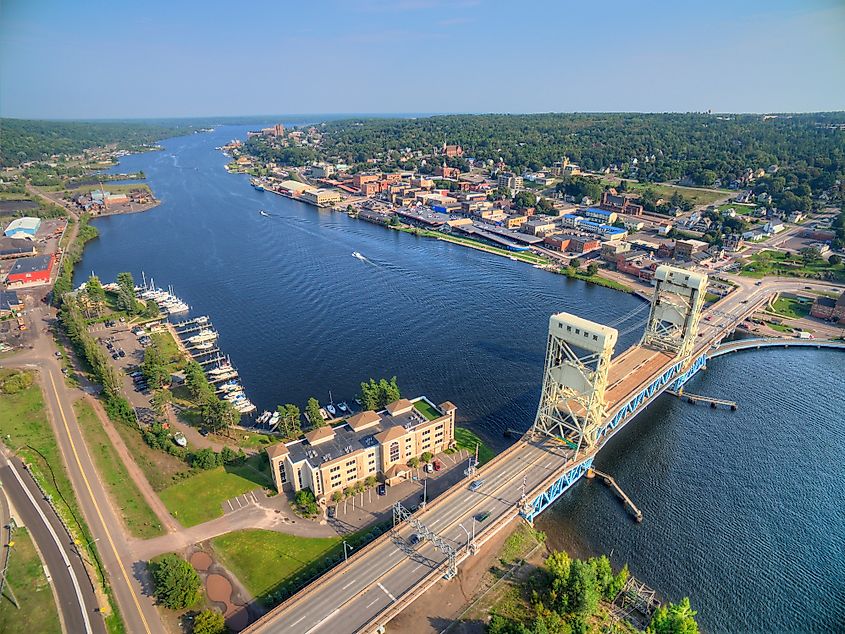 Portage Lake is an old lake, potentially tens of thousands of years old, having been carved out during the Wisconsinian Glacial age. This unique process generated a topography that many local parks, such as North Point or Orchard Beach State park, have taken advantage of when establishing hiking trails. A variety of sports fields, such as volleyball and soccer, are sprinkled around this nearly 5km long lake. Paddleboating is a little more common on this lake, but with all of Michgian's inland waterfronts, expect to see fishermen searching for Pile, Largemouth Bass, and even Walleye.
Glen lake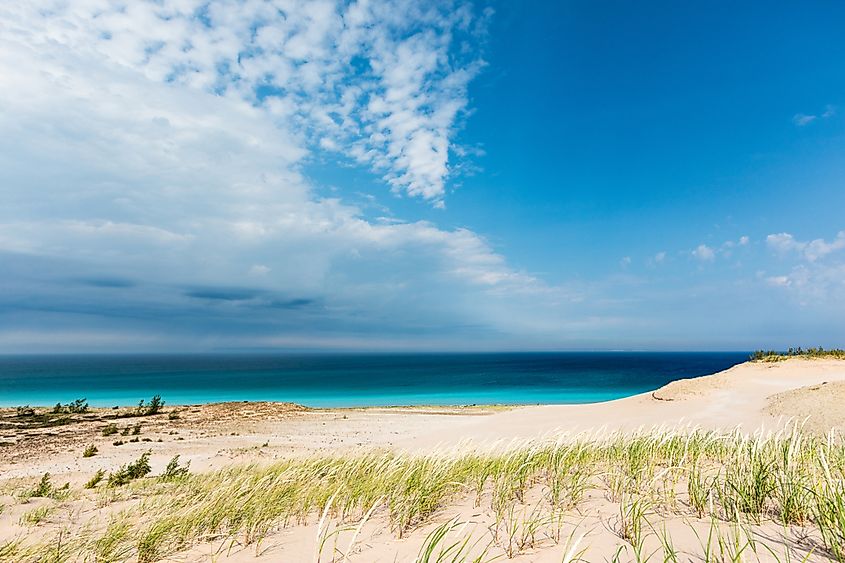 Glen Lake is a rare find- Sleeping Bear dune hugs it to the west and moraines coated in heavy forest loom to the east, providing an almost mythic landscape. As the sand from the dunes filters out murkier sediments, the result is a splendidly clear and turquoise lake, as if it were plucked out of the Caribbean and dropped in the northern reaches of the US. Fishing, boating, and lazy days filled with swimming are aplenty at Glen Lake. A nearby historical village in Glen Haven even offers a window to a simpler, or perhaps more wild, frontier past.
Higgins Lake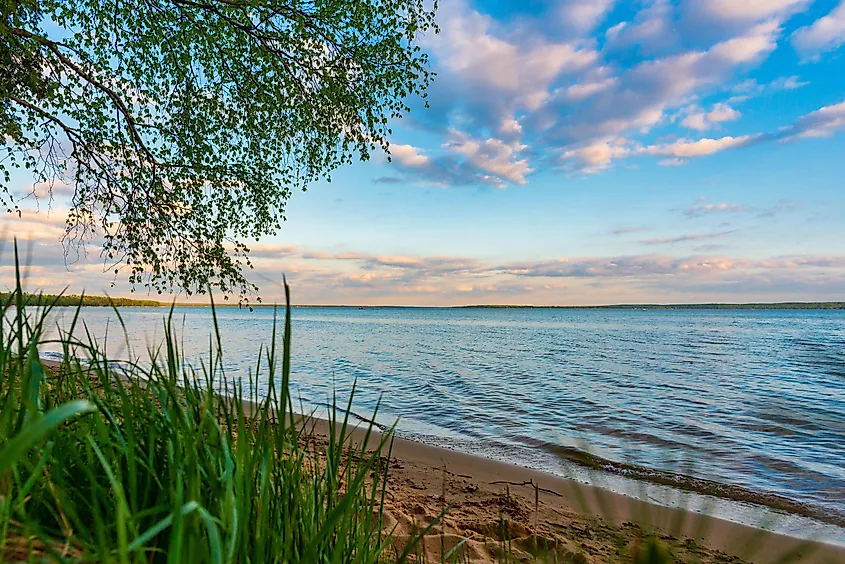 The north shore of the 40 square kilometer Higgins Lake is where the action is at: crystal clear waters hug a large beach with all the necessary facilities like playgrounds and bathhouses. Even the name prior to colonials was "sparkling water," coined by the Chippewa. Fishing is naturally part of the conversation, including ice fishing during the winter, because plenty of shallows dot across the shoreline. 50 inch Pike have been reported, typically up to as deep as 30 feet. Recent efforts by Higgins Lake residents include ecological pushes to enforce boat cleaning, as a way to prevent foreign pests like the infamous zebra mussel.
Lake Muskegon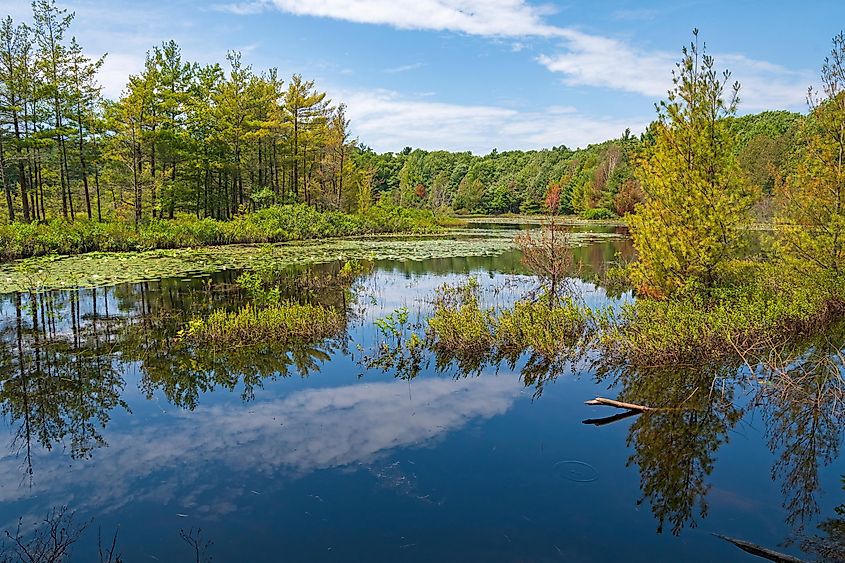 This notable lake played a vital role in western Michigan history, with nearly 50 saw mills using the water and forests to float white pine timbers across the region. The lake express ferry provides accessible and scenic transport from city to city, even all the way to Milwaukee, Wisconsin. King salmon are a popular target for fishermen here, alongside steelhead, trout, and perch. Music events happen across the area during the summer and furthermore ice fishing in the winter is a common occurrence.
Gull Lake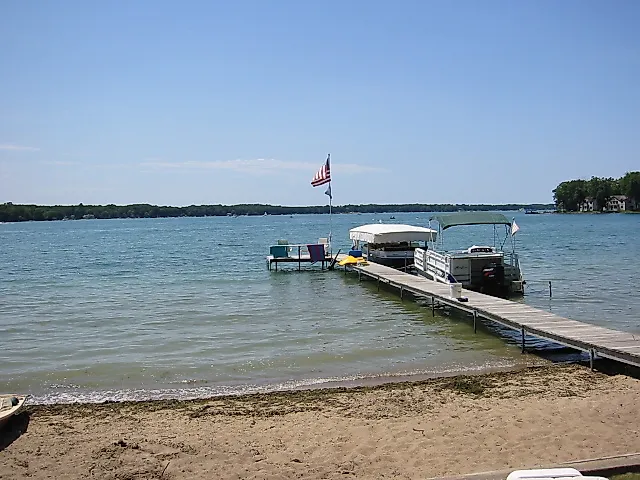 Towards the south of Michigan sits the unassuming, 8km2,Gull Lake. Hidden away near the southern shore is a large island, and scattered throughout the lake are pockets that reach a depth of up to 34 meters! Plenty of fish, like bass, pike, trout, and salmon occupy this body of water, and there is a novel sense of sport in watching numerous boats coast around the surface of the lake in pursuit of whatever goals they hold for the day. The area was settled around 1830, and has kept a more modern appeal due to the visitations by scuba divers looking to test their limits in Gull Lake's deep pockets and clear waters. Keep alert divers- sailors race on weekends!
Crystal Lake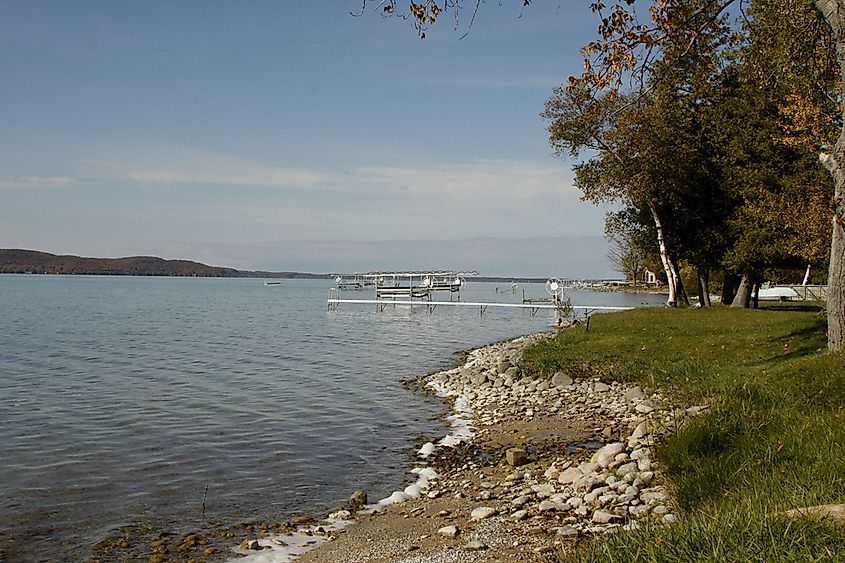 In Benzie County, the largest Crystal lake (for there are several) sits surrounded by boat ramps adjacent to swaths of cozy lawns. Bordered by golf courses and campgrounds, the lake takes up 40 square kilometers and has a max depth of 50 meters. White caps accumulate on the surface- Hobie Cats beware! Despite the winds deeper into the lake, certain stretches of the shore offer snorkeling and swimming, famous for beautiful scenery and a lack of crowds. A pleasant 21°C water temperature can be expected in summer months.
Buried beneath the shadows of the great lakes lie these gems, which need not be neglected. Fishing, music festivals, quiet days of swimming without crowds, and boating of all kinds. Michigan's inland bodies of water offer memories and satisfaction to lovers of nature. Modernity has assisted in making many of these destination spots accessbile to interstate highways linking up to nearby cities, without enveloping the gentle forests in the disturbance of urban development. Some times, the best way to get away from it all really is just getting away-  and there are no better places to start than a day at the lake.