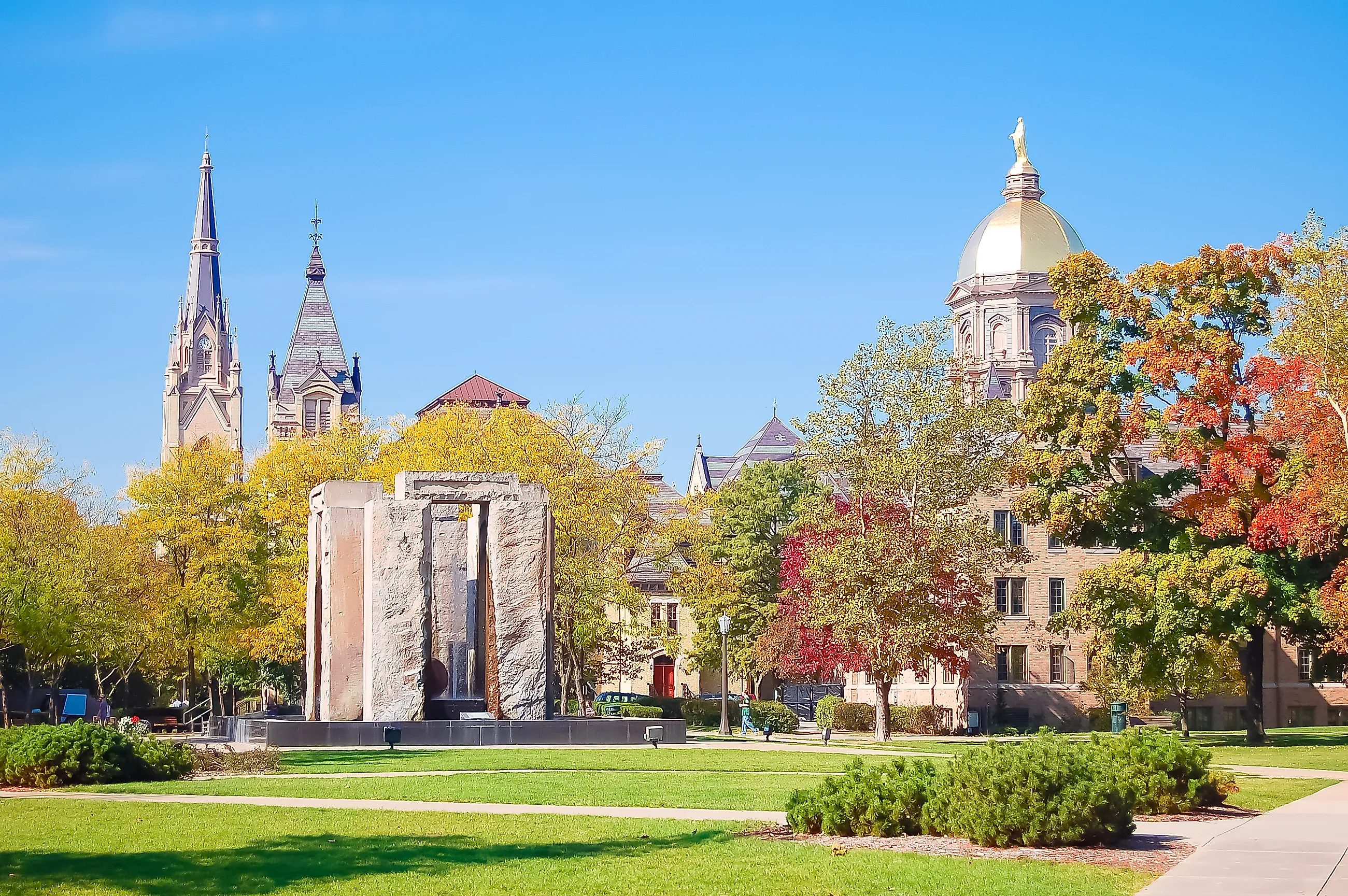 Best College Towns In Indiana
What constitutes a top-tier college town? A dynamic social scene? A secure environment? Harmonious relations between the town residents and the university community? The best college towns typically excel in these and many more areas. Indiana, fondly known as the "Hoosier State," is home to numerous such towns thanks to its array of institutions of higher learning. While the city of Bloomington, home to the flagship Indiana University, is perhaps the most famous college town, Indiana boasts many other fantastic options. Of the numerous communities in Indiana that host four-year institutions, we have compiled a list of seven superb choices. So, whether you're a prospective student or a college-town enthusiast, these towns are sure to pique your interest!
Bloomington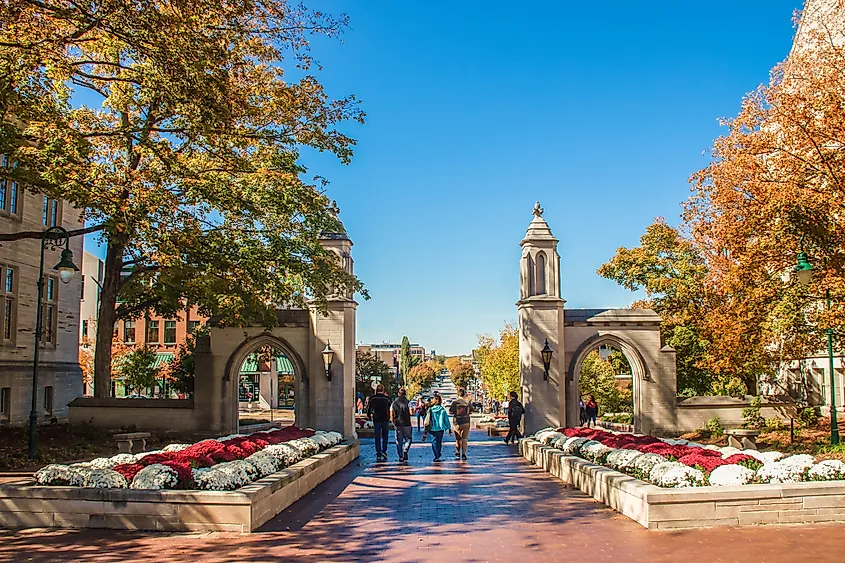 Bloomington, home to the esteemed Indiana University Bloomington, serves as a captivating nexus for students, locals, and visitors. The university's striking architecture, interspersed with verdant landscapes and the iconic Indiana Memorial Union, has been a defining feature since 1932. The lively city heart offers a myriad of unique retail outlets, gastronomic delights, and eclectic bars catering to assorted preferences. The annual Little 500 bicycle race stands as a testament to the city's vibrant spirit, fostering an unparalleled sense of community. Moreover, Bloomington's charm extends beyond academia, with a compelling mix of arts, sports, and historical context, making it one of the best college towns in Indiana.
West Lafayette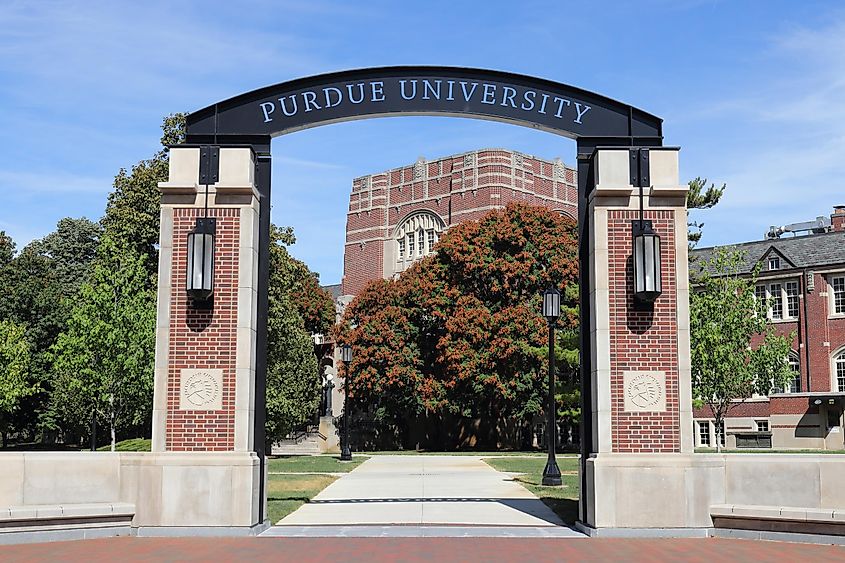 West Lafayette is best known as the home of the acclaimed Purdue University, a revered public research institution known for its robust programs in engineering, agriculture, and business. This bustling college town presents a unique blend of serious academic pursuits and lively social life, with a diverse population hailing from all 50 states and over 130 countries. The spirit of Purdue's rich athletic culture is most tangible during football season, filling the city with a dynamic energy. The charm of West Lafayette extends to its riverfront parks and thriving downtown, enriched by historical context such as the 1860s-established Chauncey Village, making it one of the best college towns in Indiana.
Muncie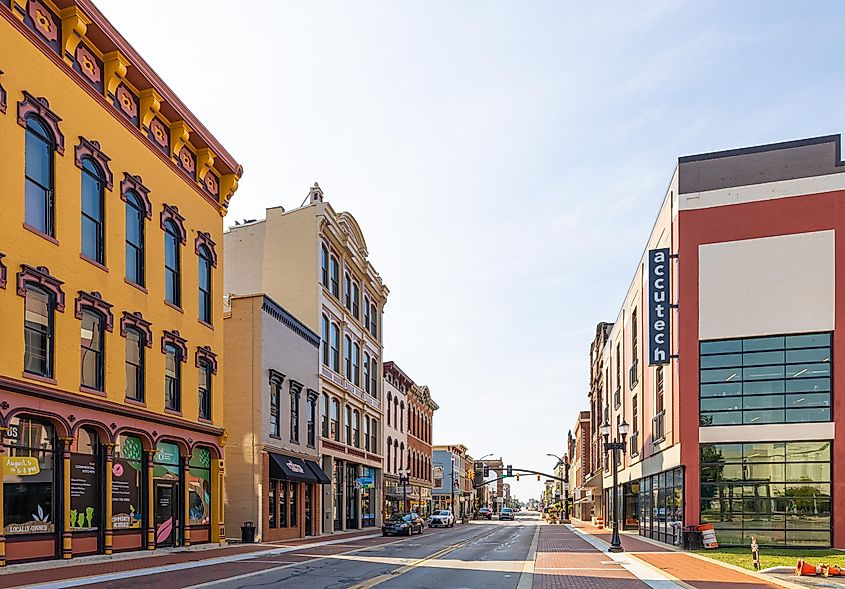 Located in East Central Indiana, Muncie is a notable college town, home to Ball State University. It has experienced significant growth and development, partly propelled by the university's advancements. A cornerstone of Muncie's evolution is its revitalized downtown area, buzzing with unique local shops and a broad range of enticing restaurants that cater to diverse culinary tastes. The Muncie Arts and Culture Trail further enhances the city's cultural landscape, serving as a testament to its creative evolution. Moreover, Muncie's economy is currently anchored by health care, education, retail, and other service industries, with Ball Memorial Hospital, an Indiana University Health partner, being the city's largest employer. Positioned roughly 60 miles northeast of Indianapolis, this economically vibrant and culturally rich city undeniably ranks as one of the best college towns in Indiana.
Valparaiso
Valparaiso, affectionately dubbed "Valpo" by its residents, harmoniously combines Midwestern charm with the spirited atmosphere characteristic of a vibrant college town. This energetic Indiana city is home to Valparaiso University, a key component in shaping its community life. The city boasts a thriving downtown area teeming with unique local shops and a variety of restaurants to cater to the diverse culinary preferences of locals and university students alike. Amid its urban energy, Valparaiso features scenic parks that provide peaceful havens for leisure and recreation. The university's Chapel of the Resurrection, a significant landmark, adds an intriguing historical facet to the city's allure, enriching its appeal for both residents and visitors. Although renowned as an Indiana college town, Valpo's appeal transcends the academic realm, making it a captivating locale for all.
Crawfordsville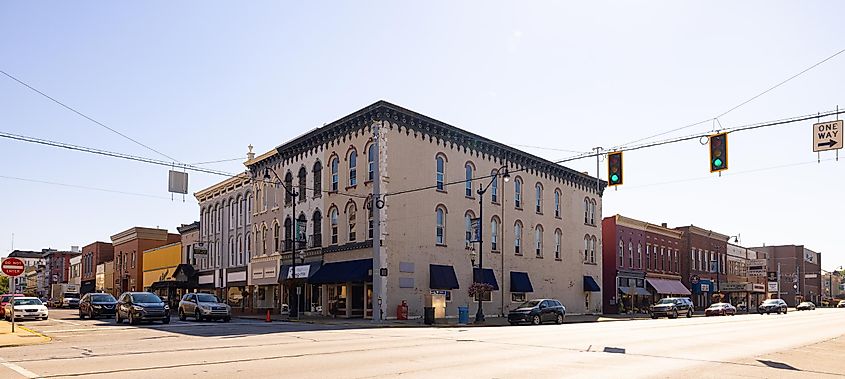 Nestled in the heart of Indiana, Crawfordsville emanates a unique charm, largely attributable to its role as the home to Wabash College, one of the nation's few remaining all-men's liberal arts colleges. This academic bastion imprints a distinctive character onto the town, deepening its allure. The quaint downtown area is a vibrant hub that caters to students and locals alike, brimming with unique shops and a variety of restaurants that reflect the diverse tastes of the community. More than just a college town, Crawfordsville fosters a palpable sense of community that wholeheartedly embraces its academic identity, rendering it one of Indiana's most inviting locales. This warm embrace of academia, coupled with the town's charming ambiance, greatly enhances Crawfordsville's appeal, making it a standout among Indiana's college towns.
Notre Dame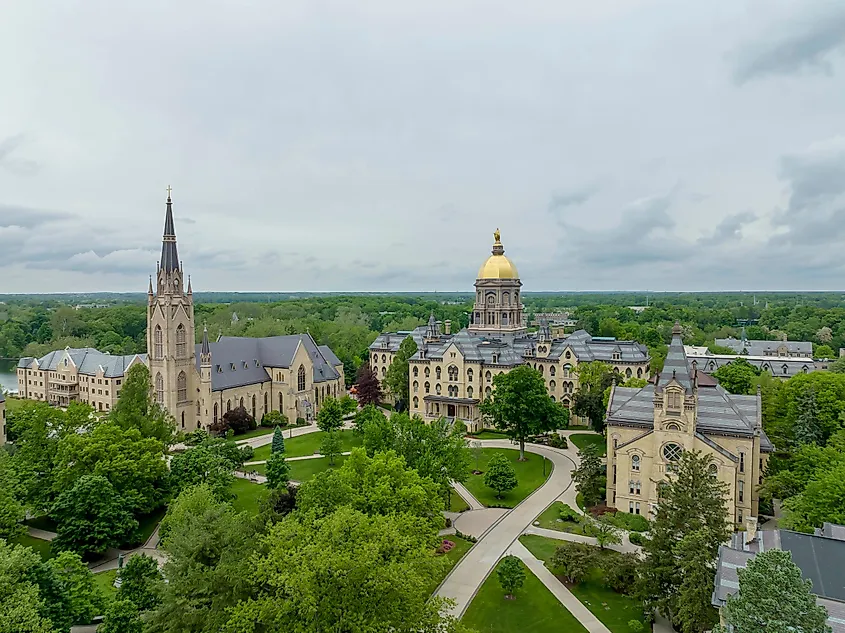 Situated in the state of Indiana, Notre Dame is a lively unincorporated community, principally known for housing the University of Notre Dame, an esteemed institution recognized nationally for its academic excellence. The vibrancy of the university campus, with its iconic architectural structures like the notable Golden Dome, bestows upon the town a distinct atmosphere, a blend of academic curiosity and cultural heritage. This energy reaches its zenith during the football season when the community transforms into an effervescent hub of activity, unified by a shared passion for sport. However, the appeal of Notre Dame extends beyond academic and athletic pursuits. The town's unique spirit, an amalgamation of intellectual dynamism and vibrant social engagement, endows it with an allure that is quintessentially its own, making Notre Dame one of the best college towns in Indiana.
Evansville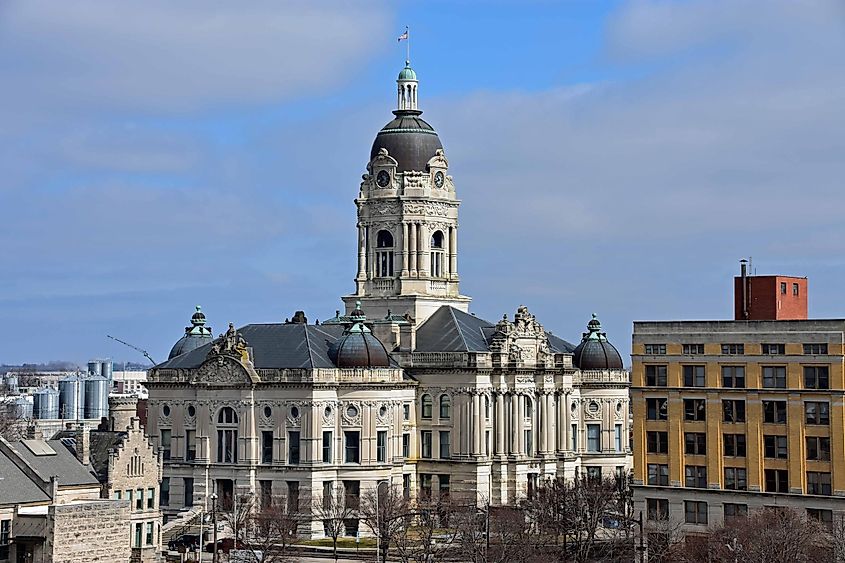 Evansville, Indiana's third-largest city, is a vibrant college town that is home to both the University of Evansville and the University of Southern Indiana. This dynamic city offers an array of cultural and entertainment attractions, including a thriving downtown scene, serene parks, and intriguing museums that provide a rich and diverse experience for both residents and visitors. The presence of the universities significantly contributes to the city's youthful energy, creating an atmosphere alive with academic pursuit, cultural events, and sports activities. One such notable sporting attraction is the Bosse Field, one of the country's oldest baseball stadiums and now home to the Evansville Otters. This exciting mix of academia, culture, and sports creates a community teeming with vibrancy, making Evansville one of Indiana's most appealing college towns.
Indiana boasts over 60 campuses statewide, from larger cities like Indianapolis to smaller towns like Greencastle. These academic institutions foster vibrant college communities all across the Hoosier State. Regardless of how you characterize a "great college town," you're bound to find one that suits your preferences in Indiana!