Notre Dame is a small census-designated place situated in St. Joseph County, to the north of South Bend in the US State of Indiana. Notre Dame consists of three college campuses: The University of Notre Dame, Saint Mary's College, and Holy Cross College. Notre Dame is divided between Clay and Portage Townships.
Geography And Climate Of Notre Dame
Located at an elevation of 224m, Notre Dame covers a total area of 3.23 sq. km, of which 0.17 sq. km is covered by water, and 3.06 sq. km is occupied by land. 
On average, Notre Dame, Indiana, receives 40 inches of rain and 64 inches of snow per year. In July, Notre Dame experiences an average high temperature of 28.1°C and is one of the coolest places in Indiana. Notre Dame has four pleasant months with high temperatures ranging from 21.1°C to 29.4°C. Notre Dame's best months are June, August, and September.
Population And Economy Of Notre Dame
As per the latest US Census, Notre Dame has a population of 7,234 inhabitants. The population has climbed by 21.1 percent since the 2010 census, which reported a population of 5,973. Educational Services, Accommodation & Food Services, and Arts, Entertainment, & Recreation, are the largest industries in Notre Dame. The highest paying industries in Notre Dame include Health Care & Social Assistance, Construction, and other Services except Public Administration.
Holy Cross Religious Communities
Notre Dame's Holy Cross Village is a continuing care retirement community that is owned by the Brothers of Holy Cross and operated by the Franciscan Sisters of Chicago Service Corporation. Three significant Holy Cross religious communities have their headquarters at Notre Dame. The Congregational Administration of the Sisters of the Holy Cross is located on the Saint Mary's College campus. The Holy Cross College campus houses the Provincial Offices of two Congregation of Holy Cross provinces: the Midwest Province of Brothers and the Indiana Province of Priests and Brothers. Notre Dame also has Superior Faith provinces, the Eastern Province of Sisters, and the Notre Dame Province of Holy Cross.
Saint Mary's College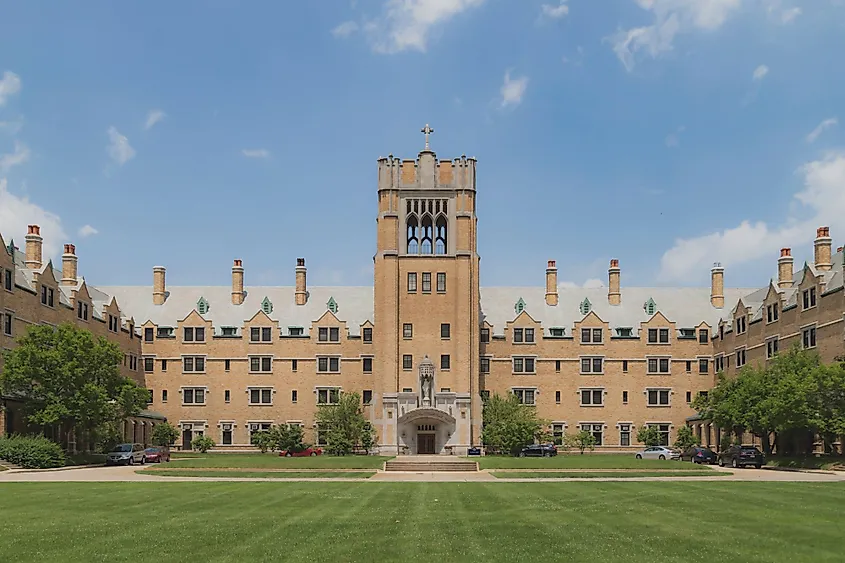 Saint Mary's College was founded in 1844 as a private college. It has 1,438 undergraduate students, a suburban environment, and a 100-acre campus. It follows a semester-based system. Saint Mary's College ranked 105 in the National Liberal Arts Colleges category in the Best Colleges 2022 edition.
The University Of Notre Dame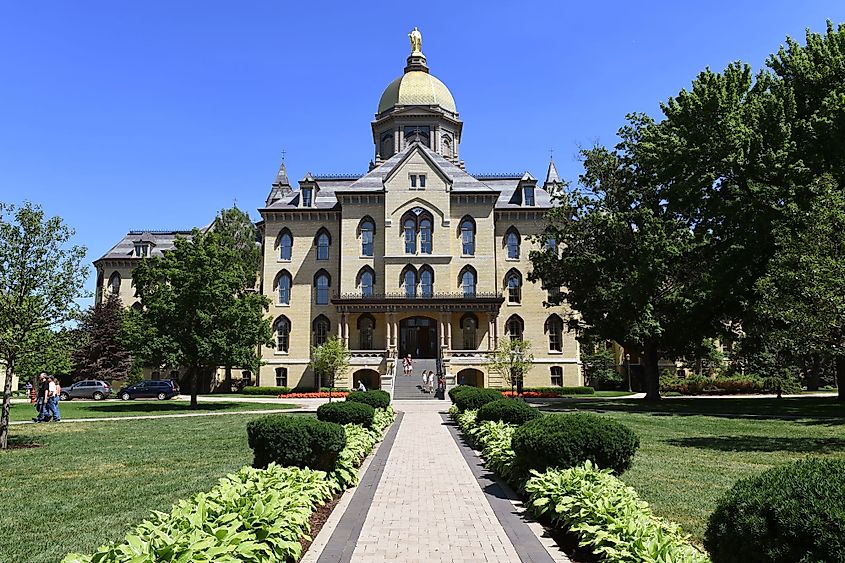 A leading Catholic research university, the University of Notre Dame, offers a distinct voice in higher education that is fiercely academic, unabashedly moral, and firmly accepting of a service ethos. Notre Dame is second nationally in the percentage of students who study abroad and has seen research funding climb from $87 million to $141.5 million in the last decade, ranking among the top 20 US institutes of higher learning. Arts and Letters, Science, Engineering, Business, Architecture, and Global Affairs are the six colleges for undergraduate students. The School of Architecture is well-known for teaching New Classical Architecture and for bestowing the internationally recognized Driehaus Architecture Prize each year. The University is devoted to building a culture of research, scholarship, and creative effort across campus that serves as a storehouse of knowledge and a potent force for good in the world.