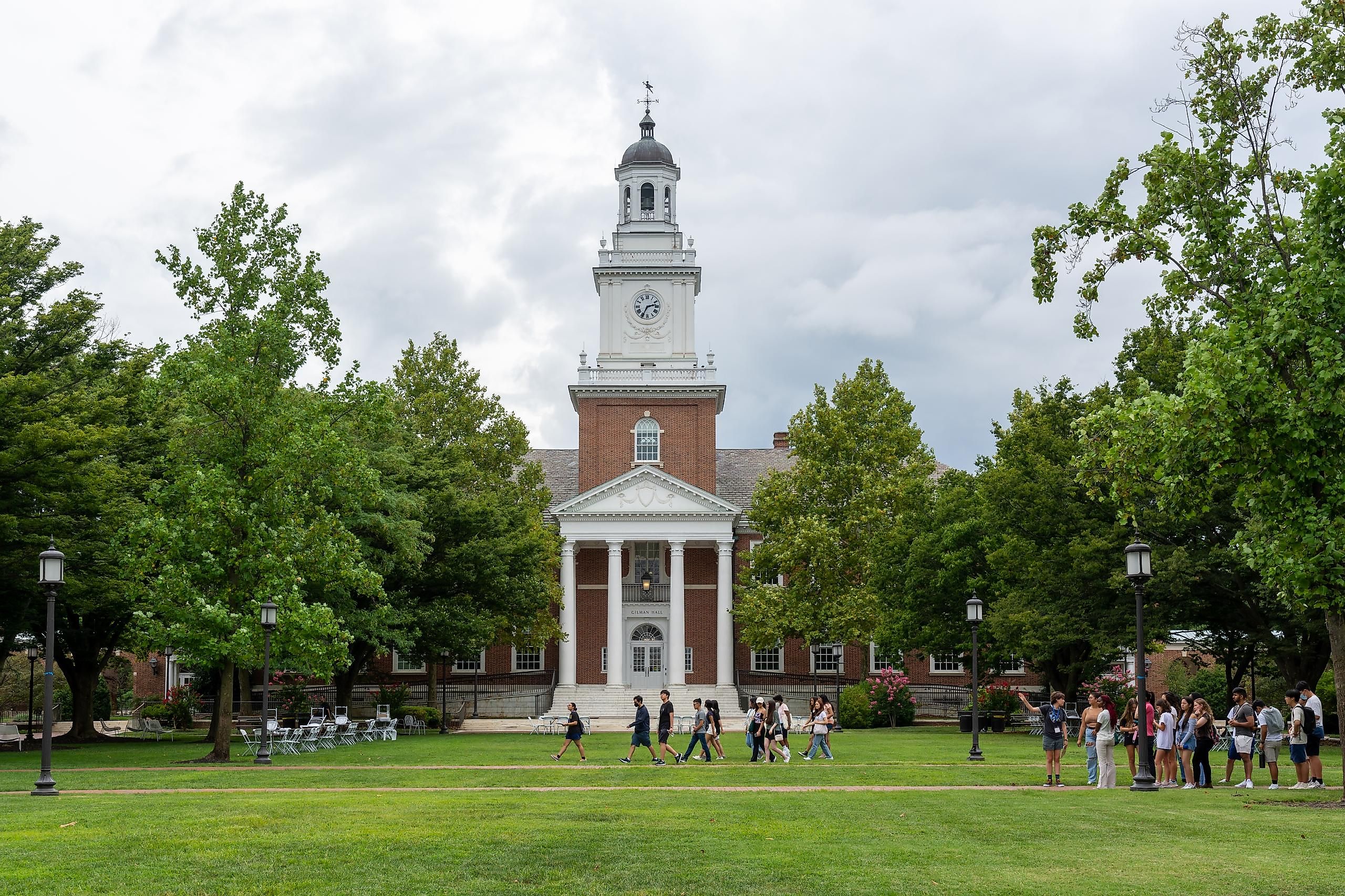 Best College Towns In Chesapeake Bay
While still an important commercial waterway, Chesapeake Bay is best known today for its picturesque scenery, with a shoreline dotted by lovely waterfront towns and a few port cities, most notably Baltimore. While the Chesapeake Bay is not immediately known for its college towns, the college towns it does have are perfectly situated in a region filled with historical significance, cultural vitality, and natural beauty. Whether you are looking for a lively city that is further enhanced by its college scene, or a small town with a college as its centerpiece, the Chesapeake Bay area has the best college towns for you.
Annapolis, Maryland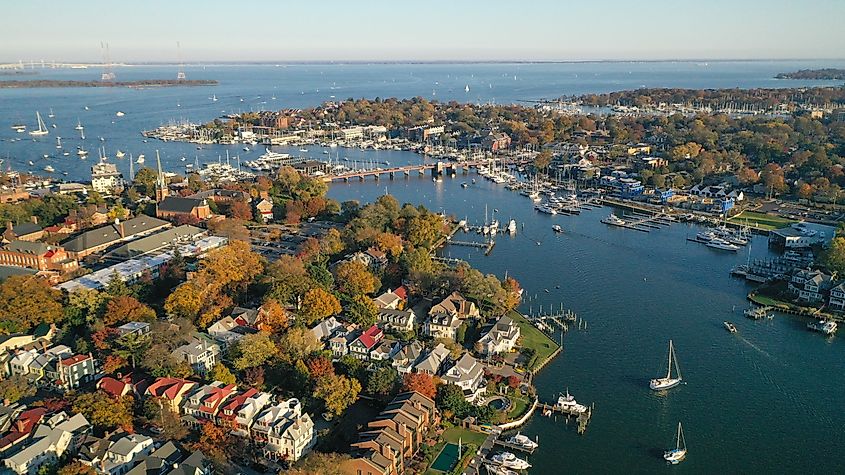 The United States Naval Academy is not your typical college, so it makes sense that Annapolis (population 40,000) is not your typical college town. One of the most historic and picturesque small cities in the United States, Annapolis' narrow, colonial era, shop-lined streets lead from its postcard-pretty waterfront to the impressive 1772 Maryland State House. Along with the many tourists, downtown Annapolis gets a vibrant boost not just from the Naval Academy but also from St. John's College, a small liberal arts institution founded in 1696. Annapolis is a unique kind of college town in which a student can enjoy a drink at a cafe housed in an eighteenth-century building while watching sailboats pass in and out of the marina.
Baltimore, Maryland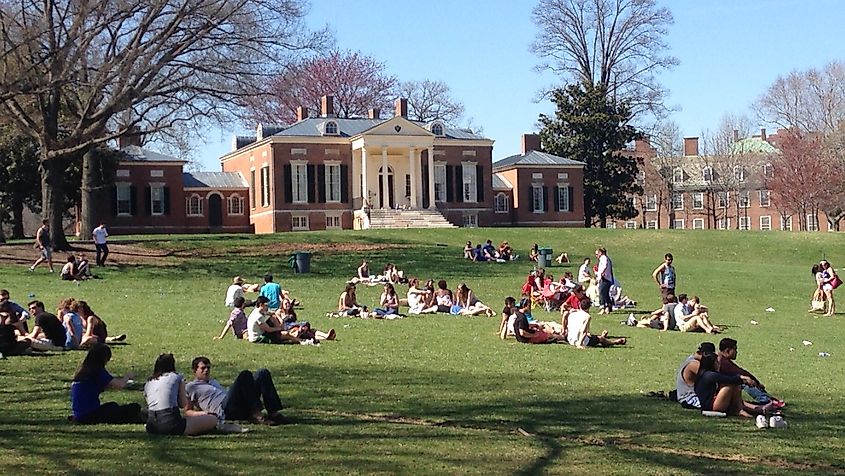 Baltimore, situated where the Patapsco River empties into the northern section of Chesapeake Bay, thrived for centuries as a transportation center and international port and is working on adding a technology, medical, and cultural hub to that legacy. With its beautiful Inner Harbor, numerous museums and historical sites, proximity to Washington, D.C., and population of about 620,000, Baltimore has many attractive features. Baltimore is also, despite not being dominated by any single university, a college town. Among more than a dozen institutions of higher learning in the city, Johns Hopkins University is the most renowned, while other standouts include the University of Maryland-Baltimore, Coppin State University, and Morgan State University.
Chestertown, Maryland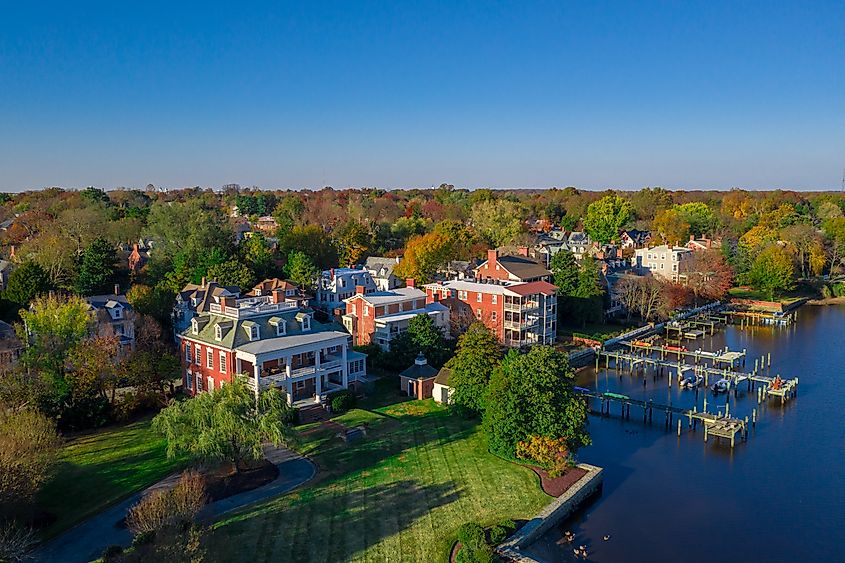 Founded in 1706, picturesque Chestertown sits along the Chester River, which feeds into the Chesapeake Bay only a few miles downstream. The town is the seat of Kent County and has a population of around 5,000. Downtown Chestertown retains many colonial-era buildings and houses a lively arts and entertainment scene. On the waterfront, Chestertown has an annual Tall Ship and Wooden Boat Festival, as well as an annual reenactment of the town's own 1774 "tea party" protest against British rule. Washington College, founded in 1782 and the oldest existing college chartered after American independence, fits perfectly into Chestertown's historic scenery, while its 1,500 students add to the town's youthful vitality.
Hampton, Virginia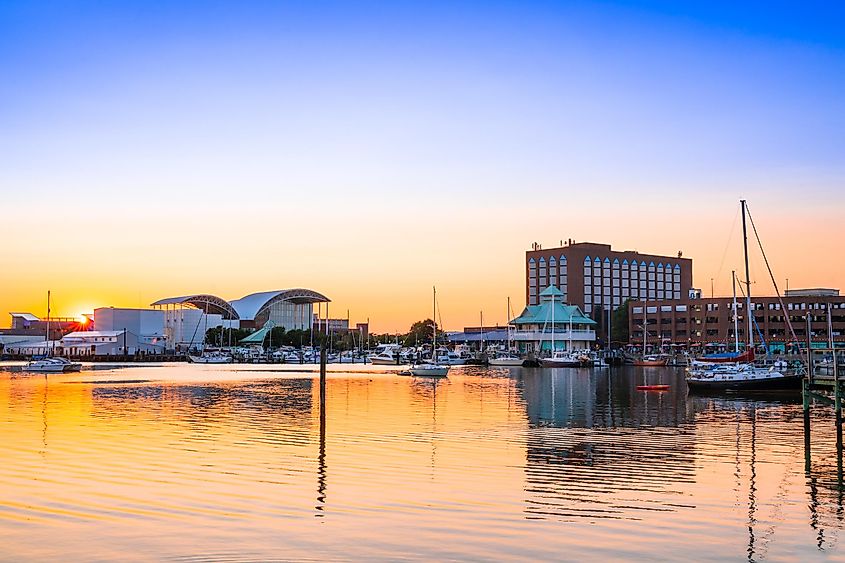 One of several cities that make up Hampton Roads, located near the mouth of Chesapeake Bay and one of the nation's most vital seaports, the city of Hampton was founded in 1610 and has a current population of about 137,000. The city's attractive beaches, historic Fort Monroe, and the Virginia Air And Space Science Center make Hampton an appealing tourist destination. Hampton is also a lively college town due to the presence of Hampton University, a historically black (HBCU) institution founded in 1868 that has a student population of around 3,500. Additionally, nearby communities are home to institutions, including Old Dominion University, Norfolk State University, and Christopher Newport University.
Mary's City, Maryland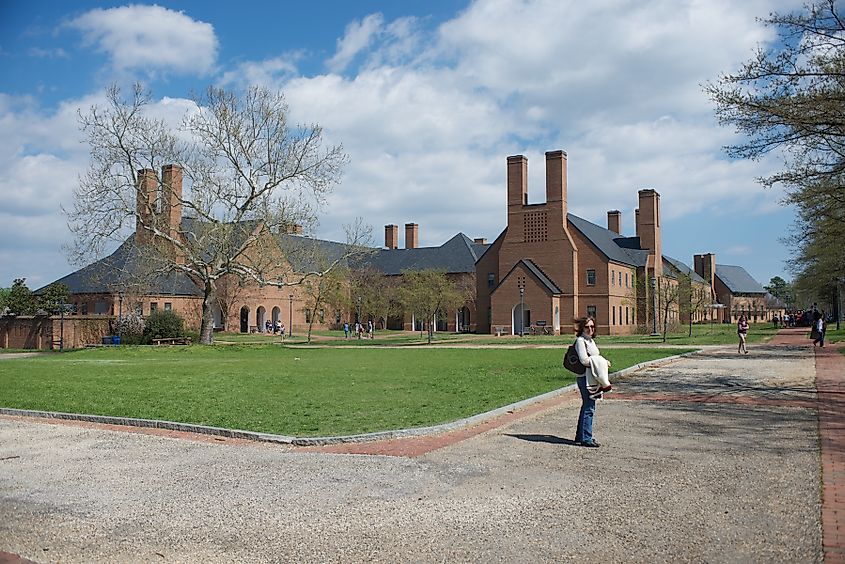 The first English settlement and colonial capital in Maryland, St. Mary's City, has been around since 1634. Despite having "city" in its name, it is a small, utterly charming town of about 1,000 year-round residents, located near the southern tip of the state's Western Shore along the Chesapeake. The historic town center has become a "living history" area, with reconstructed buildings, historical interpreters in period clothing, and four museums. Much of the rest of town is home to St. Mary's College of Maryland, a public institution that has the look, feel, and academic reputation of an elite private liberal arts college. The town and college combine to operate one of the most highly-regarded archaeological field schools in the nation.
Salisbury, Maryland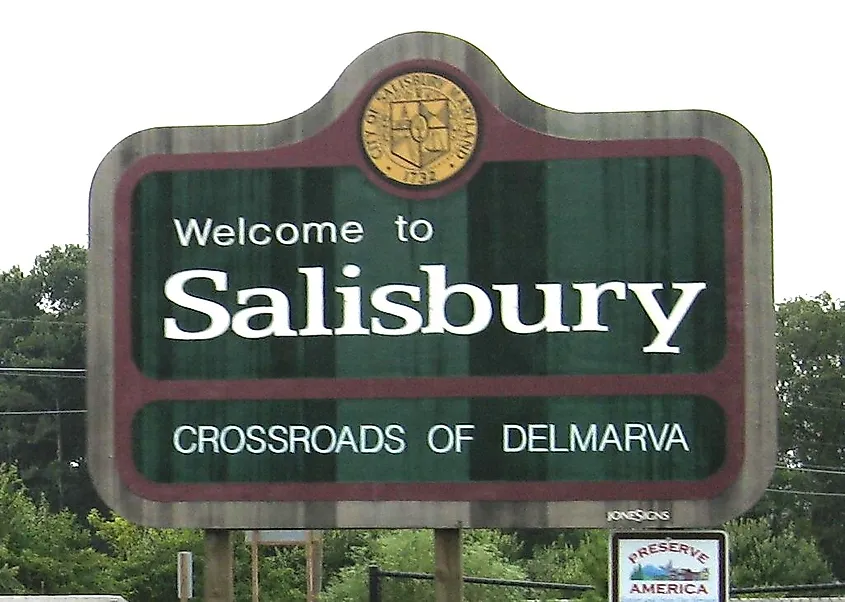 The largest municipality on Maryland's Eastern Shore, the city of Salisbury (population 33,000), sits near the border with Delaware on the Delmarva Peninsula between the Chesapeake Bay and the Atlantic Ocean. Salisbury, therefore, serves as a gateway to Maryland's Atlantic beach towns (such as Ocean City) but also draws in visitors with attractions like the Salisbury Zoo and the monthly "Third Friday" festival held downtown. Salisbury University, a public institution with about 7,000 students, has been around since 1925. Originally founded as a teacher's college, Salisbury University has grown rapidly in recent decades, adding a welcome boost to the vitality of the commercial and cultural scenes of the city and its surrounding area.
Williamsburg, Virginia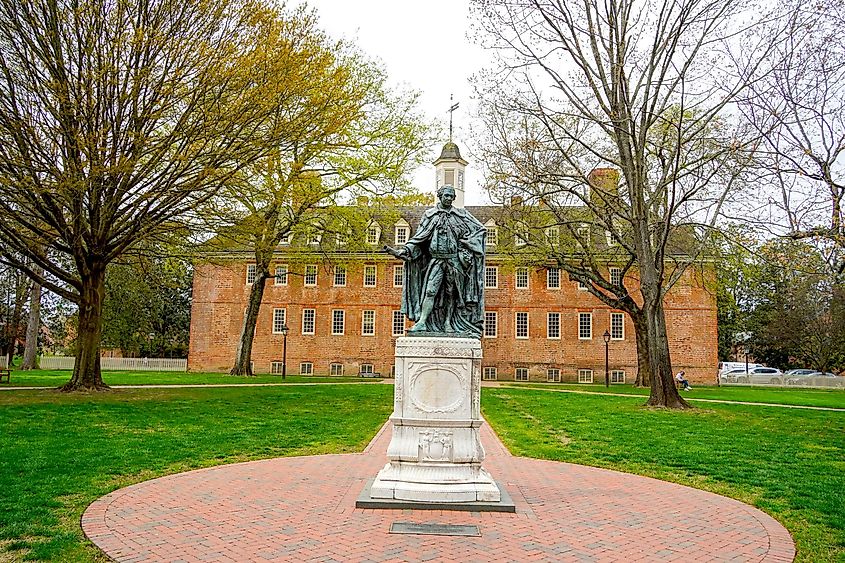 Founded in 1632 and Virginia's colonial capital for over 80 years, Williamsburg (population 15,000) is one of the oldest and most historic towns in the United States. A big part of this history includes the College of William and Mary, founded in Williamsburg in 1693 (making it the second oldest higher education institution in the nation). When not pursuing their rigorous courses of study, William and Mary's 9,500 students can explore the area's history at Colonial Williamsburg or enjoy a coffee and conversation at one of the town's many charming cafes. Williamsburg's location also offers easy access to attractions like Busch Gardens, the Hampton Roads cities, and Virginia Beach.
The Chesapeake Bay region's best college towns are a diverse lot, from tiny and historic St. Mary's City to big and vibrant Baltimore. But they all share the advantage of being located in one of the most picturesque parts of the United States, with the beautiful waters and shorelines of the Chesapeake always nearby. Whether you are planning to attend college or love the atmosphere of a great college town, make sure to give the Chesapeake Bay region a good look!