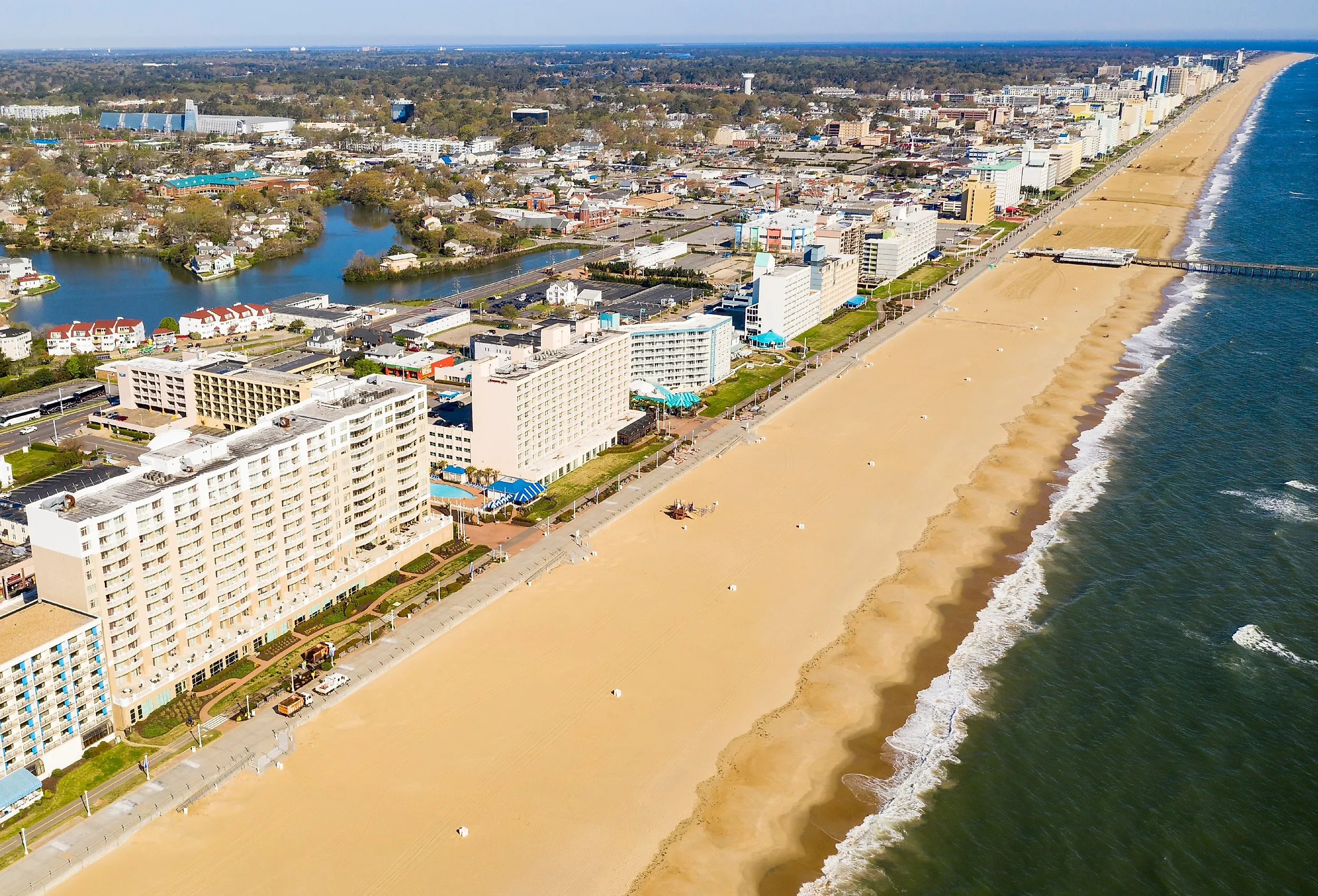 Maryland's Most Charming Beach Towns
Are you looking for the ultimate beach vacation but don't necessarily want to go too far? Look no further! Maryland is home to some of the most charming and enchanting beach towns along its Eastern Shore, many of which offer a plethora of activities, attractions, world-class seafood, iconic boardwalks, and stunning sunsets. From glorious beaches and wild horses to quaint B&Bs, there is something here for everyone. Discover all the advantages that each destination has to offer so you can plan an unforgettable trip in one of these beautiful beach communities. So, take a virtual voyage through some of Maryland's best shoreline locales, where you are sure to make fun memories.
Ocean City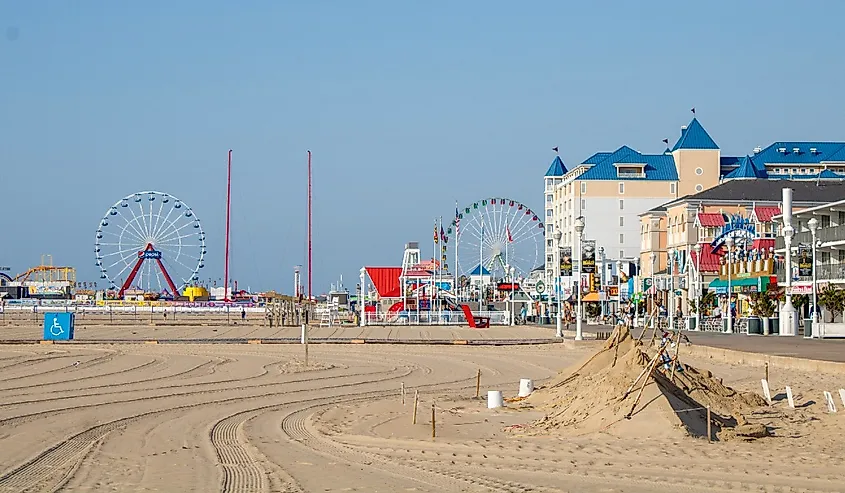 Ocean City is an ideal beach vacation paradise for anyone looking to make lasting memories. Located on the Atlantic coast of the United States, Ocean City has been a popular spot for families and friends since its founding in 1875. Miles of sandy beaches, abundant boardwalk entertainment, and vibrant nightlife make it an ideal destination for any traveler. The city's main attraction is its beaches. With miles of pristine coastline just waiting to be explored, there is something for everyone, from relaxing days spent soaking up the sun to swimming and surfing along the waves. If you are feeling adventurous, there are plenty of water activities like parasailing and jet skiing available too!
No visit to Ocean City would be complete without exploring the boardwalk. Home to dozens of restaurants, souvenir shops, carnival games, and family-friendly attractions like Trimper's Amusement Park, there are plenty of ways to keep busy during your stay. For those seeking a more laid-back evening, the nearby downtown area offers a variety of bars and nightclubs with live music and excellent food. For those looking for more than just beach fun, Ocean City has something else in store: outdoor recreation! With miles of hiking and biking trails, nature is never far away here.
Solomons Island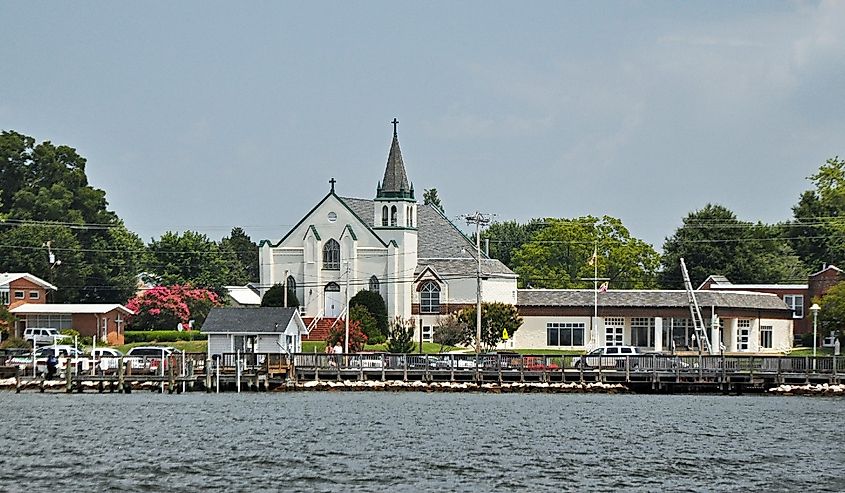 Solomons Island is a small fishing village located off the coast of Maryland in Calvert County. Located at the mouth of the Patuxent River, this quaint town has been a popular destination for visitors and locals alike since its founding in 1865. With its rich history, stunning landscapes, and delicious seafood, Solomons Island is an ideal spot for anyone looking to relax and explore all that it has to offer.
The waters around Solomons Island attract many species of fish, including trout, flounder, and croaker. Fishing enthusiasts can join local charter boat tours or rent a boat themselves to get out on the water and try their luck at catching something big. The area also has plenty of public docks and marinas that provide easy access to the local waters.
For those looking for a more relaxed experience, Solomons Island offers a variety of activities, such as beachcombing, kayaking, and sailing. Nature lovers can enjoy breathtaking views while exploring the numerous marshes and wetlands found in the area. If you are feeling hungry after all your outdoor adventures, there are plenty of delicious seafood restaurants located throughout Solomons Island. From fresh-caught oysters at The Lighthouse Restaurant & Dock Bar to hearty crab at Charles Street Brasserie, you will find something to satisfy every appetite.
St. Michaels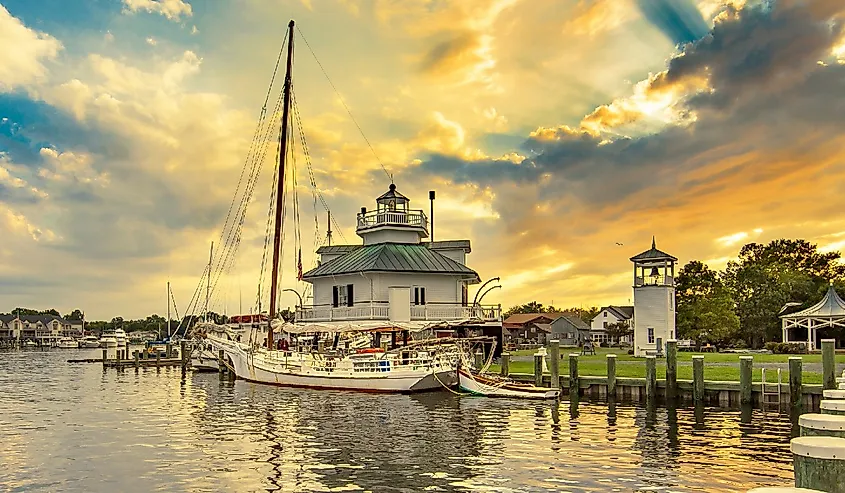 St. Michaels is a charming waterfront town located in Talbot County. This delightful little town has been attracting visitors for centuries, since the late 1600s when colonists first settled here. St. Michaels offers a variety of attractions and activities to appeal to everyone, from history buffs and nature lovers to boaters and seafood aficionados. Lining the streets of St. Michaels, are 18th-century buildings that evoke a storybook feel, complete with cobblestone walkways and tree-lined avenues. Many of the area's original houses have been turned into inns or bed & breakfasts, offering guests an opportunity to experience life as it was back then, albeit with modern comforts.
The Chesapeake Bay is the area's most prominent feature and provides ample opportunity for outdoor recreation, including swimming, fishing, sailing, kayaking, and paddleboarding. For a different take on the bay, visitors can take a ride to St. Michaels' world-famous Hooper Strait Lighthouse. St. Michaels is also home to a variety of excellent restaurants offering fresh seafood dishes and other delectable fare from local farms and fisheries. As if that were not enough, St. Michaels has plenty of shopping opportunities in its quaint downtown district, where visitors can find unique one-of-a-kind items like handcrafted pottery and jewelry.
Chestertown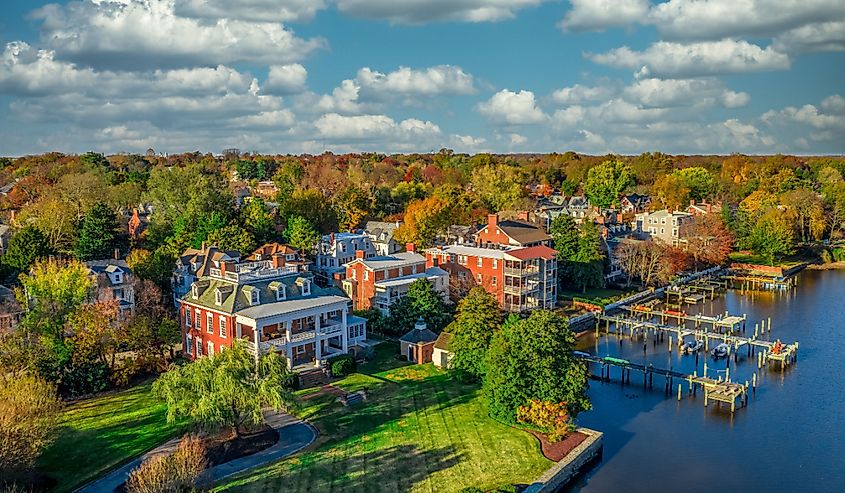 Chestertown is a charming town situated on the Chester River. Known for its colonial architecture and historic charm, it is an ideal destination for those looking to take a step back in time. Founded in 1706, Chestertown has been a vibrant community ever since.
The downtown area features beautiful 18th-century buildings that line the streets, many of which have been carefully restored to their original glory. Visitors can explore the array of boutiques and restaurants or take in local culture at one of several museums. The area also hosts frequent festivals throughout the year, such as Chestertown Tea Party Festival. For those looking to enjoy outdoor activities, Chestertown is home to numerous parks and trails. Here you can take a leisurely stroll, spot wildlife, and even go fishing in one of the nearby creeks or rivers.
Rock Hall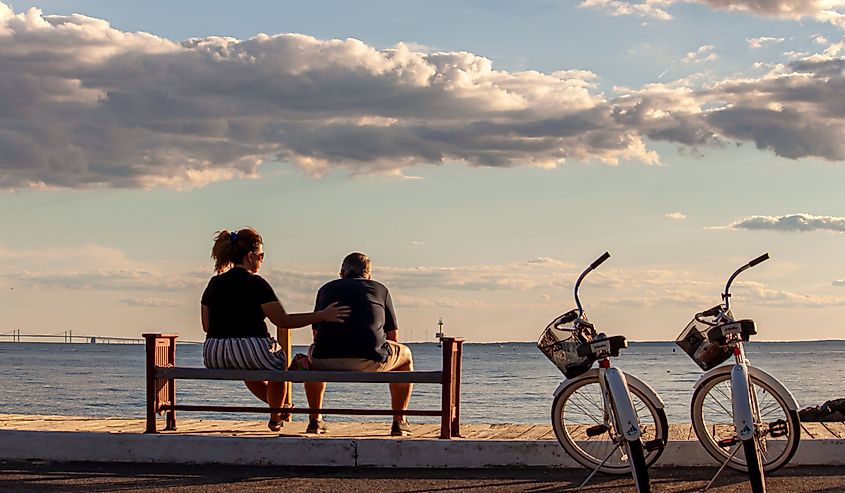 Rock Hall offers residents and visitors a unique combination of rural charm and beach aesthetics. It has a picturesque waterfront, rich history, and delicious local cuisine. The quaint downtown area boasts several shops, galleries, and restaurants, perfect for a stroll or some window shopping. The farmers' market is also an excellent place to pick up fresh produce and handmade wares from local artisans.
During the warmer months, visitors can take part in kayak rentals or take a leisurely boat ride around the bay. For those looking to explore nature, there are plenty of local parks, state forests, and wildlife refuges to explore. Rock Hall is also known for its vibrant music scene, which includes live performances on the waterfront boardwalk or at one of the many local pubs or restaurants. Visitors can enjoy everything from rock and blues to country and folk at venues like The Mainstay.
Berlin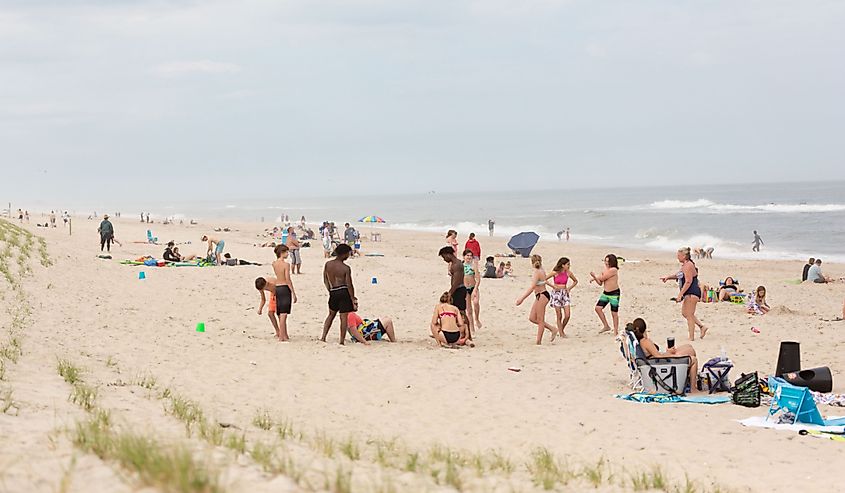 Berlin is a quaint beach town known for its art galleries, shops, and historic sites. Located on the Atlantic Coast of Maryland close to Ocean City with easy access to Assateague Island, this small seaside community offers plenty to do and see, while also providing a laid-back atmosphere. The downtown area of Berlin is home to multiple eclectic galleries and stores to explore. This makes it an excellent destination for those looking for unique gifts or souvenirs from their trip. Additionally, there are several eateries where visitors can sample seafood dishes, locally sourced produce, and more.
Heading out-of-town guests will find themselves surrounded by beautiful rural landscapes. Outdoor enthusiasts can enjoy hiking and biking trails, fishing in the bay, or taking a stroll on one of the nearby beaches. Assateague Island is a secluded barrier island located off the coast of Maryland and Virginia. This 37-mile-long stretch of sand, marshland, and maritime forest is home to some of the most spectacular beaches on the East Coast, including Assateague State Park with its miles of sandy beachfront. In addition to its beautiful beach and nature trails, Assateague Island is most famously known as being home to a herd of wild horses.
No trip to Berlin would be complete without visiting some of its historical sites. From visiting the iconic hotel to seeing monuments honoring veterans, this small town has plenty of tributes to its past worth exploring. For those looking for a little more action, there are several seasonal events hosted throughout the year, such as art festivals and outdoor concerts.
Cambridge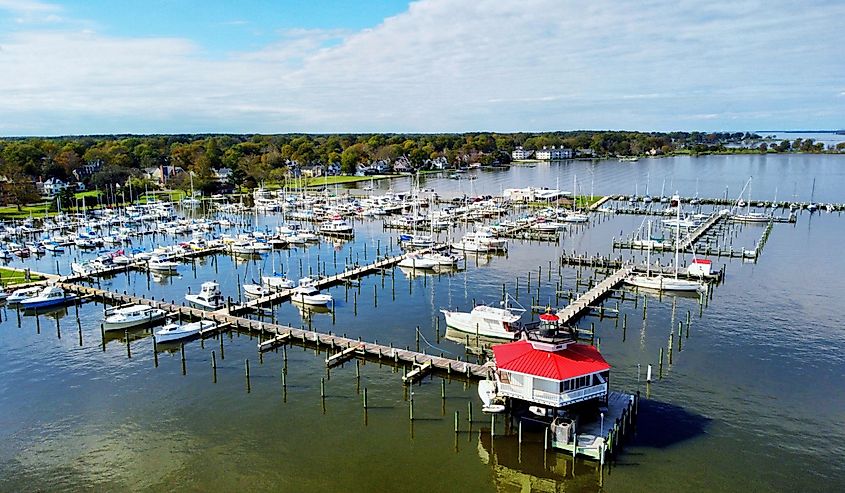 Cambridge is a city located on the eastern shore of Chesapeake Bay. It is the county seat of Dorchester County and sits along the Choptank River, providing access to the bay. Cambridge offers many opportunities for visitors to explore its rich history and natural beauty. The town features beautiful Victorian architecture, and visitors can get an insight into local history by visiting attractions such as Long Wharf Park.
Nature lovers will delight in Cambridge's numerous outdoor activities. The city provides visitors with plenty of opportunities for fishing, boating, swimming, bird watching, kayaking, and more. There are also many beautiful parks throughout the city, perfect for an afternoon stroll or bike ride. Cambridge is also home to a number of cultural attractions, including the Harriet Tubman Museum and Educational Center which tells the story of Tubman's life during her time in Dorchester County, and the Dorchester Center for the Arts, which is home to a variety of rotating exhibits and workshops.
Crisfield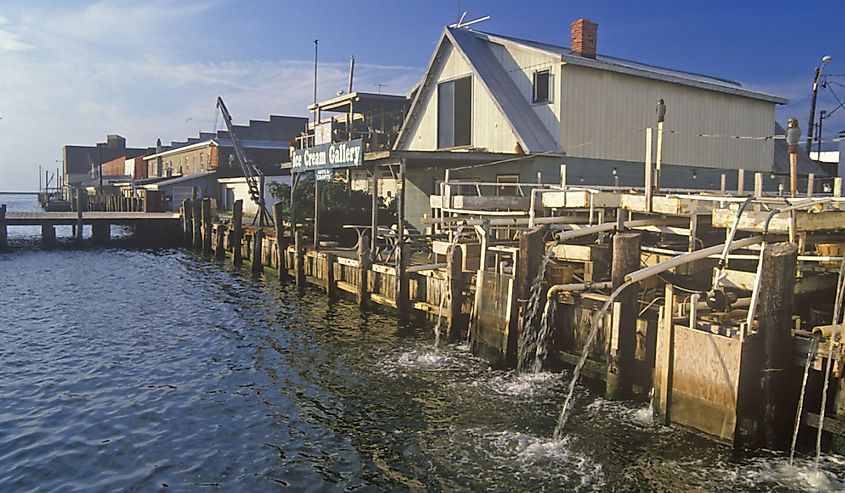 This small town offers spectacular views of the region's most pristine scenery and wildlife. With miles of shoreline to explore and a wealth of outdoor recreation options, Crisfield is an ideal destination for anyone who loves nature. Fishing, boating, canoeing, kayaking, and swimming are all popular recreational activities to enjoy on the bay or any number of area rivers and creeks. There are also numerous trails throughout the area that offer easy hikes through forests filled with ancient trees and breathtaking views. Birdwatchers will find themselves in paradise, with a variety of rare bird species to observe and photograph.
For those seeking an educational experience, Crisfield has several museums and historical sites to explore. At nearby Tangier Island, visitors can take guided tours. Other cultural attractions include a number of churches, some dating back hundreds of years, as well as art galleries and antique shops.
Oxford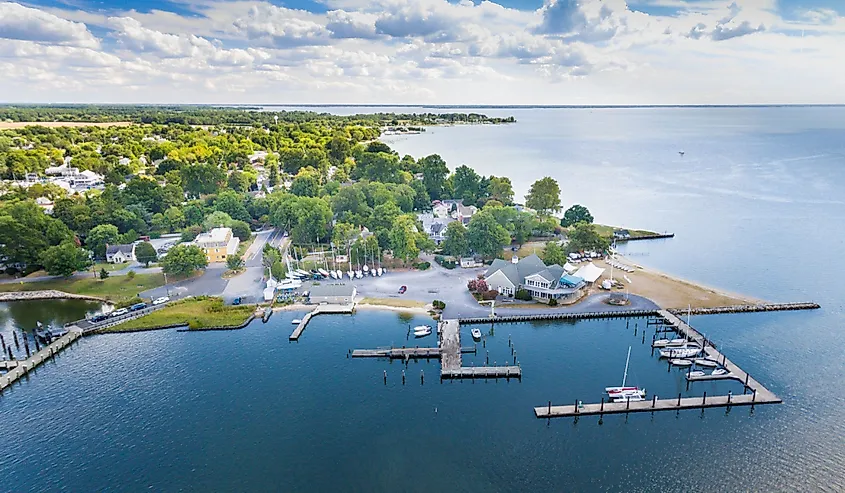 Oxford is known for its rich history, picturesque views, and bustling downtown area. It offers an intimate coastal experience that blends small-town living with convenient access to larger cities such as Baltimore and Washington, DC. The downtown area of Oxford has plenty to offer visitors and residents alike: from shopping boutiques to delectable restaurants. There are numerous art galleries featuring works by local painters, photographers, sculptures, and craftsmen; antique stores full of unique treasures; gift shops with one-of-a-kind souvenirs; salons offering beauty treatments; barbershops; and even a pet store for animal lovers.
For those looking for something more active, there is always the Oxford Community Center, which offers yoga classes and other fitness activities. In addition to its downtown shopping district, Oxford also offers plenty of outdoor recreation opportunities. Water enthusiasts can take advantage of the town's waterfront location, which provides access to fishing, crabbing, boating, and kayaking.
Snow Hill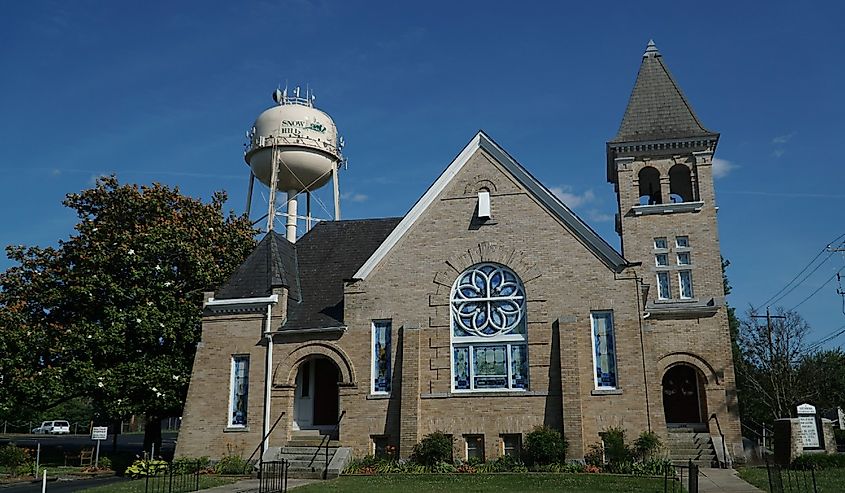 This quaint little village is the perfect destination for those looking to get away from it all and enjoy peace and quiet. Surrounding the town are beautiful pristine beaches with crystal clear waters, perfect for swimming and kayaking. There are also plenty of opportunities for outdoor recreation, such as hiking, biking or horseback riding on the many trails that traverse through the woods surrounding Snow Hill. Fishing enthusiasts will find plenty of spots to test their luck in catching bass and flounder along the shoreline.
The town also features a variety of restaurants and shops offering fresh seafood, local produce, and handmade crafts. There are even quaint bed and breakfasts that offer lodging for visitors looking to stay in the area for a few days or more.
Annapolis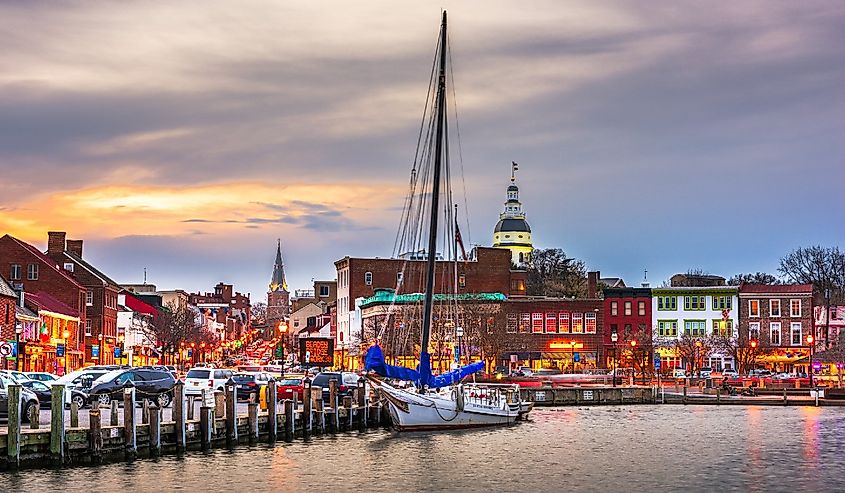 Annapolis is a charming town in Maryland. It is the capital city of the state and home to many wonderful attractions, including the Naval Academy. It has a population of around 40,000 people and is a great place to visit or live if you are looking for an urban feel while still being surrounded by nature.
The waterfront downtown area of Annapolis offers something for everyone, from restaurants and bars to shopping malls, boutiques, and antique stores. The harbor area boasts stunning views, with sailboats and yachts lining the harbor walls. The Naval Academy sits on the banks of the Severn River and offers tours of its grounds, as well as a range of sporting events. The State House is another must-see attraction, where visitors can learn about the history of the state.
Although Maryland is a relatively small state, it has some of the most charming and scenic spots to explore. From its picturesque waterfront towns to its expansive beaches, there is something for everyone in this beautiful state. Whether you are looking for a peaceful getaway or an exciting adventure, Maryland offers plenty of unforgettable experiences just waiting to discover!