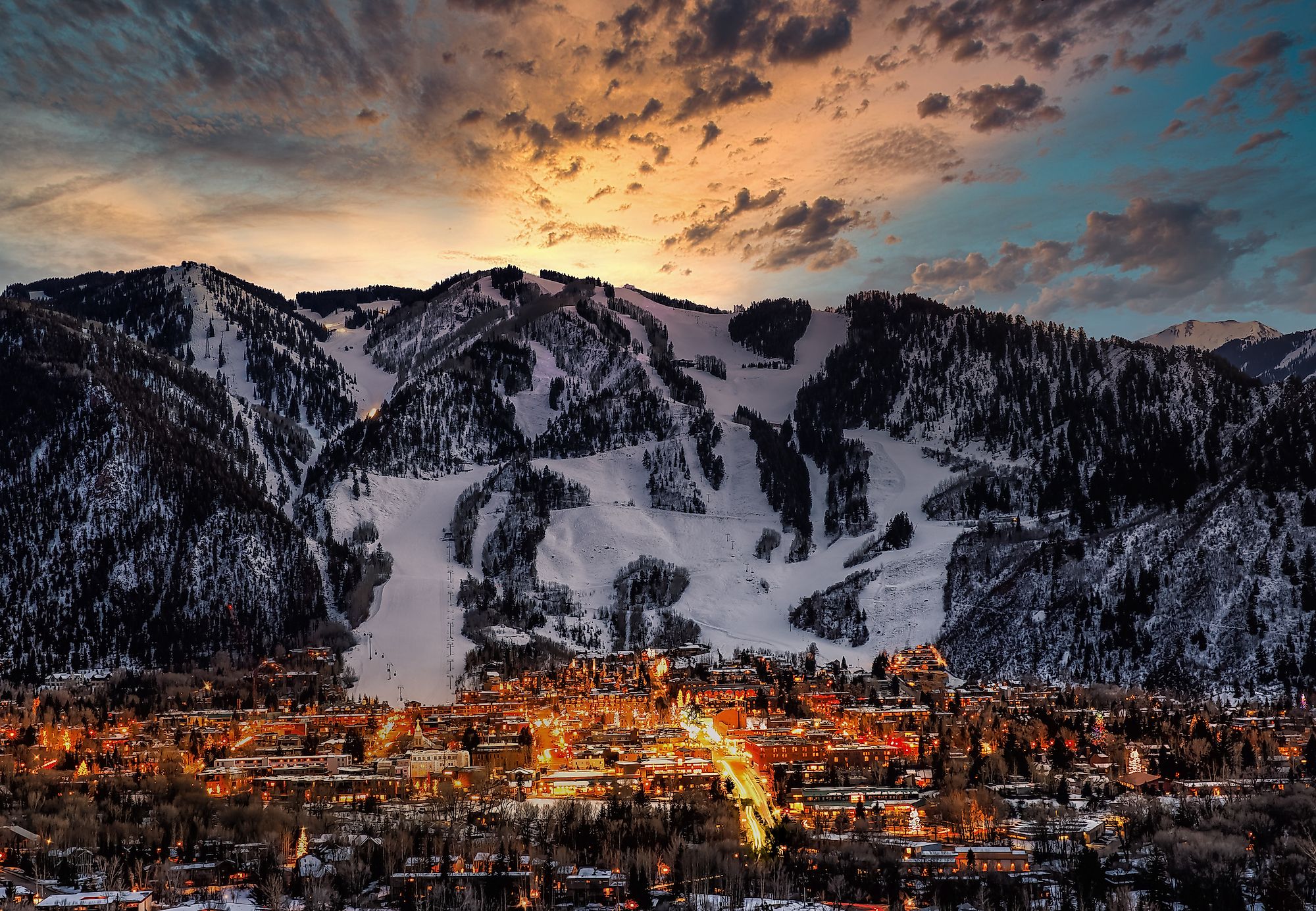 The Rocky Mountain town of Aspen, Colorado draws visitors from all around the globe. Aspen is a renowned Colorado ski town perched at an elevation of 7,945 feet, and receives an average yearly snowfall of 300 inches.
The City of Aspen is home to a small population of just over 5,000 individuals; many making their living from the constant influx of ski tourists. Winters are cold and sunny in Aspen with temperatures well below zero on a regular basis. Summer days are warm with temperatures reaching the high 70's; evenings and early mornings are cool. This beautiful town is surrounded by the White River National Forest and many impressive local mountains, including Aspen and Smuggler.
The Ute Indians originally lived here and called the Aspen area 'The Shining Mountains' for the great abundance of silver deposits. In the 1800's rich silver mines put Aspen on the map and growth was rapid. Unfortunately, the wealth of the mines did not last. In the 1930's this lofty Colorado town experienced another boom with the new enthusiasm for skiing in the United States. At the same time, a wealthy Chicago couple, Walter and Elizabeth Paepcke, moved to Aspen bringing their love for the outdoors, a vision of culture and the financial means to make Aspen a city that would enrich the body, mind and spirit.
The 'Shining Mountains' of Aspen continue to inspire beckoning artists and adventurers with a unique atmosphere and natural beauty found nowhere else on the planet. The world's largest silver nugget, weighing approximately 2,000 pounds was found in Aspen, Colorado's Smuggler Mine in 1894.
Aspen's tiny, yet chic population, includes the rich and famous and many more come to visit for the Rocky Mountain skiing. Current and past residents include Jack Nicholson, Cher and Goldie Hawn.
In 1997, Snowmass ski resort in Aspen opened Cirque lift, creating the nation's longest ski lift-served vertical rise of 4,406 feet. Snowmass constructed the lift to be ecologically sound and to protect local wildlife and habitat, while using renewable wind energy to create the power supply.
Colorado visitors will find plenty of fun things to do in Aspen year round. The Rocky Mountains are an outdoorsman's paradise with breathtaking vistas to enjoy while camping, fishing, hiking or rappelling among the lofty peaks. The City of Aspen is surrounded by ski resorts and dotted with luxury lodges.
Art galleries, world class shopping and fine restaurants offer a great way to unwind after a day of skiing or snow boarding on Aspen's slopes. Read on for some of the best things to do and see while on your Aspen vacation.
Major Attractions In Aspen
Aspen Ski Resorts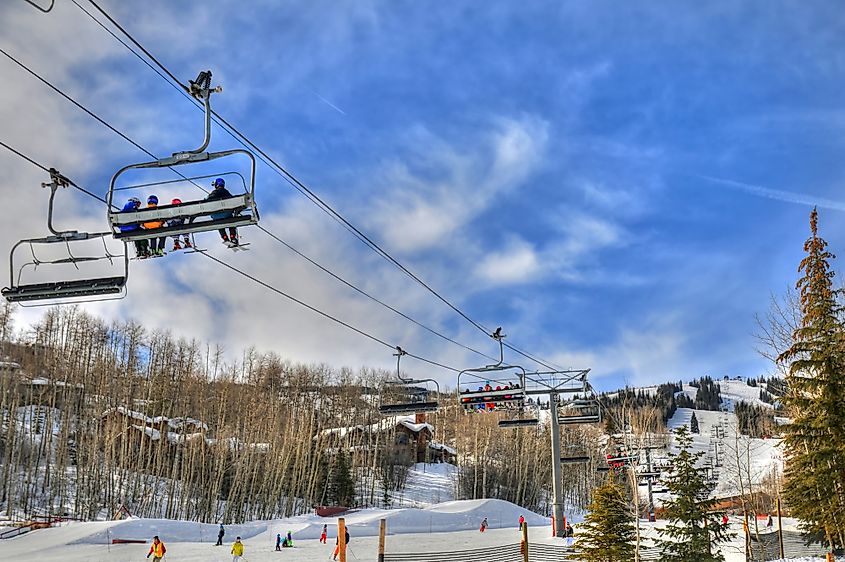 Sitting high on the slopes of the central Rocky Mountain range, Aspen claims some of the finest skiing in the world and attracts millions of visitors to its peaks every year. Colorado ski resorts in Aspen's backyard include Aspen Highlands, an established favorite of the local crowd, and Buttermilk Resort, a great place for beginners and intermediate skiers to learn and refine their skills on the ski slopes. Aspen Snowmass draws snow boarders from across the country to its famous two-day Boardfest every year. Aspen Mountain offers some of the most challenging ski terrain in Colorado. Beginners beware: two thirds of the runs here are rated advanced or expert with double black diamonds everywhere. Thrill seekers will find plenty of big bumps and incredible tree skiing at magnificent Aspen Mountain.
Colorado Ghosts Towns
The State of Colorado is strewn with ghost towns and Aspen has more than its share nearby. The Colorado gold rush and silver boom resulted in the (almost) overnight building of western 'Boom Towns' that quickly died when the riches ran out. Aspen vacationers can visit the two nearby Ghost towns of Ashcroft and Independence, Colorado. Both towns offer a mix of original town buildings, reconstructions and foundations or sites where stores and homes once stood. Ashcroft ghost town is located ten miles south of Aspen and both guided and self tours are available. Visit the original saloon and jail, the blacksmith shop and cabins of Ashcroft's citizens. The remote and rugged ghost town of Independence is located at an elevation of 11,000 feet and located 13.5 miles to the east of Aspen. Independence pass is closed by the mountain snows until spring, but hikers can explore the remaining buildings and deserted ruins of this once booming mining town.
Aspen Festivals
Aspen, Colorado is famous for its dedication to the arts of all genres. Aspen is host to a variety of festivals throughout the year. An Aspen vacation in any season will usually coincide with an exciting arts festival. Fall brings the cinema crowd with the Aspen Film Festival. During the deep winter ski season, the U.S. Comedy Arts Festival descends on Aspen bringing some of the world's best comedians. The Aspen Music Festival takes place all summer long, a classical music celebration spanning nine weeks that showcases both long established talents and rising stars. The famous Food and Wine Classic in Aspen brings together star chefs, vintners, sommeliers and gourmands showcasing a spring celebration of exquisite tastes and all that tastes good. The most popular of the many gatherings is Jazz Aspen Snowmass over Labor Day weekend. Tickets go fast and Aspen hotel rooms must be booked well in advance. Music lovers experience a generous dose of jazz, rock, blues and reggae performed at the base of the breathtaking Snowmass Mountain slopes.