9 Most Scenic Towns in New Hampshire
New England is full of quaint little towns which are truly wonderful places to explore. New Hampshire in particular itself has more than 200 towns, many of which have all the ingredients that give them their storybook and enticing feeling. From classic colonial-era architecture to old-world hospitality, there is something unmistakable about small-town New England. The state itself is gorgeous thanks to its varied terrain which ranges from shoreline to the White Mountains which cover roughly a quarter of New Hampshire. Being so close to New York City and other states in the Northeast, The Granite State is the perfect place to discover and rediscover small town America.
Hanover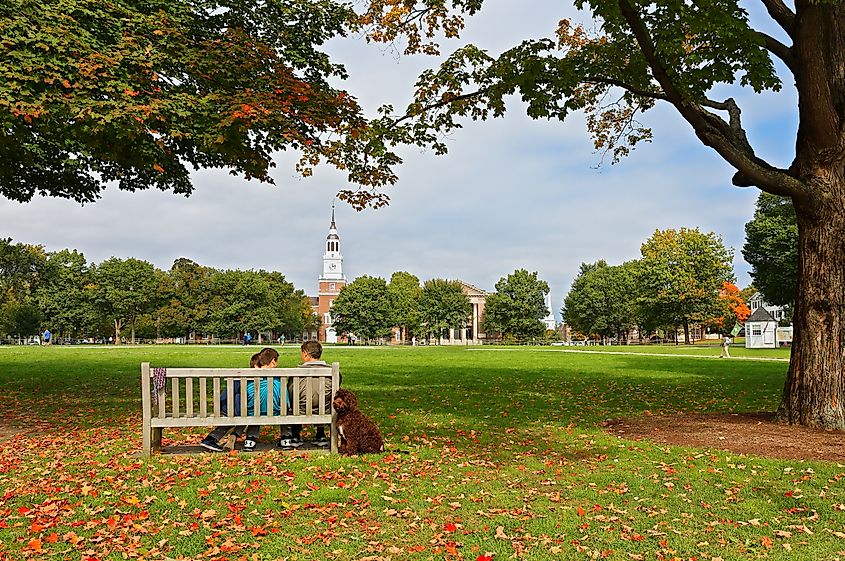 First up is the town of Hanover which is often given the distinction as being one of the best places to live in the country. This lovely New Hampshire town was built along the calming Connecticut River which remains one of its best features. The river is the largest river ecosystem in New England and is home to plenty of little critters. Nothing beats unwinding at the end of the day by looking out over this vast expanse of water as it flows towards the Long Island Sound. 
Hanover is also home to Dartmouth College, the smallest Ivy League University in the country. The campus is scenic and features gorgeous architecture like the Baker-Berry Library with its famous overlook. Lou's Bakery has been open since 1947 and remains a local favorite for its all-day breakfast. Lastly, the Appalachian Trail passes through Hanover as well, so hikers looking to try this historic hike should bring comfortable footwear!
Sugar Hill
The town of Sugar Hill packs a whole lot of color into a tiny package. With around 500 full-time residents, Sugar Hill is the definition of a small town. This alpine paradise has an atmosphere which is difficult to match. Beautifully maintained barns and restored summer cottages make Sugar Hill one of the most appealing in the state. The Sugar Hill Historical Museum is a definite must-see if New England architecture and history appeals to you.
The town truly comes alive in the warmer months, however. Fields of lupine burst into eye-catching purples and blues which transform this small town into the sight of something extraordinary. The Lupine Fields Festival in June celebrates this explosion of color and includes local vendors and even a town dance. Hungry visitors will want to swing by Polly's Pancake Parlor, a legendary establishment in these parts. Patrons can expect pancakes glazed with locally-sourced maple fixings and stunning views of the countryside.
Lincoln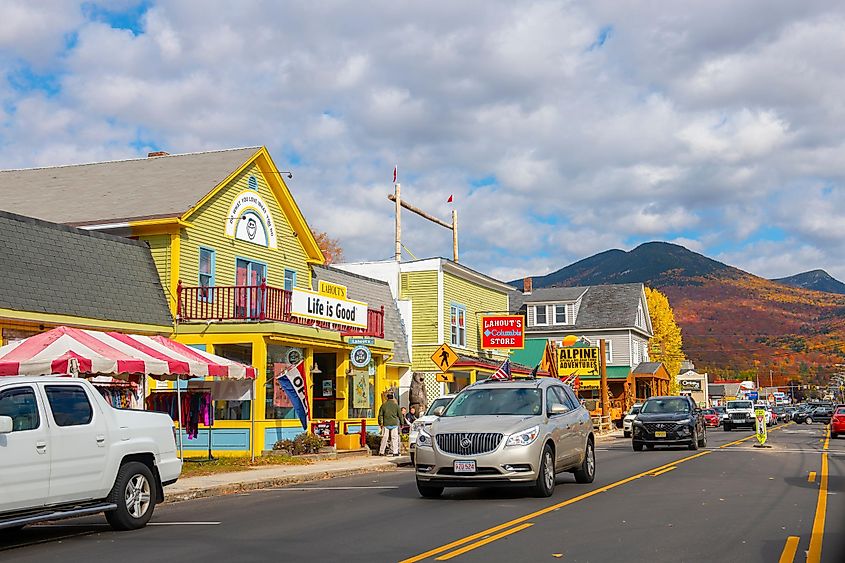 New Hampshire is one of the best places to see the fall colors thanks to the enchanting sights and the brisk autumn air. Lincoln is a pretty mountain town known for being surrounded by forest and having streams and waterfalls within arm's reach. The town is  the entrance to the picturesque Kancamagus Highway and is therefore the perfect place to chase the fall foliage in New England. Driving down I-93 between the Kinsman and Franconia mountain ranges, visitors to Lincoln will be awestruck by the brilliant colors and sights of New Hampshire's autumn transformation.
Outdoor enthusiasts will not be disappointed in Lincoln. The town is certainly at its best in the fall, but there is plenty to do all year. Loon Mountain has family-friendly skiing and tubing right in town. Lincoln is also home to Franconia Notch State Park, a hidden gem where crisp mountain air and cascading waterfalls. In town, there are breweries and wine bars where you can catch your breath and rejoice after a long day of exploring.
Jackson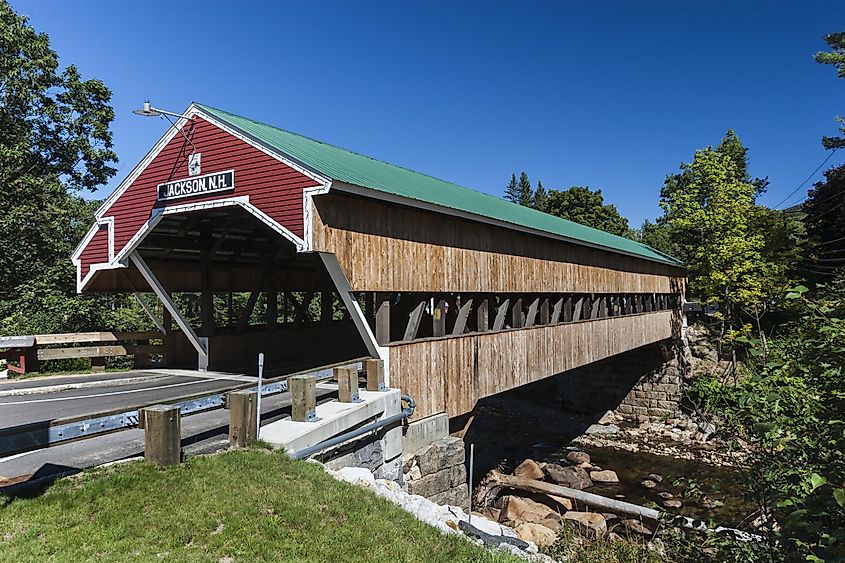 Roughly an hour's drive from Lincoln, the town of Jackson is also found amid the lush White Mountains. Jackson is a friendly New England town which expertly balances its natural and man-made beauty while delivering something totally its own. This mountain retreat has been the home of mountaineers, skiers, and artists for years. With so much to see and do, it is easy to understand why. The landscape around Jackson inspires the artistic and exploratory impulses in its visitors.  For those looking to spend a relaxing weekend in a gorgeous mountain town, Jackson is the place to be.
Families will certainly enjoy a trip to Nestlenook Farm where horse-drawn sleigh rides can be had. Couples on a romantic retreat should take a walk to Honeymoon Bridge, an eminently photographable landmark popular with lovebirds. Winter sports are all the rage in Jackson, and the Jackson Ski Touring Foundation is the blace to be for all of your snowshoeing and skiing needs. Looking for even more slopes? Wildcat Mountain and Black Mountain and Wildcat Mountain are nearby waiting with their epic runs.
Hampton Beach
The phrase small is beautiful could easily be the unofficial tagline of New Hampshire. Hampton Beach is an endearing seaside town with a familiar wooden boardwalk and all the amenities you could ask for next to the ocean. Hampton Beach is actually the vacation side of Hampton proper and takes up about one mile along the beautiful Atlantic coast. You do not need much more, however, as this town packs everything into a small package.
The beach here is one of the cleanest and prettiest in the country. Spend the day lazing on the sand while the waves roll in. The sounds and ocean air are therapeutic for the soul. Visitors to Hampton Beach can swim during the day and head to the Casino Ballroom in the evening for some live entertainment. The Blue Ocean Discovery Center hosts scores of marine life which families with small children are sure to enjoy.
Meredith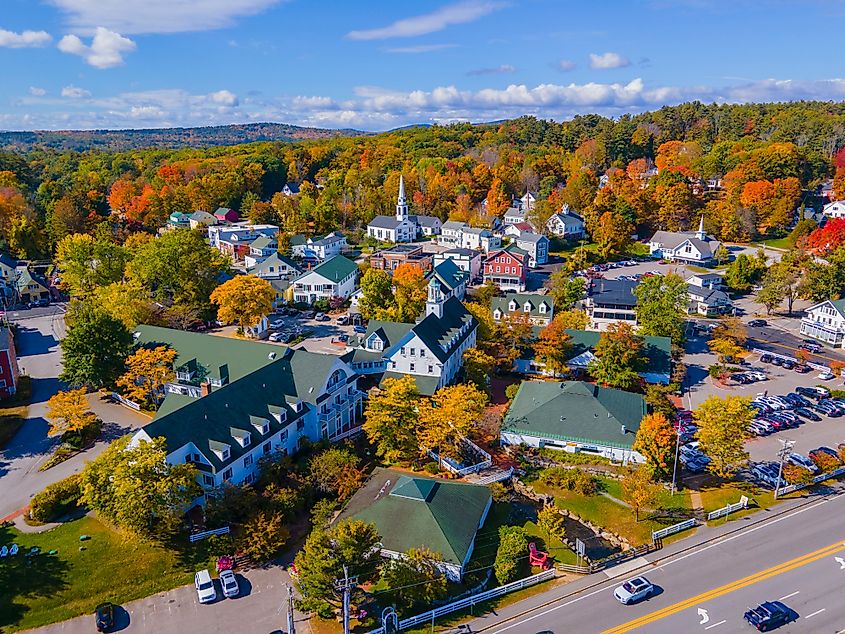 The town of  Meredith is everything a lakeside town should be. Peaceful, charming, and full of interesting nooks and crannies to explore. Meredith is found in the Lakes Region, which, as you might expect, means bodies of water are not hard to come by. Besides the lake, visitors to Meredith can pick from any number of eye-catching drives around the region to experience its natural beauty. Tourists headed to Meredith in the fall are encouraged to take the Fall Foliage Special train. The ride is four hours long and takes riders past some lovely New England scenery.
Meredith is a premier resort town thanks to its proximity to some of the largest lakes in the state. Boat charters, kayak, paddleboard and canoe rentals are all on offer here. For a lively experience on dry land,  The Loop Drive around Winnipesaukee takes you on a winding journey between the region's lakes. The loop is almost 100 miles of beautiful sights which any shutterbug is sure to love. There are productions hosted at the Winnipesaukee Playhouse, and a visit to Cider Bellies Doughnuts while you're in town is always a good choice.
Exeter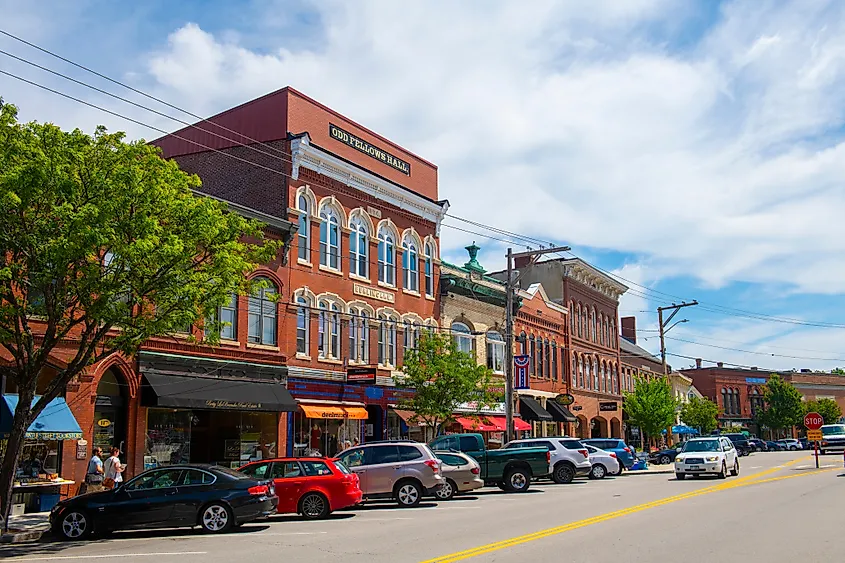 Exeter the name of the town and the river which it was built beside. This handsome waterway is perfect to sit by and relax, something the town of Exeter encourages. There are more than 56 areas of parks and playgrounds to enjoy here. The town is home to Phillips Exeter Academy which is one of the most prestigious boarding schools in the U.S. Strolling across its campus and between its brick buildings and manicured lawns, this riverfront gives off a close-knit atmosphere which is great for young families. Besides its walkable downtown and seacoast views, what makes a visit to Exeter so compelling is its history.  
The town was one of the first New England colonies to be established in the 1600s and has been visited by presidents including Abraham Lincoln and George Washington. Visitors interested in history should visit the American Independence Museum where they can see a rare first printing of the Declaration of Independence. Water Street is often frequented by students and is a great place to get a coffee and recharge. Looking to stretch your legs? The Kimball Reserve has hiking trails outdoor enthusiasts looking for a break from museums will enjoy.
Peterborough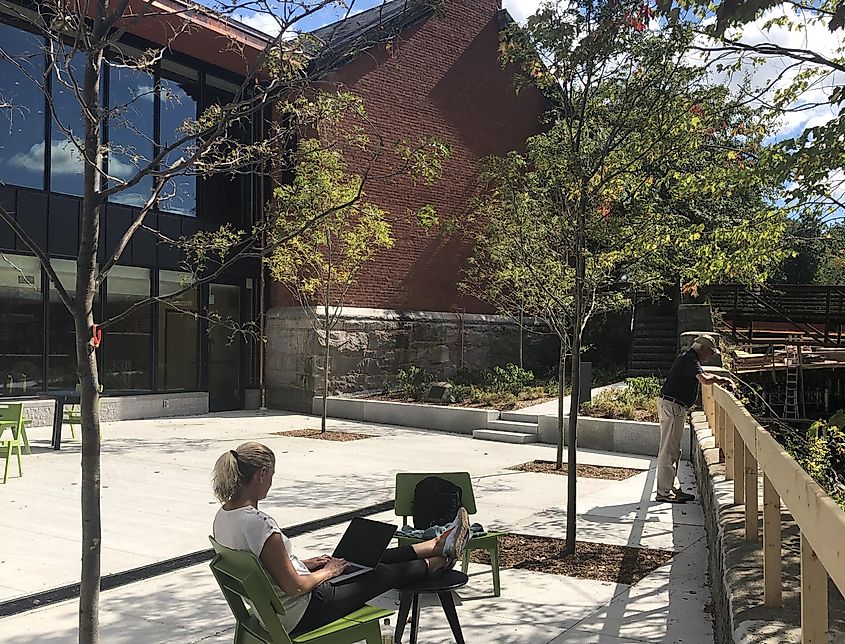 The town of Peterborough is known for its as an arts hub found along the Contoocook River. Found in this charming New Hampshire town is the MacDowell, an artists' colony which was established back in 1907.  The colony is the oldest artists' retreat in the nation and has hosted a plethora events through its lifetime, a tradition it continues today by encouraging artists to realise their artistic visions. The organization even received the National Medal of Arts in 1997 in recognition of its extraordinary contributions.
Peterborough is an off-kilter town which fully embraces its character, but there is more to the town than the arts. There is plenty of great shopping to be done at antique shops such as Bowerbird & Friends and Murray's Home Again, a thrift shop. New Hampshire is replete with breathtaking scenery and Petersborough is no exception. Hike up Pack Monadnock at Miller State Park where a fire town awaits at the summit. The view is to die for.
Portsmouth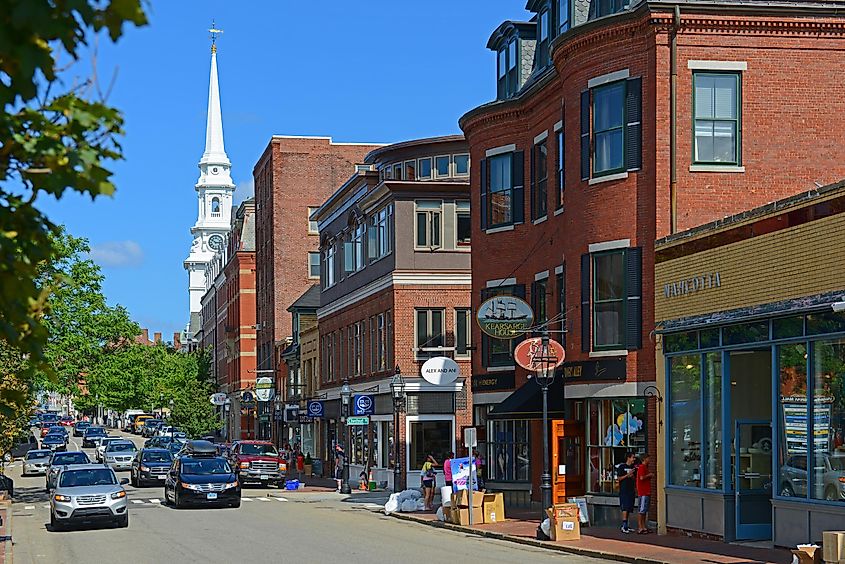 One of the best towns in New Hampshire, Portsmouth is a fan-favorite regardless of the season. The town is found one hour north of Boston and is beloved for its gorgeous beaches. Whether you choose to spend the day fishing, whale watching, or kayaking, the pristine Piscataqua River is never far away in Portsmouth. The town's colorful waterfront buildings and inviting atmosphere makes Portsmouth the popular destination it is. 
Portsmouth Harbor is the place to be for views of the lighthouse. Organizations like Warner House offer historical tours that can expand your knowledge about this charming New England town. If you are hungry, Portsmouth's Market Square is where you will find the best eateries in town. !7th and 18th century buildings contain gems like the Black Trumpet Bistro, a James Beard Foundation semifinalist renowned for its top-shelf hospitality.
New Hampshire may not be the largest state in the Union, but it more than delivers in terms of small towns you will want to visit again and again. Drive through breathtaking stretches of highway between White Mountain peaks and take in the ocean air by the dazzling Atlantic. New Hampshire is full of gorgeous towns, nature, and history that is waiting to be experienced. Though we could not include everything to see on this list, we feel it is a good place to start.