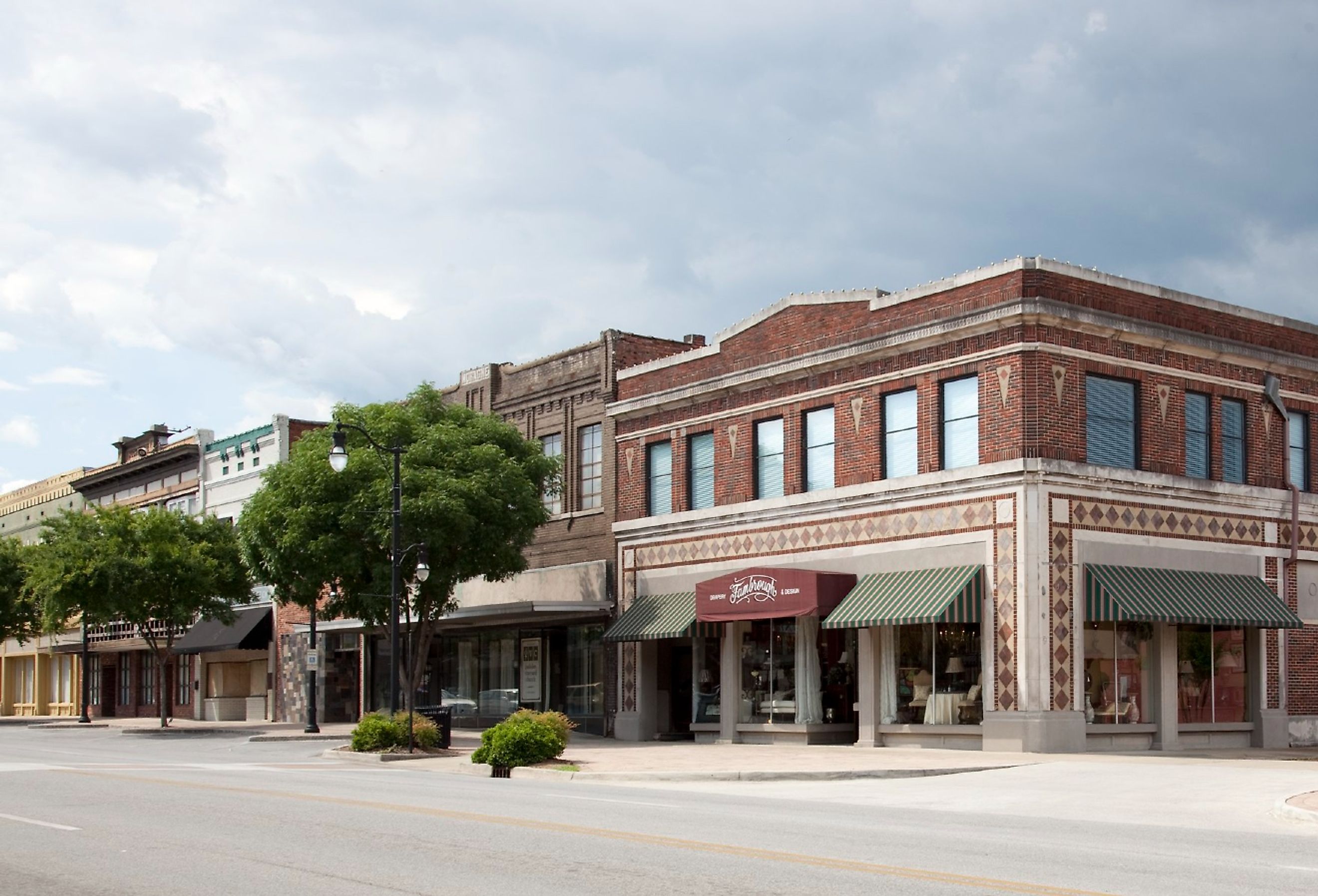 8 Towns in Alabama With the Best Main Streets
Alabama is a state abounding in long-standing traditions and natural allure. Among the many wonders it has to proffer, these gorgeous towns stand out with their individual allure and photogenic principal streets. Each city has its own distinguishing personality, from the delightful stores and eateries to the wild attraction of close-by rivers and mountains. The voyagers can investigate the highlights of each town, comprising their traditional monuments, natural miracles, and state parks. So fill your bags and check out these towns in Alabama with the best main streets.
Fairhope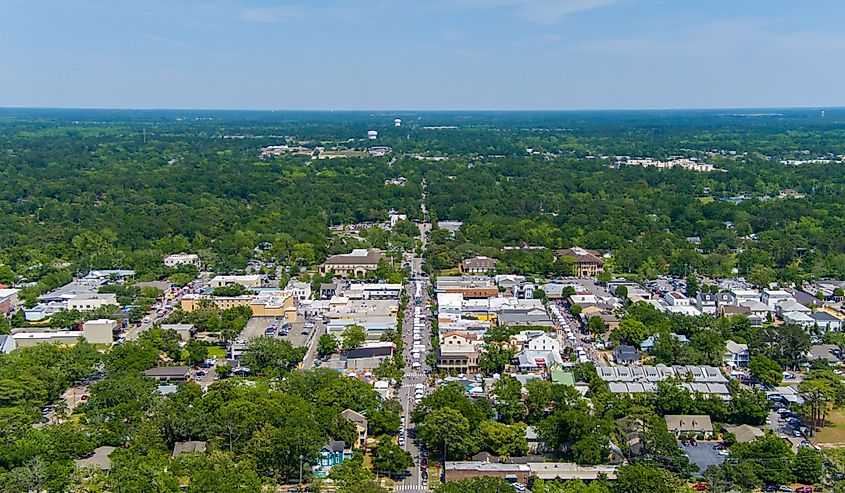 Fairhope is an attractive coastal town situated on the eastern bank of Mobile Bay. Its major road is famous for small shops, art galleries, and eateries that offer a delightful shopping and dining experience. One of the town's primary draws is the Fairhope Pier, where visitors can relish breathtaking views of the bay and observe the sun going down beyond the sea. The town also has several parks and wildlife sanctuaries, including the Weeks Bay National Estuarine Research Reserve and the Fairhope Municipal Pier Park, which is ideal for picnics and outdoor activities. For those who are passionate about history, the Fairhope Museum of History provides a look into the town's past. With its tranquil setting and picturesque beauty, Fairhope is an optimal destination for a serene retreat.
Eufaula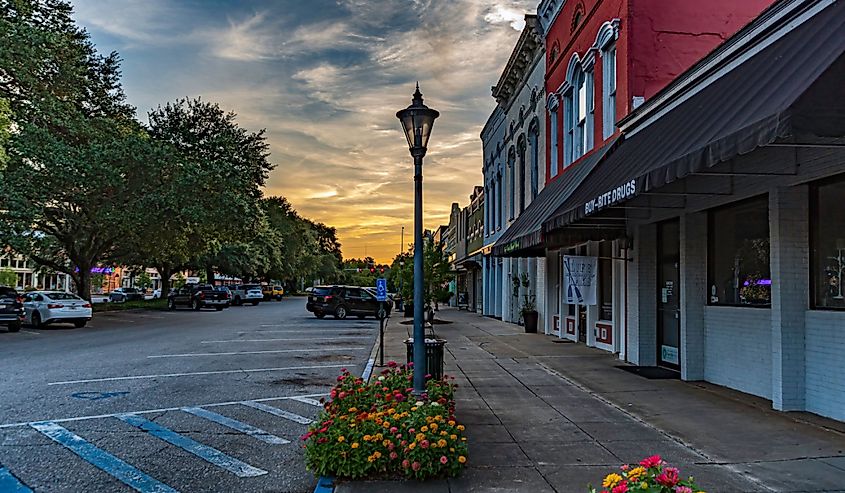 Eufaula is a renowned city situated in the southeast region of Alabama, famed for its maintained antebellum buildings and design. The town's principal boulevard, Broad Street, lies with traditional edifices, boutiques, and dining establishments that offer a peek into the area's plentiful past. Sightseers can undertake a stroll of the historical region to view some of the town's most dazzling residences, like the Shorter Mansion and the Fendall Hall. Nature aficionados will appreciate Lake Eufaula, which provides a wealth of chances for boating, fishing, and hiking, just watch out for the alligators. The city also has many parks, for example, the picturesque Seth Lore and Irwinton Historic District, perfect for a barbeque or a walk. Thanks to its blend of culture and splendor, Eufaula is an extraordinary and alluring destination.
Prattville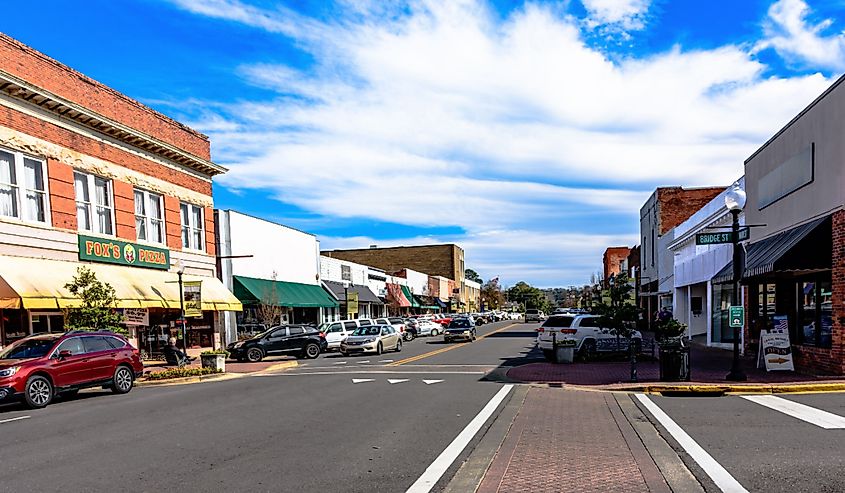 Nestled in Autauga and Elmore Counties, Prattville is an attractive town that flaunts an exquisite historic locality, maintained parks, and stimulating amusement. The city's Main Street, better known as Court Street, is a hub of liveliness with a mixture of shops, eateries, and pleasure hubs. One of the major tourist attractions of Prattville is the Autauga Creek Canoe Trail, which is a favored spot for kayaking and canoeing aficionados. The course has spectacular scenery of the city's natural beauty, containing towering trees, special wild creatures, and serene waters. Guests can rent canoes and kayaks and investigate the trail or with a directed excursion. Besides the stream trail, Prattville has many gorgeous parks that offer trekking, fishing, picnicking, and other open-air activities. The Prattville Wilderness Park is a 26-acre park that provides hiking trails, camping sites, and a fishing pond. The park is home to many types of plants and creatures and presents visitors with the prospect of experiencing Alabama's natural beauty. Prattville is an outstanding spot for those seeking to explore Alabama's beauty and abundant past.
Florence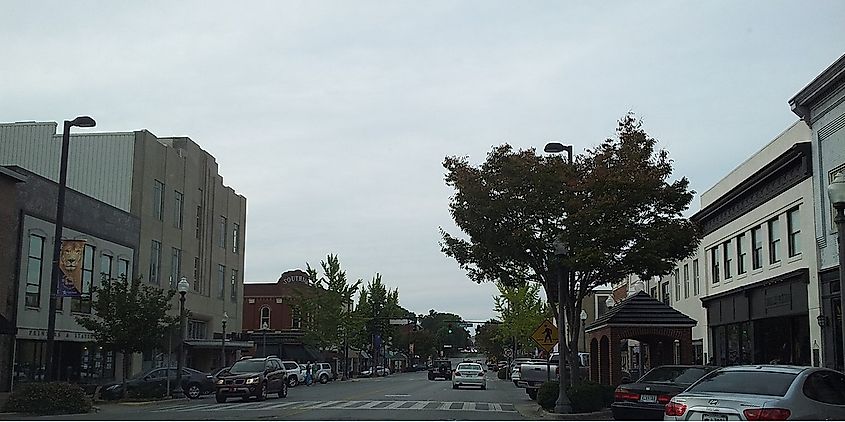 Situated in the northwestern part of Alabama, Florence is a stunning town that grants vacationers a wealthy cultural experience. Court Street Market is a thriving center of action that has unique shops, art galleries, restaurants, and amusement centers. Florence has many historical sights to behold, like the Rosenbaum House, the only Frank Lloyd Wright-designed domicile in Alabama obtainable to the public. One of the key draws of Florence is the Tennessee River, which passes through the town, presenting visitors with a chance to explore the river's natural beauty. Visitors can take a soothing boat cruise, angle, or relish aquatic exercises such as canoeing and paddle boarding. Florence has countless lush parks that offer trekking, picnicking, and other open-air activities. The town's Wilson Park is a renowned spot for families, with a playground, strolling paths, and a water park.
Athens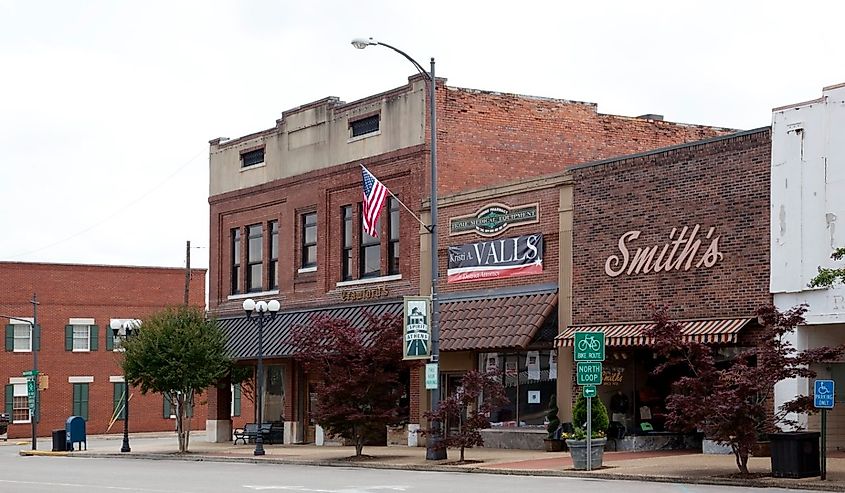 Tucked in Limestone County, Athens is a charming town featuring a delightful downtown sector, unusual stores, and delectable eating possibilities. The town's essential avenue, Market Street, is a center of life that comprises a mixture of boutiques, antique stores, and eateries. One of the primary attractions of Athens is the Athens State University location, which encompasses traditional buildings, pleasing design, and a variety of cultural occasions and activities. Visitors can partake in a guided tour of the campus and become informed about the heritage of the university and its role in Alabama's educational system. Athens also owns several exquisite parks, including the Athens Sportsplex, which provides a variety of recreational opportunities such as baseball, softball, and soccer. Visitors may also relish backpacking, picnicking, and fishing at the town's many parks and natural spaces.
Opelika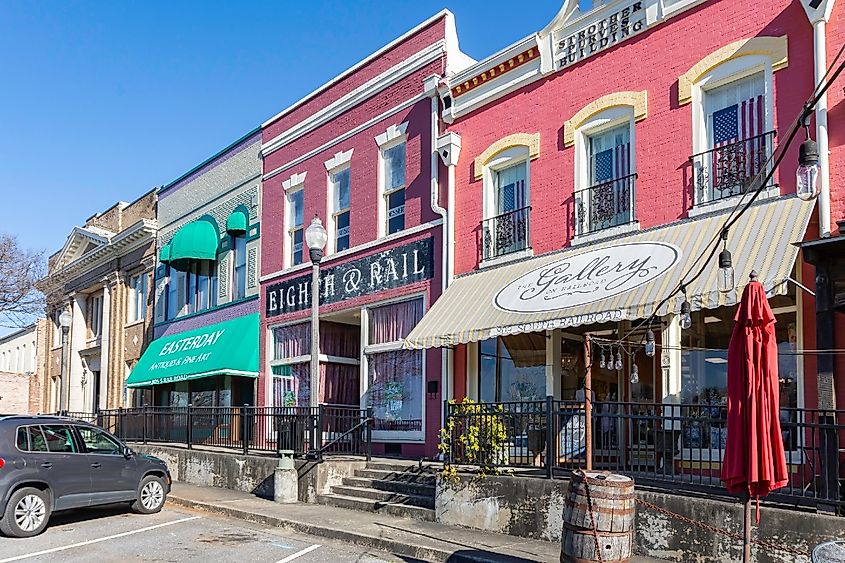 Situated in Lee County, Opelika is a delightful town that provides travelers with a one-of-a-kind mixture of chronicles, culture, and outdoor escapades. The city's principal street, 8th Street, serves as an apex of action that contains distinct retail outlets, eateries, and party spots. One of the foremost allures of Opelika is the Opelika Historic District, which has more than 200 distinguished dwellings and constructions that go back to the 19th century. Tourists can embark upon a self-guided walking expedition and become informed about the town's abundant narrative and architecture. Opelika is also home to many beautiful parks and natural places, including the Opelika Sportsplex, which comprises wandering paths, angling ponds, and a diversity of recreational activities such as baseball, softball, and soccer. You can also investigate the town's countless legendary places, comprising the Museum of East Alabama and the Saugahatchee Country Club.
Cullman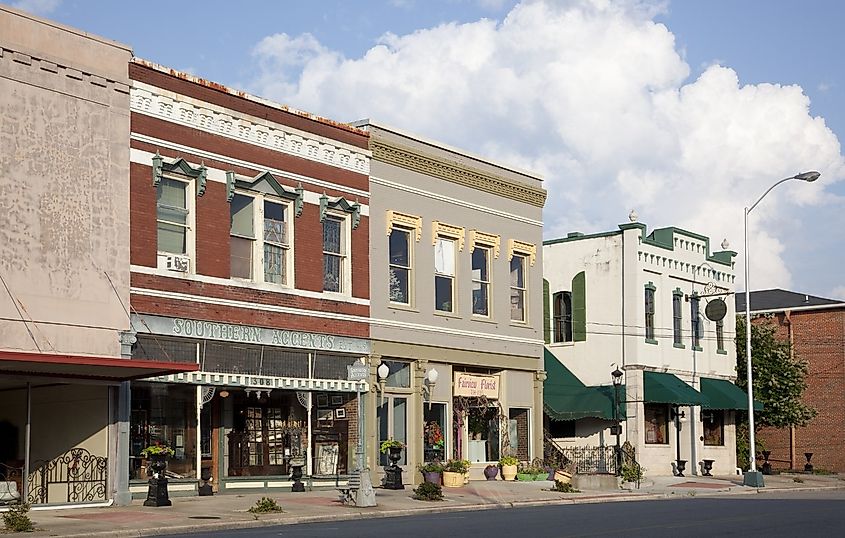 Nestled in Cullman County, Cullman is a delightful town providing a unique mixture of history, culture, and outdoor fun. The town's main street, 1st Avenue, is a bustling center featuring distinct shops, eateries, and leisure spots. One of the main attractions of Cullman is the Ave Maria Grotto, an extraordinary outdoor park displaying more than 125 miniature replicas of renowned edifices and sanctuaries from around the globe. Visitors can follow a self-guided tour and discover the chronicles and importance of each small reproduction. Cullman is also the home of many lovely parks and natural spots, like Hurricane Creek Park, which provides hiking paths, angling creeks, and a plethora of recreational activities such as overnight camping and picnicking. Visitors can also examine the town's many traditional sites, including the Cullman County Museum and the St. Bernard Abbey.
Gadsden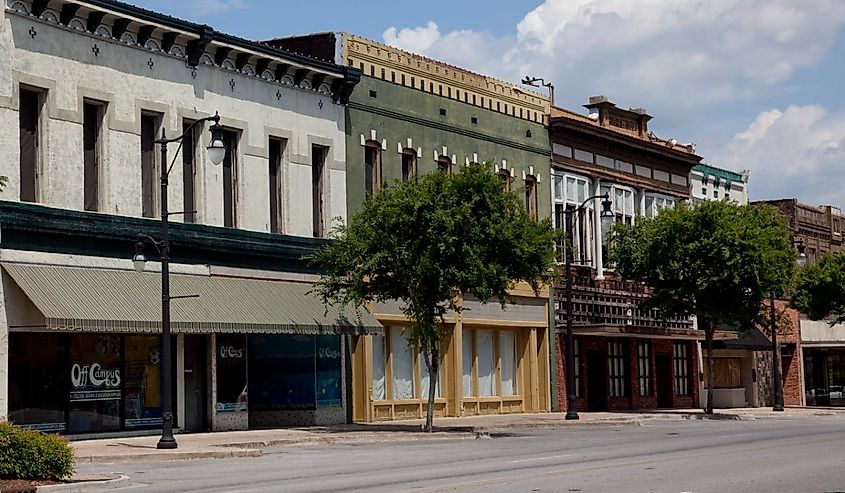 Gadsden is a city found in Etowah County in Alabama, with a population roughly estimated at 33,000 inhabitants. Its downtown region boasts a gorgeous Main Street with a variety of run shops, eateries, and amusement venues. The Hardin Center is important for encouraging the arts in Gadsden and hosts many occasions and displays. One of the hottest draws in Gadsden is Noccalula Falls Park. This park encloses the Noccalula Falls waterfall, which is one of the most picturesque cascades in Alabama. Tourists can hike to the source of the falls or journey by rail through the park to observe the waterfall from a different angle. Other prevalent attractions in Gadsden include the Coosa River, which presents fishing and boating experiences, and the Gadsden Museum of Art, which exhibits an aggregation of art from local and nearby artists.
Alabama offers a multitude of picturesque towns and cities that possess stunning main streets. These settlements in Alabama, with the finest main streets, exhibit their attractions and allure. Fairhope is famous for its striking vistas of Mobile Bay along its Main Street. Gadsden is well-known for its many local stores and eateries and its remarkable Noccalula Falls Park. If history, culture, or outdoor activities are what you seek, these towns in Alabama will not disappoint. So, why not plan an excursion and explore all that these mesmerizing towns can provide?