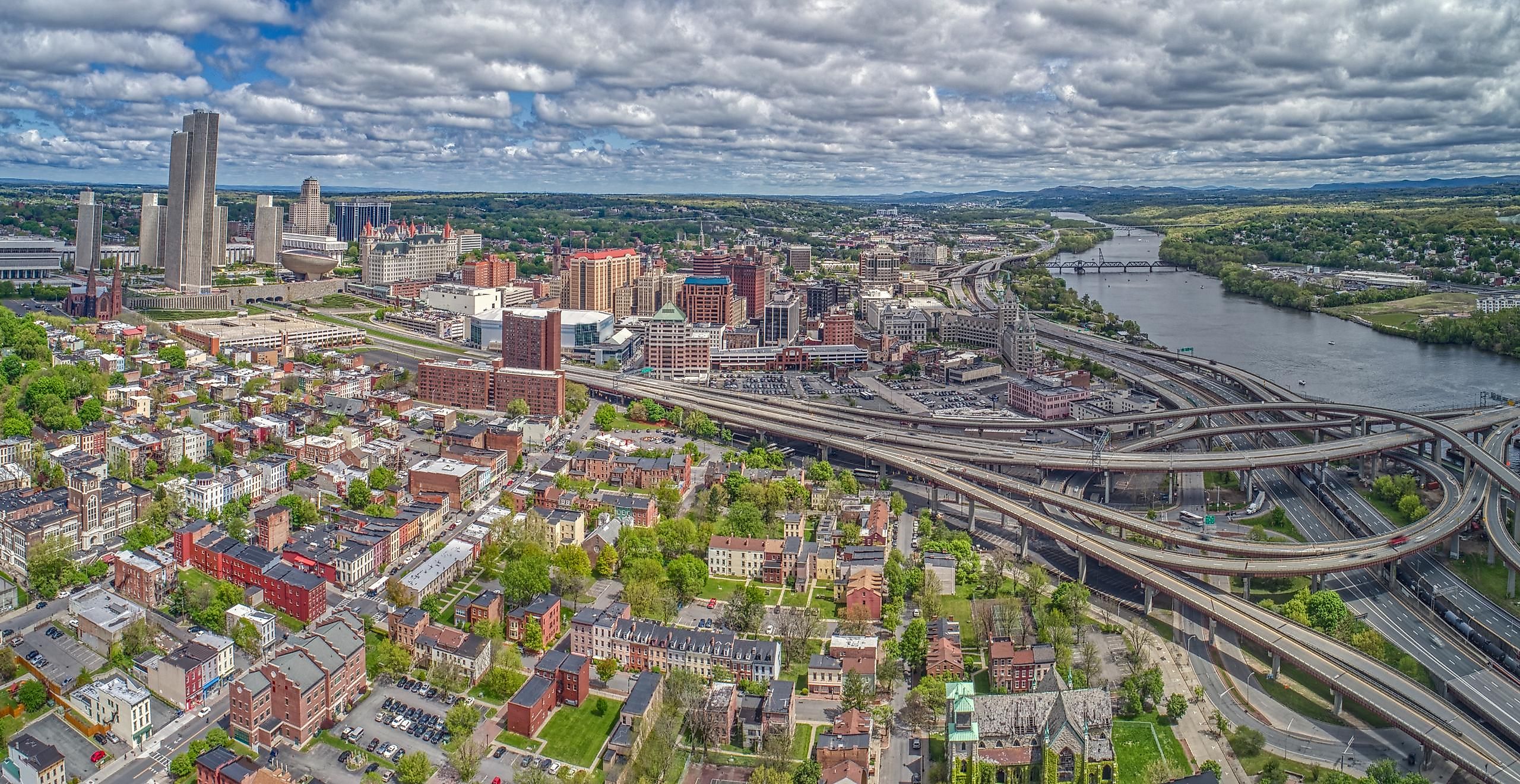 8 Oldest Founded Towns To Visit In New York
The state of New York, often associated with its iconic bustling city, holds a deeper well of history beyond its famous metropolis. Lodged within its bounds are towns and cities, each with moving stories of their own. Historians have worked tirelessly to mark and record New York's oldest-founded towns, tracing their roots back to the 17th and 18th centuries. Each town represents a brilliant blend of historical landmarks, natural beauty, local cuisine, and cultural events; all of this collectively works to paint a vivid picture of New York's colonial heritage. So, if you are an American history buff seeking to explore the recesses of America's past, look no further.
Albany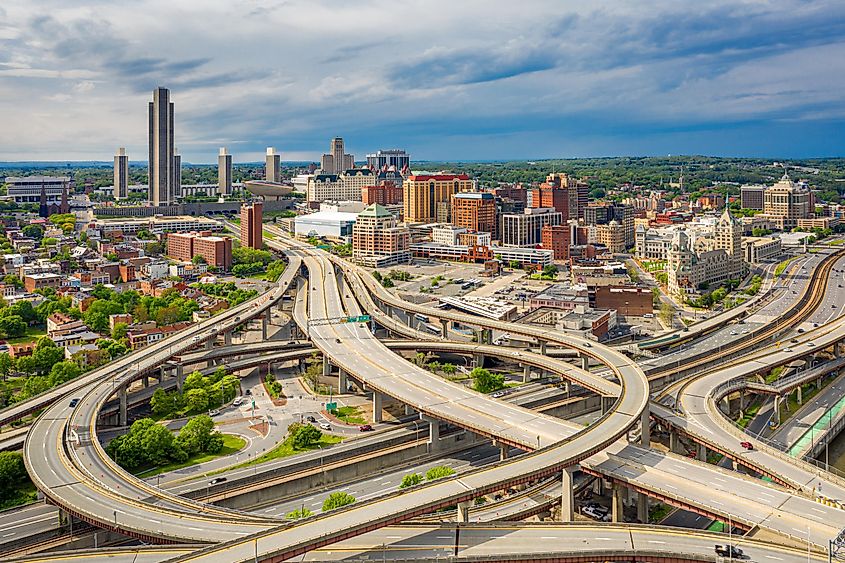 Albany, New York's capital, traces its roots back to the early 17th century. It is home to the New York State Museum, a treasure trove of over a million artifacts and specimens that tell the story of New York's cultural and natural history. Along the Hudson River, the town has permanently moored the USS Slater, a floating piece of history, and it is the only World War II destroyer escort still afloat in the U.S. For the landlubber historians, Cherry Hill Mansion, an 18th-century farm manor turned museum, provides another glimpse into Albany's past. Albany's downtown, home to the regal yet simultaneously monumental and modern Empire State Plaza, houses several government offices. Lark Street is another area frequently visited for its collection of upscale restaurants and laid-back breweries. For outdoor enthusiasts, Albany's Washington Park offers recreational space amidst lush greenery. Last, Crossgates Mall, with a variety of shops, serves as a one-stop retail destination.
Kingston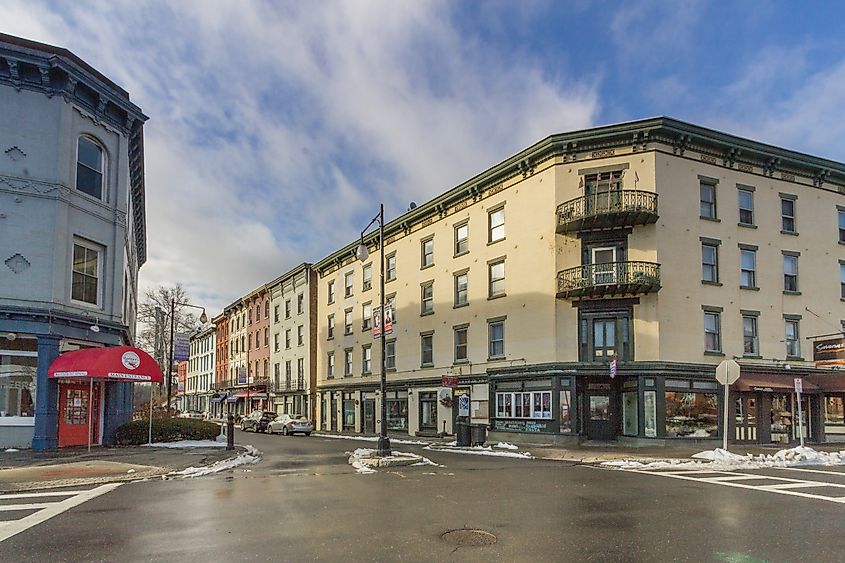 Kingston, founded in 1652, is an ancestral mantlepiece on the Hudson River. Here, the Hudson River Maritime Museum unfolds a captivating journey with countless vessels and artifacts, each meticulously curated and examined through decades of research. Just a stone's throw away, you'll discover the Rondout Historic District. This area showcases exquisite 19th-century architecture, as well as resourceful storefronts. Nearby, the Forsyth Nature Center captures attention with animal exhibits. A short stroll away is the Stockade District. Its 18th-century stone buildings were built with care and style that is no longer seen in modern masonry. Among these fascinating edifices is the Old Dutch Church, one of Kingston's most significant landmarks, and it dates back to its reconstruction in 1852 (the previous one burnt down but was a community hub since 1659). Another pivotal site in Kingston, the Senate House State Historic Site, bears witness to a defining moment in history. It was here that New York State's first constitution was adopted, thus highlighting Kingston's influential role in the American Revolution. Completing the exploration of Kingston, Kingston Point Beach awaits, and this riverside is a practical location for picnickers to rest and relax after journeying Kingston.
New Paltz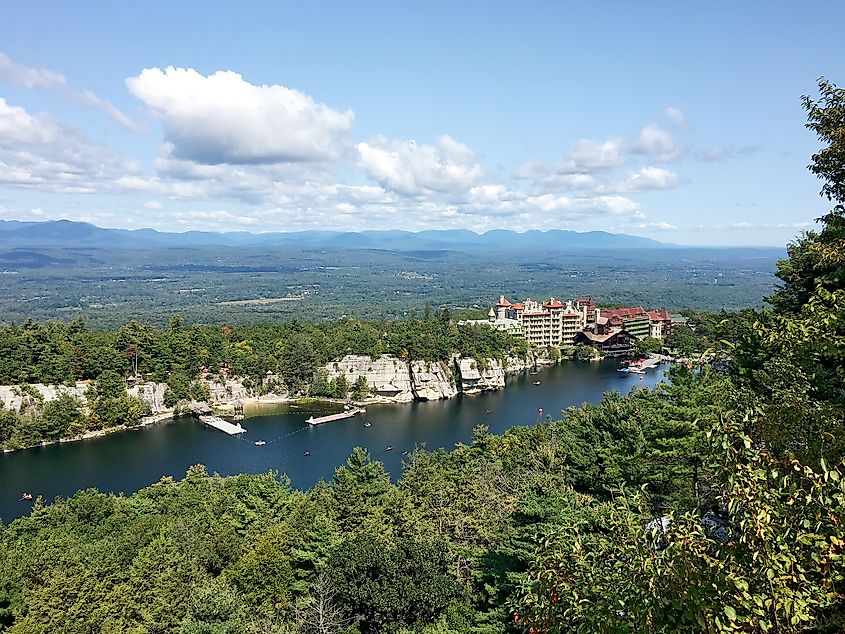 The town of New Paltz, nestled in the beautiful Hudson Valley, owes its origins to the French Huguenots who founded it in 1678. The town is a gateway to the Mohonk Preserve, revealing over 8,000 acres of cliffs, forests, fields, ponds, and streams. Not far from here, the Historic Huguenot Street, a National Historic Landmark District, consists of seven stone houses dating back to the early 18th century. Also inviting visitors for an adventure is the Wallkill Valley Rail Trail, a 23.7-mile trail that serves as a conduit for hiking, biking, and horseback riding. Additionally, the many restaurants, as well as the Elting Memorial Library, with its robust collection, serve as the community's hubs. The campus of SUNY New Paltz, with its Samuel Dorsky Museum of Art, provides a bit more of an academic experience, but it is fun just to stroll around and check out. Lastly, the Minnewaska State Park Preserve gives visitors an opportunity to explore rugged terrains, waterfalls, and three crystalline sky lakes.
Southampton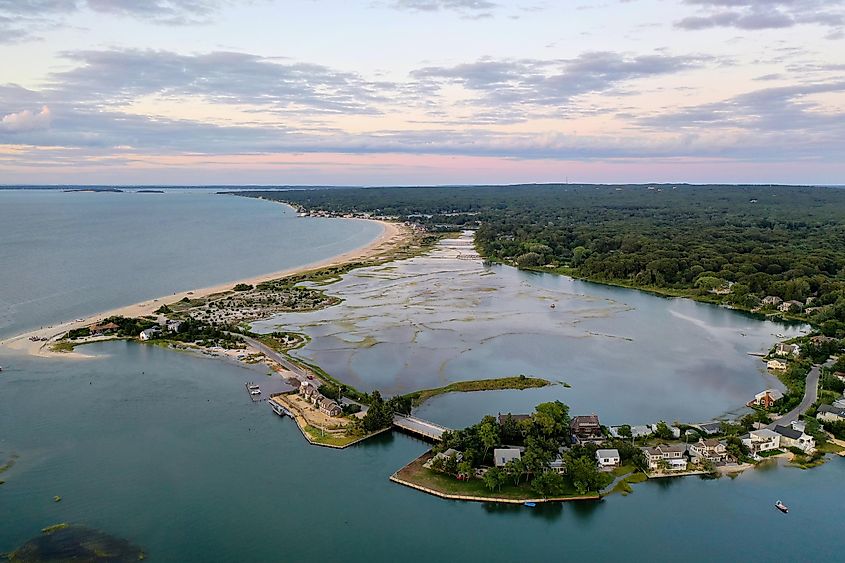 Southampton's establishment by English colonists in 1640 has shaped its historical and cultural trajectory. The Parrish Art Museum is a cultural emblem of this settlement, housing a diverse collection of American art with artists from the East End of Long Island. Cooper's Beach is a notable landmark, boasting soft white sands that fringe the Atlantic Ocean. The Southampton Historic District, lined with homes dating back to the 18th and 19th centuries, reflects the town's deep history. Meanwhile, the Shinnecock Nation Cultural Center and Museum, dedicated to preserving the Shinnecock tribe's heritage, stands as a testament to the area's Native American history. Conscience Point Historic Site includes trails and bird-watching opportunities, catering to those who prefer the fresh air.
East Hampton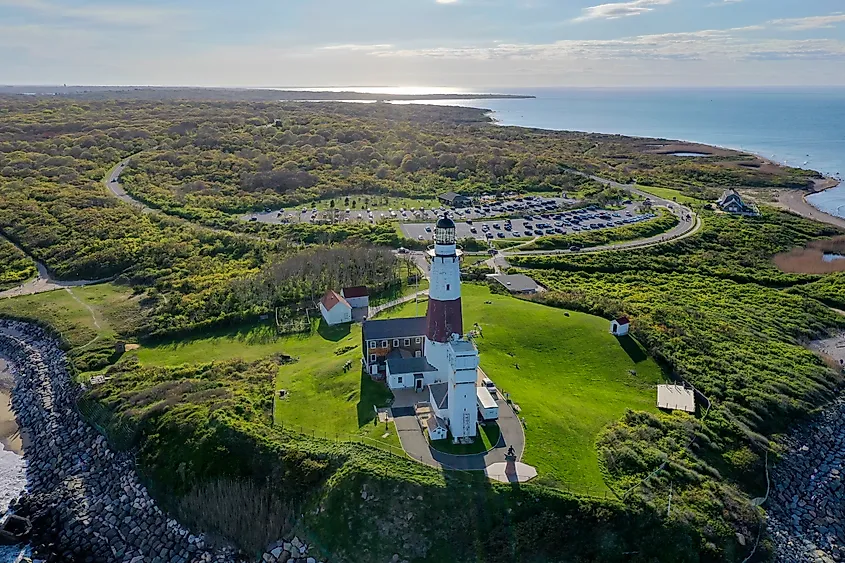 East Hampton's origins, dating back to 1648, are reflected in its rich colonial architecture. Guild Hall of East Hampton, a performing arts center, features visual and performing arts events. The Home Sweet Home Museum, situated in a 1700s saltbox house, showcases the skill behind its colonial architecture. Furthermore, the Pollock-Krasner House, once the home and studio of abstract expressionists Jackson Pollock and Lee Krasner, provides insight into their artistic process. A welcome sight to ancient ship captains, the Montauk Point Lighthouse, a National Historic Landmark, provides unparalleled views of the surrounding seascape. Regarding East Hampton's dedication to arts and nature, the Springs Art Gallery exhibits work by local artists, and Cedar Point County Park presents hiking, camping, and fishing opportunities.
Rye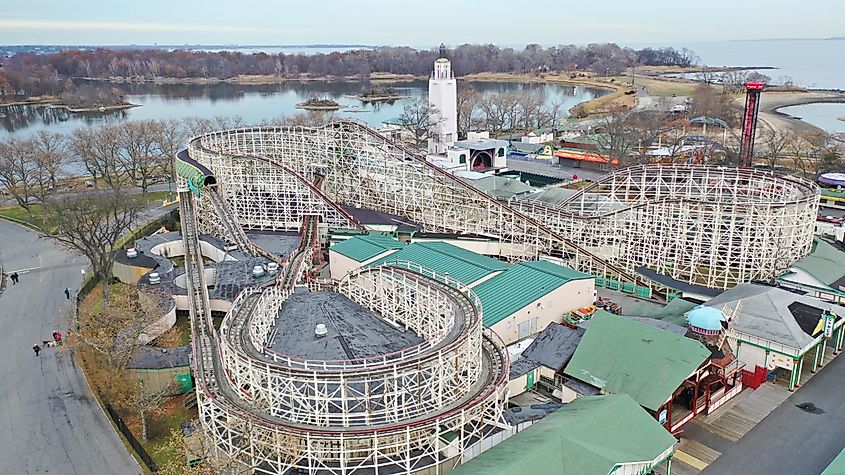 Rye, preserving much of its original appeal, was founded in the year 1660. It's home to the Playland Amusement Park, a National Historic Landmark that provides entertainment for all ages with its variety of rides and attractions. Adjacent to this is the Marshlands Conservancy, a sanctuary for diverse wildlife complete with numerous walking trails. Additionally, the Jay Heritage Center, housed in a 19th-century mansion, serves as a vibrant source of local history. It is complemented by the Rye Nature Center, which expands the town's educational offerings with its own programs and extensive hiking trails. Adding to Rye's rich historical tapestry is the Square House Museum, a landmark dating back to the 1730s, which provides further insights into Rye's history and development.
New Rochelle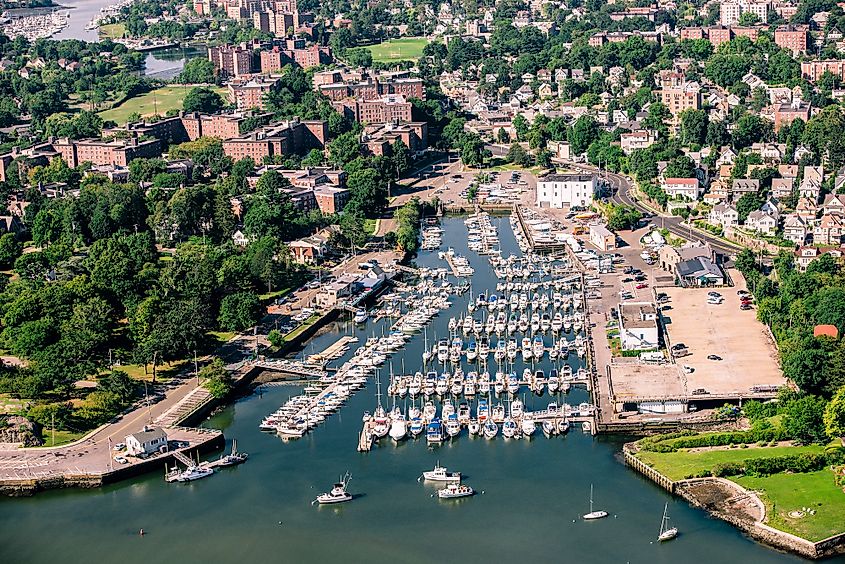 New Rochelle, a town characterized by a fascinating history, was established by Huguenot refugees in 1688. Home to the Thomas Paine Cottage, the town preserves the legacy of this influential figure. The site, a well-maintained colonial-style structure, houses Paine's invaluable manuscripts and artifacts. Offering 105 acres of greenery and waterfront, Glen Island Park provides abundant recreational opportunities and is famed for its Neoclassical castle. Furthermore, the Huguenot Children's Library serves the community as a hub for child literacy and learning. Adding cultural vibrance, the Museum of Arts & Culture showcases local and global art. Trinity-St. Paul's Episcopal Church, a Gothic Revival marvel, mirrors the town's religious diversity. Finally, Five Islands Park, with interconnected islets, allows for outdoor activities and water vistas.
Brooklyn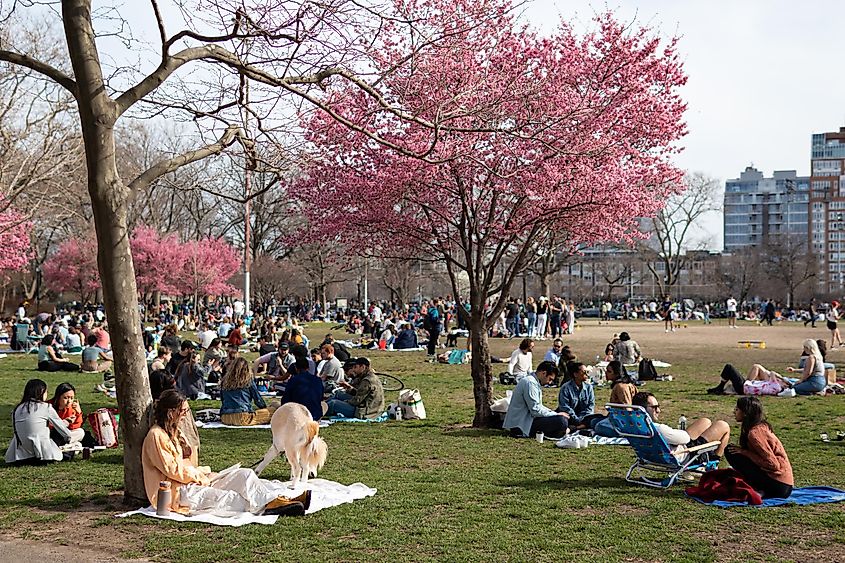 The history of Brooklyn extends from its initial Dutch settlement in the 17th century to its contemporary cultural significance. An iconic symbol of this continuity is the Brooklyn Bridge, a testament to architectural genius and resilience, offering breathtaking cityscape views. Just as captivating is the Brooklyn Museum, with its vast collection, fostering cultural understanding through art. Amid the urban sprawl, Prospect Park serves as a sanctuary for nature enthusiasts and athletes. Food lovers find their paradise at Smorgasburg, renowned for its culinary creativity (for you trip planners out there, note that it is a seasonal open-air food market). Equally appealing is Coney Island, a fusion of thrill rides and seaside charm that attracts both locals and tourists. Adding to the borough's ever-beating pulse, the Brooklyn Flea Market buzzes with a diversity of vendors, providing an opportunity for treasure hunting for bizarre items in an energetic ambiance. Completing the tour, the Brooklyn Botanic Garden stands as an urban green refuge, where extraordinary plant species are showcased, and cultural plant-centric events take center stage. 
From the capital city of Albany to the bustling borough of Brooklyn, these ancient towns offer a blend of history, culture, and scenic beauty. Each town carries a distinct narrative, echoed through its historical sites, architectural achievement, and natural wonders. These towns are not just places to visit but rather time capsules providing insights into the evolution of New York State. With each visit, they offer a chance to step back in time and immerse oneself in the wealth of their past, ultimately presenting a broader and more nuanced understanding of New York's historical landscape. These destinations illustrate that the Empire State's charm extends far beyond the skyscrapers of New York City, with diverse experiences awaiting in each town's bounds.