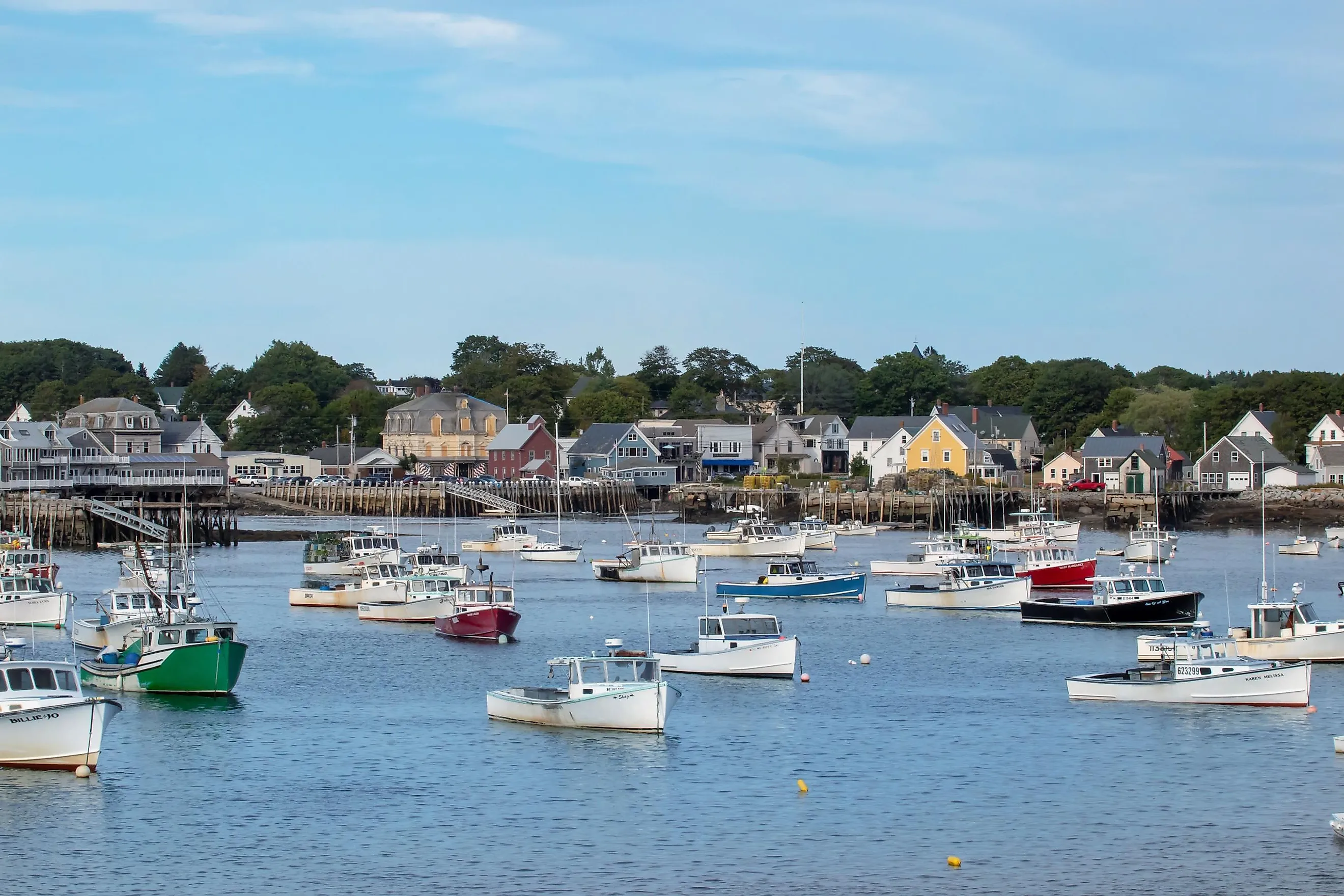 8 Of The Friendliest Towns In Maine
Lodged in the northeast corner of New England, Maine is one of few states where the notion of "God's Country" still applies. This remarkably untouched wilderness lies between the Atlantic Ocean and the extensive mountain ranges system in its west. The first people to settle these lands were hardy, braving harsh winters and storms that caused many a shipwreck. However, these conditions encouraged a neighborly way of life because banding together makes life better for everyone - and that neighborly attitude extends to newcomers as well. Today, Maine is a quiet and much more habitable place, but the solidarity of its citizens remains.
Across its over 35 thousand square miles of forest, beautiful rocky coast, and mountaintops, good people will always be eager to watch your back and support you when the going gets rough. I, myself, have even been rescued once on the frozen slopes of Maine's Mount Katahdin by this same kindness, so take a look at the towns these friendly people call home.
Bar Harbor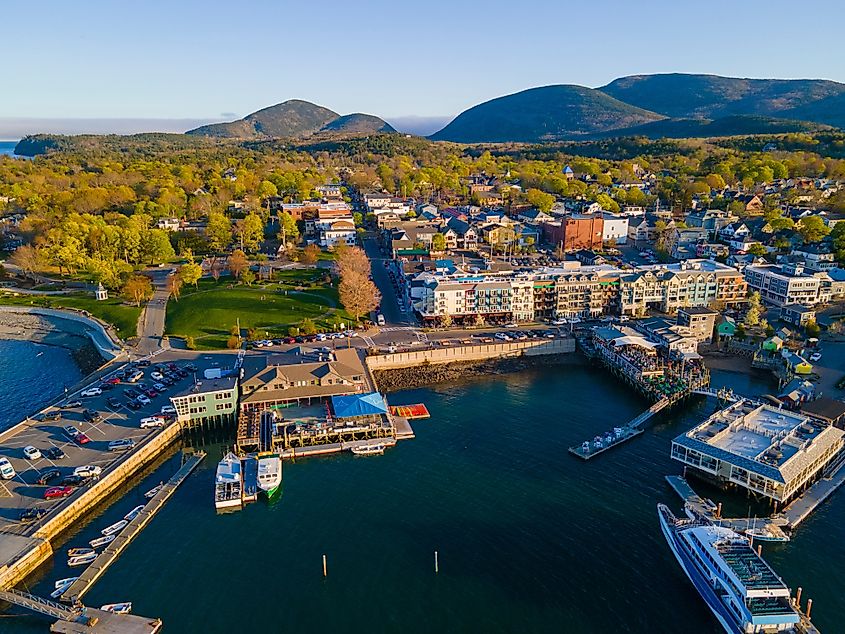 Nestled on the northeastern corner of Mount Desert Island, Bar Harbor is renowned as the gateway to the Acadia National Park, a vast expanse of craggy coastline, granite peaks, and verdant woodlands. The park boasts over 120 miles of trails, including the challenging Precipice Trail that zigzags up Champlain Mountain, offering panoramic views of the Atlantic Ocean. Bar Harbor's main thoroughfare, Main Street, is lined with galleries, boutiques, and seafood restaurants serving the town's famous lobster and clam chowder. The Abbe Museum, dedicated to the culture and history of the local Wabanaki tribes (as well as other indigenous groups), is another must-visit. Each summer, the town hosts the Bar Harbor Music Festival, a vibrant celebration of classical, jazz, and opera performances.
Yarmouth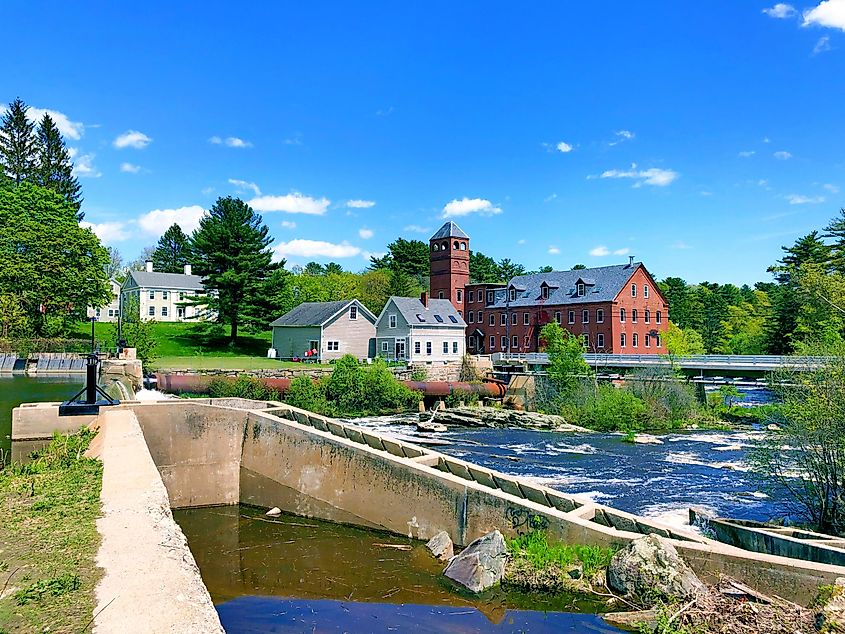 Located on Casco Bay, Yarmouth offers an idyllic blend of coastal charm and suburban comfort. Royal River, a major tributary, flows through the heart of the town, forming the scenic Royal River Park – a popular spot for picnics and nature walks. Main Street is a showcase of Yarmouth's maritime history, with historic buildings like the Grand Trunk Railway Depot, a testament to the town's 19th-century railroad era. Furthermore, the town has an extensive agricultural history, with many farmhouses and barns still standing. Yarmouth's pride and joy is the Clam Festival, an annual three-day summer event filled with parades, fireworks, and, of course, clams in every form imaginable. For a quiet day at the beach, Cousins Island provides a sandy retreat, while Sandy Point Beach is a great spot for bird-watching.
Augusta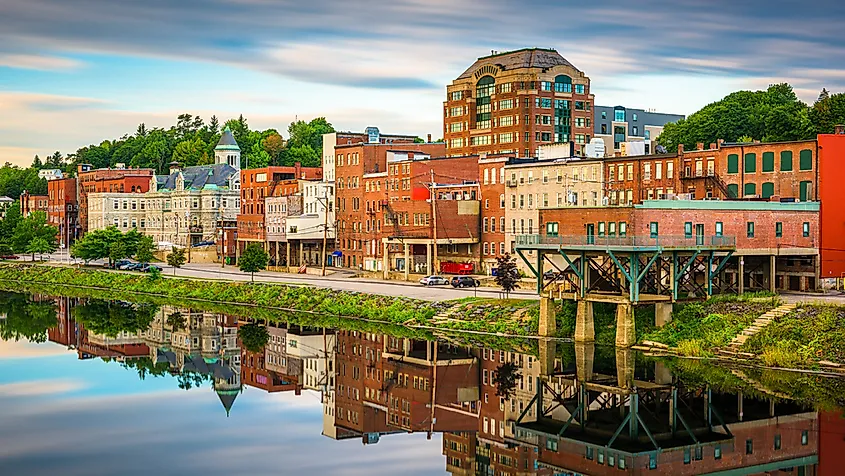 Augusta, Maine's capital, is steeped in American history. The Maine State House, constructed in 1832, stands as an emblem of the town's political significance, while the Blaine House, the governor's mansion, is a stunning example of Federal-style architecture. In the heart of the city lies the Kennebec River, with the 6.5-mile Kennebec River Rail Trail tracing its bank, providing a picturesque setting for walkers and cyclists. The Old Fort Western, America's oldest surviving wooden fort, lets visitors explore colonial history firsthand. Augusta is also the cultural nucleus of Maine, home to institutions such as the Maine State Museum, where exhibits bring Maine's natural and cultural heritage to life, and the University of Maine at Augusta, known for its strong arts and sciences programs.
Saco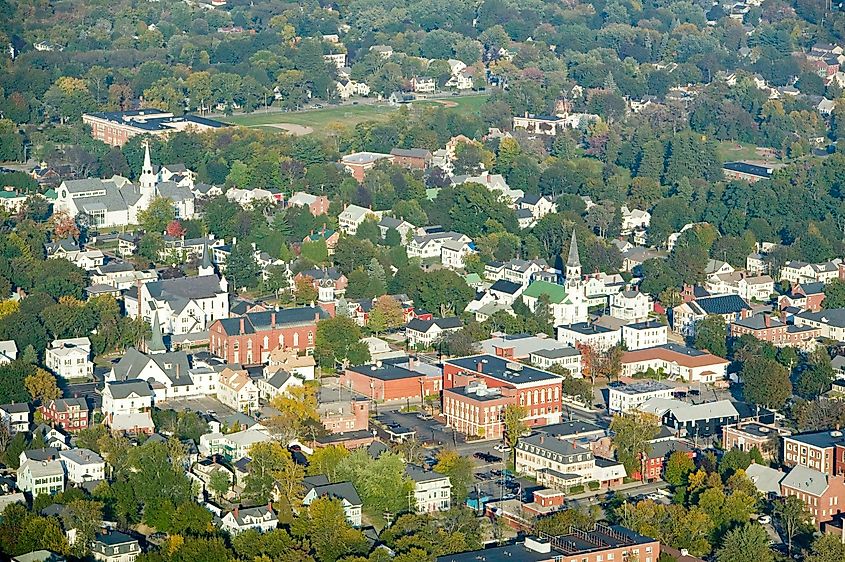 Saco, with its location at the mouth of the Saco River, is synonymous with beachside leisure and outdoor adventure. Ferry Beach State Park, with its sweeping views of Saco Bay, offers a tranquil escape. The park is named for its unique tupelo trees, which are usually found in much warmer climates. For thrill-seekers, Funtown Splashtown USA houses Maine's largest waterpark and a selection of roller coasters and family rides. Saco's rich industrial history is evident in the restored mills along the river, transformed into trendy lofts and boutique shops. The Saco Museum, one of the oldest museums in Maine, displays artifacts chronicling Saco's journey from a mill town to a modern city. Its collection includes works by local artists and an assortment of 19th-century textiles from the mills.
Falmouth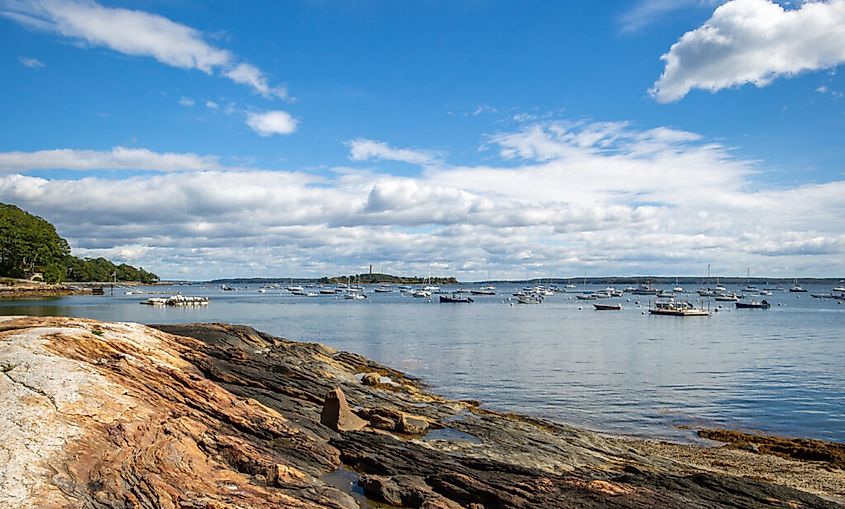 Falmouth is a thriving, affluent suburb of Portland, well-regarded for its highly-ranked school system and business community. Located along the coast, it features a complex of three public beaches: Town Landing Beach, Falmouth Town Beach, and Underwood Spring Park. Town Landing, the largest, has a bustling marina where local fishermen and boaters dock their vessels. Mackworth Island, a state park in Falmouth, offers hiking trails and sweeping views of Casco Bay. The historic Falmouth Foreside district was once a bustling shipbuilding center in the 18th century, and its grand colonial homes are a testament to this past. Its primary commercial sector, along Route 1, is a hub of shopping and dining, featuring a variety of independently owned businesses that cater to the town's affluent populace.
Orono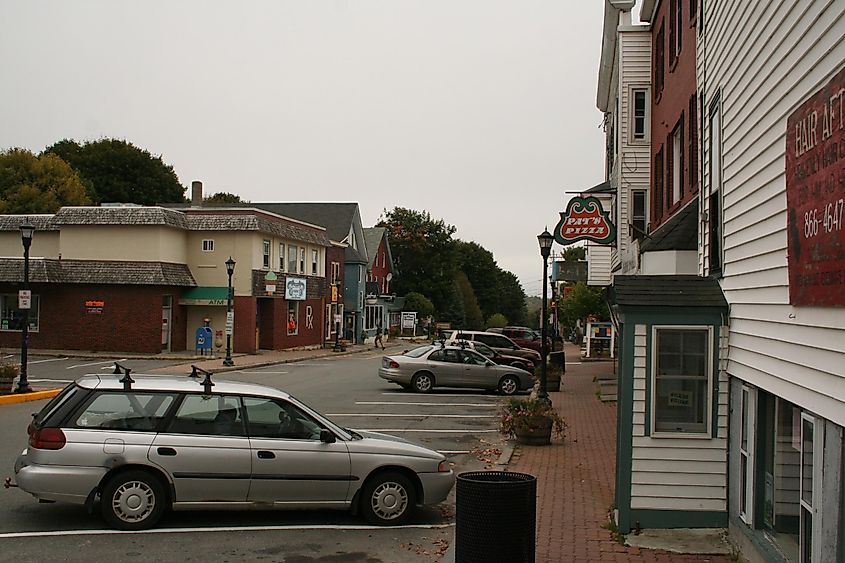 Orono is home to the University of Maine, Maine's largest university, imparting the town a youthful, intellectual energy. Nestled along the Penobscot and Stillwater Rivers, the town is loved for its outdoor attractions. The university's Collins Center for the Arts is a cultural anchor, showcasing Broadway productions, orchestras, and lectures. The town's riverfront is a hotspot for canoeing and kayaking enthusiasts, while the Orono Bog Boardwalk allows a unique view of the local wetlands' peat bog. Orono's rich lumber history is evident in its numerous 19th-century Greek Revival and Victorian homes. A variety of cuisine options, coffee shops, and local boutiques cater to the town's diverse university community and residents, making Downtown Orono a nexus of culture.
Kennebunkport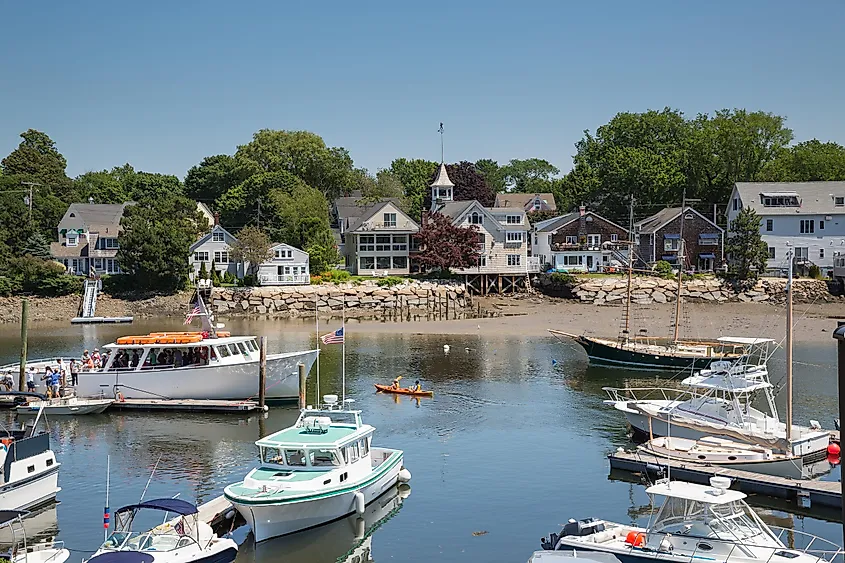 Located along the state's southern coast, Kennebunkport is known for its classic New England charm. It gained prominence in the 19th century as a shipbuilding and fishing village, with its Dock Square district still showcasing a wealth of colonial and federal-style architecture. The town is renowned for its sandy beaches, especially Goose Rocks Beach and Kennebunk Beach, each offering different seaside experiences. The former is a quiet, three-mile stretch ideal for peaceful walks, while the latter is divided into three parts - Mother's Beach, Middle Beach, and Gooch's Beach - each with unique characteristics and amenities. Kennebunkport's status as a long-time summer destination of the Bush family has added to its prestige. Visitors also enjoy its arts scene, with numerous galleries dotted around town, and the locally-sourced seafood served in its many fine-dining establishments.
Vinalhaven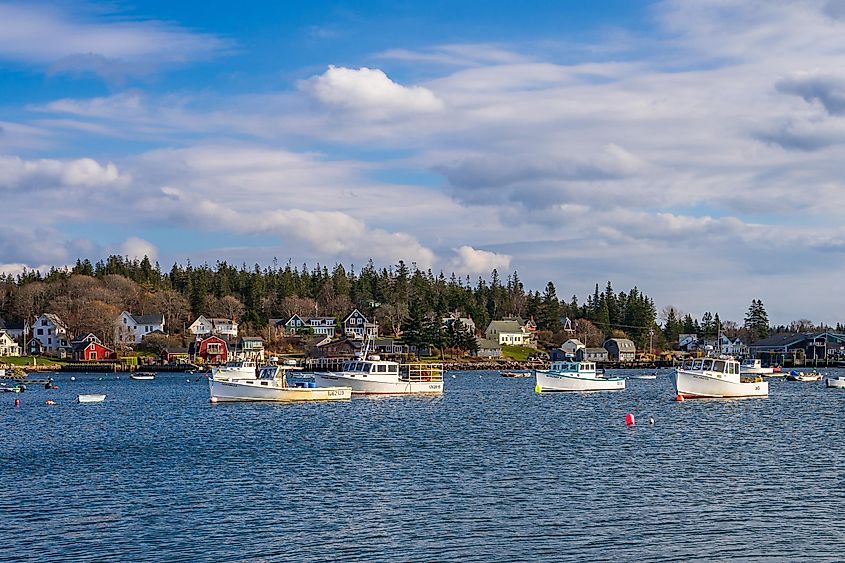 Accessible only by ferry, Vinalhaven is the most populated island town in Maine. It's most famous for its granite industry, active since the early 19th century, which supplied stone for prominent structures like the Washington Monument. The island's quarries, now filled with water, are popular swimming holes. Its rugged coastline is highlighted by two nature preserves - the Basin and Lane's Island - offering miles of trails through spruce forests and views of tidal marshes and granite ledges. The town is a thriving lobster fishing community, with the harbor often filled with working boats. Regarding artistic celebration on the island, Vinalhaven's New Era Gallery exhibits the works of over sixty artists, most of whom are nationally or internationally recognized and spend a substantial part of their careers on the island, which means there are plenty of exhibitions to meet new faces at.
With histories as rugged as the landscape itself, these towns reflect Maine's past as a maritime powerhouse. Today, it is still a hub of academic excellence as well as the best region to taste fresh lobster. From the coastal charm of Bar Harbor to the suburban comfort of Cumberland County, the Mainer way of life can seem strikingly rural and even eccentric to outsiders. Nevertheless, these folks value privacy as much as they value each other: a lot. Beyond a nostalgic history and an endless love for nature, Maine represents the camaraderie, goodwill, and sincerity that is a hallmark of the local people. It is true that Mainers have a reputation for being a little crusty on the outside, perhaps on account of the salty sea air, but when it truly matters, you will find they are soft, warm, and genuine at heart.