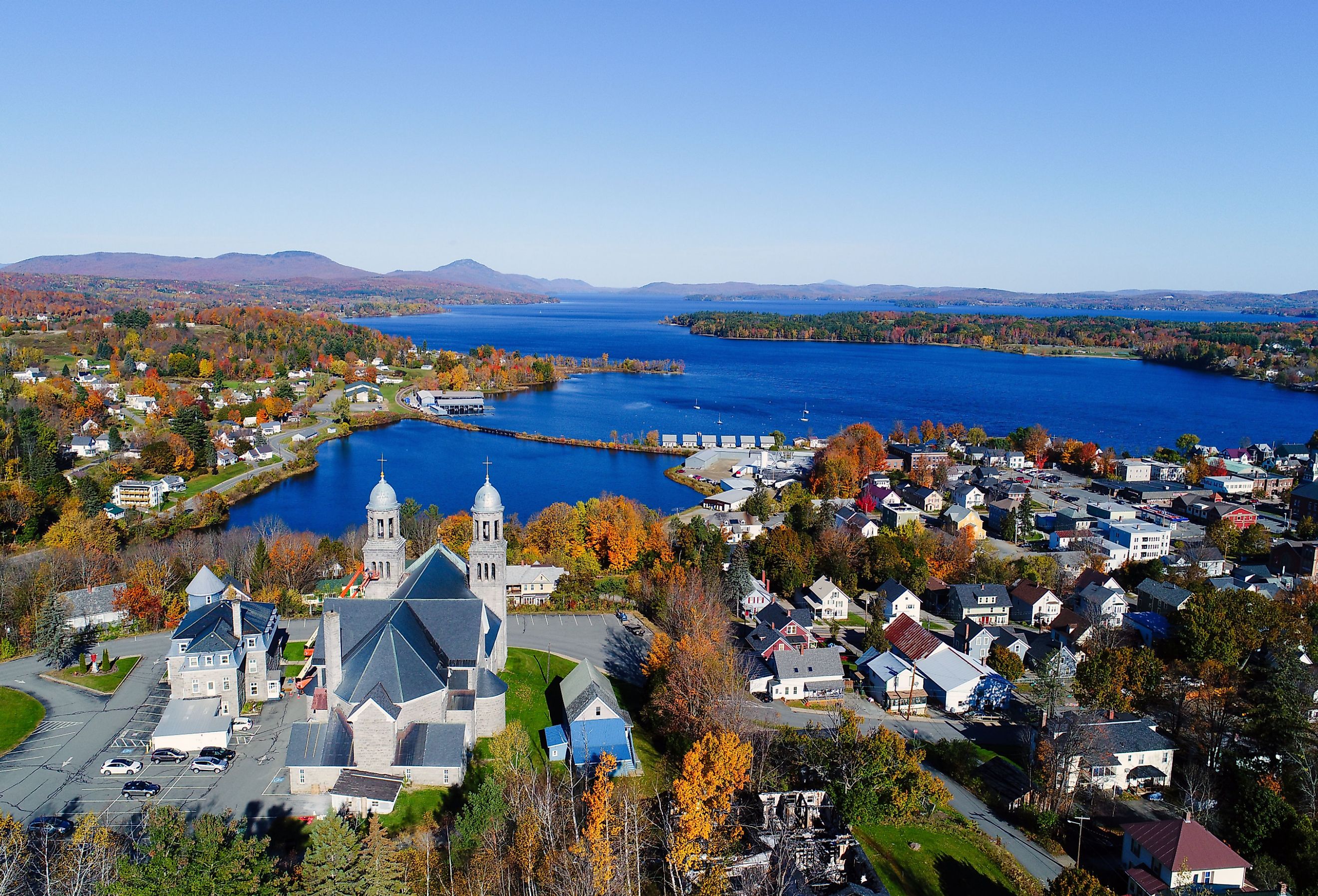 8 Most Underrated Cities in Vermont
Vermont is a state in the northeastern United States, known for its lush green landscapes, and beautiful rolling mountains and hills. In the fall, its forests are a huge draw for visitors who wish to see the changing colors of forest foliage. Outdoor lovers also flock to the area for hiking, dirt biking, and skiing. Vermont has so much to offer travelers. Hidden gem towns and cities are great options for anyone looking to take in Vermont's beauty, and discover somewhere different. Underrated cities can be some of the most enchanting, offering a window into a new place, without all the splash of tourist-driven overpopulation.
Rutland City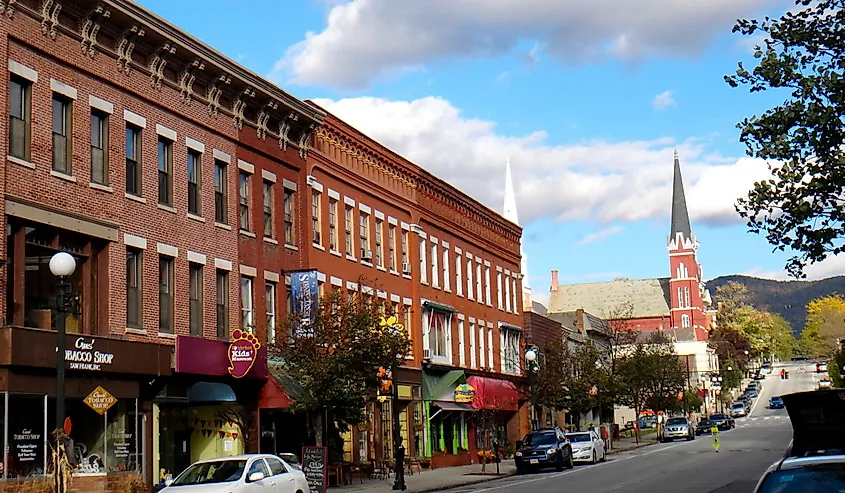 Rutland City has a population of around 16,000 people and is a historic city in central Vermont. The region is full of arts, culture, and community events. This gorgeous city boasts natural landmarks and beauty right on its doorstep. The downtown region of Rutland has a rich history. Visitors can explore the Rutland County Museum, or the family-friendly Wonderfeet Kids Museum. Art is also abundant throughout the city. The art scene is booming. The Goldmark Gallery and Chaffee art Centre are just a couple examples of art-focused destinations, while the historic Paramount theater, dates back to 1914.
Festivals and concerts are also common here, and the downtown is always alive with events and happenings. One of the most popular local attractions is the Vermont Farmers Market and the Friday Night Live concert series. Those that love outdoor adventure will enjoy the gorgeous landscape right at Rutland City's doorstep. Pine Hill Park offers mountain biking, while hikers might prefer the Long Trail. For winter sports, Ski at Killington is a must-visit.
Montpelier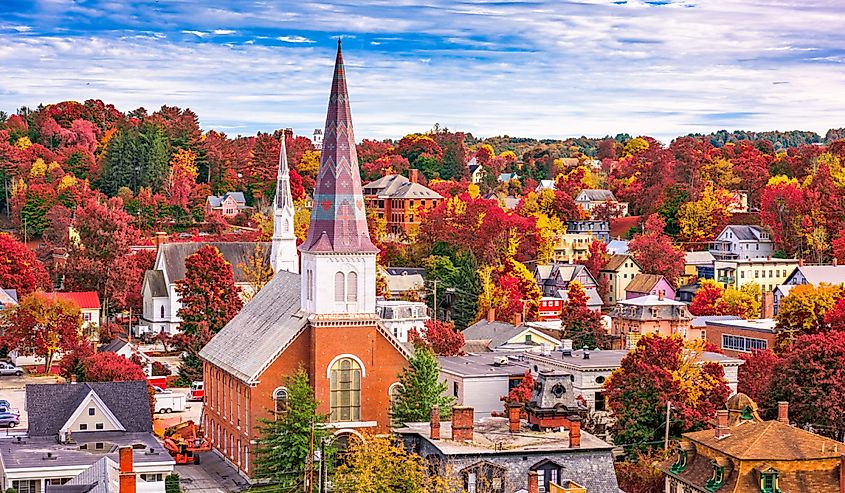 Montpelier is the capital of Vermont, and was recognized as "one of the 100 best small art towns in The US." The city puts a strong emphasis on arts, music, and culture. The Savoy Arts Cinema is a popular spot, and concerts and theater shows are often hosted in town at places like the Lost Nation Theater. 
There are also several prominent and impressive historic buildings in town for history and architecture lovers. The restored Vermont Statehouse is one of Montpelier's most well-known buildings and forms an impressive sight. It was originally constructed in 1859 in the Greek Revival style with a gold-domed roof. The building houses a collection of fine art. Also notable is the Vermont History Museum. The museum has an exhibit and mural that celebrates local and state history. Outdoor enthusiasts can enjoy the picturesque Winooski River, which cuts along the edge of downtown. Similarly, Hubbard Park has meadows, woodlands, and groves of birch trees to enjoy. There is even a stone observation tower that offers a stunning vantage point. Other parks include the North Branch River Park, which has a partnership with the Montpelier Area Mountain Bike Association, and the Mill Pond Park.
Newport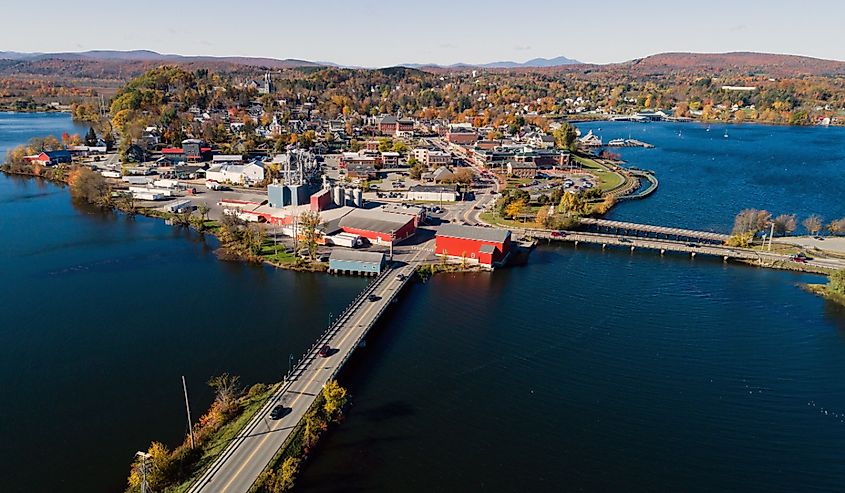 Newport is in Orleans County, in northeastern Vermont, and has a population of roughly 4,500 people. It sits on the southern shore of the stunning Lake Memphremagog which is on the US-Canada border and measures around 27 miles. Newport has a very traditional feel about it and has a quaint downtown core. The natural landscape and proximity to the lake mean that visitors to the area can enjoy a range of outdoor activities. Swimming, fishing, and boating are popular throughout the summer, while cooler weather means skiing and snowmobiling. Newport has so much to offer in terms of sport tourism and is a gorgeous place to relax and enjoy nature as well.
Burlington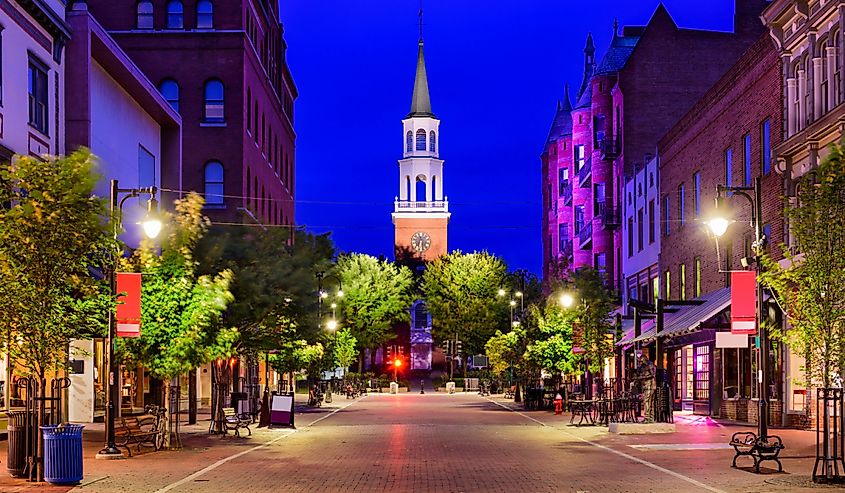 Burlington is a city in northwestern Vermont that has a population of just under 45,000 people. It sits along the eastern shore of Lake Champlain, south of the Canadian border. Like many cities in Vermont, Burlington has a mixture of charm, old history, and a vibrant lifestyle. In the downtown sector, Burlington boasts the award-winning Church Street Marketplace, a pedestrian mall with over 100 retailers, restaurants, and entertainers. This region is often bustling with events and festivals, adding to the city's appeal.
Other artistic attractions include the Burlington City Arts, Fleming Museum of Art, and Flynn Center for Performing Arts. There are also several historical buildings for history buffs to enjoy, including the home of a former Revolutionary War hero, the Ethan Allen Museum, as well as the Shelburne Museum and Shelburne Farms. For outdoor enthusiasts, the Burlington Waterfront offers gorgeous views of the city and the lake, and there are a variety of walking paths and bike trails throughout the city to enjoy.
Essex Junction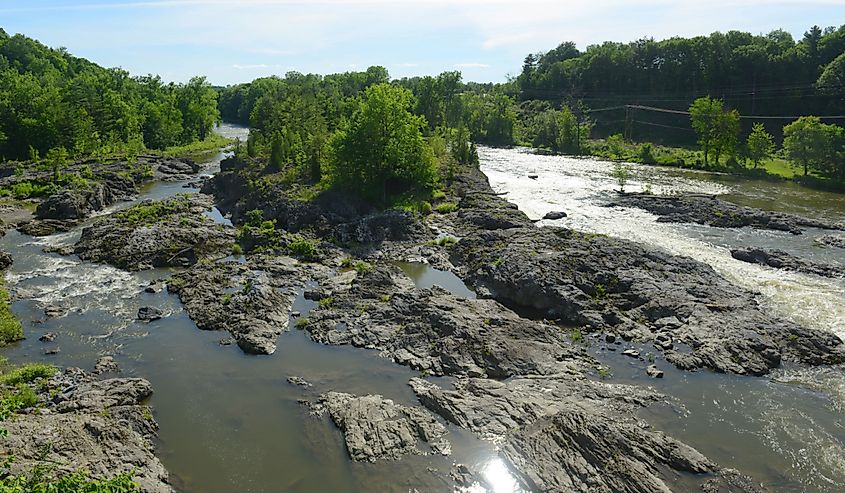 Essex Junction is a city in Chittenden County, Vermont, and has a population of around 10,600 people. The Essex Junction is southwest of the town of Essex, from which it recently separated, and south of Winooski River. The region experienced a major boom in 1958 when major computer and IT company IBM chose the city as the home of a major facility. Within the first year, this brought roughly 500 jobs, expanding to 8,000 jobs in 1982, last listed at 3,000 as of 2015. Though the size has fluctuated, this major business spurred the small town to expand, becoming the city it is today.
Another draw to the region aside from employment is the Champlain Valley exposition and Champlain Valley Fair. The exposition is a venue that hosts everything from concerts to events, and the fair itself is the most popular. It is a 10-day festival that includes an agricultural exhibition, a food fair including maple syrup and local delicacies, a midway complete with carnival rides, and evening concert entertainment. Essex Junction is home to the Champlain Valley Exposition grounds, a former dirt racetrack that has evolved into a large event field, with stadium seating for concerts, and multiple halls that can host a variety of indoor events. An estimated 120,000 guests attend the fair each year.
Barre City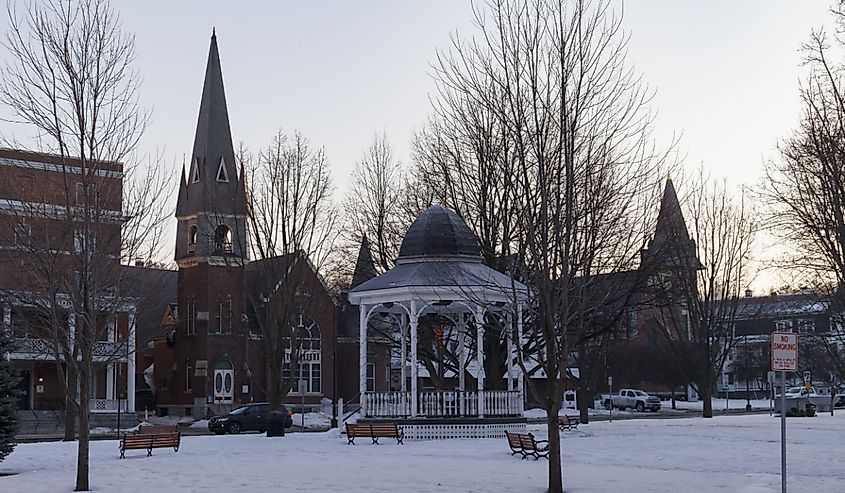 Barre City, which sits beside Montpelier, is often lumped in with its neighbor, but this beautiful city has a history and presence all its own. Known as the "Granite Center of the World" Barre became popular due to the presence of a large granite deposit which helped both industry and the railroad to blossom in the region. While the granite may have brought a large portion of migrants to the area, the city's downtown region has developed into an attraction of its own. Shopping, a strong school system, affordable housing, and a large selection of recreational options make Barre City an excellent place to live.
Winooski
Winooski is a city in Chittenden County, Vermont, which sits on the Winooski River. It has a population of around 8,000 people and is the most densely populated municipality within Maine, New Hampshire, and Vermont. The downtown area is full of charm and features a number of historic buildings. Once a mill town, the area stills boasts the Mill Museum and Winooski Historical Society which offers guests a window into early life in Winooski.
Sprinkled among the old buildings are great restaurants, bars, and breweries, including the Four Quarters Brewing Company. The region has the perfect balance of urban and quaint. Local music festivals in the region include the Waking Windows, French Heritage Festival, Wolfsgart Airout, and Sunday farmers markets. For those who love the outdoors, there are riverwalk pathways where visitors can take in the local wildlife and river views, including bald eagles, herons, and egrets. Fishing is also popular here, and adventurers can take to the water in a kayak or canoe.
Saint Albans City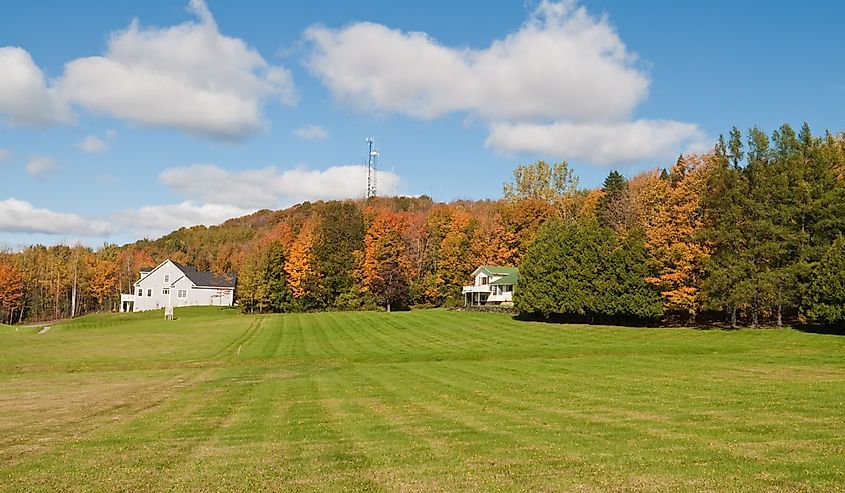 Saint Albans is the county seat of Franklin County, Vermont, and has a population of roughly 6,900 people. Located in the northwest of Vermont, it is roughly 30 miles from Burlington, the state's largest city by population. Saint Albans originally developed as a farmer settlement, as the land was rich and perfect for cultivation. Sheep, horses, and cattle were popular herd animals in the region, and as such, butter and cheese became the major exports. The area also had a major railroad depot, giving it the name "Railroad City." There was an iron foundry and both repair shops and manufacturing centers for freight cars. 
In more modern times, the city still boasts a rustic farm feel, but with modern amenities. Major attractions include the Saint Albans Museum, which showcases the city's history. Outdoor lovers can enjoy the Missisquoi Valley rail trail and Hard'ack recreation trail, perfect for hiking and biking. The region also hosts the Vermont Maple Festival each year, which has a number of activities, traditions, and competitions including the Sap Run footrace.
From rich history to gorgeous landscapes and all sorts of outdoor recreation opportunities, Vermont is a not-to-be-missed destination. The Green Mountains and friendly people make it an excellent place to plan a trip, and hitting one of these underrated cities will mean getting off the beaten path. Exploring somewhere new is a great way to spend a vacation, whether it is a family trip, solo break, or vacation with friends or loved ones. Vermont is a wonderful choice for scenic views and historical town centers.