Lake Memphremagog is a transboundary freshwater lake in North America straddling the border between Quebec, Canada, and Vermont, United States. About three-quarters (73%) of the lake's surface area lies in Quebec, and the rest of the area is Vermont. However, three-quarters of this finger-like lake's drainage basin is located in Vermont, US. This lake is narrow for most of its length and forms several embayments, including Sargent's and Fitch Bays. Several hills and mountains surround the lake, of which Owl's Head is the loftiest at 1,024 meters above sea level. The name "Lake Memphremagog" translates to "a place with a big expanse of water." The lake is a principal water source for about 200,000 people.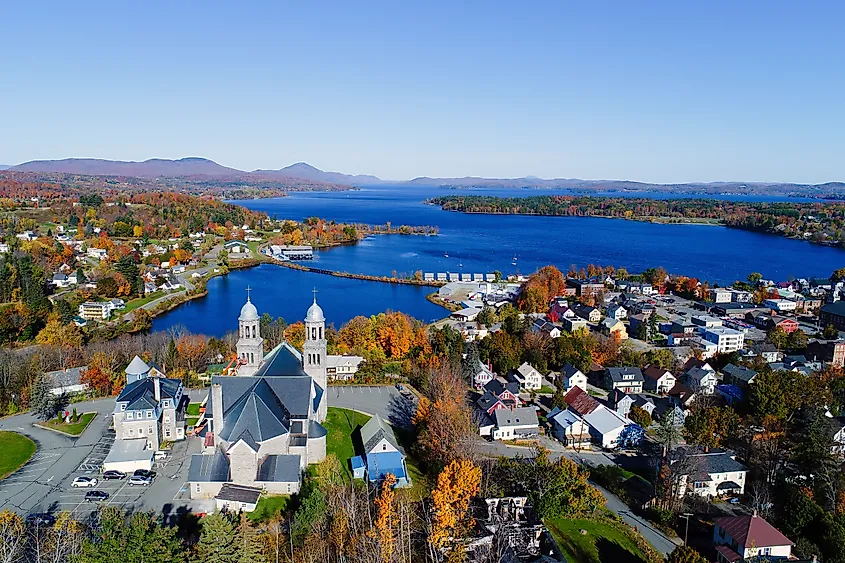 Location Of Lake Memphremagog
Lake Memphremagog straddles the US-Canada border. It is located between Magog, Quebec, and New Port, Vermont, with the lake's northern three-quarters in Canada's territory, while the southern quarter is in the US. The lake is bordered on the northeast by Lake Massawippi and Lake Magog. Besides the City of Vermont, the lake is also part of the towns of Newport and Derby. In Quebec, the lake is shared by several towns in Memphremagog Regional County Municipality, including Magog, Austin, Potton Ogden, Stanstead Township, and Saint-Benoit-du-Lac.
Geography Of Lake Memphremagog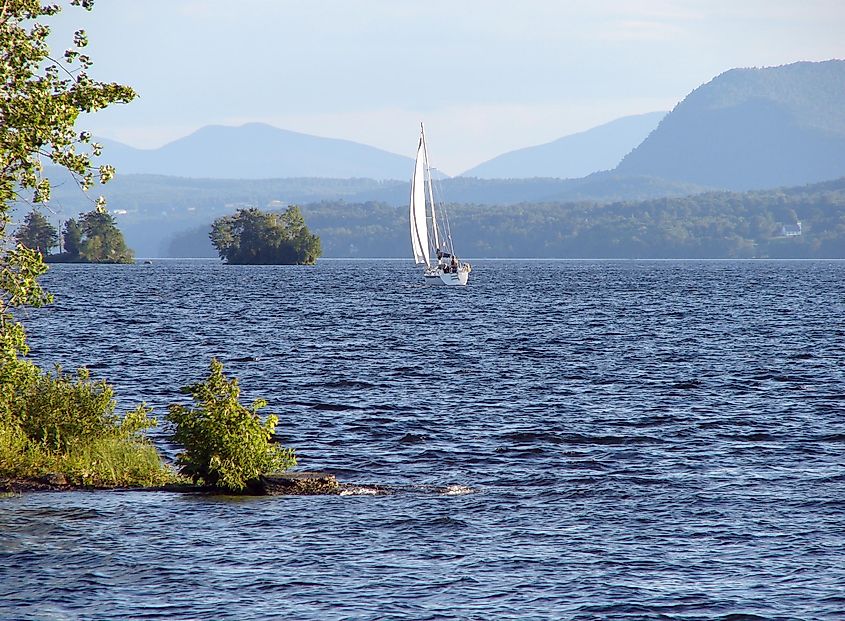 Lake Memphremagog is an elongated finger-like glacial lake extending approximately 50 kilometers from Newport to Magog. It is located at an elevation of 208 meters above sea level. It is a narrow lake that is only 1.5-3 kilometers wide. It covers an area of approximately 110 square kilometers, of which 83 square kilometers (73%) is in Quebec and the Lake Memphremagogis in Vermont. The lake is Vermont's 3rd deepest lake, with a maximum depth of 107 meters and an average of 15.5 meters. It drains an area of approximately 1,780 square kilometers, of which 1,270 square kilometers (three-quarters) is in Vermont. The lake has several embayments, including the South Bay on the southern end, Sargent's Bay extending on the west, and Fitch Bay extending eastwards.
Lake Memphremagog is surrounded by several mountains and hills and contains 21 hills. Fifteen islands are located in Canada and five in the United States, with one island on the United States-Canada border. Islands on the United States side include Horseneck, Bell, Black, Cove, and Gull Rock islands. Some of the lake's islands in Canada are Round, Whetstone, Tea Table, Loon, Eagle, and Three Sisters Islands. The Province Island is crossed by the borderline. Several lakes and rivers drain into Lake Memphremagog, including Taylor, Fitch, Tompkin, Bunker, and Arnold Streams, and Clyde, Barton, Black, and Cherry Rivers. The lake's primary outflow is the Magog River.
Lighthouses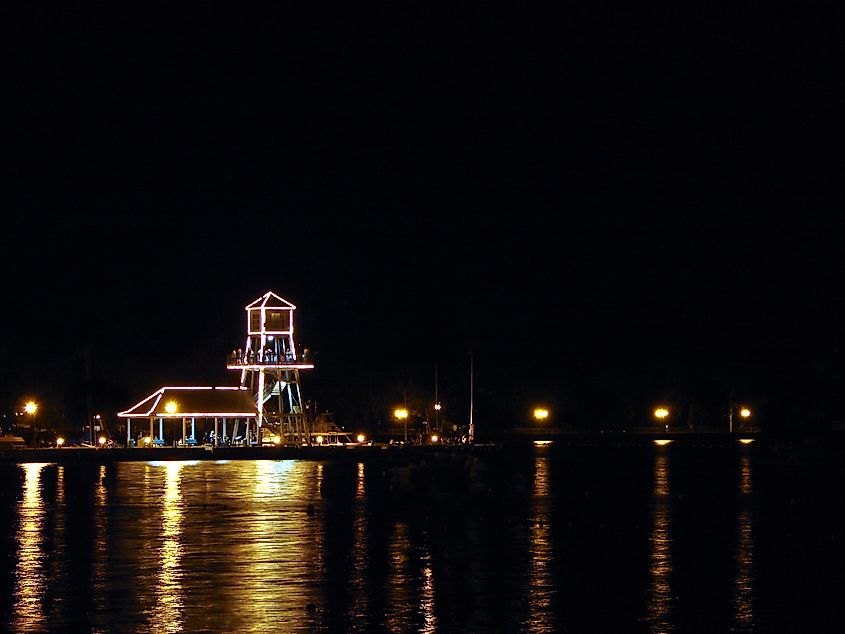 Lake Memphremagog had ten lighthouses, including seven in Quebec and three in Vermont. These lighthouses were mainly by the boaters as a guide while on the lake. However, all the three lighthouses in Vermont have since been demolished. They included Maxfield Point light, Newport Wharf light, and Whipple Point light. All the three lighthouses in Vermont were constructed in 1879. All the seven original lighthouses in Quebec have also been demolished, with some replaced by navigation lights. These lighthouses were Quebec, Magog, Witch Shoal, Black Point, Wadleigh's, Lead Mines, Molson's Island, and Chateau de Silva Lighthouses.
Significance Of Lake Memphremagog
Lake Memphremagog is a source of drinking water for about 200,000 people living within the drainage basin. The watershed is also a forest land and supports largescale agriculture. The Sargent's Bay Yacht Club is a sailing club in Sargent's Bay that started in 1935 and operates throughout the eight summer weeks. The sailing club is mainly used by parents to train their children on basic sailing skills.