As the county seat of Rutland County, the city of Rutland, situated in central Vermont adjacent to numerous mountains and lakes, is home to a lovely historic downtown rich with community events, arts, and culture. Rich marble reserves discovered in the mid-1800s propelled the growth of this area for more than a century, but in the final decades of the 20th century, the quarries went extinct. Rutland's identity is currently being shaped by a thriving arts scene and various outdoor recreation options. Surrounded by the town of Rutland, Rutland is the state's third-largest city after Burlington and South Burlington.  
Geography And Climate Of Rutland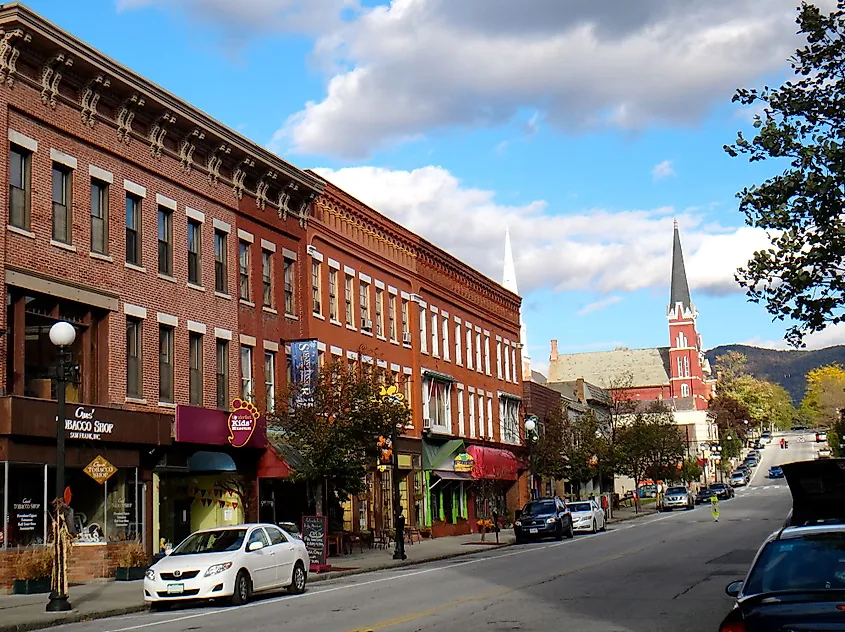 Rutland covers a total area of 19.87 sq. km, of which 19.54 sq. km is occupied by land, and 0.33 sq. km is covered by water. Rutland is located approximately 105 km north of the Massachusetts state boundary, 32 km east of the New York state line, and 56 km west of the New Hampshire state line. Rutland is placed in a natural north-south passageway between two mountain ranges in the Green Mountains of Vermont. It is flanked to the east by Killington, Pico, and Shrewsbury, the three sizable summits in the Green Mountain range, while the Taconics are located to the west of the city. Otter Creek, Moon Brook, Tenney Brook, East Creek, and Mussey Brook are some of the water bodies that drain Rutland. 
As per the Köppen Climate Classification, Rutland has a humid continental climate, with warm and rainy summers and icy, snowy winters. The average annual temperature ranges from 12°F to 79°F; it is infrequently below -6°F or over 86°F. July is the year's hottest month, having an average high temperature of more than 69°F. January is the year's coolest month having an average temperature of less than 39°F. On average, Rutland receives 78 inches of snow each year and 43 inches of rainfall yearly. 
Brief History Of Rutland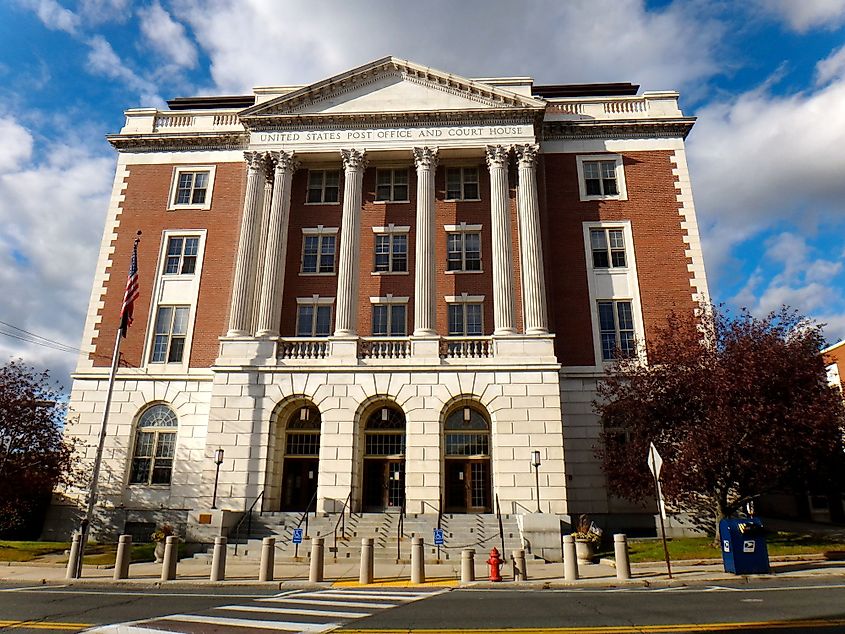 The region served as a military outpost that a British General named Sir Jeffrey Amherst established across Vermont in 1759 to link forts on Lake Champlain with the valley of the Connecticut River. In honor of John Manners, the third Duke of Rutland, the town of Rutland was established in 1761. Yankees from New England were the first settlers who arrived in 1770. Rutland also served as one of the republic of Vermont's capitals and the county seat of Rutland County starting in 1784.
A new courthouse was built in 1792, which later served as both the county court and the U.S. Federal District Court of Vermont. The state legislature meetings were alternately held in Rutland and Windsor during the 1790s. Rutland was selected as Vermont's railroad hub in the 1850s. After its incorporation as a community in 1847, Rutland became one of the world's top marble producers. Numerous skilled Italians from the sector moved to Rutland and brought their families. By 1880, Rutland became the largest municipality in Vermont.
The Population And Economy Of Rutland
As per the latest US Census, Rutland has a population of 15,807 inhabitants. Rutland's population has declined by -0.87% since the most recent census, and it is presently falling at a pace of -0.44% annually. White (Non-Hispanic) (93.6%), Two+ (Non-Hispanic) (2.17%), White (Hispanic) (1.45%), Black or African American (Non-Hispanic) (1.22%), and Asian (Non-Hispanic) (1.03%) make up the top five ethnic groups in Rutland, Vermont. Rutland has a 13.08% poverty rate and a $63,098 average household income. The median price of a property during the previous few years has been $151,900, while the median rental cost has been $800 per month. In Rutland, the median age is 45.5 years, with 44.4 years for men and 47.7 years for women.
Small, high-quality marble deposits were discovered in the region towards the beginning of the 19th century. Small businesses started excavating in the 1840s, but marble quarries didn't become profitable until the railroad arrived in 1851. Therefore, the marble mining industry and rail transportation were the foundations of Rutland's economic development. The highest paying industries in Rutland are Utilities ($80,532), Transportation & Warehousing ($73,929), and Public Administration ($49,599). The city's largest industries include Health Care & Social Assistance (1,602 people), Accommodation & Food Services (974 people), and Retail Trade (970 people).
Attractions In And Around Rutland
Green Mountain National Forest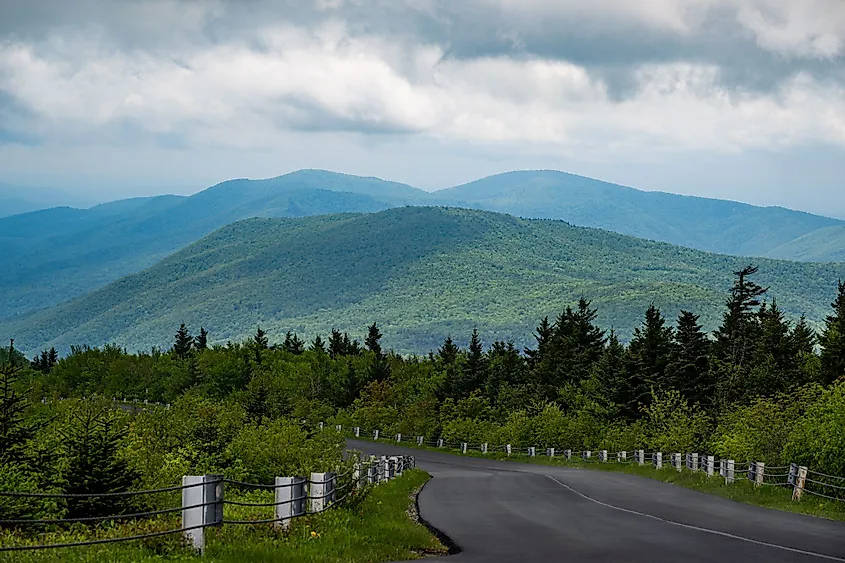 With an area of 399,151 acres, it is one of the town's largest national forests. A total of 900 miles of trails are available for biking, hiking, and running. The Green Mountain National Forest features serene surroundings that are ideal for animals, as well as excellent pathways for such pursuits. Because of this, the forest is home to a wide variety of wildlife, including moose, beavers, black bears, coyotes, wild turkeys, white-tailed deer, and other species.
Pine Hill Park
With 16 miles of single-track trails across 325 acres of terrain, Pine Hill Park offers its guests some of the best opportunities for mountain biking, trail running, hiking, strolling, snowshoeing, and geocaching in central Vermont. Seven distinctive wooden bridges may be found in the park, including a full suspension bridge, a centrifugal berm, and a Chinese-timber arch bridge. The suggested paths from Pine Hill include mountain biking loops for all skill levels, as well as running loops with breathtaking views of the surrounding Vermont landscape.
Hathaway Farm
The second-largest corn maze in Vermont and the second largest in the entire US is located at The Hathaway Farm. Bunnies, lambs, donkeys, goats, chickens, pigs, and other animals are present in addition to the corn maze's many attractions. You can also try some of Hathaway Farm's best-selling goods, like their maple syrup.
Paramount Theater
Since it was constructed in 1913 as "The Playhouse," Rutland's Paramount Theater has been a mainstay on Center Street. Back then, traveling vaudeville acts and minstrel shows were performed on stage. Even Harry Houdini, Will Rogers, and Tom Thumb visited the town thanks to this beautifully designed theater. The Paramount, which had been abandoned in the middle of the 1970s, was brought back to life in 2000 and is now a center for culture.
Giorgetti Park
If you want to take part in a variety of fun outdoor activities in a lovely setting, this is one of the best park sites. A popular destination in the vicinity is the Giorgetti Athletic Complex, which is next to the park and provides several outdoor activities such as an ice rink, turf, and skateboarding. The trails are great for a variety of other sports as well, including cycling, hiking, snowshoeing, and more. Finally, since Giorgetti Park's environment supports the existence of some faunal species, you might get to observe some of the park's endearing animals.