A part of the famed New England region of the northeastern United States, Vermont holds natural and cultural beauty. Sharing borders with New York, New Hampshire, Massachusetts, and the Canadian province of Quebec, the "Green Mountain State" is a land full of awe. The second least populated American state, whatever Vermont may lack in size it makes up for with splendid surroundings. Indeed its charming and picturesque towns offer plenty of opportunities to learn about history, enjoy the great outdoors, and embark on an adventure unique to America's New England region.
Warren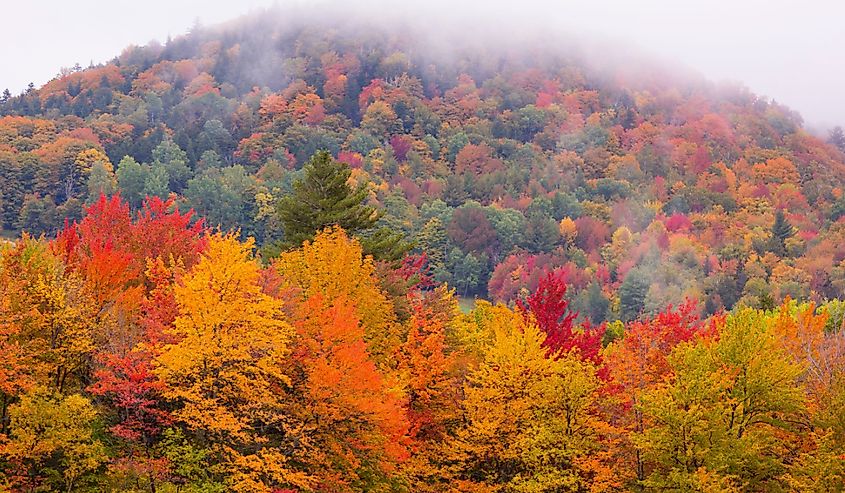 Situated in the Mad River Valley and between two ranges of the Green Mountains, Warren was first established back in 1789, and today maintains a most modest population of just under 2,000 residents. Now a popular ski resort area, the town is home to the Sugarbush Resort first opened in 1958. With more than 53 miles of ski trails and 16 ski lifts, visitors from all across the country descend on small Warren for this alpine wonderland alone.
However, beyond this primary winter getaway, visitors can also enjoy Warren in the summertime. Spend time at the beautiful Warren Falls, a portion of the famed hiking route the Long Trail, or spend time along the water's edge at the Mad River. With its small-town atmosphere and stunning nature, Warren is a picturesque and beautiful town that any visitor to Vermont should not miss.
Burke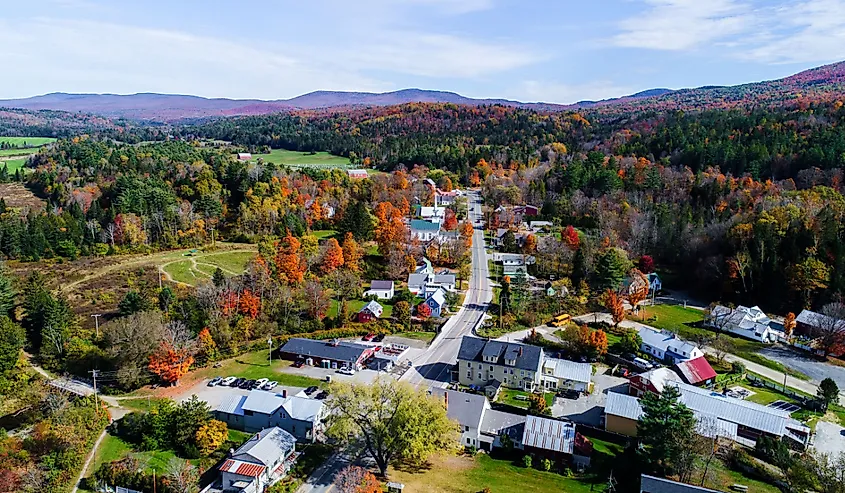 Named after 18th-century philosopher Edmund Burke, this small town of just over 1,600 residents was founded in the 1780s. Near the 3,270-foot-high mountain of the same name, Burke is a great place to enjoy alpine skiing in the winter and rigorous hiking trails in the summer. Home to the Burke Mountain Academy and the Burke Mountain Ski Resort, residents and visitors alike can expect to find some of the very best training in mountain sports here.
With its mild summers and cool winters, Burke is generally a great place to explore throughout the year. Take a swim at the nearby Lake Crystal and Willoughby or climb and bike ride around the beautiful Mount Pisgah and Mount Hor, where the splendor of nature is always an intimate experience.
Weston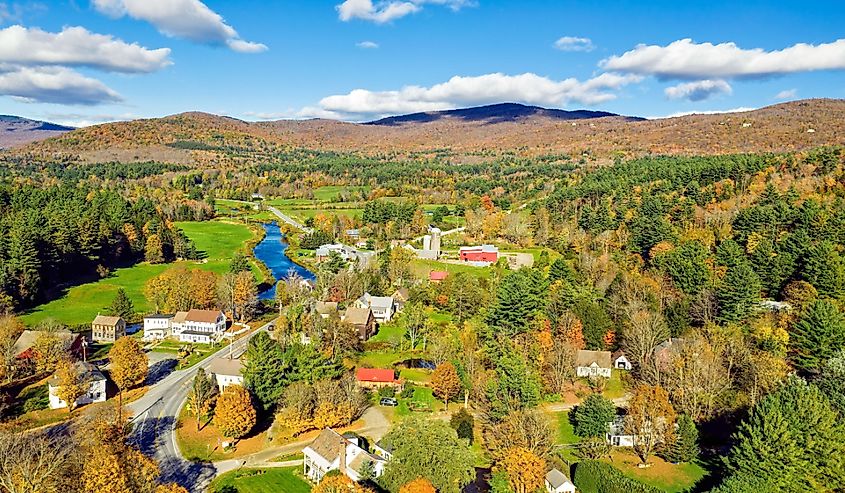 Located in Windsor County, and with a population of just 623 residents, Weston really defines what a charming small town is all about. First chartered in 1799, a number of fascinating and beautiful historical buildings and spaces are open for exploration by taking a leisurely stroll. Shop for special souvenirs and other items at the Weston Village Store, visit the Old Parish Church (1832), take in a delicious breakfast at the quaint Inn at Weston (1848), or catch a local production at the Weston Playhouse Theatre Company. Weston's quiet, calming, and appealing small-time atmosphere makes it one of Vermont's most special places, worthy of a visit or two.
Bennington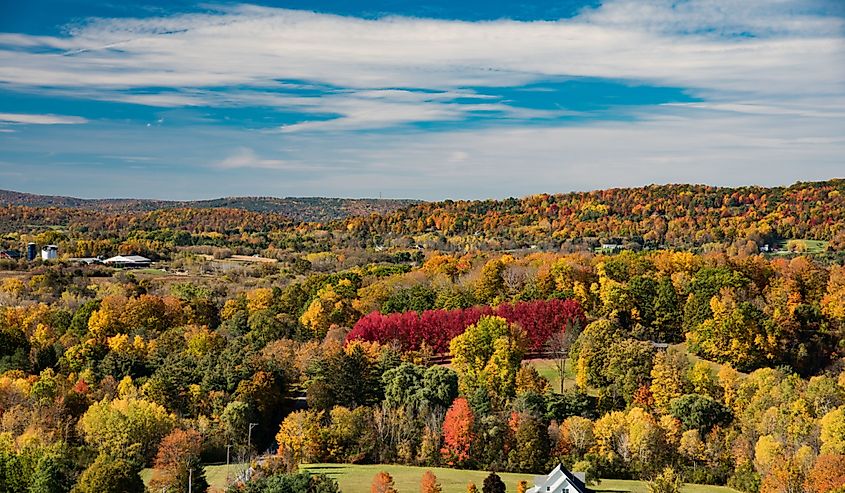 Bennington, one of two seats of Bennington County (alongside Manchester), is home to a population of just over 15,000 making it the most populous town in the southern portion of Vermont. Founded back in 1749, Bennington was an important site during the American Revolutionary War (1775-1783). To commemorate the 1777 Battle of Bennington which saw American forces overcome the British, the 306-foot-high Bennington Battle Monument was erected in 1889. To this day it remains the tallest man-made structure in the entire State of Vermont!
In addition, history lovers can also visit the Park McCullough Historic House, a historic Victorian mansion first built in 1864. With its 35 rooms and excellent preservation work, it remains one of the most authentic time machines in the area. Furthermore, visitors can explore a number of other historic buildings and landmarks in the vicinity including the Silk Covered Bridge, the Blue Benn Diner, and the grave of poet Robert Frost.
Stowe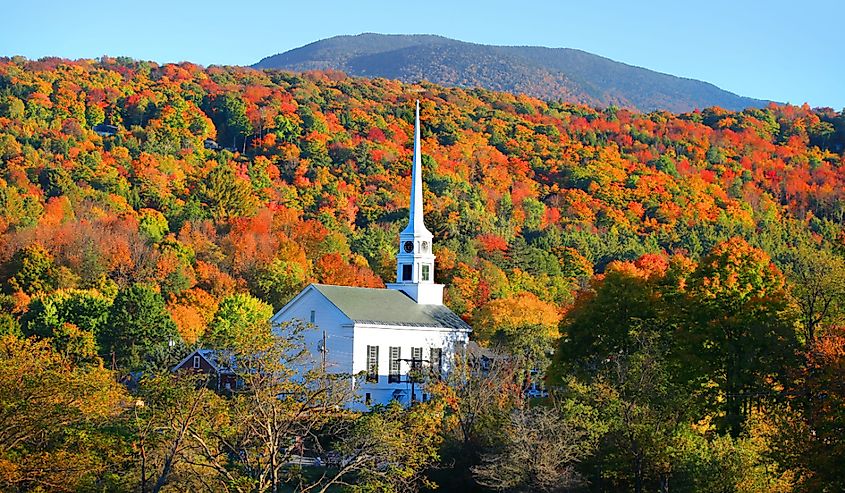 Known as the "Ski Capital of the East" and situated within the Green Mountains, the town of Stowe enjoys its vicinity to Vermont's highest peak, Mount Mansfield. Home to the Stowe Mountain Resort and with a population of just over 5,000 residents, Stowe was first established in the 1760s and is a wonderfully picturesque locale. In addition to its alpine beauty, in the summer months, visitors can also enjoy the lush greenery of the area.
Spend time at the Stowe Recreation Trail, a five-mile path with beautiful hiking and biking trails, or stroll through the historic downtown and its assortment of charming buildings. These include the General Store (in business since the 1890s). An interactive visit to the Ski and Snowboard Museum is always a great way to spend an afternoon, while a stop at the Trapp Family Lodge is a wonderful way to keep active no matter what the season.
Woodstock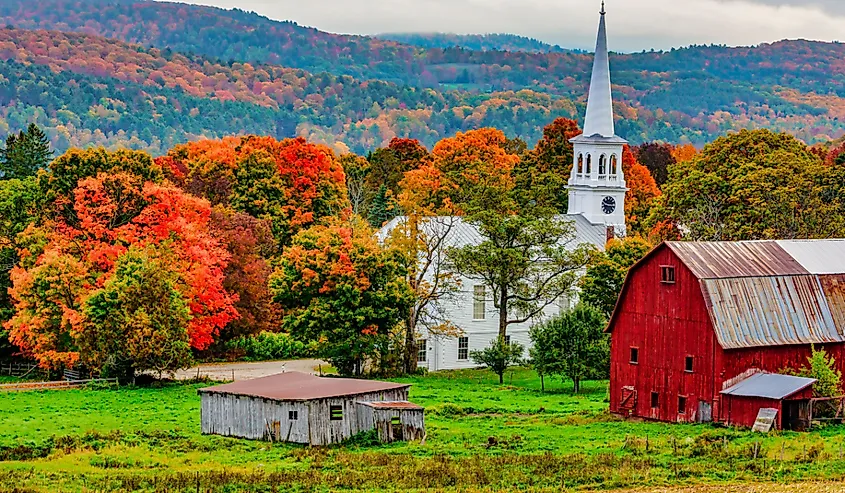 The seat of Windsor County, Woodstock is a charming historic town first chartered in 1761. Today it maintains a most humble population of 3,000 inhabitants with strong ties to America's Colonial past. With a number of fascinating heritage places and buildings to explore, Woodstock is, without a doubt, a must-visit for any history lover.
Spend time at the Woodstock Village Historic District and its assortment of important 18th and 19th-century buildings. These include the First Congregational Church (1890), the Town Hall Theatre, and the Lincoln Covered Bridge (1877). Meanwhile, nature enthusiasts can also relish their time in Woodstock with a visit to the Marsh Billings Rockefeller National Historical Park and its stunning leafy, and wooded surroundings. Visitors can also see the Billings Farm and Museum, the Marsh Billings Mansion (1805), and truly breathtaking views of trees, trails, rocky cliffs, and raw nature.
Manchester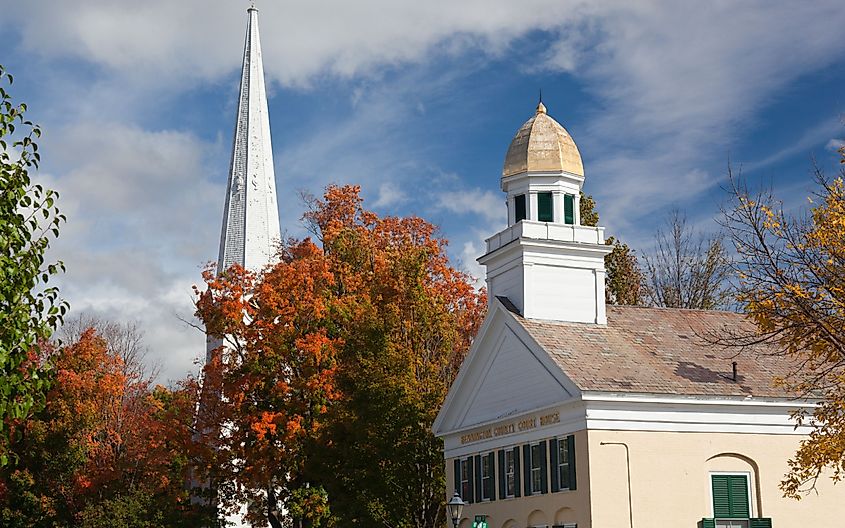 One of the two seats of Bennington County, Manchester is another beautiful historic town that traces its roots to the mid-18th century. Full of a charming and fascinating landscape of historic buildings and landmarks, Manchester is a humble town of just under 5,000 residents. Here visitors can see such buildings as the Bennington County Courthouse and the Lincoln Family Home, where the former President's first son lived in the summertime.
Beyond its historic attraction, there is a variety of great shopping outlets, tasty restaurants, and genuine small-town Vermont charm. For outdoor lovers, Bromley Mountain skiing is a must in the winter, while the truly daring can go zip lining during summer. The stunning Green Mountain National Forest is always a splendid outing. Here hiking, biking, and even wilderness watching are all enjoyed in a spacious and serene natural setting.
Vermont is a key component of America's New England region. Full of splendid natural beauty, fascinating history from the nation's earliest days, and a welcoming atmosphere for residents and visitors alike, Vermont has many picturesque towns. Though it is one of the smallest states by size and population, it remains full of great towns and attractions that no lover of Americana should want to miss. From the allure of nature to important landmarks of history, Vermont and its towns are worthy additions to anyone's vacation across the United States.