Home to the famous gambling and entertainment hub, Las Vegas, Nevada is a place that everyone should visit at least once. However, while Las Vegas may be Nevada's most famous city, the state is also home to a unique cold desert landscape that houses some serene mountains, lakes, and other geographical formations. Specifically, around Lake Tahoe and small bodies of water, there are some truly charming lake towns nestled throughout this large state.
Incline Village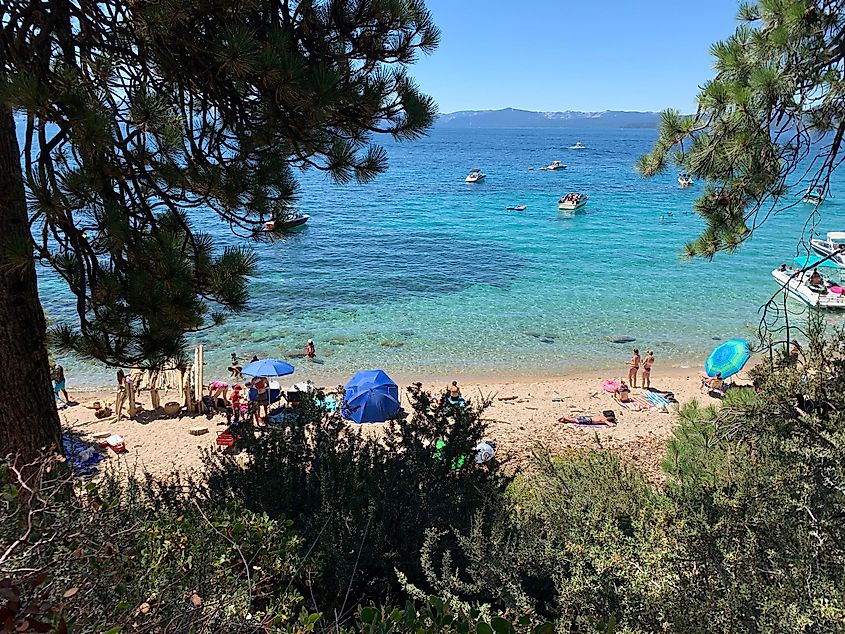 Nestled along Lake Tahoe's north shore in Washoe County, Nevada, Incline Village is a census-designated place known for its expensive real estate. Specifically, while being home to only 10,000 odd people, Incline Village is the site for Sierra Nevada University's main campus which attracts students and many professionals to the region regularly. Parallelly, the town is revered as a tax haven for many businesses which makes it a hot spot for large businesses and wealthy individuals to develop their offices and homes. So, unlike many others on this list, Incline Village is a unique combination of youthful energy, corporate pacing, and natural beauty which symbiotically provide a unique lake-side charm.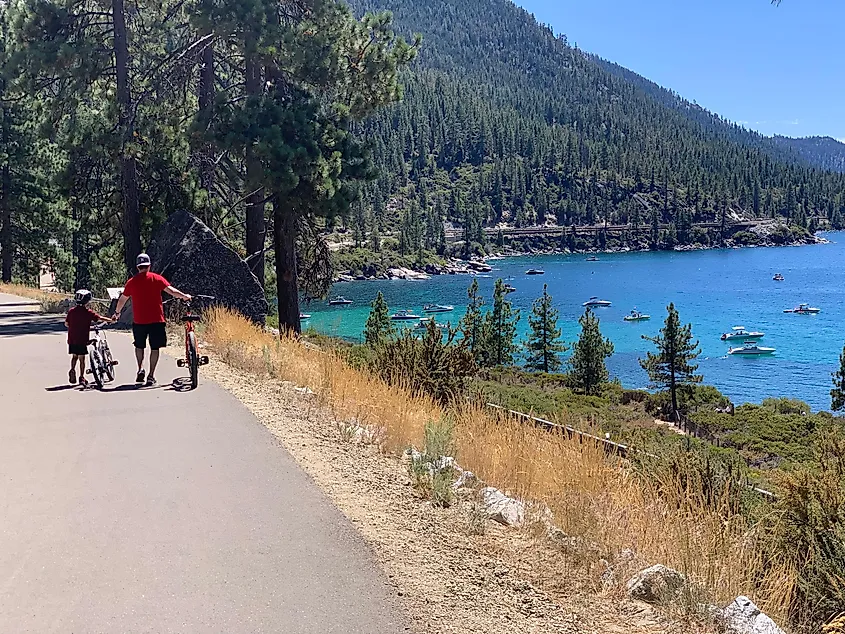 Thankfully, with so much money flowing into the area and its vicinity to beautiful natural views, there is an endless list of natural activities that people enjoy here. Primarily, with Lake Tahoe nearby, most seasonal visitors can be seen along the many trails, swimming spots, etc. enjoying their time in the summer. If you end up in Incline Village during winter, there is a completely new vibe to the place with everything taking up a snow-covered blanket which is made even more enjoyable with activities such as skiing and snowboarding. Enjoying everything here is also quite easy as the region is just a 2-hour drive from the major city of Sacramento in California.
Washoe & New Washoe City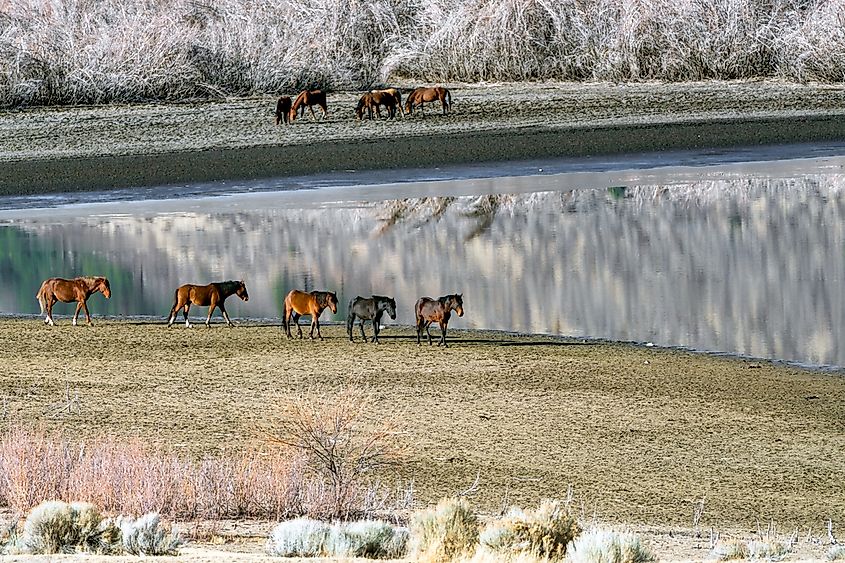 Often referred to as a "ghost town," Washoe City is a unique entry on this list due to it actually being two cities in one. While Washoe City was the original city located in Washoe County, the region gradually diminished in both economic activities and population, to which end the nearby community, New Washoe City was incorporated. That being said, this supposed ghost town which is located along its namesake, Washoe Lake, still holds a rich history as having been one of the premier lumber mills in the region. Founded in 1860, Washoe City benefited from the nearby lake as a water source thanks to which it quickly grew as a mill and attracted all sorts of people, professionals, and businesses. By 1865, the region was home to all sorts of people but this happiness was short-lived as shifts in major business saw a swift decline until now there are just remnants of a once bustling mill town.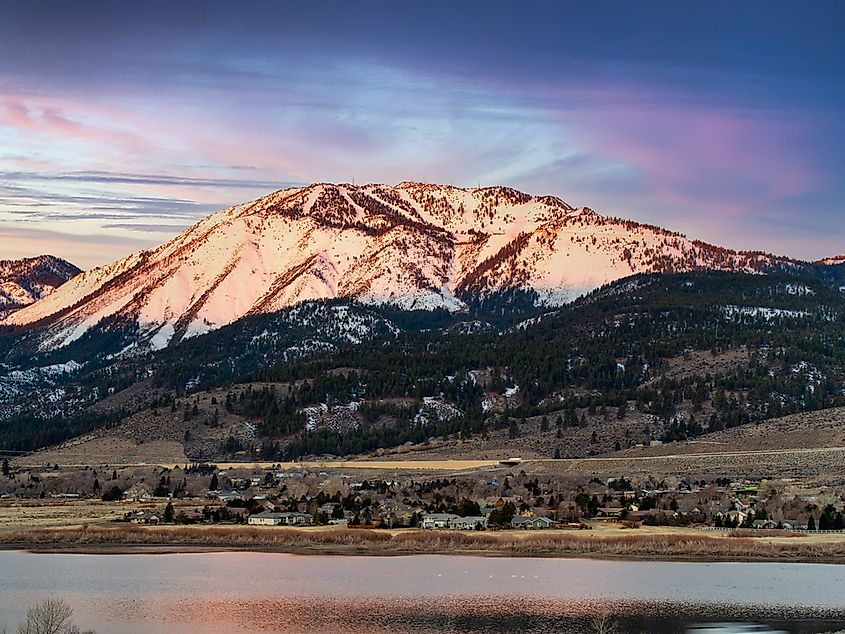 Coming to the present day, New Washoe City is definitely ideal for the list of charming lake towns being located just along the banks of Washoe Lake and home to a decent population of 3,000. The entire community revolves around the beautiful lake and you can check out some beautiful bird-watching areas, horseback riding along the coast, and even some fun boating and water sports. To top it all off, take a hike through Dead Man's Trail to get a bird's eye view of the lake in all its glory along with some scenic mountain ranges. So, although it may have become a ghost town, Washoe City is truly one with nature.
Boulder City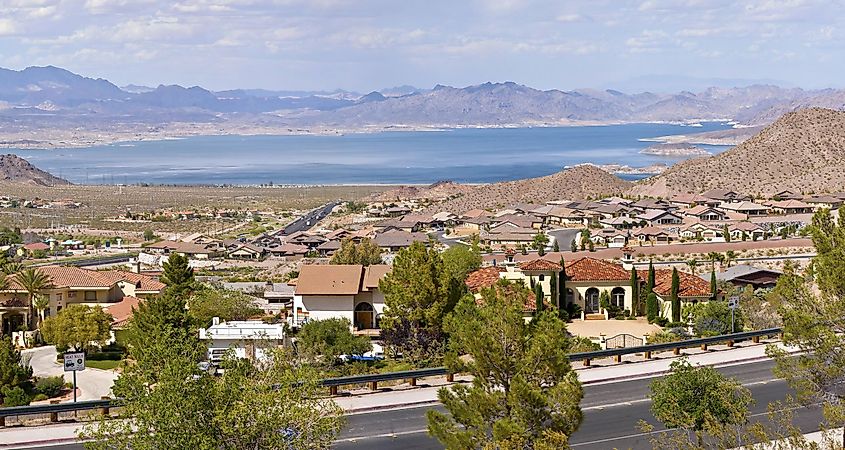 Nevada is known as the premier place in the world for gambling, so it is quite surprising that Boulder City is quite the opposite. Being one of the two cities in the state that has prohibited gambling completely, you won't find any slots or poker tables here. That being said, instead of gambling, this city in Clark County is home to a load of other attractions that make it a diamond in the rough within the state. While initially located in a harsh, desert environment, Boulder City was a well-planned city that housed many workers for the nearby Hoover Dam, which was built in 1935. Since then, the city has grown manifold with a total area of more than 500 sq. km. and a population of nearly 15,000 people all situated south of Lake Mead and the Colorado River.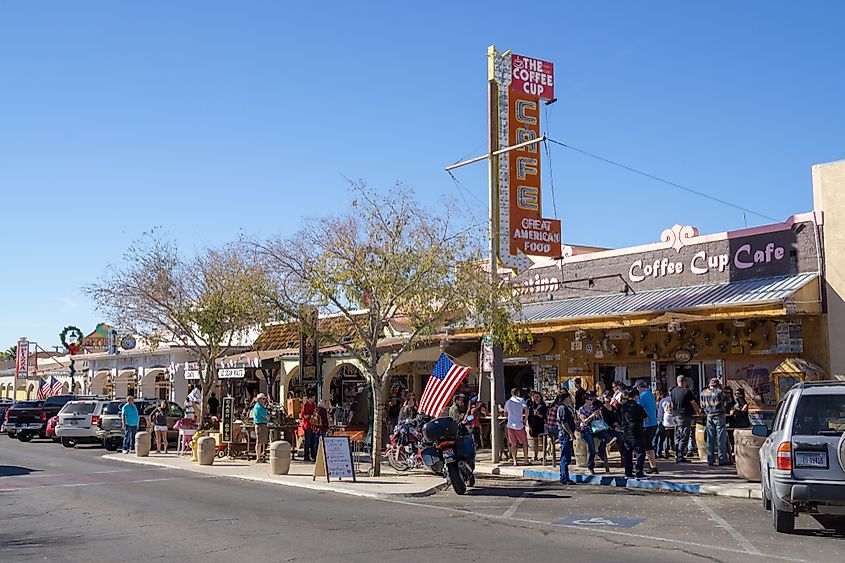 With the culmination of a desert environment, no gambling, and the nearby luscious waters, adrenaline seekers are sure to enjoy their time in this city. Most prominently, apart from the obvious Hoover Dam, the nearby areas are home to many hiking trails such as the Historic Railroad which offers more than 10km of breathtaking views as well as massive tunnels and a lesson in history. Speaking of history, Boulder City is also known for the famous Goatfeathers Emporium which is an abode for antiquities, vintage items, and anything that has either artistic or historical value. So, be sure to pick up a souvenir that tells a story if you visit Boulder City.
Hawthorne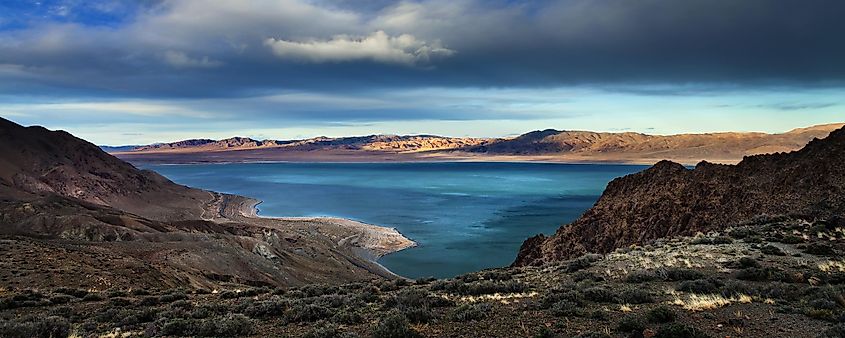 Some distance off the coast of Walker Lake, Hawthorne is a historical city in Nevada and the county seat of Mineral County. With the nearby Hawthorne Army Depot being the major economic activity within the town, Hawthorne has a unique take on lakeside charm. Specifically, with the Army Depot and Ordnance Museum, this city is a true display of the American military and perfect for the army enthusiast to visit. At the Ordnance Museum, you can look into the history of the American army with items such as newspaper clippings, photographs, ammunition, etc. ranging back more than a century.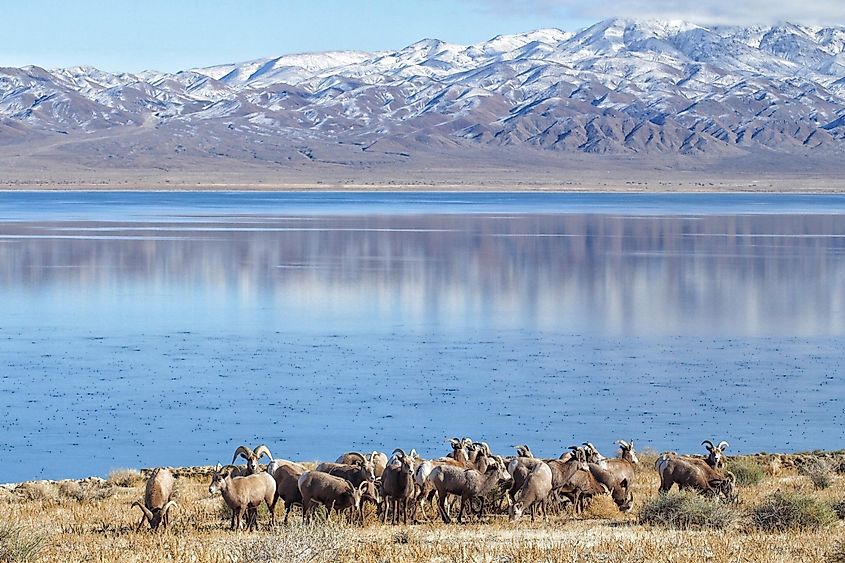 With so much military history imbued into Hawthorne, the annual Armed Forces Day Celebration is a massive event that has been taking place for about 70 years. Filled with military events, eating competitions, tug of war, and a lot more, this two-day event is sure to bring joy to anyone who visits the city. With the next parade on May 2023, be sure to plan your trip to this beautiful city and enjoy this weekend of fun and honour for the US military.
Carson City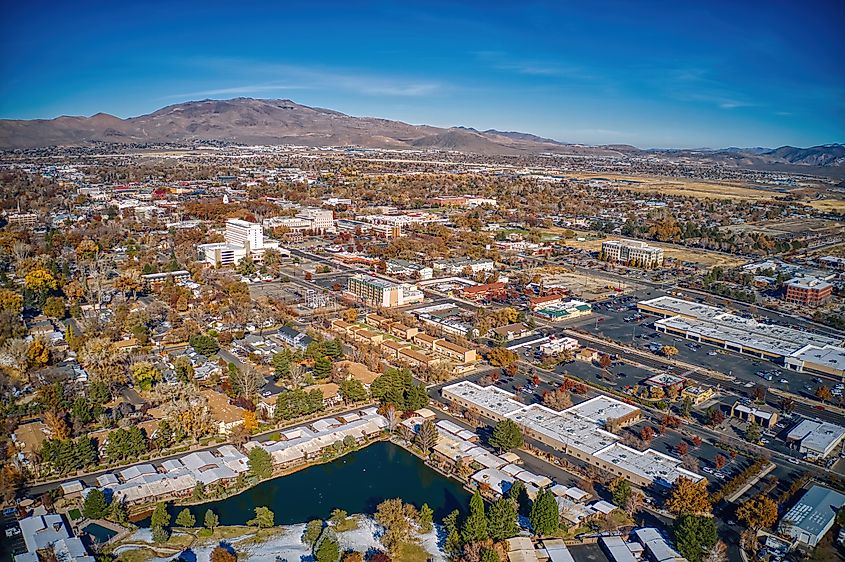 Located to the south of Washoe Lake and the east of Lake Tahoe, you won't find a better fit for the term "lake town," or rather, "lake city" than Carson City. Currently the state capital of Nevada and home to 58,000+ people, this city is a combination of Nevada's natural beauty and an urban environment. Named after Kit Carson who was an American frontiersman known for expeditions in the Rocky Mountains, this city has been the capital since 1864 which is a testament to the rich history emanating from the entire place. Initially being a small town built as a trading post in the early 1800s, Carson City quickly grew with the development of the Virginia and Truckee Railroad and subsequently became a major hub that attracted people from all over. However, while urban living may be a part of life, the city's master downtown plan prohibits skyscrapers in downtown so you can enjoy a more natural feel without any looming skyscrapers looking down on you.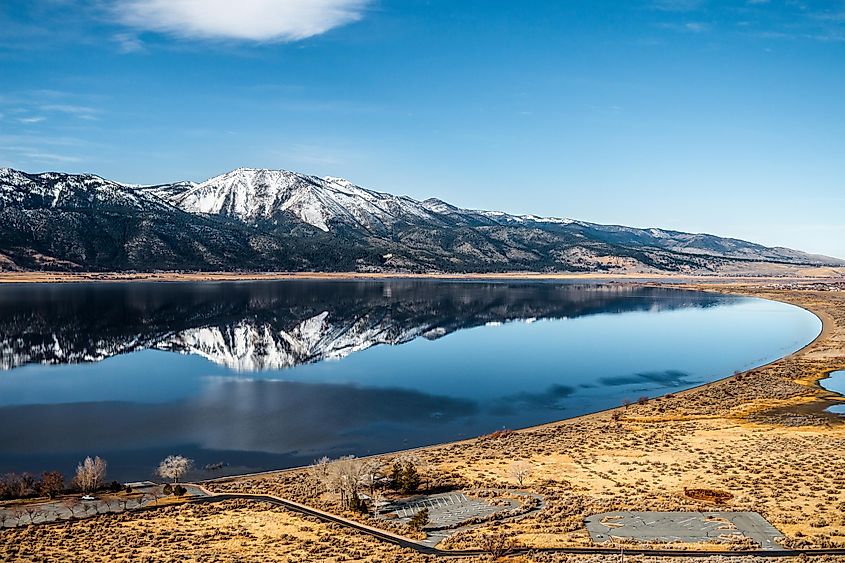 With such a dynamic vibe to the city, visiting Carson City is sure to fulfil all your needs from a lake town in Nevada. Whether this is looking at the nearby mountain ranges, fishing in the lakes, or even looking into Nevada's history in the many museums, there is something fun for everyone. Visit Carson City at the right time and you can also experience Lake Tahoe's beauty from the sky with the help of Hang Gliding Tahoe which provides professional and enjoyable hang-gliding experiences through the scenic mountains and lake landscape.
Silver Springs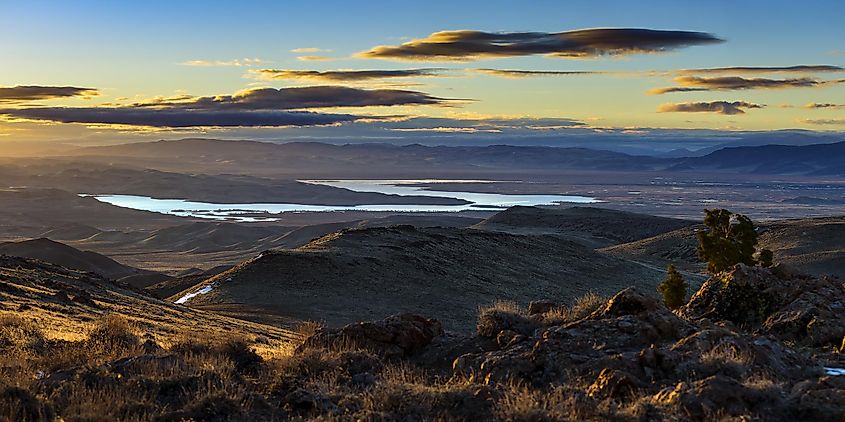 Spanning an area of nearly 200 sq. km. Silver Springs is located in Lyon County along the western banks of Lahontan Reservoir. With this large body of water as well as the nearby Lahontan State Recreation Area, Silver Springs is often considered a great getaway if you want to enjoy luscious and peaceful surroundings. While being home to about 5,000 people, the sheer expanse of the town makes it perfect for relaxation, peace, and quiet. However, if you want to enjoy some activities during your peace and quiet, the nearby Virginia Beach and Silver Springs Beach make for great day trips and are ideal for family vacations! All in all, while it may not have the most grandeur or activities, Silver Springs is a lake town with a peaceful charm of its own!
Fallon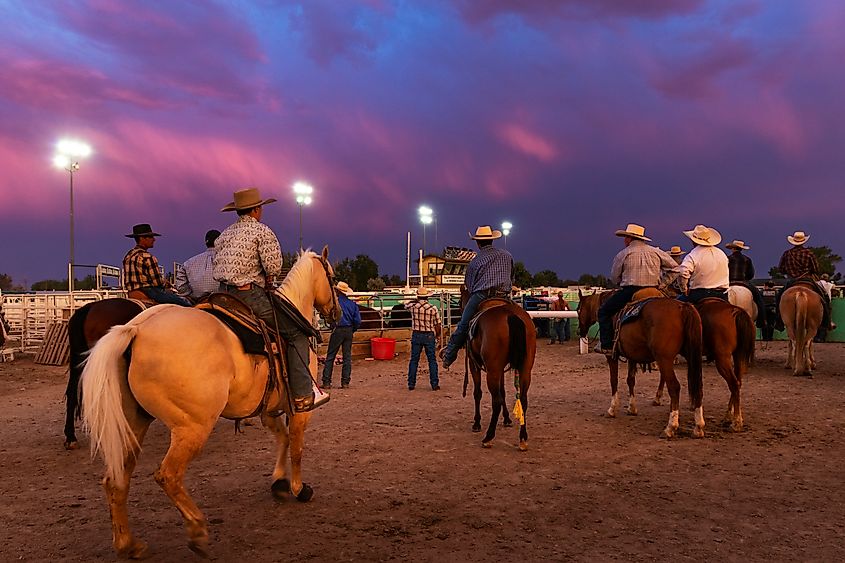 Fallon is the county seat of Churchill County and a city that is surrounded by many small ponds, lakes, and unique landscapes. Known by most for its famous "Heart O' Gold" Cantaloupes which were once distributed across the country, this lake town has a mixture of historical trademarks and modern community. While cantaloupes may have made the city famous in later years, the area was initially populated during the infamous California Gold Rush which led to the gradual development of a post office, rance, and subsequently led to downtown Fallon being added to the National Register of Historic Places.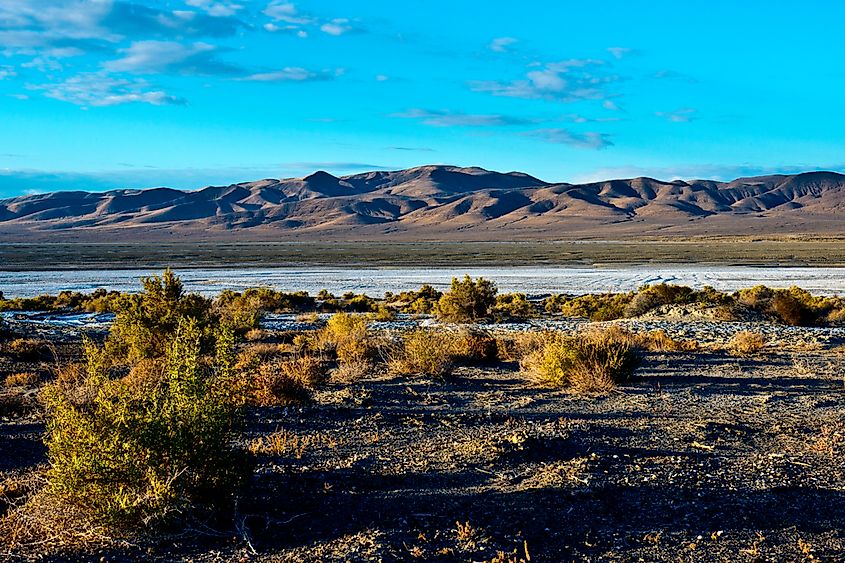 With so much history, you might think this town of 9,200 would be a solemn place to visit, but that's not the case. Located within a unique cold desert climate, Falling has some unique activities such as the Top Gun Raceway which is an NHRA-sanctioned track where you can test or watch vehicles and enjoy a thrilling experience. On the flip side, the nearby Sand Mountain Recreation Area is filled with many kilometres of sand dunes where you can enjoy some off-roading fun with many fun vehicles. So, whether it's natural beauty or just some tasty cantaloupes, Fallon is a fun lake town in Nevada!
Zephyr Cove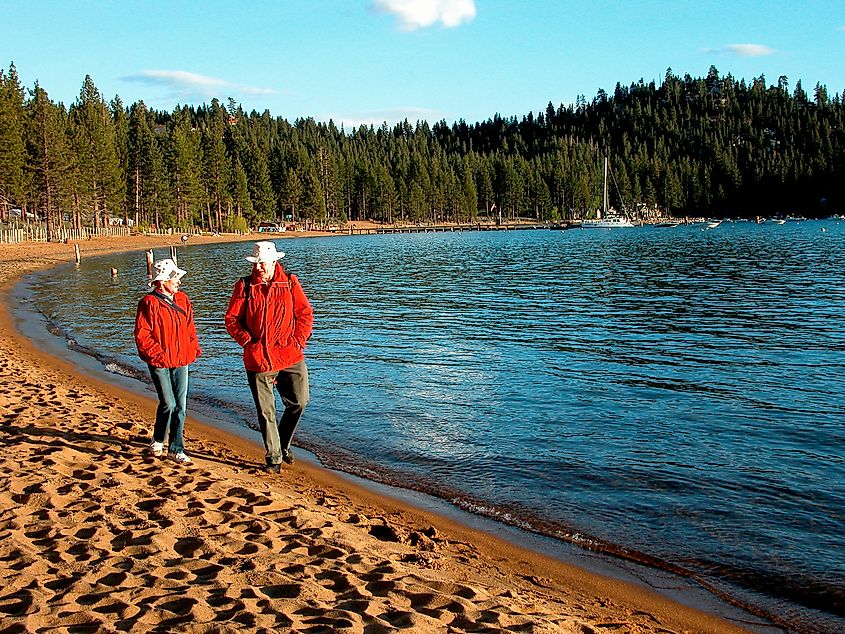 Named after the gentle winds that come in from the west, Zephyr Cove is a small community and CDP of nearly 700 people along the eastern coast of Lake Tahoe. Starting off as just an inn named Zephyr Cove House back in the mid-1800s, the name seemingly stuck on and gradually became the known name for the region. Thus, gradually growing along with the famous tourism of Lake Tahoe, Zephyr Cove is know known for its pristine resort which is one of the finest along Nevada's side of Lake Tahoe. With a marina, lots of history, and amazing eateries, Zephyr Cove Resort is now a sureshot destination if you want to enjoy the beauty of Lake Tahoe and its clear waters.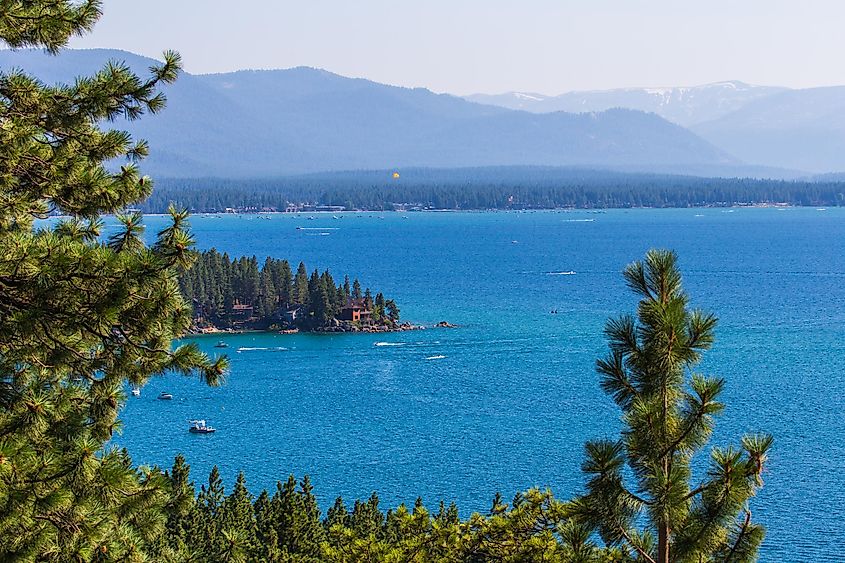 As most of Zephyr Cove revolves around the lake, most of the things you can do also follow along. With most tourists spending their day swimming along the sandy beach, soaking in some sun, or playing volleyball on the professional nets, you can be sure to get all the charm and fun of a lake town here. Moreover, the area has some great gift shops for the perfect lakeside souvenir!