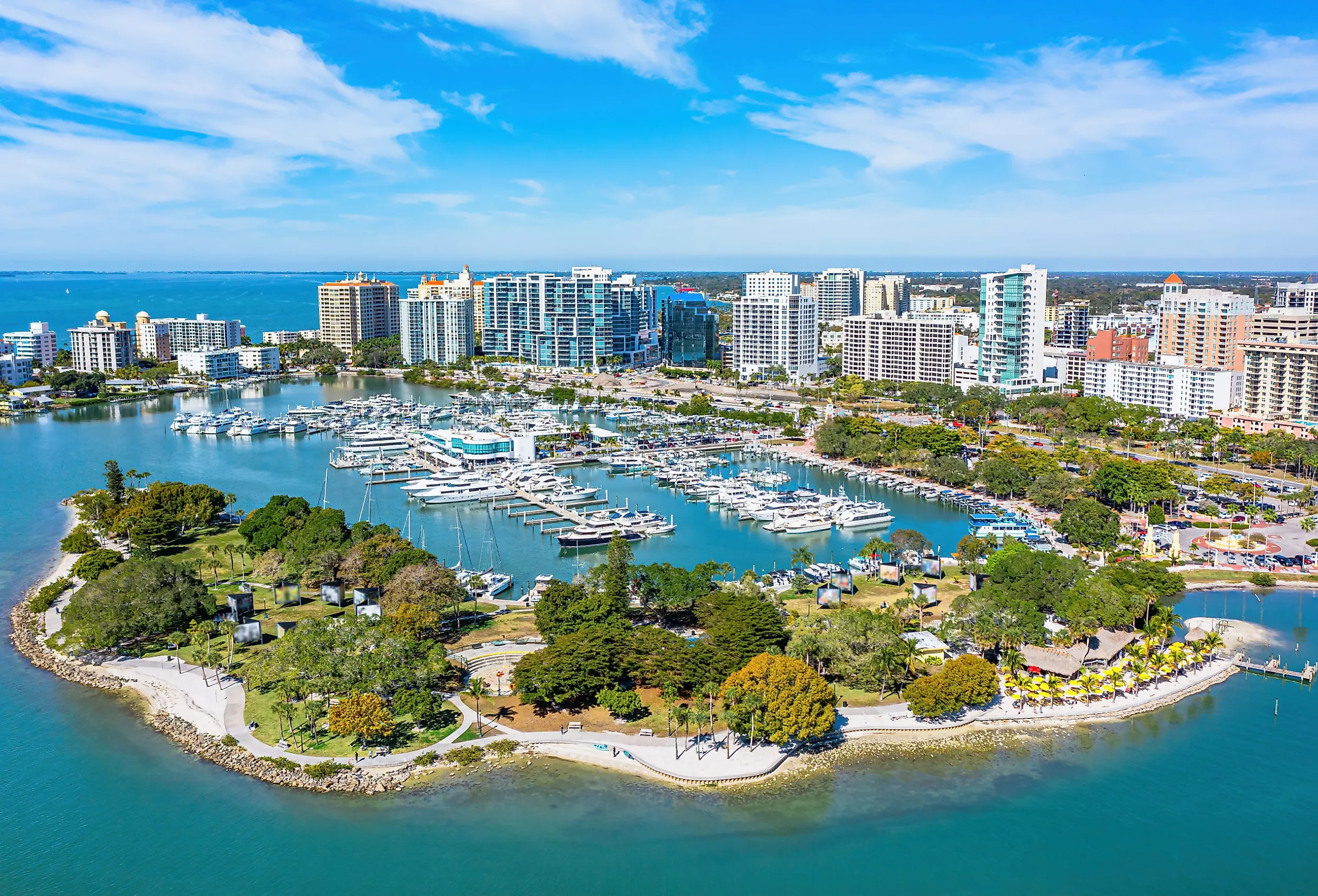 8 Most Charming Cities in the Gulf Coast
The Gulf of Mexico is the largest gulf in the world, with a deep history like its waters, which average 5,200 feet deep and contain a great deal of marine life. It stretches along the coasts of Texas, Louisiana, Mississippi, Alabama, and Florida, as well as Cuba's border and parts of Mexico. It is no secret that the Alabama and Florida Gulf Coasts are among the most pristine and scenically attractive shorelines on the entire planet.
The vast and beautiful Gulf is bounded by sugar-white sand beaches and plenty of small towns in between cities with big-time charm. Visit any one of these enchanting Gulf Coast cities, or take a road trip to hit a few along the coastline, throwing glances at the jewel-colored waters of the Gulf. You will be immersed in one-of-a-kind Gulf Coast culture, blending seamlessly with southern vibes, a tropical atmosphere, and captivating scenery from beaches unlike anywhere else in the world.
Bonita Springs, Florida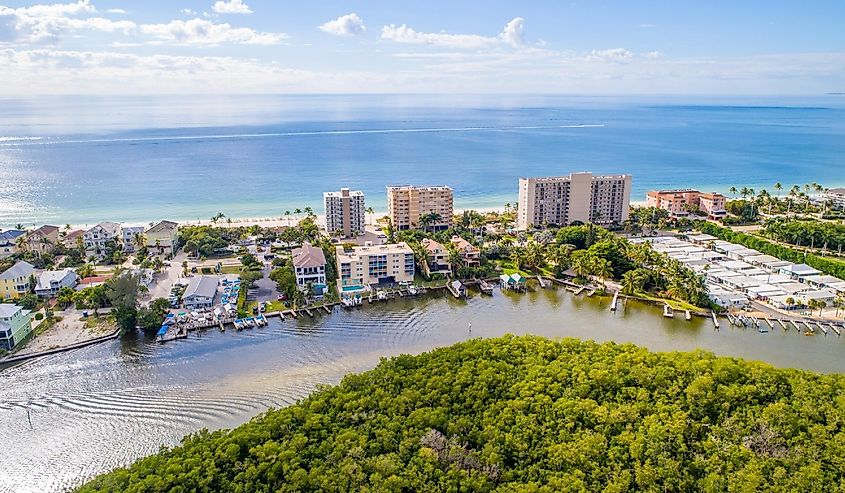 Bonita Springs is a charming, smaller city of 56,000 in the southwestern reaches of Florida, encompassing Little Hickory Island on the Gulf Coast. The barrier island, located between the Gulf of Mexico and Estero Bay, offers excellent beaches and a vibrant downtown area with a tropical vibe mixed with small-town charm. All the water around is tremendously attractive for the active, with great kayaking, sailing, paddle boarding, and equipment rentals.
Enjoy rich nature throughout the several parks that lead to beach access on a hike, a post-trek dip, or lounging along the sands. Families love the calm, natural environment of the city, where everyone finds a way to relax and have fun. Check out the beautiful Bonita Beach Park, which opens to a swimming area with a wistful boardwalk for sunset strolls and attractions. Enjoy Barefoot Beach's enchanting undeveloped scrap of sand, ranked by Forbes as among the nation's top ten best of its kind for beach use.
Clearwater, Florida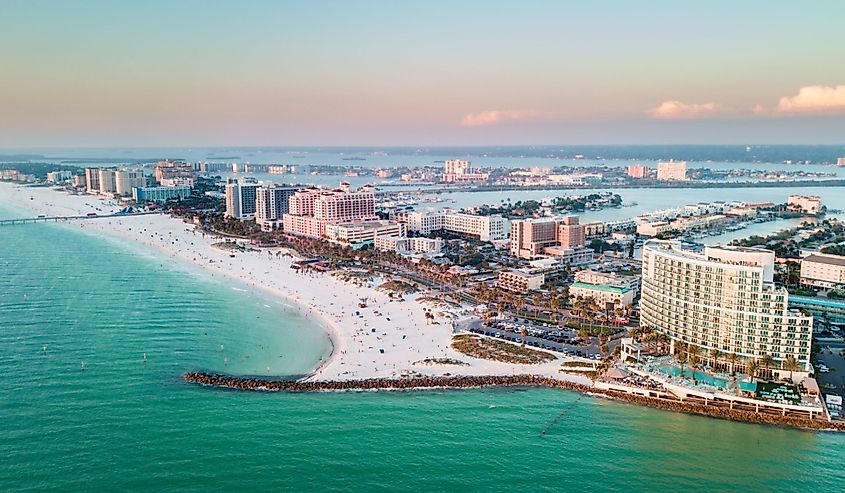 Clearwater is an aspiring coastal city destination along the Gulf of Mexico, just west of Tampa in the Tampa-St. Petersburg-Clearwater metropolitan area. Enjoy easy access to the award-winning namesake beach town across the waters and the cornucopia of vacation opportunities in the city. Head to Pier 60, the defining spot in Clearwater, for sunset walks and nightly festivals with outdoor music, art, and performers. Join in the annual Clearwater Jazz Holiday or visit anytime for the astounding sights and discoveries at the Clearwater Marine Aquarium for the entire family with animal interactions, dolphin photos, and stingray feedings.
The 35 miles of sugar-sand beaches with the same tropical charm but different vibes beckon for days of lounging and swimming in the warm summertime waters. Enjoy a day hike at Clearwater Beach Honeymoon Island State Park or visit Caladesi Island State Park and return for vibrant evening pastimes like live music events, theater, and the craft beer trail nightlife. Some cultural attractions include Ruth Eckerd Hall and the Bilheimer Capitol Theatre near the beach. There is also the family-friendly Captain Memo's Pirate Cruise, the Alligator & Wildlife Discovery Center, and baseball.
Corpus Christi, Texas
Corpus Christi, the Gulf Coast Capital, is a big, charming city of 317,000 with nine unique beaches, adventures, and fun attractions. A tropical oddball in the Wild West State, it is a favorite destination for cowboy windsurfers, parasailers, and kayakers along the beautiful waters. Get inspired by the seaside views and find your own unique experience, like a paddleboard yoga class, horseback riding in the sand, or a day trip to Padre and the Mustang Islands.
Visit some of the nation's most iconic family-friendly attractions right here in Texas by the beach, like the Texas State Aquarium and the intriguing USS Lexington. The thriving city with deep southern roots offers great hospitality at plenty of hotels and B&Bs near the beach, along with leisure and entertainment options that meet demand. Relish in the diverse cuisine after all the outdoors, from seafood to renowned Tex-Mex fusions, with standout local chefs that will even cook your catch.
Galveston, Texas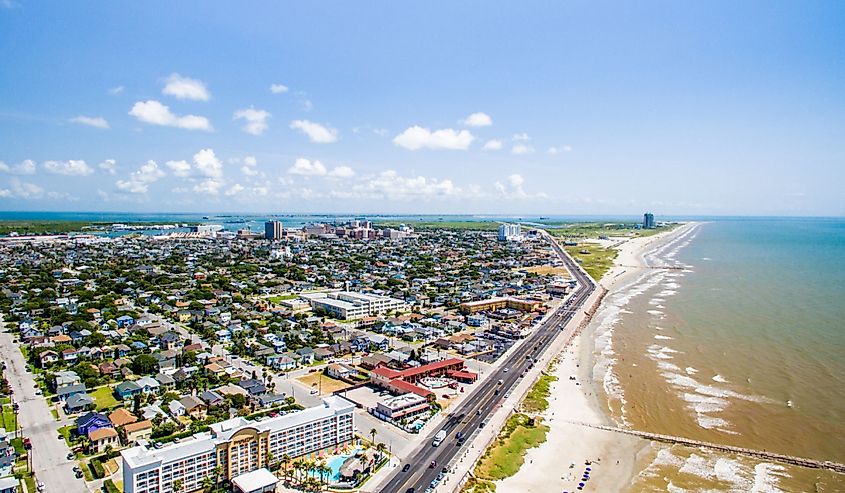 The lovely city just south of Houston, along the Gulf Coast, is a traditional seaside town with modern attractions and 32 miles of beautiful beaches. Galveston is famous for enticing all who seek out this charmer along its namesake island on the Gulf Coast. Escape from Dallas or anywhere in North Texas for a quick getaway with your pet to the popular East Beach, with amenities, regular events, and festivals. Enjoy the beaches all you can and stroll amid the Victorian in-city grandeur with decorated houses fitting the tropical breeze from the coast.
Southern charm strikes hard along the defining colorful boardwalk, with tropical vibes and attractions to meet the demand. The naturally charming Galveston Island State Park's 2,000-acre spread for camping, hiking, and swimming offers plenty of opportunities to spend the whole vacation exploring the outdoors. Enjoy easy access to the gorgeous local Palm Beach and sunset strolls to the Galveston Island Historic Pleasure Pier, a whole other world of attractions to enjoy at sunset under tropical vibes, scenery, carnival rides, and fried food. Stewart Beach is an award-winning stretch of sand, while the Seawall Urban Park is your go-to for beachfront dining and entertainment.
Gulfport, Mississippi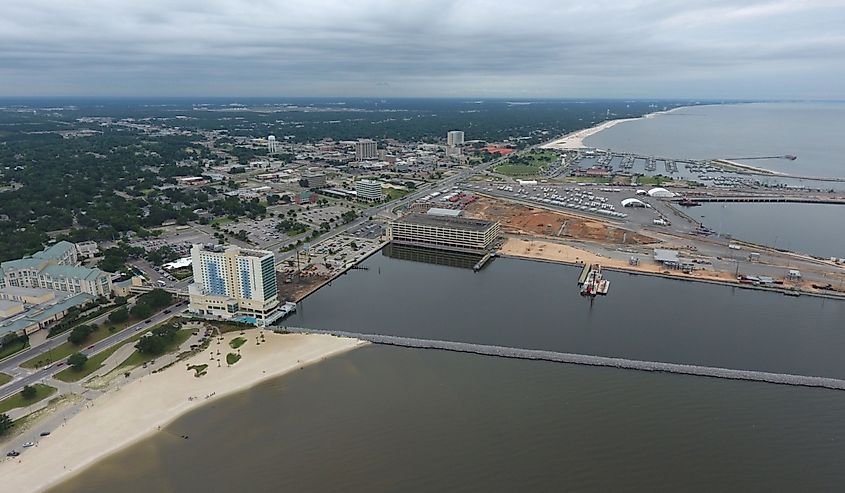 Gulfport is a beautiful coastal city in Mississippi with a population of some 72,000 people who live in a land abounding with palm trees and white sandy beaches. Gulfport, the nation's second-largest city after Jackson, is among the most diverse in local history and attractions, like casinos for slots, sun, and sea, all in one place, which equals a thriving tourism scene.
The 6.2 miles of beaches are a coveted destination for water sports and golf enthusiasts, with an active waterfront setting strewn with premium attractions and surrounding golf courses. Stroll through this lively seaside district for the vast bar scene, quality shops, and restaurants to please all palates in a picturesque harbor setting. Spend days lounging on the sands and exploring downtown, or take a sailing trip to the scenic Ship Island just off the coast.
Port Arthur, Texas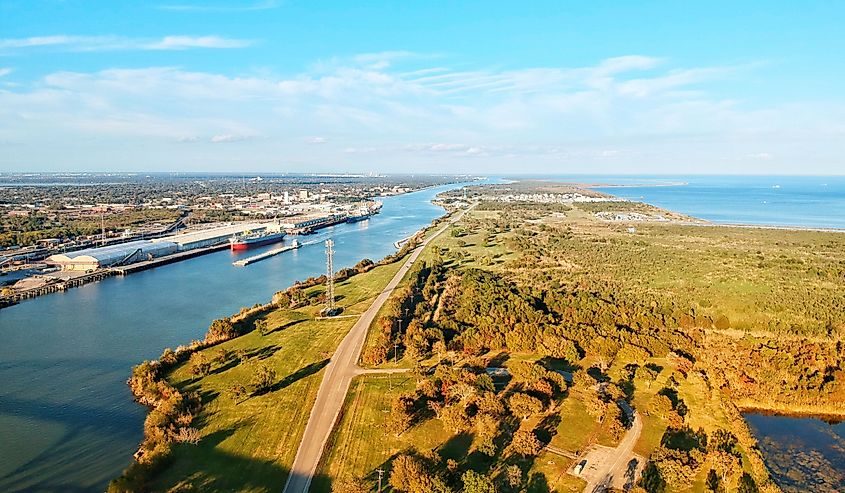 Get a taste of this intoxicating small city on the Texas Gulf Coast, and you will always remember it. Find Port Arthur just east of Houston, along the coast, and discover its alluring combination of Texas coastal charm and Cajun flair. Just a few miles north of the coast, the thriving port town with a population of 56,000 began as a dream when Arthur Stilwell, the man of the railroads, sought this prime location with heartland nature leading out to the most exclusive natural beaches and soaring bridges. Sightseekers, loungers, and culture vultures rejoice in the diversity of attractions, as well as in a good bowl of gumbo that Port Arthur smashes together like no other in the state.
Discover the unique coastal terrain around the waters and marshlands of Sabine Lake and head to the unadulterated habitat of Sea Rim State Park for dozens of outdoor activities. Enjoy plenty of fishing, sailing, birdwatching, kayaking, windsurfing, and wildlife of all kinds. Port Arthur boasts a tapestry of cultures, from local southern hospitality to Louisiana's influence just over Sabine Lake. Find an idyllic blend in the seafood scene with Cajun flavors and architectural marvels like shrines, temples, and holy places with a European vibe, as well as a taste of Asia and Mexico.
Sarasota, Florida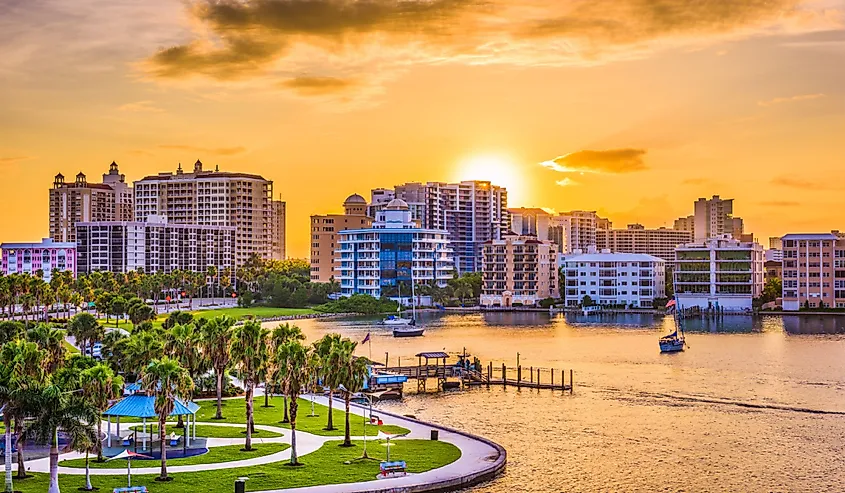 One of the most famous beach destinations in the nation, this coastal Floridian city is a tourist hub for cultural festivals, sights, and abounding natural diversity. Find Sarasota in the Tampa area and discover all of its six islands, or keys, in between Sarasota Bay and the Gulf over a scenic cruise or a sailing trip. The downtown is a hopping area of flourishing arts-strewn streets, like the Ringling Art Museum, history at the small Amish and Mennonite village, and several botanical gardens for peaceful strolls.
The city bursts at the seams with coastal charm and tons of great beaches, including remote, natural, and amenities-fit. Choose your perfect escape from family-friendly waters to watersport heaven for boating, wakeboarding, paddling, and parasailing. The city, with plentiful fish in the water, to catch from a pier or on a charter, is a regional destination for seafood, from local spots to fine dining over the seascape at sunset. Head to the beach in the morning for a day of lounging and swimming until the most stunning sunset in the nation takes your breath away.
St. Petersburg, Florida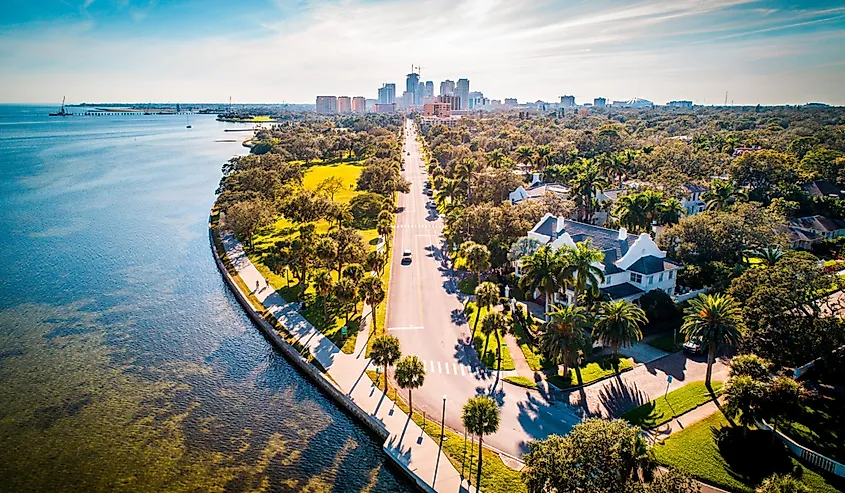 A grand city of 257,000 offers a variety of natural sights, cultural attractions, outdoor engagements, and a vast entertainment scene. St. Pete's Borough will charge you with all it's got, starting with the moniker of Sunshine City, a hefty responsibility to hold in the Sunshine State. Check out St. Petersburg's new pier for strolls, and sunset watches after days spent along its white-sand beaches lapped by blue water and regular fun events.
Enjoy simple access from Clearwater and Tampa for the best vistas along the Gulf Coast, featuring iconic white sands and turquoise Gulf of Mexico waters unlike any other in the state. Immerse yourself in the vibrant downtown scene with murals throughout, beach bars, restaurants, rooftops, breweries, and adventures around, like exploring the hidden Sunken Gardens. Among numerous museums, the Dali Museum is a must-see along St. Petersburg's waterfront. The city, with many small, historic neighborhoods, boasts a fantastic cultural scene that combines coastal living and urban life with a tropical breeze from the stunning seaside and easy access to swimming, lounging, and watersports.
The 600,000-square-mile Gulf of Mexico is the world's tenth-largest body of water. Formed 300 million years ago, its depths hide rich history and marine life, along with over 750 shipwrecks sunk from the 16th century to the present. The shallow waters along the shores are perfect for family fun pursuits, with deeper sections for watersports that quickly become deep-sea fishing galore. Just 200 miles southeast of Brownsville, Texas, the Sigsbee Deep reaches depths of 12,300 to 14,383 feet below the ocean surface. The Gulf is also a rich reservoir of natural gas and oil, as well as abundant in coral reef growth.
These waterfront cities are bountiful in culture, modern attractions, and historic sights, and no amount of time seems enough to split between the captivating beaches. Find the most pristine stretches of white-sand beaches, from undeveloped to state parks, and amenities equipped for watersports, family times, and group getaways. Venture into the core for shopping and nightlife, or stay seaside along the vibrant boardwalks with attractions and piers for strolls and renowned sunsets around the world. Take a scenic cruise around the Gulf from any of the ports to discover the endless blue while the skyline watches your back.