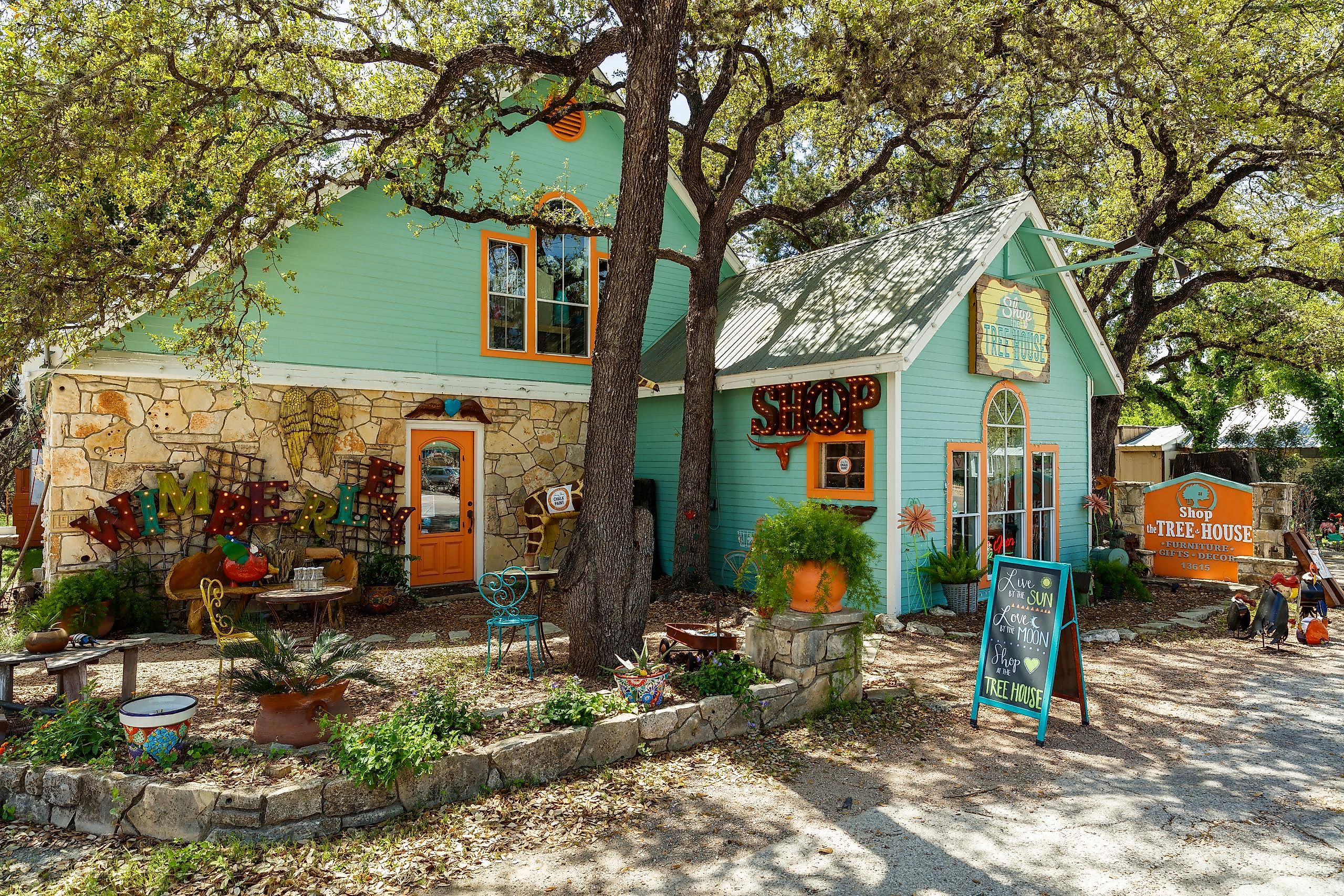 8 Coziest Small Towns in Texas
It is no surprise that Texas, a state known for its southern hospitality, is home to some of the coziest small towns in the United States. Overflowing with larger than life townspeople, captivating histories, and spirited local cultures, these Texas towns invite you to relinquish the stresses and hurdles of everyday life, even if just for a day.
While the Texas megacities may be tempting destinations, what they often lack is that small town magic. Whether that means mingling with locals at a scenic swimming hole, taste testing a historic BBQ joint, or celebrating Oktoberfest in a German-Texas town, these cozy communities will have you feeling right at home yet far away from your everyday life, in the best way possible. 
Fredericksburg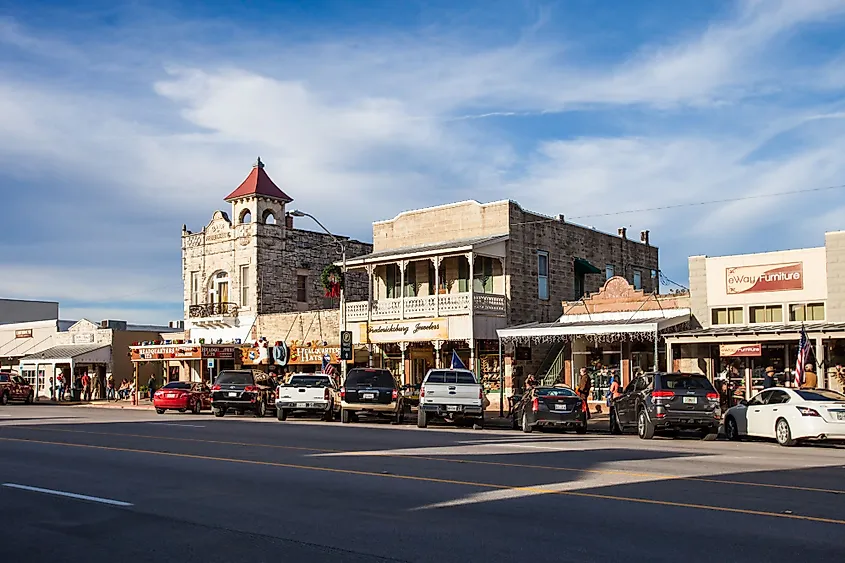 Fredericksburg (once called Friedrichsburg) is a charming Texas town known for its German heritage, world-class wineries, and access to the Enchanted Rock State Natural Area. Founded by German immigrants in 1846, today, the town features an adorable blend of German history and southern hospitality. Learn more about Fredericksburg's heritage at the Vereins Kirche Museum in the Marktplatz (Market Square), or make your way to the Pioneer Museum on Main Street. The annual Oktoberfest is also a must-see event, with traditional artisans, music, and brews galore. But if you are not in town during the festivities, Fredericksburg's wineries are a year-round delight. Savor your sips at places like Becker Vineyards on Main or Arch Ray Winery. For a more active adventure, make your way to the Enchanted Rock State Natural Area. For thousands of years, the tremendous pink granite monolith has lured people from near and far. With almost 11 miles of trails to explore, a hike across the massive dome will make you realize why the landscape has been the subject of myths and legends. 
Dripping Springs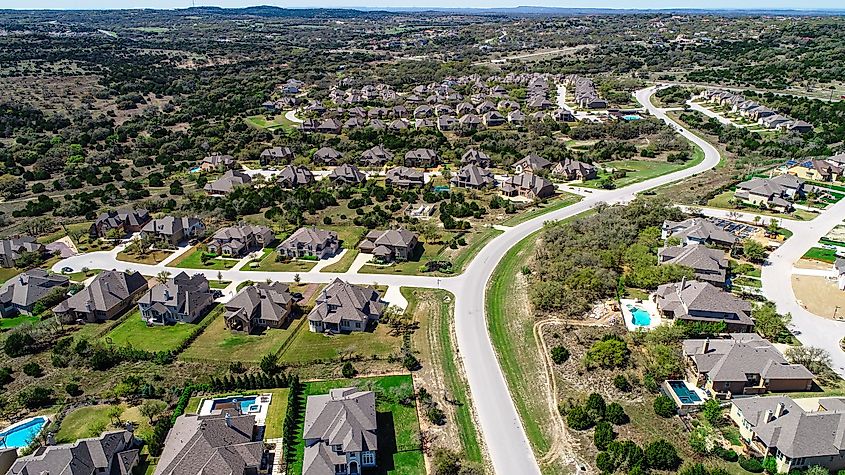 Named after the limestone cascades whose ledges still "drip" to this day, Dripping Springs is another Texas destination you will not want to skip. Less than 40 minutes from Austin, this darling oasis is a sought-after getaway town for city dwellers looking to slow down. Start your visit with house-roasted coffee and pastries at Mazama Coffee Co, and explore the charms of the town's historic district on Mercer Street. From here, you can make your way to the actual dripping springs the town was named after, at the west end of Mercer. Further into town, you will also want to visit the famed Hamilton Pool Preserve. Although the natural swimming hole is currently closed to swimmers due to recent bacteria levels, the canyon, grotto, and 50-foot waterfall are stunning and definitely worth the stop.
Canyon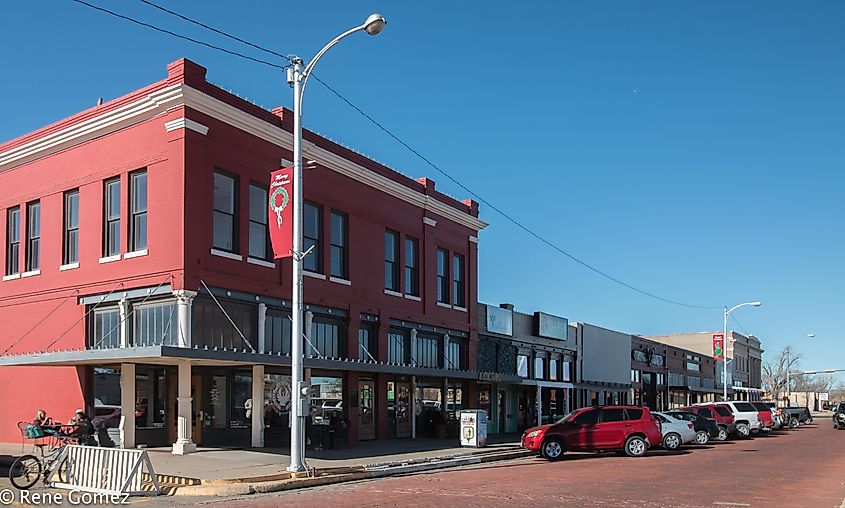 If majestic canyon views intrigue you, look no further than the Texas town of Canyon. Located in the heart of the Texas Panhandle, Canyon's annual 250 days of sunshine make it a great place to get outdoors–and the outdoors in question are pretty spectacular. The town is a gateway to the "Grand Canyon of Texas", Palo Duro State Park, the second largest canyon system in the country. The massive canyon stretches across 30,000 acres, 15,000 of which can be traveled by foot, horse, bike, or car. During the summer months, you can even catch a show right in the park. TEXAS, a family-friendly musical set in the canyon's Pioneer Amphitheater, depicts the challenges and triumphs of early Texas settlers. If you decide one day is not enough to explore all this (and more), extend your stay in Canyon–there are countless hotels to choose from! But for a more rustic and cozy accommodation, you can always camp under the stars in the park, or rent a charming cottage back in town with Doves Rest Cabins. 
Alpine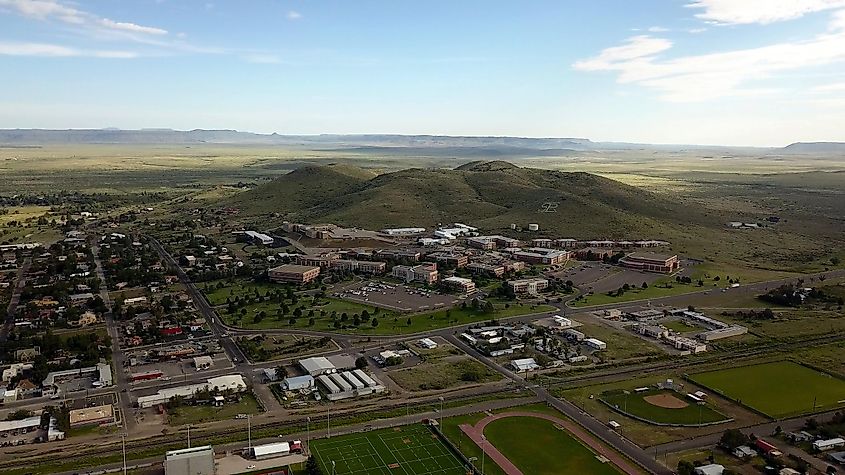 Further west into Texas, the Big Bend region's mountain slopes and desert valleys offer some of the prettiest landscapes in the state. The friendly town of Alpine is one of the best towns to take in the surrounding sights, along with a lively local culture. Stop in at the Visitors Center to grab some brochures about the area, and prepare to experience southern hospitality like no other. The porch and rocking chairs are not just an adorable decorative feature; sit back with your pamphlets and plan your day in comfort.
 If you enjoy learning about a local history, take the Historic Walking Tour to learn more about the town and its spirited past. The tour has 44 stops, including a myriad of 1800's Adobe homes, Victorian structures, old saloons, and so much more. The colorful murals are a more modern touch and add an artistic flair to Alpine's downtown. For a more outdoorsy adventure, hike Hancock Hill for outstanding views of the town and surrounding valley. Hikers can generally complete a full loop in under an hour, but make sure to stop at the peak to snap a photo, take in the sights, and experience a unique reward. Here, you will find a small local landmark: a desk heaved up the hill by college students back in 1981. If you look inside, you should be able to find a notebook with the signatures of fellow travelers. Sign your name to forever be a part of Alpine's legendary tradition.
Wimberley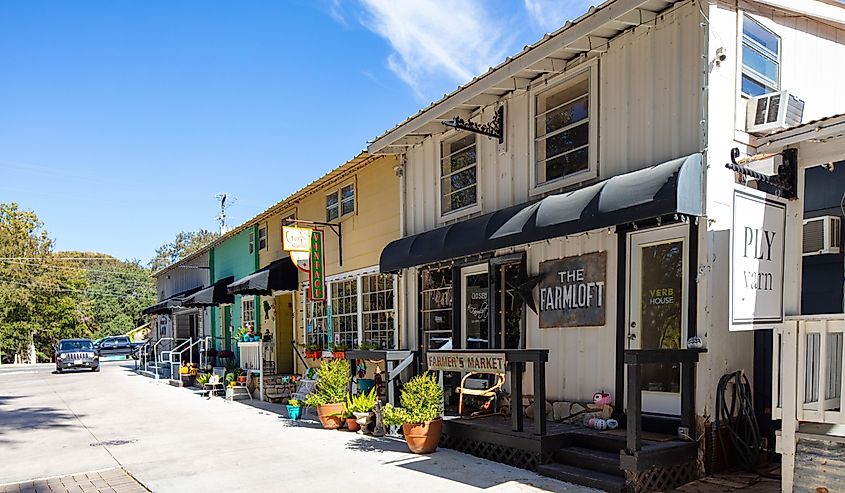 Around an hour or so from Austin, the darling town of Wimberley offers a much needed escape for city folk throughout the year. It is settled where the Cypress Creek and Blanco River merge, and locals are especially fond of Wimberley Blue Hole Regional Park. One visit here is enough to see why locals say Wimberley is "a little bit of heaven". The park's spring-fed swimming hole is definitely the star of the show, renowned for its scenic views and family-friendly atmosphere. With crystal clear waters and towering cypress trees encircling the pool, the shaded swimming hole is like something from a fairytale. Even better, entry to the park is also completely free, including access to the countless picnic areas, playgrounds, and 4 miles of hiking trails.
To experience even more of Wimberley's magic, stay in town until darkness falls. Thanks to the town's minimal light pollution, it earned the title of 2023 International Dark Sky Place of the Year. In other words, the views of the night sky are out of this world. If a night of stargazing intrigues you, luckily the town is used to welcoming guests and features a range of accommodations. For a night under the stars, with the comforts of a cozy bed and spa bathroom, Spoon Mountain Glamping offers a blend of luxury and authenticity, all wrapped up in a safari tent.
South Padre Island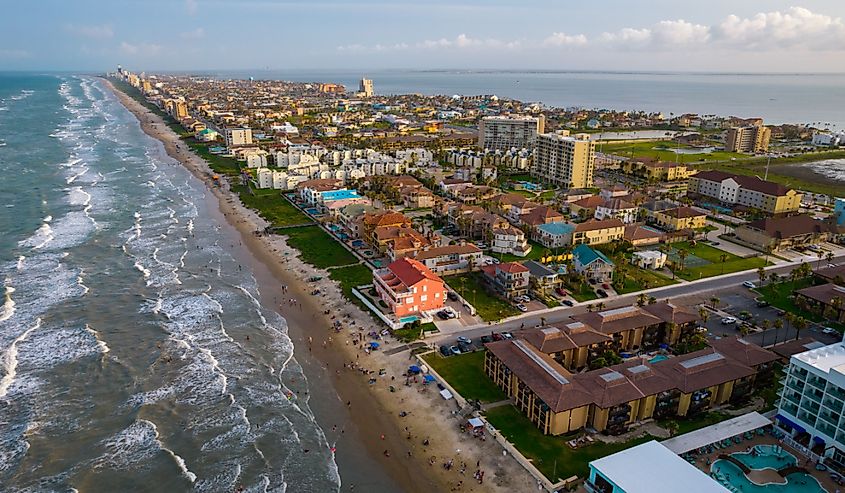 Alternatively, perhaps an island getaway is more your speed. In that case, at the southernmost end of Texas, you can find the town of South Padre Island. The community is settled at the southern end of Padre Island, the longest barrier island in the world. The 113-mile stretch is home to some of the most stunning sandy beaches in the country, which is why over 7 million people visit every year, and why locals welcome guests year-round. South Padre offers 300 days of sun, 34 miles of shoreline, and access to the glorious Gulf of Mexico. Board a cruise with The Original Dolphin Watch for the chance to ride waves and tour the area's marine life. Back on land, the beaches beckon anyone looking to sunbathe, beach comb, or bask in the views. But make sure to set aside time for the South Padre Island Birding, Nature Center & Alligator Sanctuary. Just a few of their attractions include a boardwalk through 43 acres of wetlands, a butterfly garden, an alligator sanctuary, and a 5-story observation tower with unbelievable views.
Port Isabel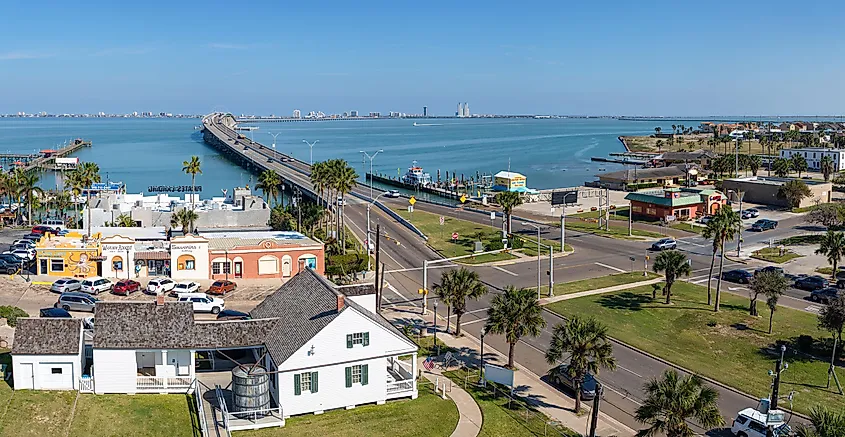 Across the Queen Isabella Causeway, just 10 minutes from South Padre Island, Port Isabel is another cozy coastal town worth adding to your travel list–especially if you love history. The Port Isabel Lighthouse is the town's anchoring feature, and a must-see if you visit (especially since it is the only public lighthouse on the Texas Gulf Coast). Originally built in 1852, the 72-foot structure originally helped sailors navigate the waters around the mighty Texas coast. Although no longer in use for its original purpose, as of 2022, you can behold the lighthouse in its original glory. After 117 years of darkness, a new lens was installed, illuminating the lighthouse for the first time since 1905. 
As impressive as it is, Port Isabel's lighthouse is just the start of its historic attractions. Continue your excursion by foot from the lighthouse (which is conveniently located in town square) through charming downtown Port Isabel. Locals love to share in the town's historic attractions, including the Queen Isabel Inn, Fort Polk, and the Port Isabel Historic Museum. A historic structure in itself, the museum is located in the Champion Building which originally served as a 2-story convenience store and post office in the late 1800's and early 1900's. Today, the museum features a fascinating display of exhibits, interactive displays, and artifacts, including an extensive collection of military artifacts from the Mexican-American war.
Lockhart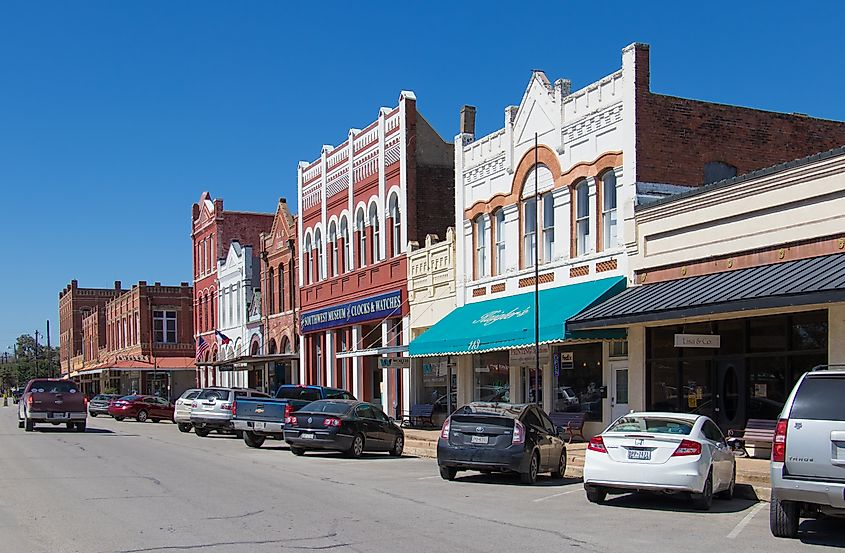 For a taste of southern cuisine and hospitality like no other, visit Lockhart, "the barbecue capital of Texas". You will find this southern treasure between Austin and San Antonio, making it a great place to pause for a pitstop on your way to the city. But once you have savored the town's chow and charms, you may just want to lengthen your stay. The succulent barbecue options are endless, and locals rave about spots like Black's Barbecue, Smitty's, and the Kreuz Market, the oldest BBQ restaurant in Lockhart. Its history dates back to 1875, and despite changing owners throughout the years, the consistent quality and friendly service keep people coming back for more. The same can be said about each and every BBQ joint in town–friendliness follows you in Lockhart. Finish your visit with an easygoing hike or round of golf at Lockhart State Park. The historic 9-hole course was built over 80 years ago and makes for a relaxing day surrounded by nature.
Ultimately, a trip to any of these Texas small towns will have you feeling warm and welcomed. Whether exploring their local festivities, comforting cuisines, fascinating histories, or scenic landscapes, each exciting venture will be accompanied by that signature southern hospitality Texas is known for. From Fredericksburg's celebration of German heritage to South Padre Island's lively beach culture, you can savor that cozy small town atmosphere every step of the way, no matter the landscape or season.