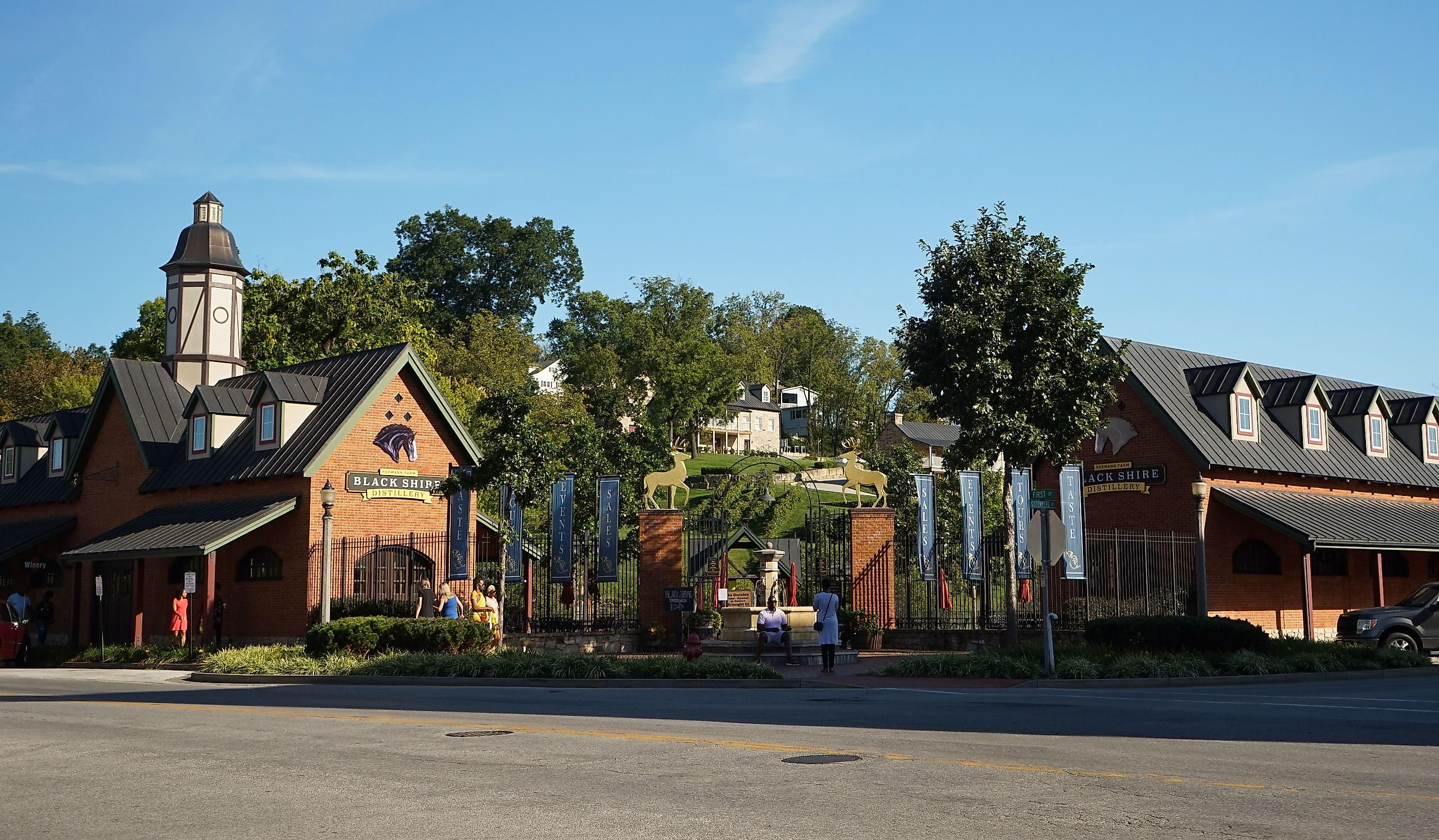 7 Towns in Missouri that Have the Best Main Streets
While the spectre of towns in the United States without character, personality, or even essential, pedestrian-friendly conveniences is increasingly becoming a disconcerting spectacle, there are many others that are bucking the trend. Among these are towns whose architecture is unique; not cookie-cutter, whose streets are pleasurably walkable; not just designed for whirling four-wheelers, and whose precincts feature a decent collection of recreational amenities, including parks and gardens. While a perfect main street is an elusive idea, there are many that come remarkably close to the sought-after ideal. In this article, we reveal 7 towns in Missouri that have the best main streets. Read on to discover some of Missourri's best-kept secrets.
Cape Girardeau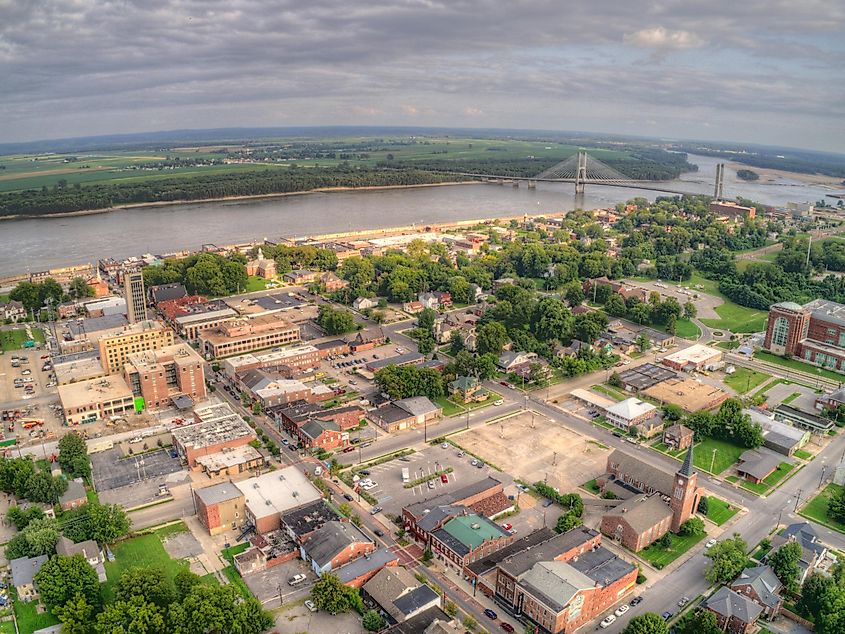 Cape Girardeau is a city of about 40,300 that is nestled along the Mississippi River at the southeast edge of the Ozark Plateau, a densely forested group of highlands that span an area of about 50,000 square miles. Cape Girardeau sits midway between St. Louis, Missouri and Memphis, Tennessee — and is the largest town between those two towns. HuffPost once ranked Cape Girardeau's main street as the best in Missouri — and among the most gorgeous in the country. One of the town's highlights, besides its quaint downstreet, is the Cape Riverfront Market, whose location downtown by the river, makes shopping quite a pleasurable outdoor adventure. Those who enjoy American history, however, with all its pain and glory, will want to check out the Trail of Tears State Park which commemorates one of the saddest chapters in the history of the United States. As a consequence of the 1830 Indian Removal Act that required Natives to vacate their ancestral lands to reservations in the West, some would travel for up to 12 miles a day, sleep in crowded canvas tents, and subsist on cornmeal for months.
Sainte Genevieve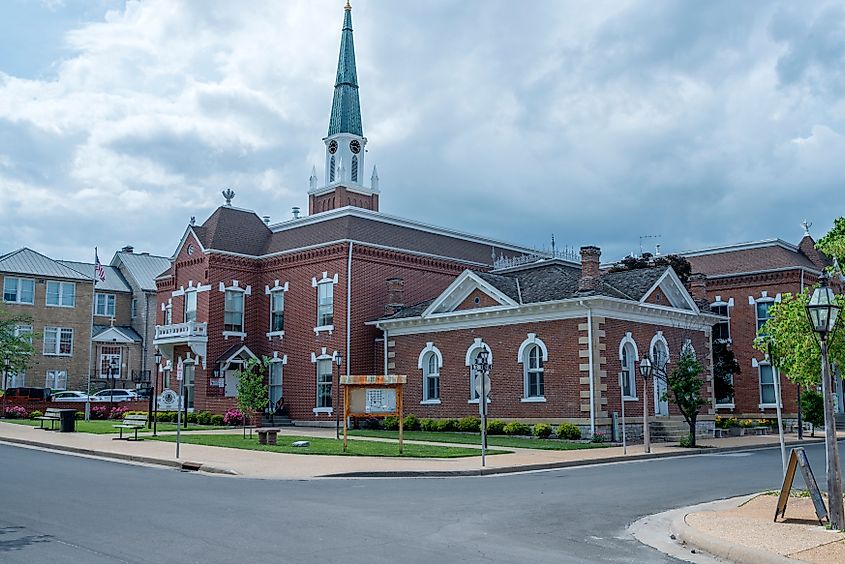 First-time visitors to Sainte Genevieve will find it curled up along the Mississippi River approximately 60 miles south of St. Louis. Founded by French-Canadian immigrants as early as 1735, this Missouri charmer is reputed to be the first permanent European settlement in the 24th state—and west of the Mississippi River. A stroll through Sainte Genevieve's streets will bring to view the many beautiful French Colonial Homes that line the streets—some of which date back 250 years. Needless to say, these buildings speak to the town's rich French heritage. For those wondering how the town got its name, Sainte Genevieve was named for the patron saint of Paris who reportedly saved the city from the Huns. One way to explore Sainte Genevieve is to stroll through its charming downtown; sample its antique stores and quiet cafes, while taking in its unique French architecture. Another way to explore Sainte Genevieve is to take a 30-minute drive to the lovely Hawn State Park, one of Missouri's most pristine landscapes. 
Parkville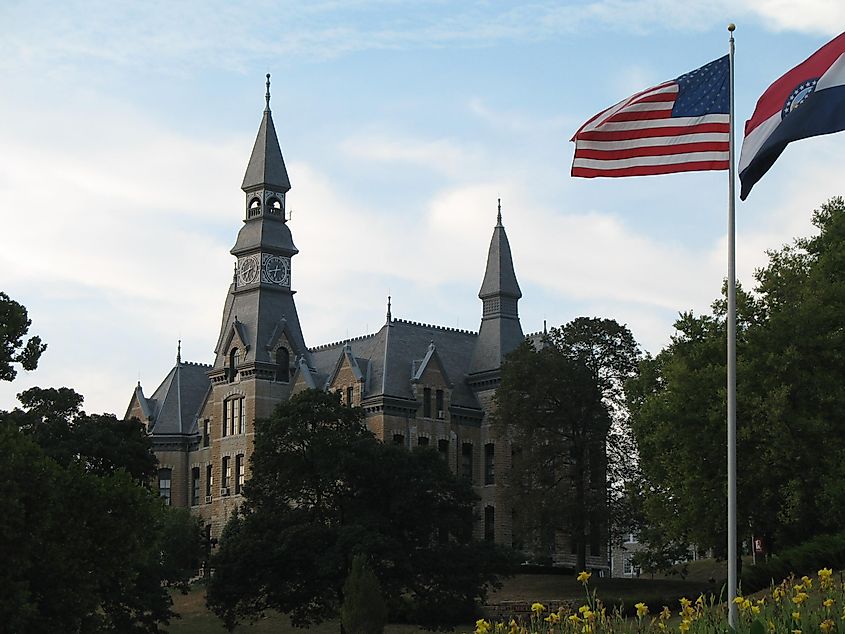 Home to about 9,000 residents, Parkville sits close to the limestone bluffs that overlook the Mississippi River 10 miles southwest of Kansas City. Named for George Shepherd Park, an enterprising anti-slavery journalist who would later become Missouri state senator three years after the Emancipation Proclamation, Parkville boasts a rich history first-time visitors can glean from the many historic buildings that line the town's charming downstreet. Parkville's shopping and restaurant district features quaint buildings that showcase its new character—while retaining its Old World appeal. One of Parkville's most acclaimed attractions, however, is English Landing Park, an outdoor paradise that features a scenic riverside trail complete with park benches, picnic tables, cool gazebos, and amazing 360-degree views. Many regard English Landing as the most picturesque riverfront area in the Greater Kansas Metropolitan Area. Another downtown gem worth checking out is Platte Landing Park right at the end of Main Street.
Hermann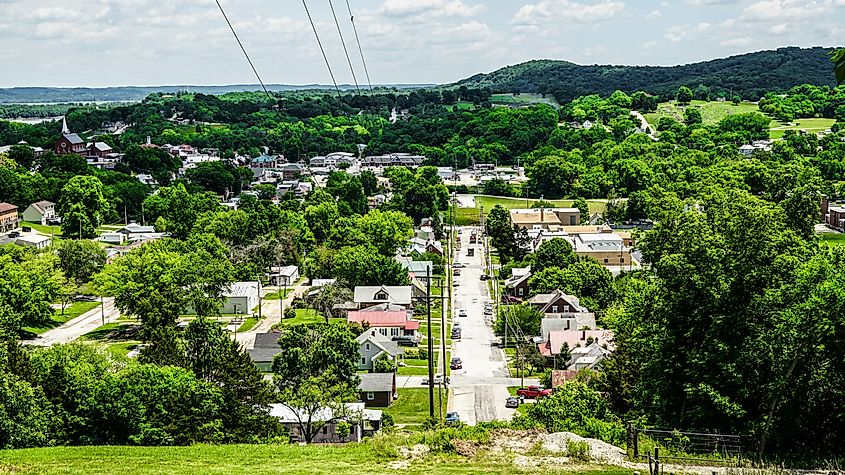 Red brick buildings. Beautiful, rolling hills. An abundance of panoramic wineries. A rich German heritage. These — and more, tell the story of this Missouri stunner. Secreted in the Missouri River Valley south of the Mississippi River, Herman is hands-down among the best small towns one will ever set foot in. The New York City-based magazine Travel + Leisure, for instance, ranks Hermann among the 20 Most Beautiful Small Towns—not in Missouri— but in the United States. Because of the town's rich German heritage, Hermann is often referred to as Missouri's Rhineland. While the town and its main street will be an unbelievable pleasure, those craving some epic adventure should join the Hermann Wine Trolley to explore the scenic wineries that encircle this Missouri gem. 
Lexington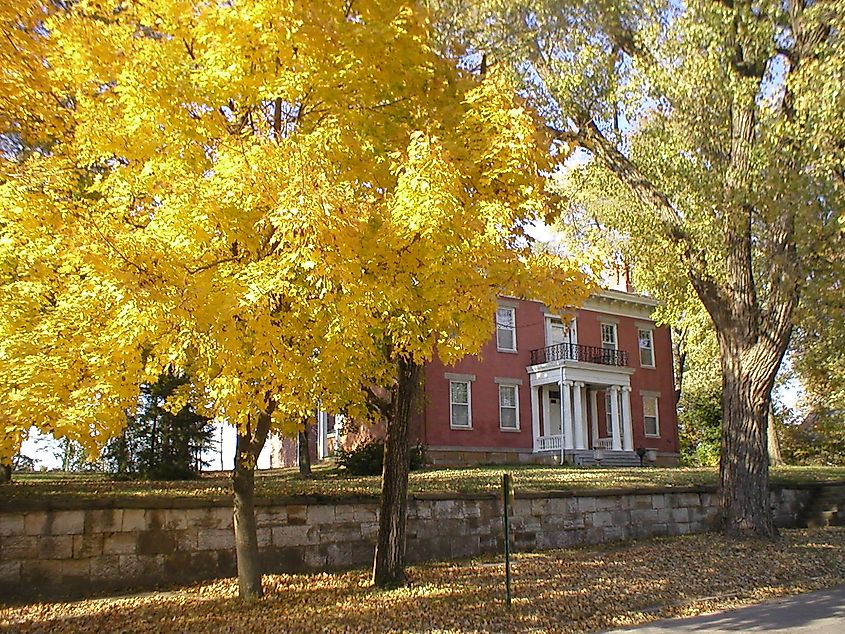 Those familiar with American history may know that, with the help of hemp bales, Confederate forces registered one of their earliest victories in this Missouri town. Today, the Battle of Lexington State Historic Site is among the town's sought-after destinations. Conveniently located just about 52 miles east of Kansas City, Lexington is about an hour's drive from Missouri's largest city. While there is a lot that will fascinate a first-time visitor regarding the Battle of Lexington, including the still-visible trenches — and a lodged cannonball at the Lafayette County Courthouse — first-time visitors will also love Lexington's downtown, its Victorian homes, its stunning architecture, and its quaint stores. For some outdoor fun, however,  Crystal Lake State Park, with its scenic trails, shaded trees, and peaceful ambience, will be the right place to wind down. Then again, for its impressive number of antebellum homes, Lexington was once named among the Midwest's "Best Old House Neighborhoods."
Chillicothe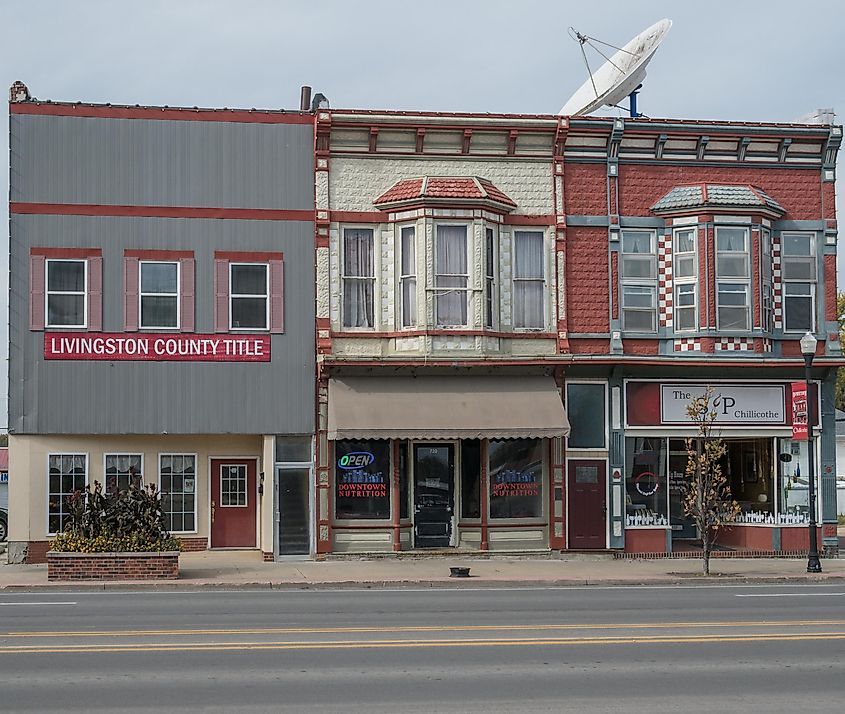 Sliced bread was such an exciting innovation that it became the reference point for every positive news and subsequent innovation. Well, it turns out that Chillicothe is actually the birthplace of sliced bread. It is a Chillicothe baker who, on the verge of bankruptcy, risked all on the innovation, and in July 1928, distributed the first loaves of sliced bread ever made — to several Chillicothe grocery stores. The rest, as is often said, is history. Today, the Home of Sliced Bread is quite a charming appeal. Chillicothe's  Historic Downtown Square, for instance, boasts a delightfully, laid-back appeal, an impressive dining dining and shopping landscape, and an endearingly authentic look— that will not fail to detain first-time visitors. Destinations of interest include the Sliced Bread Innovation Center, the site of the very first bakery that birthed what would become the gold standard of all innovations.
Hannibal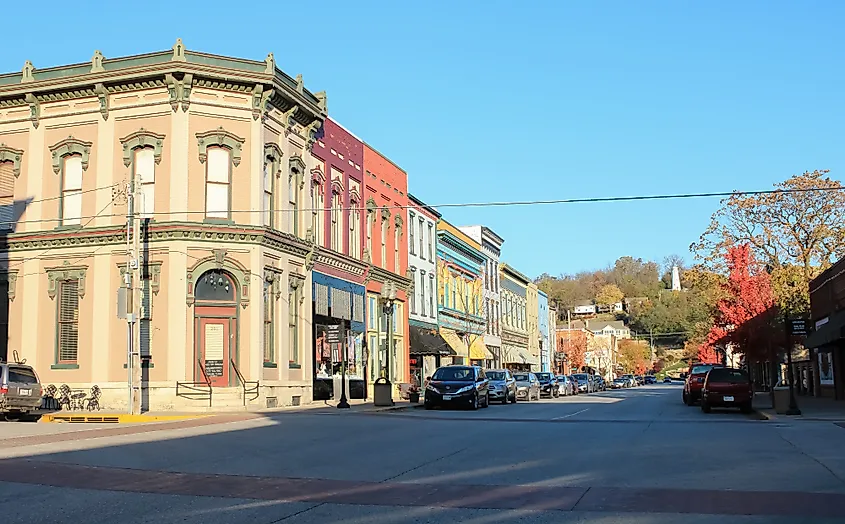 At the mention of Hannibal, many minds drift to the Carthaginian general unanimously regarded to have been an amazing tactician — and doubtlessly one of the greatest generals of ancient times. Well, there is just such an element of greatness, of course of a different kind, in this Missouri gem. Nestled on the Missouri River about 100 miles northwest of St. Louis, Hannibal is home to 16,900 residents. While it is not the birthplace of the greatest war general, it is the town that raised Mark Twain, one of America's greatest authors. Many will want to visit the town that inspired "The Adventures of Huckleberry Finn," a masterpiece that would mark a turning point in children's literature. Today, the Mark Twain Boyhood Home & Museum is a popular town highlight. If tired of strolling Hannibal's charming downtown, consider opting for the Mark Twain Riverboat where you'll just relax and enjoy the riverfront scenery.
The Takeaway
While Missouri is no California, Colorado, or Nevada, and its landscape is perhaps not as dramatic, it boasts a fair share of mind-bending attractions that will leave first-time visitors awe-struck. Besides, the 24th state is dotted with several charming towns whose main streets are some of the best in the country. From Hermann, that Travel + Leisure ranks among the best small towns in America, to Chillicothe, the home of sliced bread, Missouri boasts main streets that will be a delight to explore