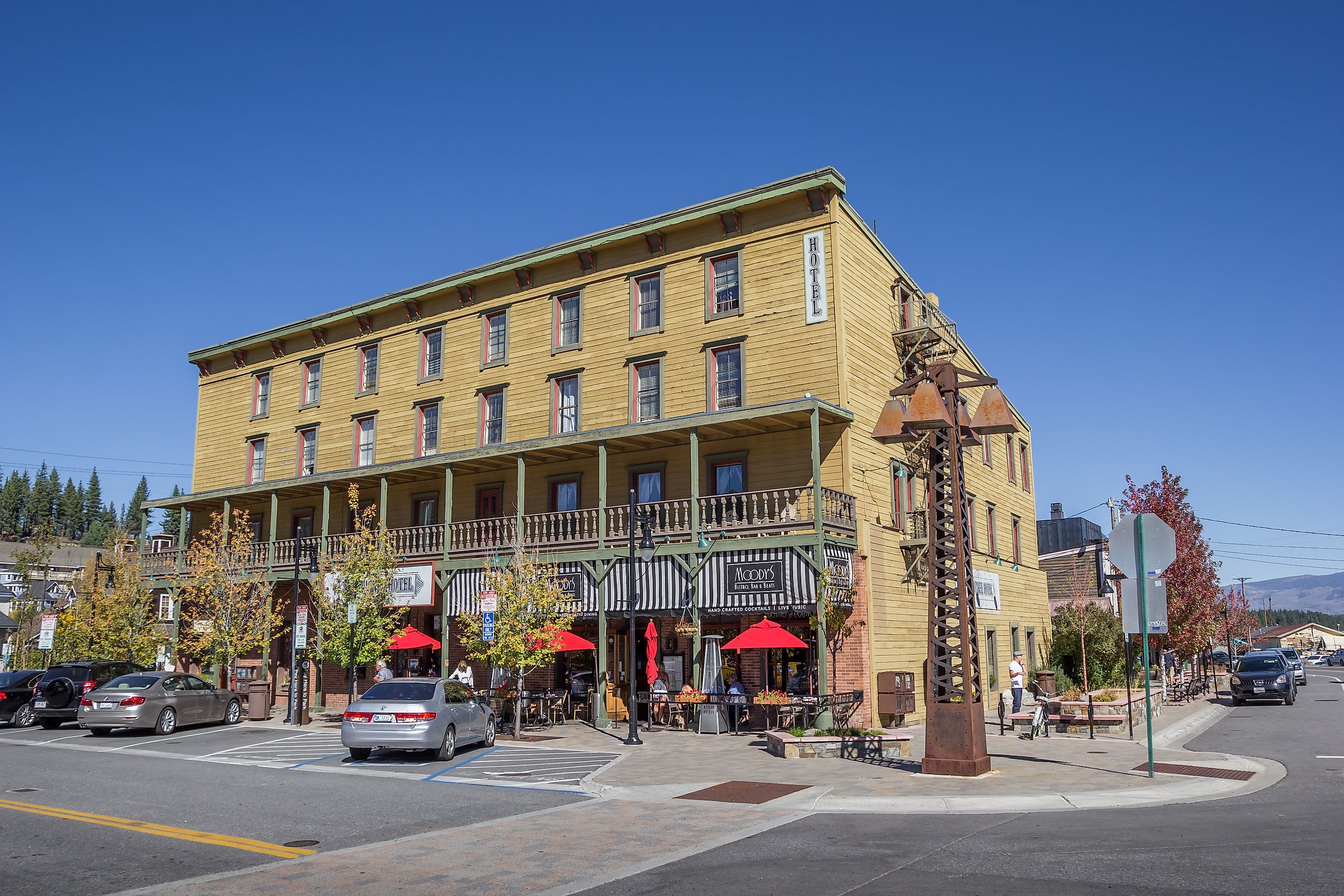 7 Most Charming Cities in California's Sierra Nevada
Whether or not you have visited the breathtaking Sierra Nevada Mountain Range you have probably seen some of its spectacular natural beauty either on the big screen, online, or perhaps even in print, all without knowing it. The Sierra Nevada, known as the High Sierra, has been attracting all forms of artists for over a century.
From the filming of old classics such as "Gunga Din" and "How the West Was Won," to Tarantino's modern masterpiece "Django Unchained," moviegoers have been experiencing the untamed wonders of the Sierra Nevada Mountain Range for over a century on the big screen. Or perhaps you have come across images from the High Sierra on your computer, many desktop backgrounds, particularly on Apple Inc. devices, use images of this region as their presets. But a screen can only do so much, and without having set foot in the charming towns of California's Sierra Nevada Mountain Range, walked the historic districts of gold rush mining towns, or watched the sun rise over Lake Tahoe from your cozy lakeside Bed and Breakfast, you have not truly experienced this unique and awe-inspiring part of the United States. So when planning your next trip to this region be sure to take some time to wander through one of these, or any other, towns in the High Sierra, you certainly will not regret it.
Mammoth Lakes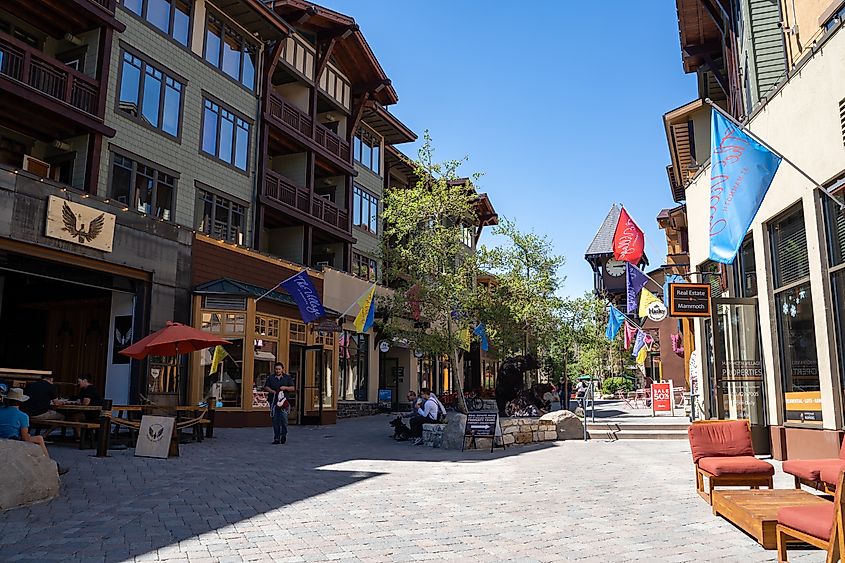 As many towns in the Sierra Nevada Mountain Range do, Mammoth Lakes, California owes its existence to the California Gold Rush. In 1877 four prospectors made a fortuitous discovery of a vast gold and silver vein just west of the modern town site of Mammoth Lakes. Soon after receiving their land claims they were purchased by General G. Dodge. Dodge then opened the Mammoth Mining Company, this being the origin of the town's, lake's, and adjacent mountain's names. 
With stunning natural surroundings, Mammoth Lakes is one of the most beautiful towns in the entire Sierra Nevada. Located in the High Sierra, at an elevation of 7,880 feet above sea level, this town is surrounded by clear blue glacial lakes, including Twin Lakes, Mammoth Lake, and Horseshoe Lake, and sits next to Devils Postpile National Monument. The Devils Postpile area has some great hikes up to various extraordinary waterfalls, including Rainbow Falls, along the San Joaquin River, which is the tallest waterfall in the High Sierra. The town of Mammoth Lakes also offers visitors and locals the opportunity to kayak, boat, canoe, and, if you are willing to brave the cold waters, swim in one of the most beautiful parts of the entire United States. And for those looking for a unique experience, visiting Mammoth Bike Park, the premier lift-served mountain bike park in the United States, is just the thing. Ride to the top on a shuttle or lift and then descend along one of the many bike paths which range from novice to expert in difficulty. This is a great way to explore Mammoth Mountain while having an exhilarating downhill ride.
Tahoe City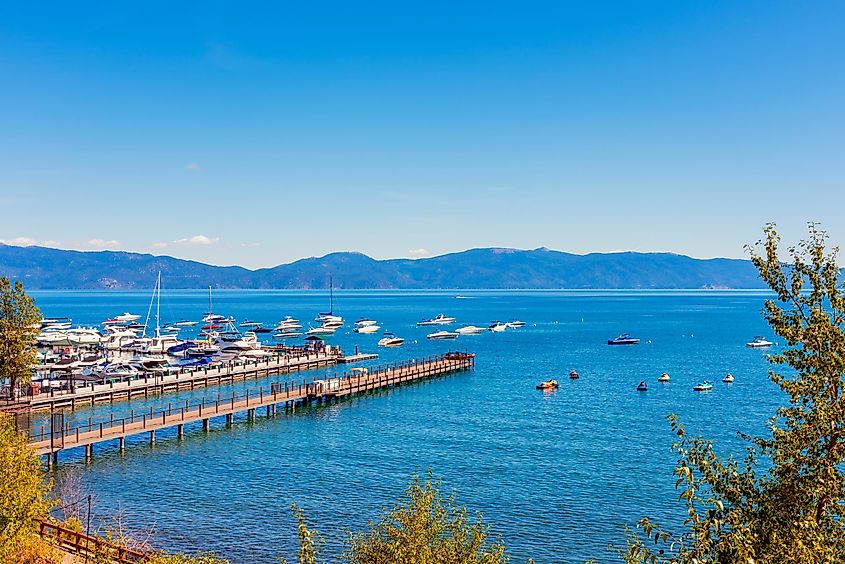 Located in Placer County, a northern region of California's Sierra Nevada Mountain Range  Tahoe City sits on the western shore of its namesake lake, Lake Tahoe. Dating back to 1864, this town was founded as a resort town for the affluent living in Virginia City, Nevada. Today, Tahoe City continues to attract tourists for its alpine aesthetic, natural beauty, world class alpine sports facilities, and, of course, its proximity to Lake Tahoe. Visitors who spend time in town are sure to enjoy exploring the unique Cobblestone Center, a charming shopping village with a bovarian aesthetic. For those looking to get out and about in nature there are a range of state and national parks that offer an abundance of hiking trails and picturesque campsites for those intrepid enough to endure the cold mountain nights. Other parks adjacent to Tahoe City include William B. Layton Park and Burton Creek State Park, both parks popular with locals and tourists. For those wanting to see some local wildlife, at a safe distance that is, try visiting Truckee River or the Lake Tahoe Dam where black bears are spotted regularly, and, if you are visiting between August and January, it is a great place to see spawning salmon.
Angels Camp
Those with a love of literature, and who have read the works of authors Mark Twain and Bret Harte will be familiar with Angels Camp, California, located in the western foothills of the Sierra Nevada. Both authors made note of this town in their works, each depicting the fascinating Jumping Frog Contest, a popular event at the annual Calaveras County Fair. Besides its impressive connection to multiple literary greats, Angels Camp is unique for its maintained Old West aesthetic, particularly in the historic downtown district, which is filled with local shops and artisan galleries. For those looking to spend time in the great outdoors Calaveras Big Trees State Park, Sequoia National Park, Kennedy Meadows, and Yosemite National Park are all in close proximity to Angels Camp. 
Truckee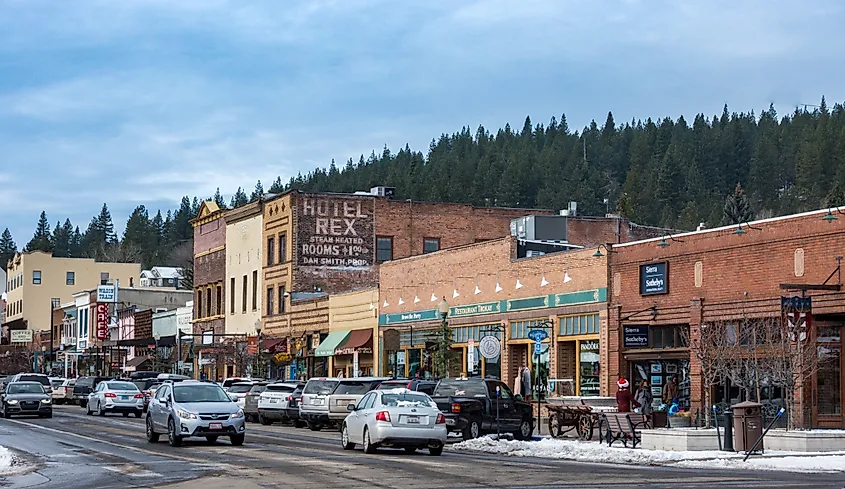 Located in California's Nevada County, Truckee is a town as charming in the winter as it is in the summer. Considered one of the best hiking towns in the United States, Truckee is close to Donner Memorial State Park where you will find hikes appropriate for all levels of experience. If you are looking for an adventure Truckee River boasts fantastic rapids, while Donner Lake is a popular location for all manner of water sports. There is also the Truckee Bike Park which is a great facility for novice and experienced mountain bikers. Most parks in the vicinity including Truckee River Regional Park and Tahoe National Forest which allow bikes on their trails. If you are looking to spend time in town there is a lovely Farmer's Market every Tuesday, many art galleries such as Truckee Gallery and Spirits in Stone Gallery, and unique and charming shops throughout Historic Downtown Truckee. If you are looking to learn about local history visiting the Emigrant Trail Museum should be top of your list. Notably, this museum is one of the few places in the world where you can observe authentic Donner Party artifacts.
Three Rivers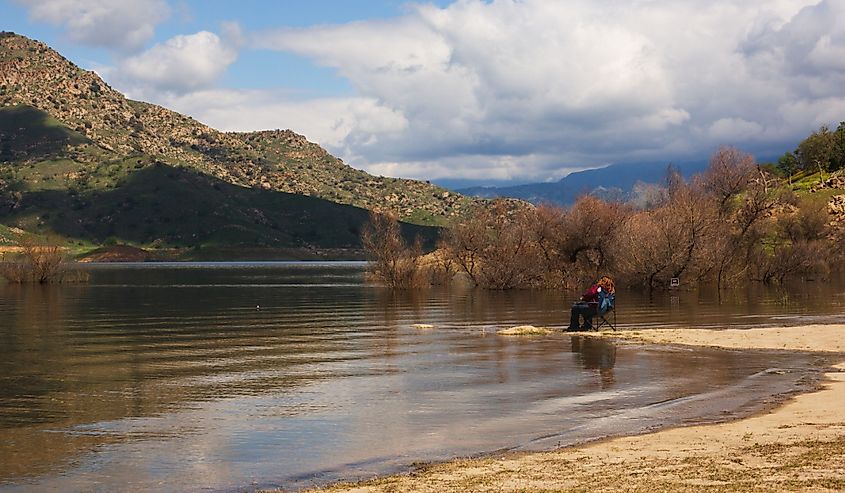 The story of Three Rivers, California, an unincorporated town in the foothills of the Sierra Nevada Mountains, is unusual, to say the least. Founded in 1886 by a group of utopian socialists under the name Kaweah Colony, within less than a decade the American government removed the colony and annexed the land into Sequoia National Park. Some decades late Walt Disney considered buying another tract of land in the vicinity in the hopes of building a ski resort, but once more the land was annexed into Sequoia National Park. Its final rendition, and the form it is most like today came to be in the 1960s when the town became an artist colony. Today, Three Rivers continues to inspire local artists and visitors who come to Three Rivers to explore how the natural beauty of the High Sierra influences their art, whether that be painting, writing, or composing. If you are an aspiring artist, or an experienced one looking for new inspiration, making a trip out to Three Rivers may be just the thing you need
Grass Valley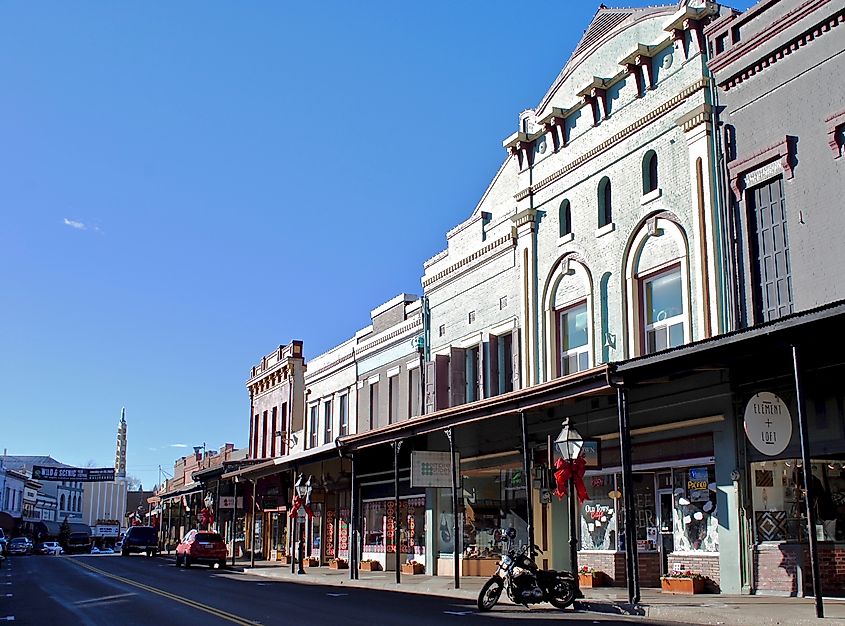 Originally known as Boston Ravine, then Centerville, and then finally Grass Valley, this town originated as a camp for miners working at Gold Hill Mine in the 1850s. Located in Nevada County, in the Sierra Foothills American Viticultural Area (AVA), Grass Valley is surrounded by many national and state parks including Highland Park, Empire Mine State Historic Park, South Yuba River State Park, and many others. In the vicinity are also a variety of lakes such as Scotts Flaw Reservoir and Rollins Reservoir. In town, Grass Valley has many historical sites such as the Historic Holbrooke Hotel and the entire downtown historic district, where you will find unique and charming independent shops, and local art on display. This town offers a unique experience for everyone, but especially for children, as you can pan for gold without a permit in this region. While you can independently pan in any public river space, it is suggested you visit one of the established modern mining experiences such as Reinke Gold Mining Adventures and Services.
Bishop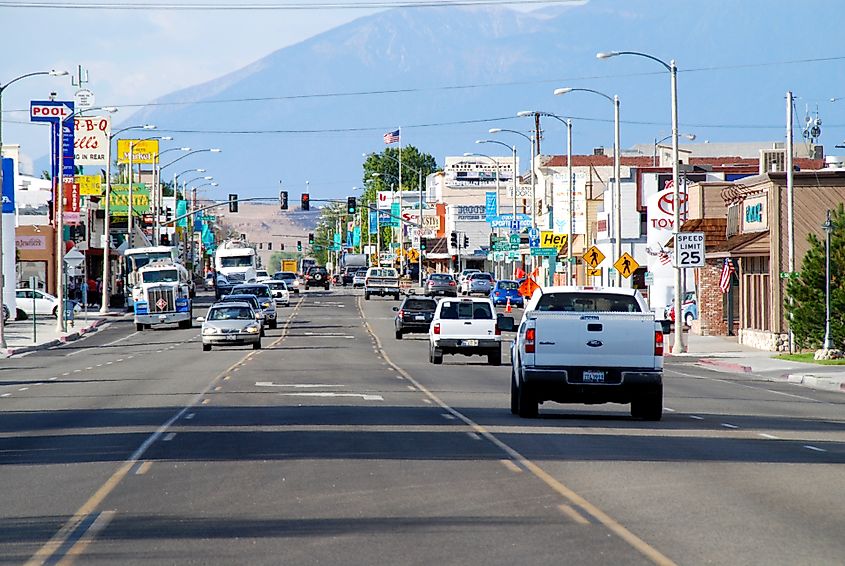 Movie fanatics who visit the California Sierra Nevada will certainly want to make a trip to Bishop. Located in the northern portion of the Owens Valley, which happens to be the deepest valley in North America, this town sits near the Nevada border. Bishop has had over two dozen films set in and around its borders. Due to its proximity to Los Angeles, and its spectacular landscapes, films such as "True Grit," "Ride the High Country," and many other westerns were filmed here. Today, visitors come to revel in the same gorgeous landscapes that made Bishop a prime filming location. Must-sees in Bishop include Keough's Hot Springs, Owens Valley Paiute Shoshone Cultural Center, and the Ancient Bristlecone Pine Forest.
Without a doubt, California's Sierra Nevada Mountain Range is one of the most picturesque landscapes in the United States. Its unique ecosystem has made it home to some of the rarest and most fascinating species in the world, including the giant sequoia, quaking aspen, and incense cedars. In the warm months of the year, tourists from all over the world come to visit the four national parks and 25 state parks of the region. During the colder winter months visitors, domestic and international, descend upon the world class alpine ski and sports resorts. All of these unique aspects of the Sierra Nevada Mountain Range give each High Sierra town an individual personality, whether that be as a lake town, ski resort town, or artist commune, every town in this region has a charm all their own.