Tahoe City is a small unincorporated town situated on Lake Tahoe's western side in Placer County in the US State of California. Tahoe City, with 1,576 residents, ranks 928th out of 1,578 cities in California. Tahoe House was the city's initial name when it was founded in 1864 and was changed to Tahoe City in 1949. Many attractions and historic places may be found in Tahoe City. It is also home to a lot of Lake Tahoe history, as well as some of the best surfing, hiking, cycling, and beaches on the lake. Lake Tahoe is believed to have originated some two million years ago, according to the best estimates. Over the previous 10,000 years, the woodland landscape that surrounds the lake has evolved.
Geography And Climate Of Tahoe City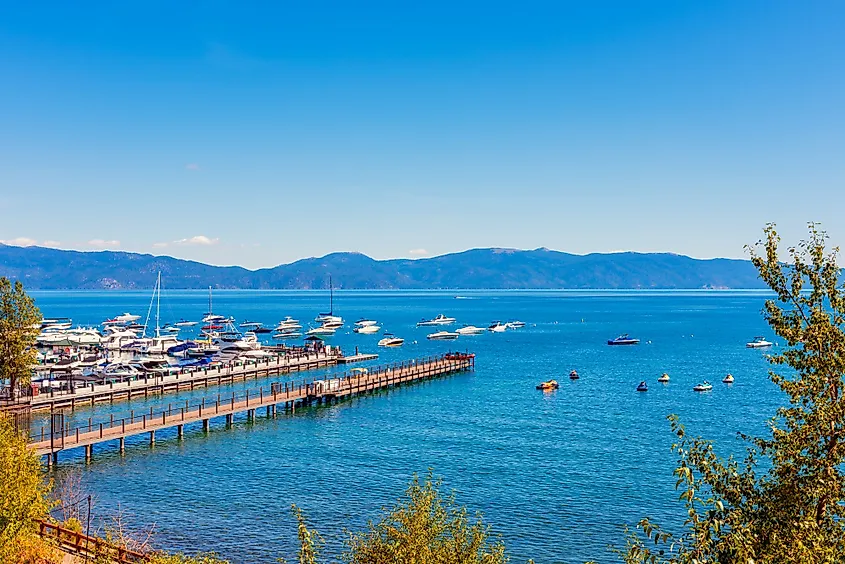 Tahoe City is a small unincorporated town situated at the head of the Truckee River, on the shores of Lake Tahoe. The town covers a total area of 8.8 sq. km and is entirely made up of land. 
According to the Köppen Climate Classification, the city experiences a continental Mediterranean climate, with dry summers including very warm days and cold nights, and cold winters with occasional snowfall, due to its superior elevation. Tahoe City's hottest month is July, with an overall average of 78°F and a minimum of 43°F, while the coldest month is December, with nighttime lows of 19°F and a maximum of 39°F. Tahoe City receives approximately 28 inches of rain and 154 inches of snow every year. Overall, there have been 251 sunny days each year. Tahoe City is mostly dry in the summer, while thunderstorms sometimes bring rain to the area. Summer days are hot and sunny, but nights can be frigid, with temperatures as low as 32 °F. Tahoe City has unusually low humidity, to the point where the dry weather may be irritating for some. During the year, there are just a few days when the dampness is even visible.
History Of Tahoe City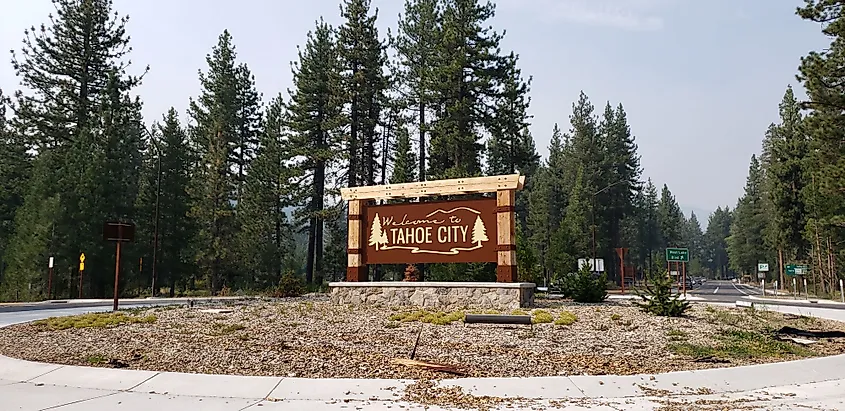 Tahoe City was surveyed and mapped for the first time in 1863. This was immediately followed by the construction of many tiny houses and the Tahoe House Hotel by founding settler William Pomin in 1864. The Tahoe Basin was being logged at the time to support the gold and silver craze at Virginia City to the east, which began in 1858 and lasted until the 1890s. Native Americans, particularly the Washoe Tribe's forefathers, had John C. Fremont, who found Lake Tahoe in 1844, by almost 10,000 years. For millennia, the lake served as the heart of the Washoe culture, supplying a variety of foods to withstand the winter. The Washoe's phrase – Da ow a ga – translates to "edge of the lake," and the word 'Tahoe' is the consequence of a misinterpretation of the first two syllables. The city was well known for its hotels. All the historic accommodations have been lost to time. Most of them were destroyed by fire, which regularly plagued Virginia City and Truckee.
The Population And Economy Of Tahoe City
As per the latest US Census, Tahoe City has a total population of 1,576 inhabitants with a median age of 37.8 years. White (Non-Hispanic) (92.6%), White (Hispanic) (3.18%), American Indian & Alaska Native (Non-Hispanic) (1.72%), Asian (Non-Hispanic) (1.29%), and two+ (non-Hispanic) (1.12%) are the five most populous ethnic groups in Tahoe City. There are 789 houses, 20.8 % of which have kids under the age of 18, 37.9% of which are married couples, 4.6 % of which have only a female householder, and 54.1 % of which are non-families. Tahoe City is home to 98.5 % of American citizens, and almost all households speak English as their primary language. 
According to the latest Census, Tahoe City residents had a median household income of $105,667. Tahoe City households made somewhat more money than those in Auburn Lake Trails ($105,368) and Dana Point ($105,250). Poor people make up 3.4 % of the city's population. Between 2018 and 2019, the city's population fell by 4.75 %, from 1,222 to 1,164, while its average household income fell by 0.0934 %, from $79,219 to $79,145. It has an annual unemployment rate of 5%. The job market has grown by 1.4 % in the last year. Over the next ten years, future job growth is predicted to be 36.7 % in Tahoe City.
Attractions In Tahoe City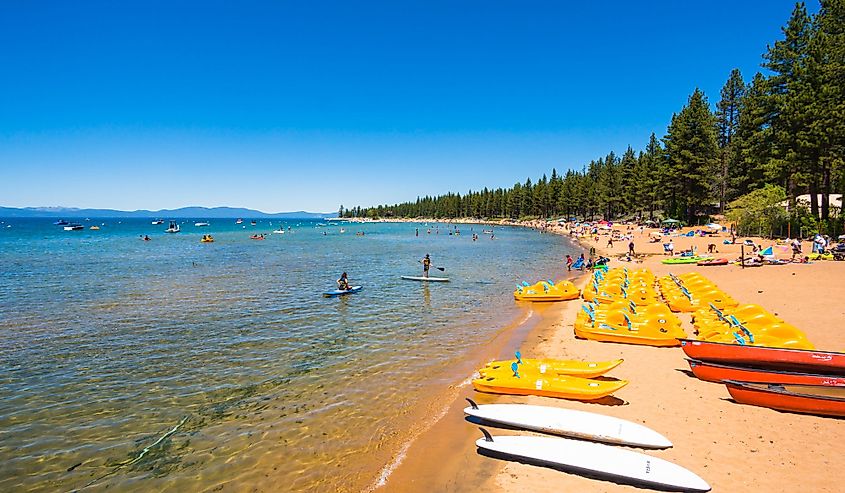 D.L. Bliss State Park
DL Bliss State Park is a perfect example of Tahoe's natural splendor, with a blue lake and old-growth trees. Several hiking paths lead from the park, providing numerous opportunities to experience the natural beauty of Tahoe and good diving opportunities.
Tahoe Art Haus & Cinema
Independent movies, ski movies, regionally made classics, live-action movies, and environmental films are all shown in the Art Haus. Dancers, presenters, photographers, and live music can all perform on the Art Haus' stage. The venue can be rented for a huge party or a private film screening.
Tahoe Cross Country Center
Tahoe Cross Country (aka Tahoe XC) is located on Dollar Hill just west of Tahoe City and has a vast trail system for hiking and cycling in the summer and groomed cross-country ski and snowshoe paths in the winter.
Donner Memorial State Park and  Emigrant Trail Museum
The new museum, which opened in 2015, has objects and stories from the Emigrant Experience, such as the Donner Party, the Land of the Washoe, Chinese railroad construction, and early automotive trips over Donner Pass. It has cutting-edge audiovisual technology for presentations.
Emerald Bay State Park
It is considered a National Natural Landmark. Eagle Falls and Vikingsholm, a 38-room house regarded as one of the greatest specimens of Scandinavian architecture in the United States, are among the park's highlights.
Martis Peak Fire Lookout
It was constructed in 1914 and is still operational to this day. It offers a respite from the weather while offering a panoramic view of the Lake Tahoe Basin, western Sierra ranges, and northern valleys and mountains.
Tahoe City is the most picturesque and beautiful town on the shores of Lake Tahoe. In addition to many other attraction sites, the magnificent views of the lake, fine restaurants, trendy pubs, walking and bike pathways, and access to the Truckee River as it pours out of the large, blue lake will all appeal to you.