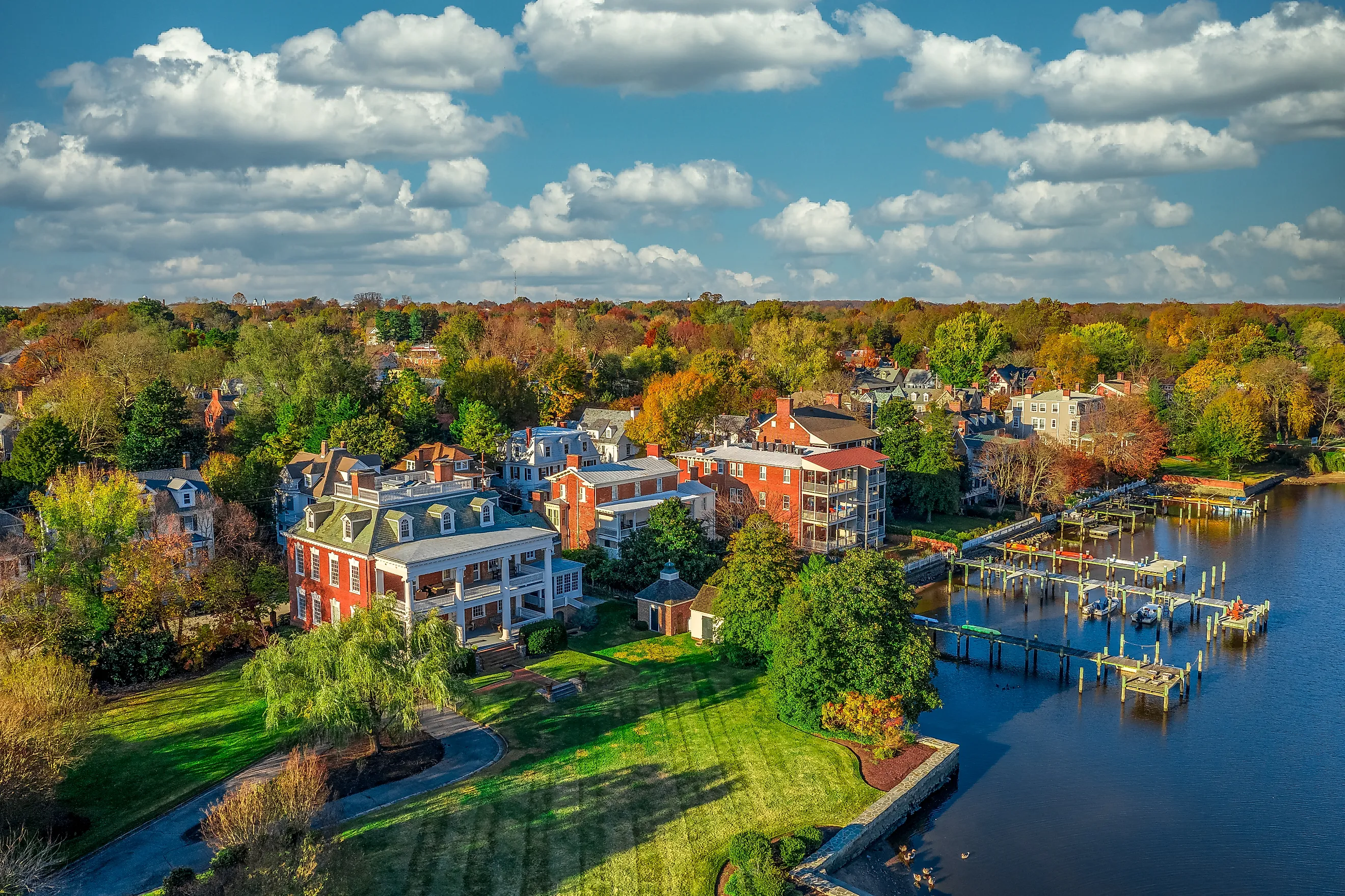 7 Most Beautiful Historical Towns in Maryland
Maryland is a stunning state located in the Mid-Atlantic region of the country. It is named after Queen Henrietta Maria, the wife of King Charles I of England and Scotland. The name Maryland comes from Henrietta Maria's maiden name: Marie de' Medici. 
Maryland is home to many important events in American history, including the Battle of Baltimore during the War of 1812 and the Battle of Antietam during the Civil War. Maryland is known for its seafood cuisine, crab cakes, and historical sites such as Fort McHenry and Mount Vernon.
Annapolis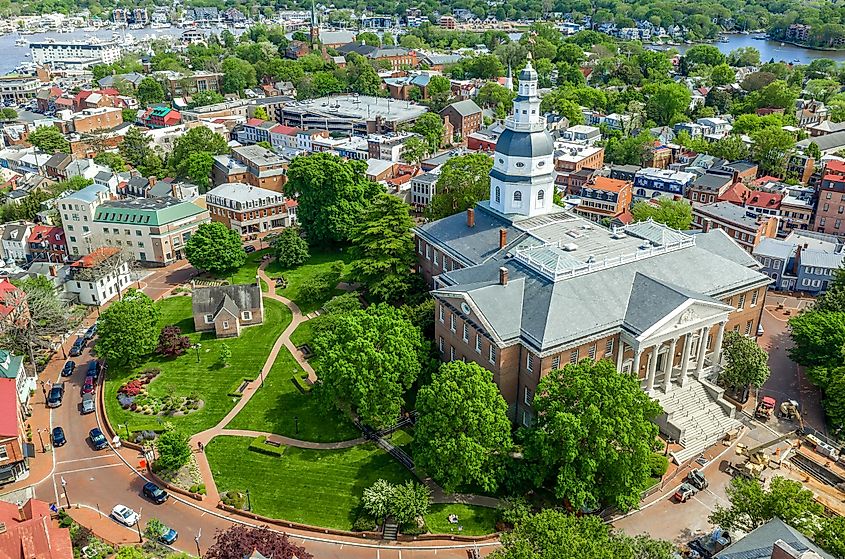 Annapolis, Maryland, is the capital of the U.S. state of Maryland and has a population of 39,321. The town is located on the western shore of Chesapeake Bay at the mouth of the Severn River, about 30 miles (48 km) south of Baltimore and about 35 miles (56 km) east of Washington, D.C.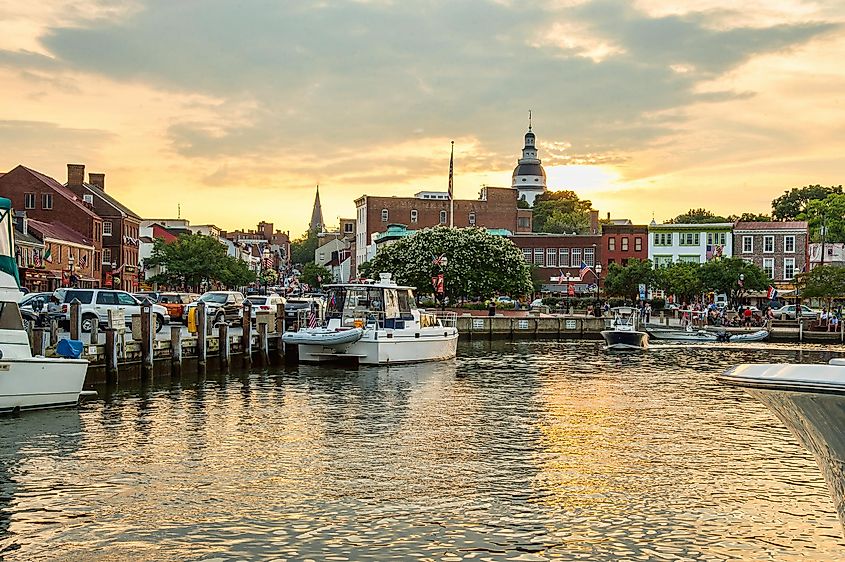 Annapolis is a historical place with many attractions for tourists to enjoy, such as its Colonial Annapolis Historic District with its cobblestone streets and brick sidewalks; its Naval Academy Museum; its Navy-Marine Corps Memorial Stadium; and its proximity to many other historic sites in Maryland such as St. John's College (founded 1696), Fort McHenry National Monument and Historic Shrine (1814), Francis Scott Key Memorial (1927), Washington Monument State Park (1932), Calvert Cliffs State Park (1964), Chesapeake Bay Bridge Tunnel Thimble Shoal Light Station Museum & Keeper's Quarters Museum & Gift.
Baltimore
Baltimore is located on the Patapsco River, an arm of the Chesapeake Bay. It is approximately 40 miles (64 km) northeast of Washington, D.C., and 25 miles (40 km) southwest of Annapolis, Maryland's capital city.
Lord Baltimore established Baltimore in 1661 as a new English colony named after his father, George Calvert, 1st Baron Baltimore, who had been granted a royal charter to create a "Province of Maryland" in 1632. 
The city served temporarily as the capital of the United States while Philadelphia was under British occupation during the American Revolutionary War from 1777 to 1778.
Baltimore has long been an important center for manufacturing and trade. It was one of America's earliest industrial cities, with its steel mills and shipbuilding industry dating to colonial times. It became one of the first centers for mass production in America with its deepwater port on the Chesapeake.
Frederick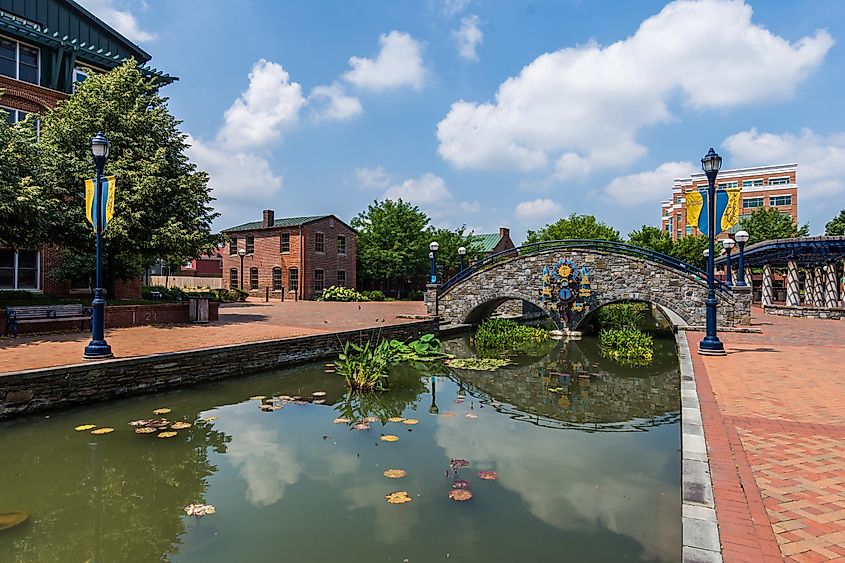 Frederick is the county seat of Frederick County and the second-largest city in Maryland. Frederick has a population of about 71,843 people. It is located in the Northern region of Maryland, about 40 miles from Washington D.C., and close to Baltimore and Philadelphia.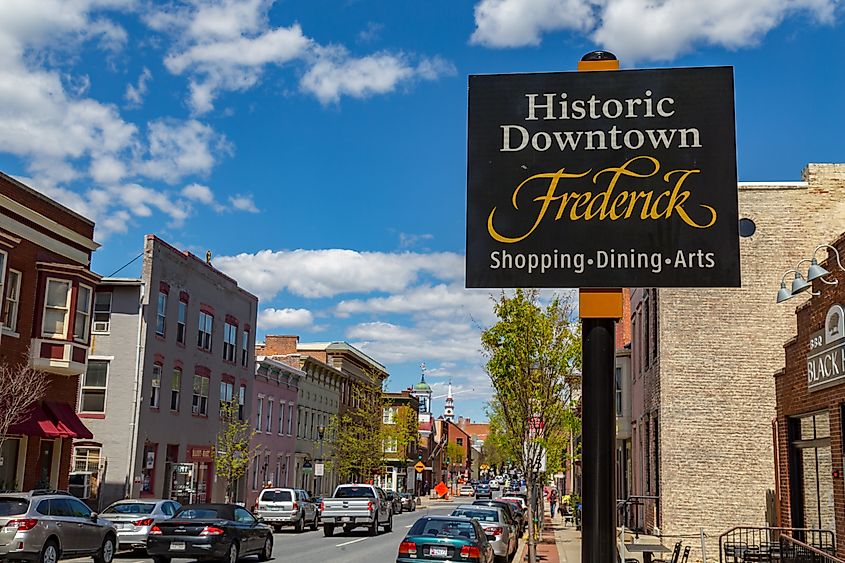 Frederick has a rich history that dates back to 1730 when John O'Conner founded it on land given to him by Lord Baltimore. The city was named after Frederick Calvert, the first Lord Baltimore's son and heir apparent.
The city has been an important crossroads for travelers since its founding because it sits at the crossroads of two major highways: I-70 and I-270, both major east-west routes across America's midsection.
Hagerstown
Hagerstown is a U.S. state of Maryland city located about 40 miles west of Washington, D.C., in the Appalachian Mountains. It is the county seat of Washington County and the largest city in a region known as Western Maryland.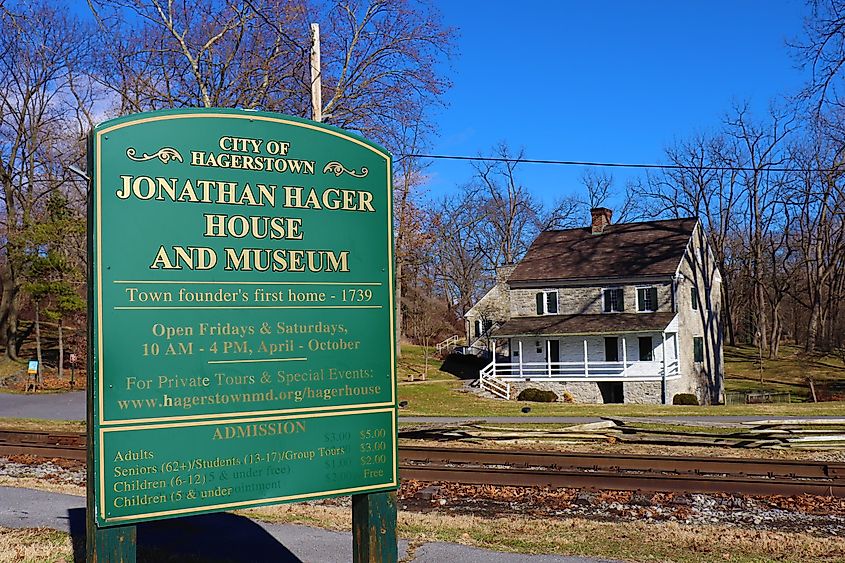 Hagerstown was founded in 1762 by John O'Conner on a land grant from George II to his brother James O'Conner, who had been an officer in the British army during colonial times. It is named after General Edward Hager, who fought during the French and Indian War (Seven Year's War) and served as Acting Governor of Virginia from 1781 to 1782.
Rockville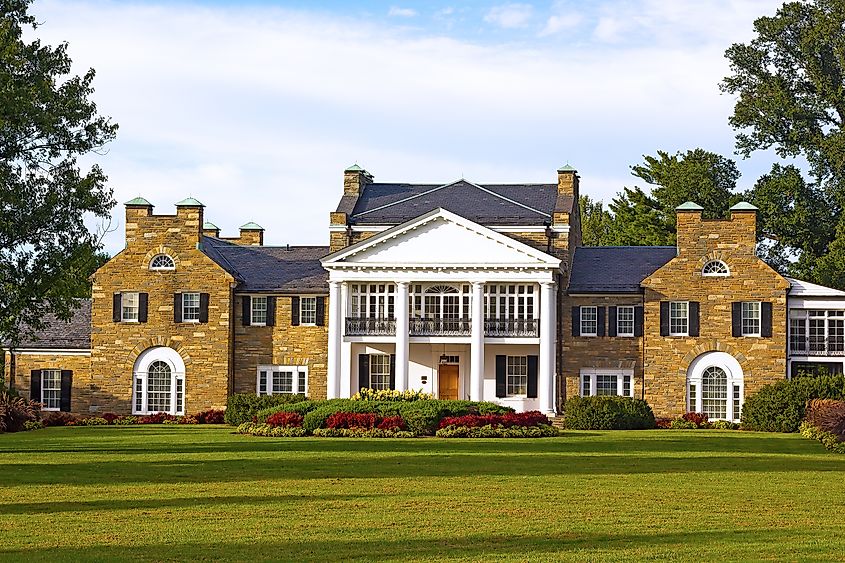 Rockville is a city in Montgomery County, Maryland. It is a suburb of Washington, D.C., and part of the Baltimore-Washington Metropolitan Area. Rockville was founded in 1778 as Beallsville and was renamed Rockville in 1880.
The city is home to the National Institute of Standards and Technology (NIST), which Congress established in 1901 at the urging of Alexander Graham Bell.
Rockville has been home to many famous people, including Bill Gates, Jim Henson, and Steve Jobs.
Saint Michaels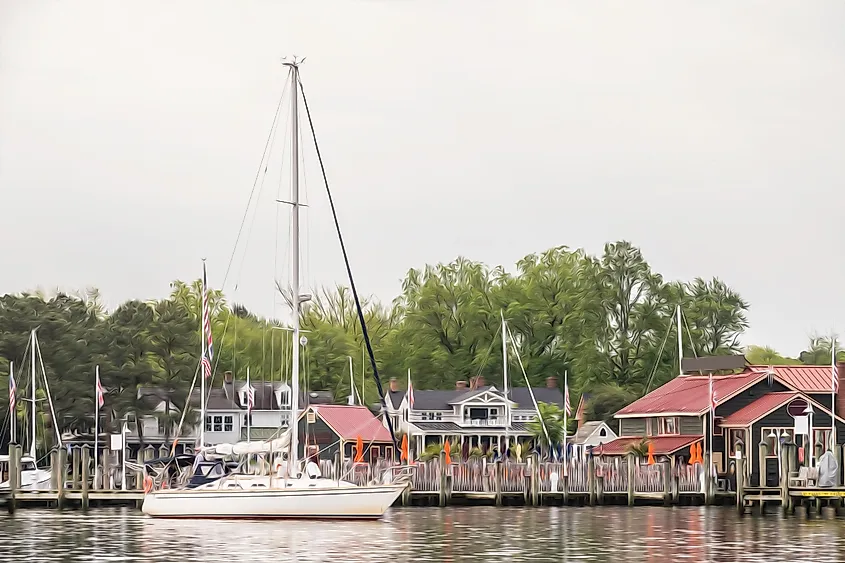 Saint Michaels is located on the Chesapeake Bay and has a population of only about 1,500 people. Saint Michaels was founded in 1706 by English settlers looking for a place to build their homes and start their businesses. 
The town was named after Saint Michael the Archangel, considered the patron saint of soldiers and police officers.
The town's economy relies mainly on tourism because it has many historical sites that attract visitors worldwide.
Chestertown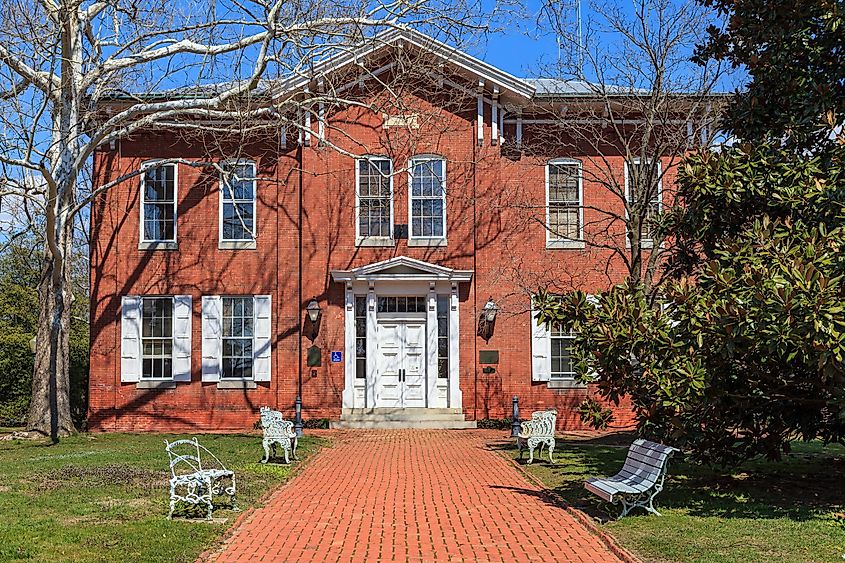 Chestertown is a town within Kent County, Maryland. It is located on the Chester River and has a population of about 5,532 people. Chestertown was founded in 1742 by William Brownfield and was named after his hometown of Chesterton in England.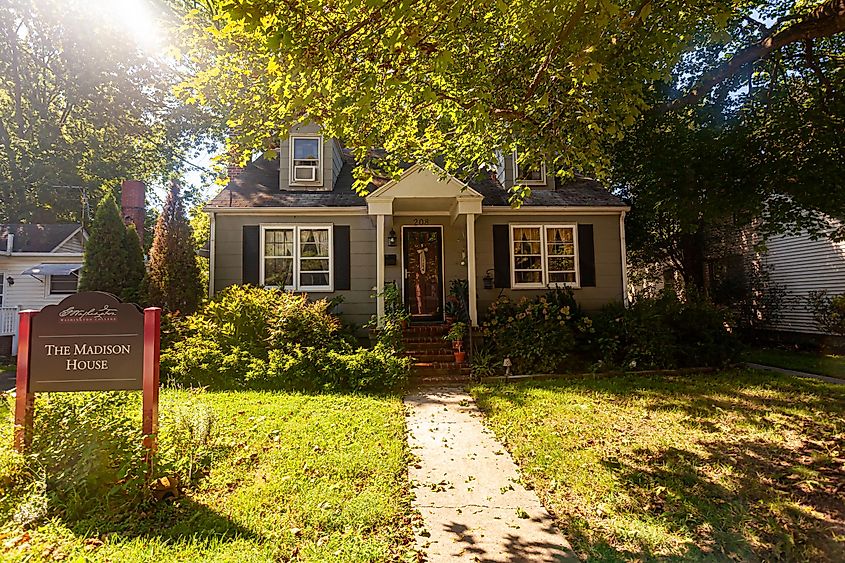 The town was originally called "Brownfieldtown," but the name was changed to Chestertown in 1806. The Chestertown Historic District is a historic district that includes buildings from the late 18th century to the early 20th century. 
It includes houses, churches, commercial buildings, and other structures representing Chestertown's development as an important regional center for commerce and transportation during this period.
Many famous figures, including  U.S. presidents, were born in Maryland. Maryland also has a lot of beautiful historical sites, making it a great place to visit. The state is well known for its rich history, natural beauty, and impressive cultural attractions. Maryland has many museums, historic sites, and natural wonders. You can also learn about the state's history through culture-related activities in the Capital and in Annapolis. 
If history is your thing, then a visit to Maryland is a must on your list!