While the name "Adirondack" was originally a derisive epithet, meaning "eater of tree bark," today, it is anything but derisive. The region in New York state teems with numberless opportunities for adventures that would satisfy the highest hopes of a thrill-seeker. Extending over an area that measures more than 2.4 million hectares, the Adirondacks is home to spectacular gorges, pristine forests, and several sparkling lakes. Among the more than 2,300 lakes and ponds that dot this scenic landscape is Lake George. Sometimes referred to as the "Queen of American Lakes," Lake George is reputed to be among the clearest lakes on the planet—and the cleanest. But it is not just the shimmering lakes, the wild rivers, or even the spectacular waterfalls. The Adirondack region boasts several charming towns from which one can launch out to this picturesque wilderness. Read on to discover some of the region's most beautiful towns.
Lake Placid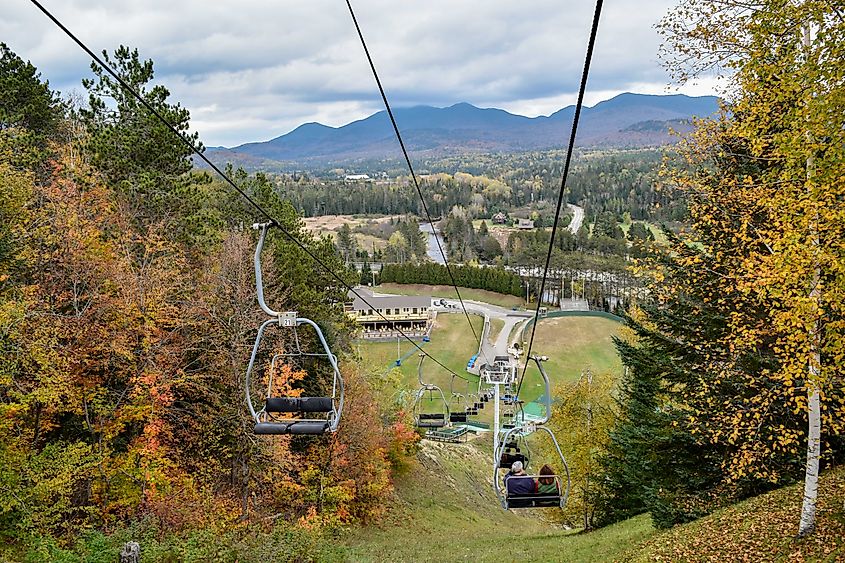 The word "charming" and the word "Adirondack" cannot be found together without the name "Lake Placid." Any list that mentions Adirondack's most beautiful towns can never be complete without some copious adulation of Lake Placid. While beauty lies in the eyes of the beholder, Lake Placid was once featured in Forbes Travel's list of America's prettiest towns. Several years have gone by, but Lake Placid is still as ravishing. As an ode to its quaint beauty, Lake Placid was once the playground of such wealthy families as the Carnegies, the Rockefellers — the richest in America's history — and the Vanderbilts. A two-time Olympic destination, Lake Placid's wild scenery includes chalet-style lodgings, cold but breathtaking mountains, and a triad of lakes including the one that lends the town its name.
Speculator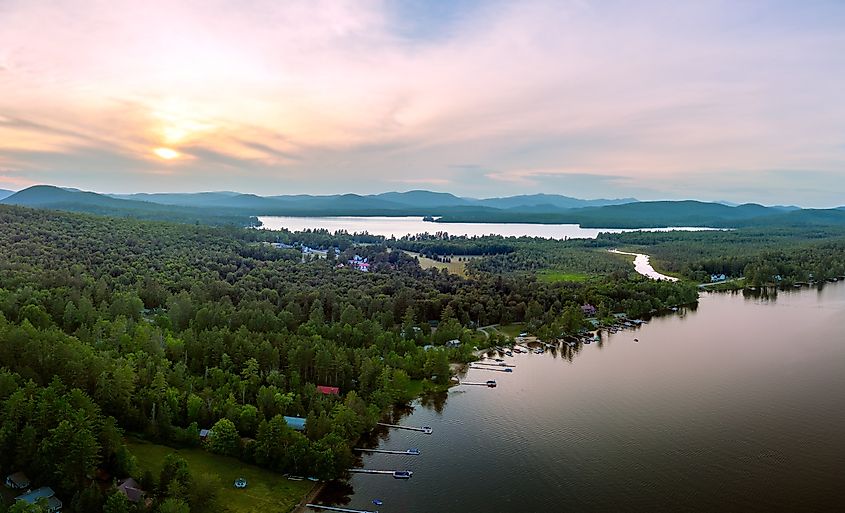 Speculator is often mentioned among the most picturesque towns in the Adirondack Mountains. And there should be no reason to speculate why this town is such a draw. Boasting a population of only 430 as of 2023, according to World Population Review, Speculator is small, serene, and ravishingly quaint. Framed by the 2,966-foot mountain that lends the town its name, Speculator teems with several outdoor activities that will make a visit every bit rewarding. Styling itself as an "All Season Vacationland," Speculator is the only incorporated village within New York's Hamilton County, which, incidentally, is the least populous county in the Empire State. What's more? A visit to this little town will reveal one of America's best-kept secrets: a mini Route 66 that is a replica of America's Mother Road.
Saranac Lake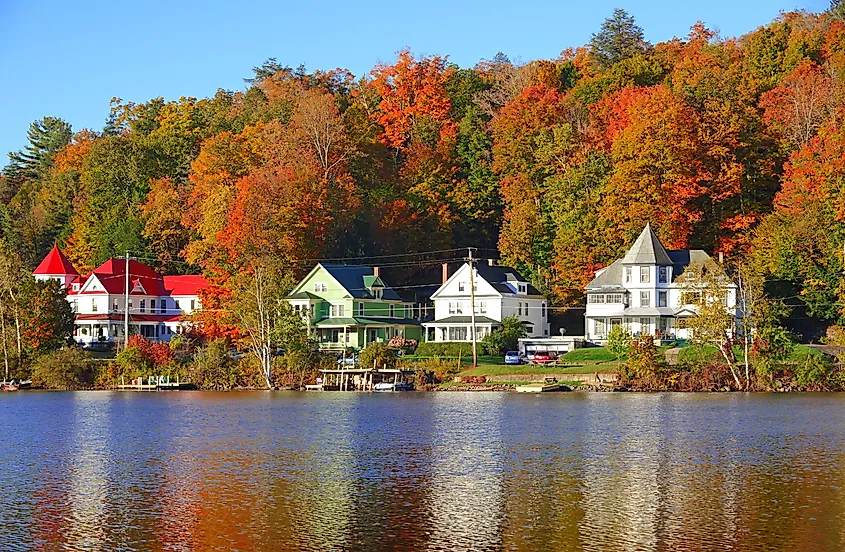 For someone seeking some meaningful blue-space therapy, Saranac Lake might just be what the doctor recommended. And don't downplay this. Blue space, whether it be the sound of singing winds or crashing waves, the feel of sand beneath the toes, or just an intimate exposure to nature's scenes and sights, has been proven to hold immense physiological benefits. Styling itself as "the Capital of the Adirondacks," Saranac Lake has a rustic look and a surreal, far-away feel no one can miss. Still, blessed with countless miles of mountain biking trails, Saranac Lake is not just a blue space destination. Baker Mountain, for instance, is just a step out from the gorgeous downtown — and boasts a number of lookouts that provide spectacular views of unbelievable sylvan splendor.
Long Lake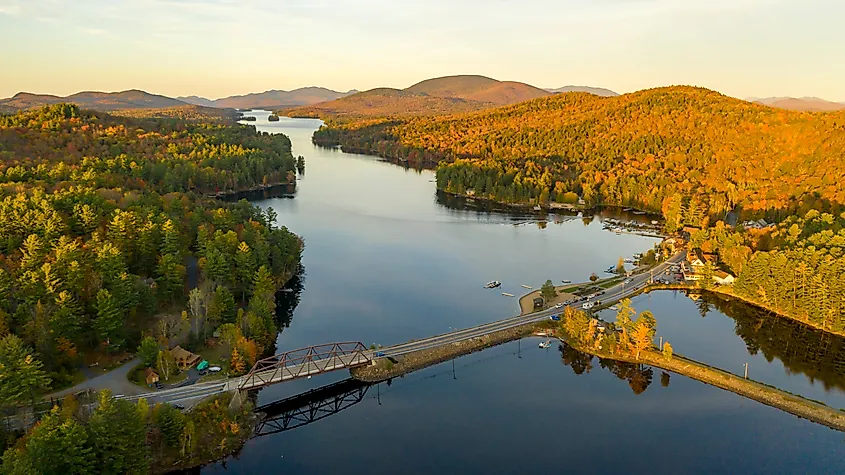 While Long Lake is secluded and may not appeal to someone who wants to roll with the crowds, that could be one of the town's best features. Boasting a population of 791 according to the 2020 US Census, Long Lake is evidently teensy tiny, yet will easily cast its spell on any first-time visitor. A sightseeing trip can begin at the one-of-a-kind Adirondack Hotel, arguably among the best burger spots in the Adirondacks. Aside from this mid-19th-century jewel and close-by shopping options, Long Lake is surrounded by several amazing waterfalls, including Buttermilk Falls, a foaming cascade formed by Buttermilk Creek as it bubbles down the valley toward Cayuga Lake. Then again, Buttermilk falls is located within a park with playing fields, a small lake, a natural pool, and a campground.
Lake George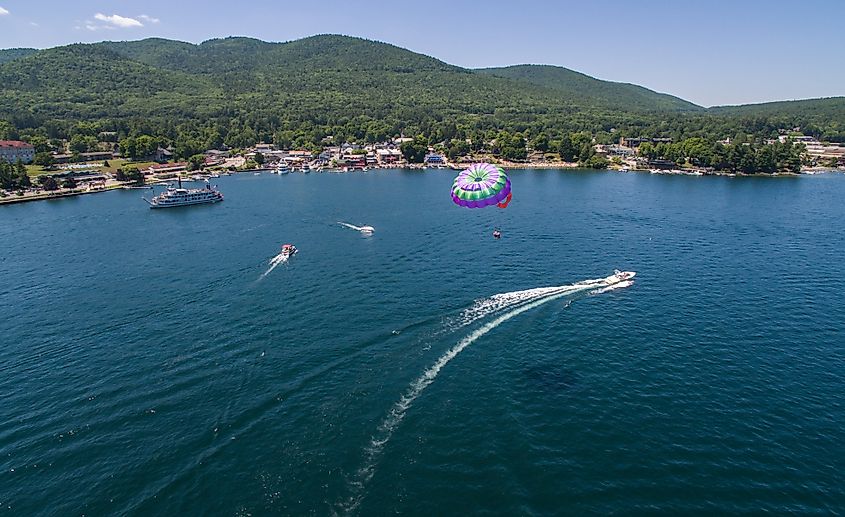 Lake George is among the most charming towns in the Adirondacks for many reasons. Situated at the southeastern base of the Adirondack, this idyllic town is as breathtaking as the lake that lends it its eponymous name. Known as "the Queen of American Lakes" because of its sparklingly clear waters, Lake George is curled up on a spot that is among the most picturesque in the state and which places the town as the destination of choice for a romantic weekend getaway. Naturally, that comes with endless outdoor adventures that will quickly fill up a vacation. These include whitewater rafting, horseback riding, and ice skating, especially in winter. Reputed to be as popular in winter — as it is in summer— there is a reason MSN recently named Lake George among the top 20 most charming small towns in the Empire State.
Old Forge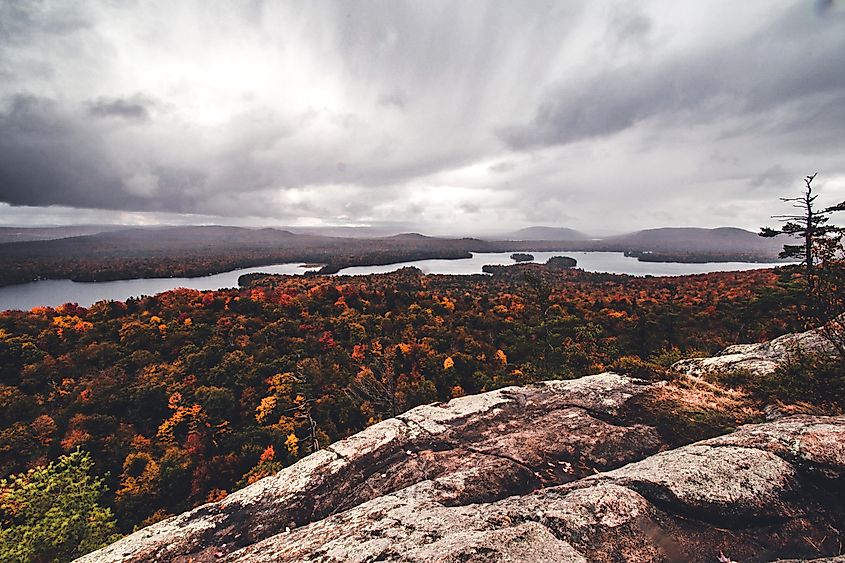 Let this not confuse you with its namesake in Pennsylvania. Old Forge, New York, is a small charming town that boasts a population of less than a thousand, according to the World Population Review. Situated in Herkimer County, known to produce sparkling quartz crystals marketed as Herkimer diamonds, Old Forge is the perfect base to explore the Central Adirondack Region. Among the attractions in Old Forge is the Enchanted Forest Water Safari, the largest water theme park in New York. Visitors will want to enjoy the more than 50 rides this park offers. Aside from the famous theme park, Bald Mountain is a charming green space any visitor will want to check out. Sometimes known as Rondaxe Mountain, Bald Mountain is home to the most frequented fire tower in the Adirondacks. This could come as a surprise, but in New York's Adirondack Mountains, some of the most popular views are actually from fire towers.
The Takeaway
New York's Adirondack region is an adventure wonderland that deserves a visit at least once in a lifetime. Boasting endless acres of pristine scenery, sparkling lakes, and gushing waterfalls, the Adirondacks is especially a draw for outdoor lovers. The region also boasts several charming towns that provide perfect bases to discover some of the country's best-kept secrets. Whether it is Lake Placid, Old Forge, or Long Lake, visitors to the Adirondacks will be spoilt for choice.