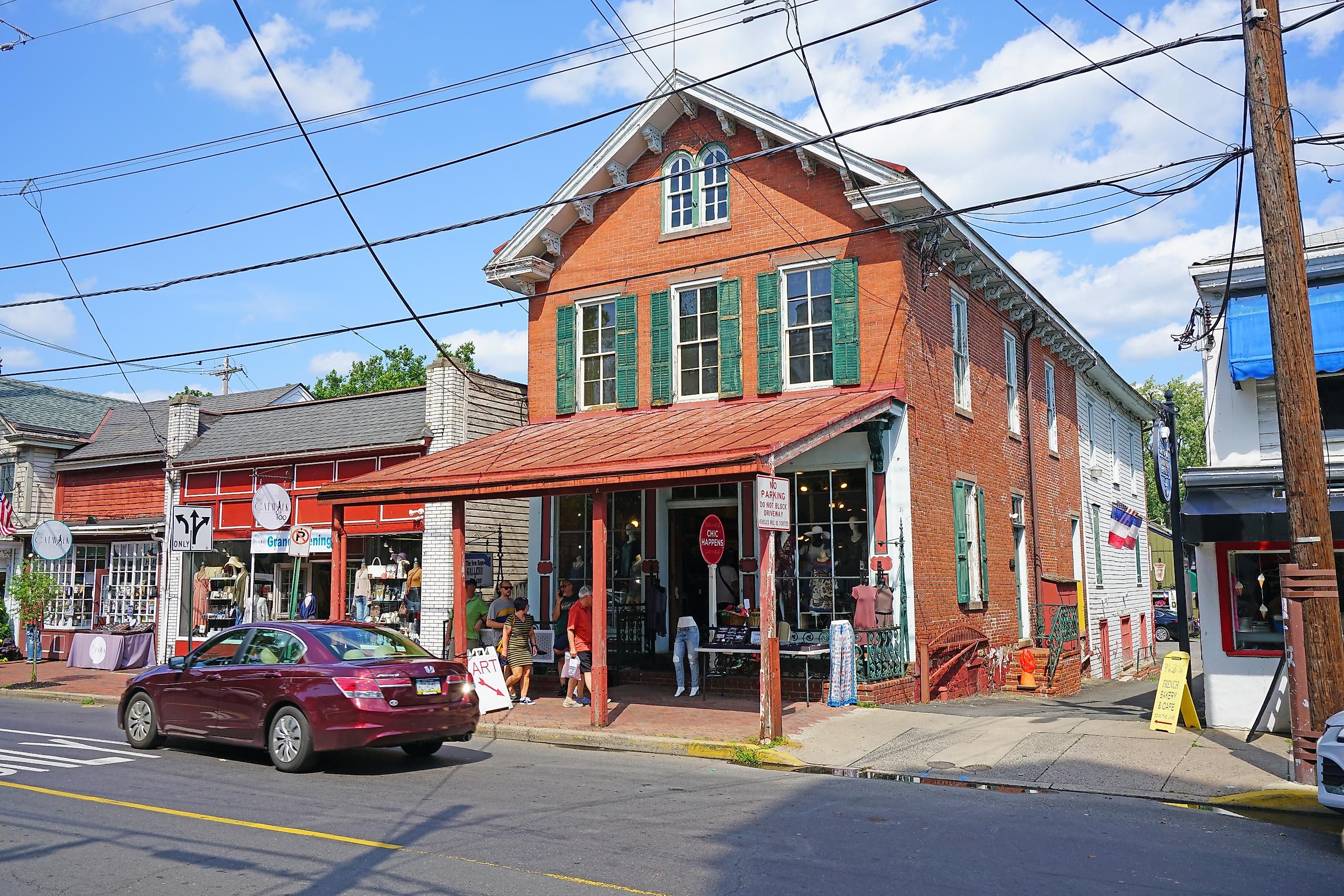 13 Most Scenic Pennsylvania Towns
Pennsylvania, often celebrated for its rich history and bustling cities, also boasts some of the most picturesque towns that beckon travelers seeking scenic beauty and unique experiences. While the state is undoubtedly famous for its metropolitan hubs, it's the charming towns that often remain hidden gems worth discovering. In this guide, head on a journey through some of the most scenic towns in Pennsylvania, where the discovery far exceeds any imagery. From the historic streets of Jim Thorpe, where history comes alive through its well-preserved architecture and cultural attractions, to the enchanting town of New Hope, where artistry thrives along the banks of the Delaware River, Pennsylvania's scenic towns are a testament to the state's multifaceted allure. So Prepare to be charmed by the authentic experiences these towns offer.
Lititz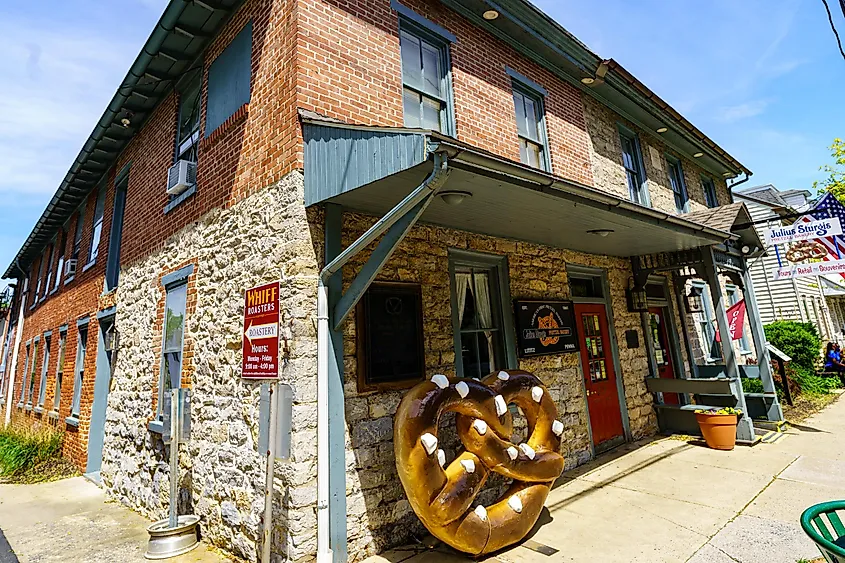 Lititz is a charming town that combines rich history with delectable indulgence. As you stroll down Main Street, you will feel like you've stepped into a storybook. Lititz is famous for being home to the Wilbur Chocolate Company, where you can learn about the town's chocolate-making heritage and indulge in a chocolate-tasting session that will delight your taste buds. The highlight? Creating your own custom chocolate bar– a delight for all ages. And for a quirky experience, you can explore the Lititz Moravian Congregation's cemetery, featuring unique, flat gravestones that tell stories of the past. The Johannes Mueller House, a perfectly preserved 1792 home, is your spot for an intimate glimpse into colonial life. 
Stroudsburg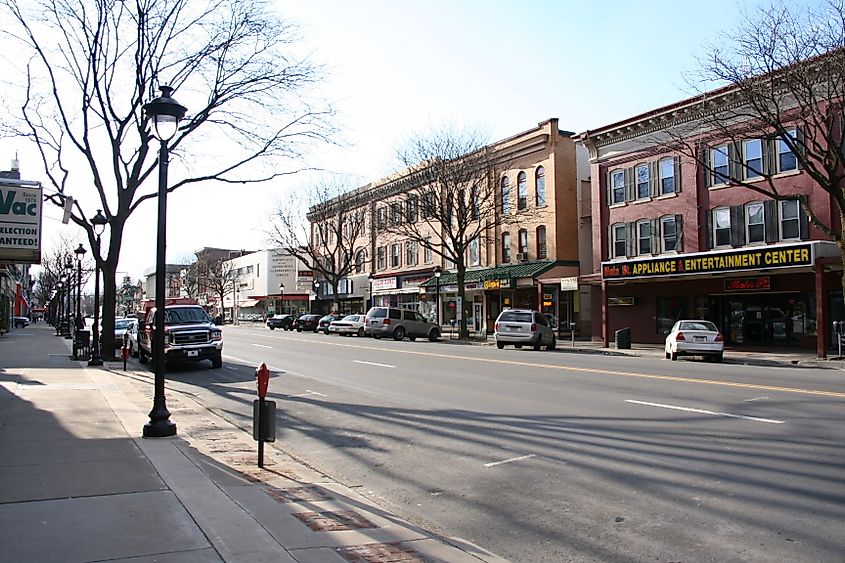 Stroudsburg is as close to being a nature's playground as it goes. Outdoor enthusiasts can explore the Delaware Water Gap National Recreation Area, just a short drive away. You can hike along the Appalachian Trail or kayak down the Delaware River. Hidden gems like Glen Onoko Falls offer a rewarding challenge for seasoned hikers. Art enthusiasts will appreciate the Pocono Arts Council's gallery, showcasing regional talent through sculptural presentations, painting exhibitions, and fine art workshops. Nearby, the Sherman Theater hosts many live performances, from concerts to comedy shows. The Courthouse Square welcomes you with Monroe Farmers Market, Stroudfest, and tree lightning events, displaying the town's heritage in full blast.
Milford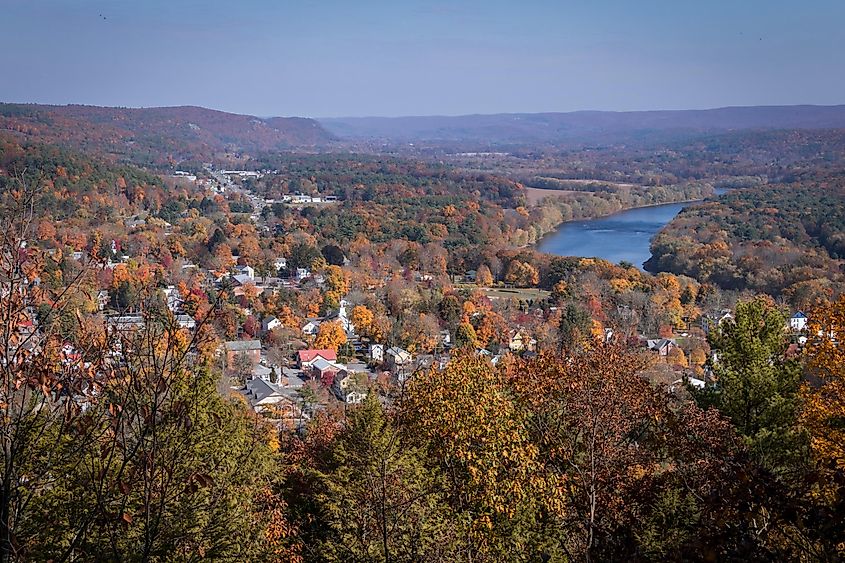 Milford is a picturesque town that captures the essence of small-town America, starting with Grey Towers National Historic Site, once the home of Gifford Pinchot, the first Chief of the US Forest Service, where you can explore the meticulously maintained gardens and woodland trails. A short drive takes you to Raymondskill Falls, a stunning series of waterfalls tucked away in the Delaware River Water Gap. You can hike the trail to witness the cascading beauty of the tallest waterfall in Pennsylvania. Make sure to visit the Columns Museum to marvel at the famous flag that inspired the "Star-Spangled Banner" and explore exhibits detailing the region's fascinating past.
Ligonier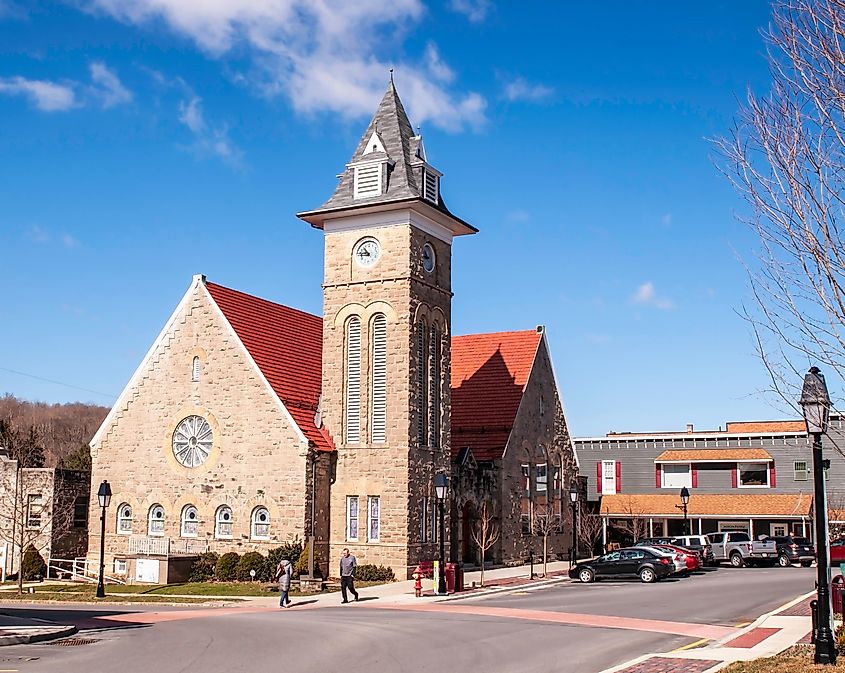 As you wander along the picture-postcard streets of Ligonier, it's easy to see why this town has preserved its unique character just about an hour from Pittsburgh. Check out the historic Fort Ligonier, a meticulously reconstructed fort from the French and Indian War. Inside, you will find an impressive collection of artifacts, including muskets and uniforms, that vividly bring history to life. You can venture further and discover the Compass Inn Museum, a hidden gem that offers a glimpse into 19th-century travel. Here, you can stroll through period rooms and enjoy costumed interpreters sharing tales of bygone days. A drive to Linn Run State Park will have you face-first with beautiful Adams Falls and moss-covered trails providing a serene escape. 
Lancaster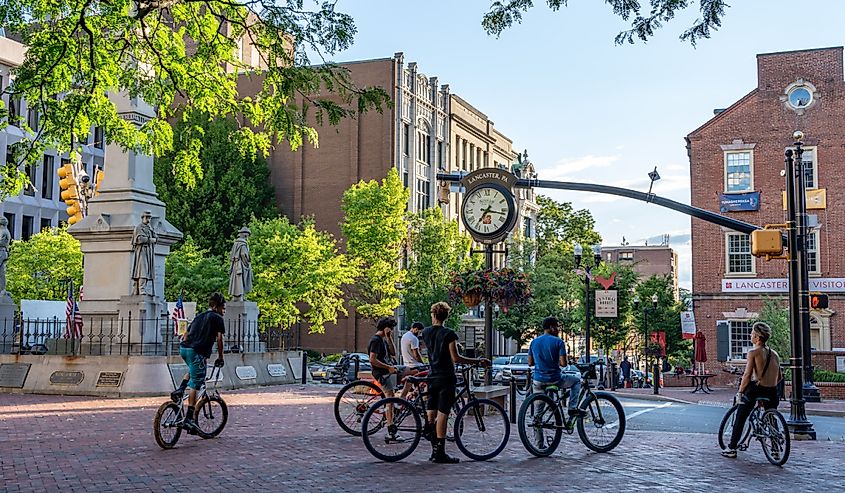 Lancaster starts its introduction with Amish heritage but continues with much more. Move towards the Landis Valley Village & Farm Museum, an immersive experience where you will witness farm life as it was in the 18th and 19th centuries, complete with skilled artisans practicing their crafts. At the Lancaster Central Market, a bustling hub of local flavors and artisans, you may try traditional Pennsylvania Dutch pretzels, homemade whoopie pies and shoofly pies, or shop for handmade quilts, a testament to the region's renowned craftsmanship. You can also embark on a hot air balloon ride for panoramic views of Lancaster's picturesque countryside with Lancaster Balloon Rides.
Jim Thorpe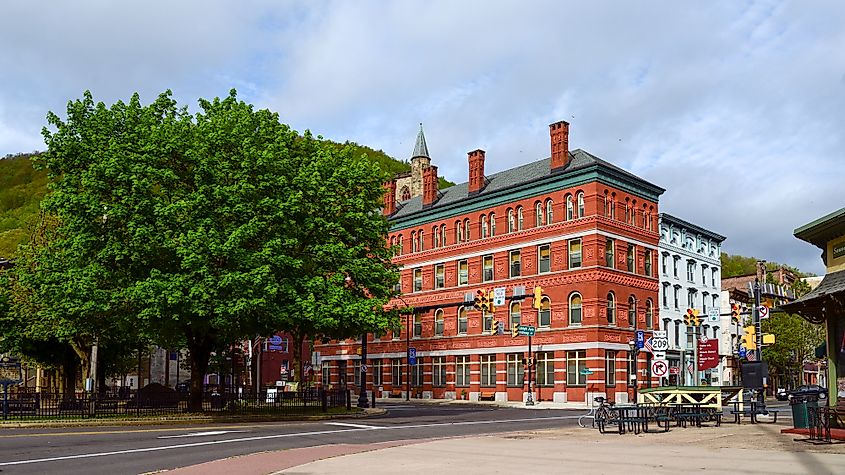 Jim Thorpe is a Pocono Mountains town that feels like a vintage postcard come to life. The Old Jail Museum, which once housed the infamous Molly Maguires, a secret society of Irish coal miners, makes for an intriguing first stop with eerie tales of infamous inmates. While the Asa Packer Mansion, an opulent 19th-century home, delivers a glimpse into the life of a coal and railroad magnate. Mauch Chunk Lake Park provides opportunities for hiking, picnicking, and water activities. And for a thrilling adventure, you can take on the exhilarating Lehigh River with white-water rafting or kayaking. And you should not skip a journey on the Lehigh Gorge Scenic Railway, a vintage train that winds through the breathtaking gorge along the Lehigh River.
Wellsboro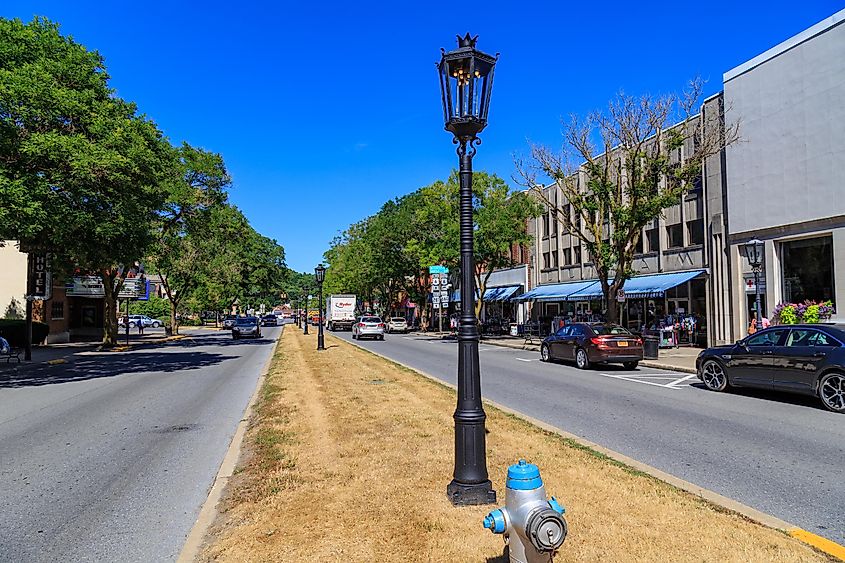 Wellsboro is a charming gateway to one of the state's best-kept secrets - the Pennsylvania Grand Canyon. You can start your Wellsboro adventure with a visit to the Pine Creek Gorge, often called the "Grand Canyon of Pennsylvania." You can hike the Pine Creek Rail Trail, which spans 62 miles and offers breathtaking vistas of the gorge, waterfalls, and dense forests. Don't miss the Leonard Harrison State Park and Colton Point State Park, both perched on the canyon's rim, providing awe-inspiring panoramic views. In the heart of Wellsboro, you will discover a town square straight out of a Norman Rockwell painting. You can stroll the gas-lit streets, lined with boutique shops, charming cafes, and the famous Wellsboro Diner, known for its nostalgic ambiance and mouth watering pie.
Doylestown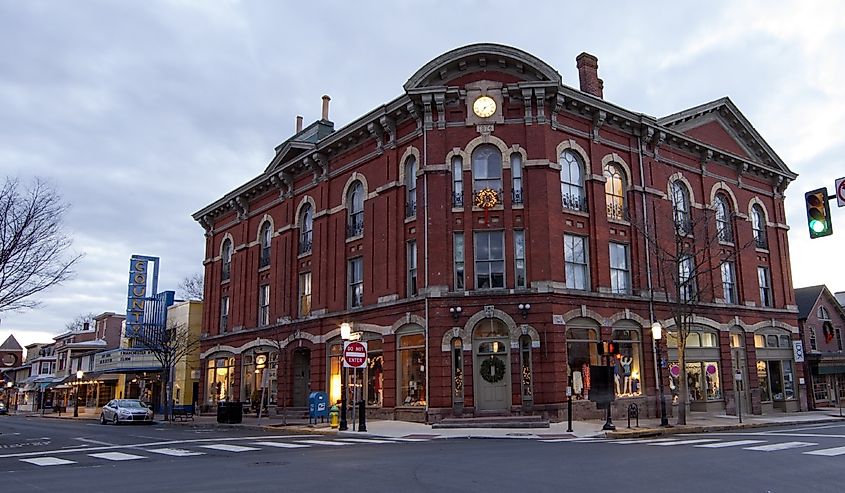 Sitting a short drive from Philadelphia, Doylestown is a delightful enclave nestled in the heart of Bucks County. Kickstart your visit with the Mercer Museum, a quirky castle-like structure that houses an eclectic collection of tools and artifacts. For art lovers, the James A. Michener Art Museum showcases a diverse collection of American art, including works by Pennsylvania Impressionists. But the town's hidden treasure is Fonthill Castle, a whimsical concrete architectural masterpiece adorned with intricately designed tiles. Be sure to visit the historic Doylestown Inn, where notable guests like H.G. Wells and Oscar Hammerstein II once stayed. You can also organize a picnic in the Doylestown Community Park or explore the lush trails of the Peace Valley Nature Center.
New Hope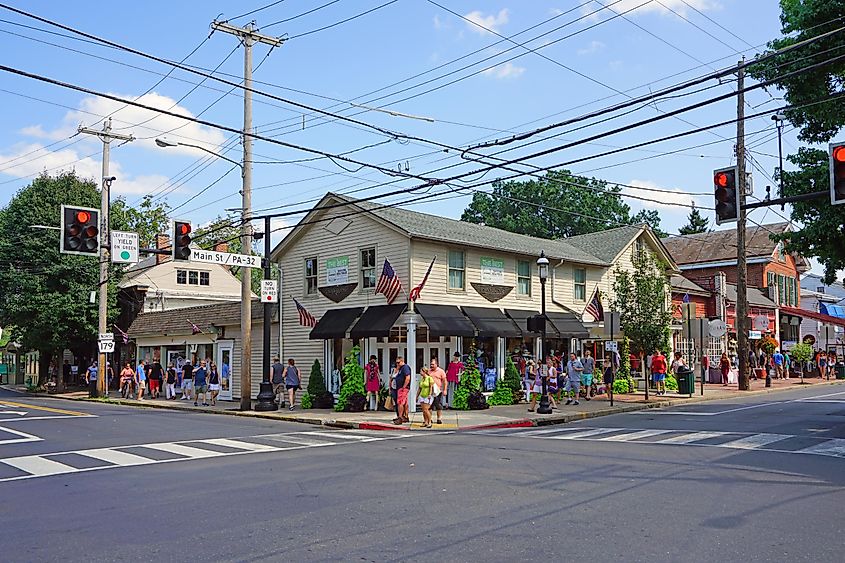 New Hope is where art, history, and riverside charm converge. The town is home to the James A. Michener Art Museum, featuring an exceptional collection of regional art and rotating exhibitions. The Parry Mansion Museum, a restored 18th-century home, showcases the town's rich history and the legacy of Benjamin Parry, a prominent Quaker merchant. In the evening, you can catch a show at the Bucks County Playhouse, a historic theater that has hosted legends like Grace Kelly and Robert Redford, and experience a piece of theatrical history. Don't miss out on Bowman's Hill Tower, located in nearby Washington Crossing Historic Park. You can climb to the top for panoramic views of the Delaware River and the surrounding countryside.
West Chester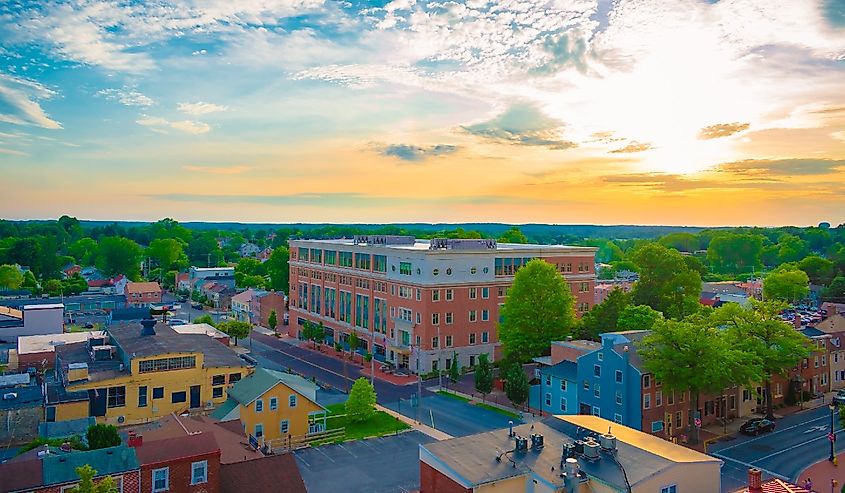 West Chester is a town that effortlessly balances its rich history with a vibrant, contemporary atmosphere. It's a unique experience that reveals the behind-the-scenes magic of home shopping. You should also check out the Brandywine Museum of Art, located just a short drive away, which houses an impressive collection of works by the Wyeth family, celebrated American artists. A visit to the Chester County History Center allows you to explore a treasure trove of artifacts, including Revolutionary War memorabilia and an extensive collection of local art. The nearby stunning Longwood Gardens, a horticultural paradise featuring lush gardens, fountains, and a breathtaking conservatory, is another cute attraction for you to admire.
Mifflinburg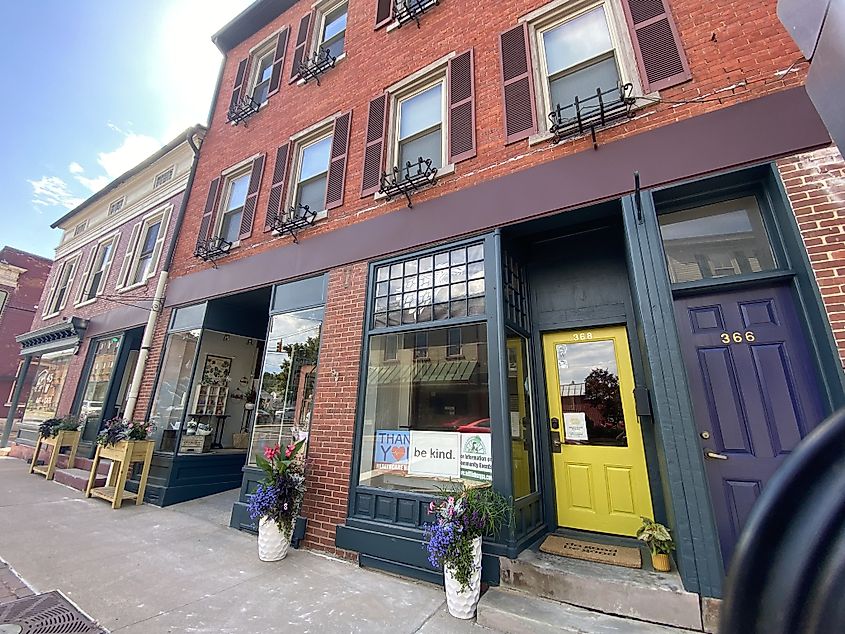 Mifflinburg promises plenty of reasons to stay a while, starting with a glimpse into its rich German heritage. Make your way to the Mifflinburg Buggy Museum, where you will step back in time to the days of horse-drawn carriages. You can even see beautifully restored sleighs and buggies that once graced the town's streets. You must add the Mifflinburg Christkindl Market, a traditional German-style Christmas market held annually, to your itinerary. You get to sip on mulled wine, savor authentic German cuisine, and shop for handcrafted ornaments and gifts. Outdoor enthusiasts will appreciate Mifflinburg's proximity to the Bald Eagle State Forest, where you can hike, bike, or simply unwind amid the beauty of nature.  
Bellefonte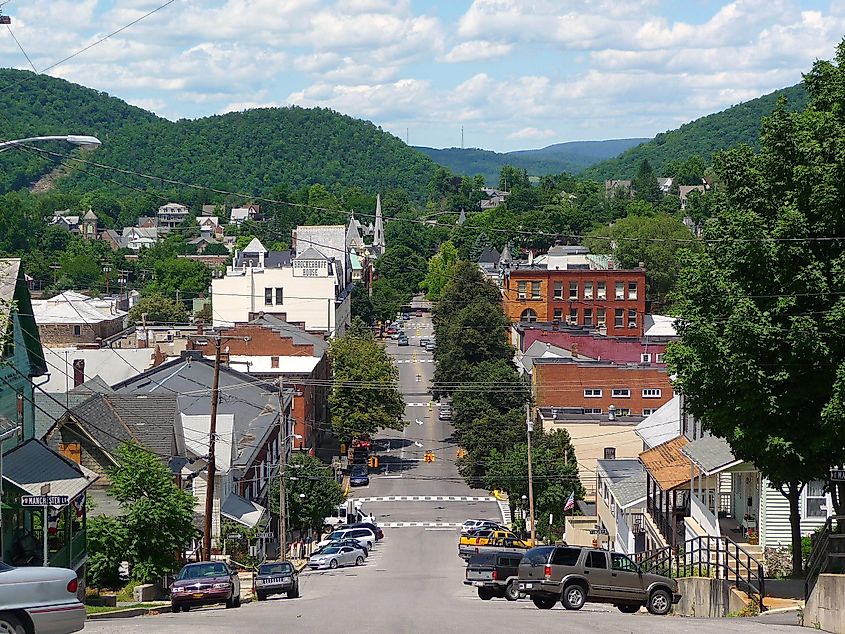 Bellefonte, often referred to as the "Victorian Jewel," is a charming town that feels like a step back in time. Don't miss the Centre County Historical Society's Heritage Museum, a hidden treasure trove of local history, including Civil War artifacts and displays on Bellefonte's role in the Underground Railroad. For a touch of whimsy, explore the Big Spring Spirits distillery, known for its craft cocktails inspired by the town's history. What truly sets Bellefonte apart is Talleyrand Park, a serene oasis featuring a picturesque waterfront gazebo and scenic walking trails. And not to forget the Bellefonte Art Museum for Centre County, housed in a historic 1810 Greek Revival building. Here, you can peruse a diverse collection of local and regional art through rotating and permanent exhibitions.
Yardley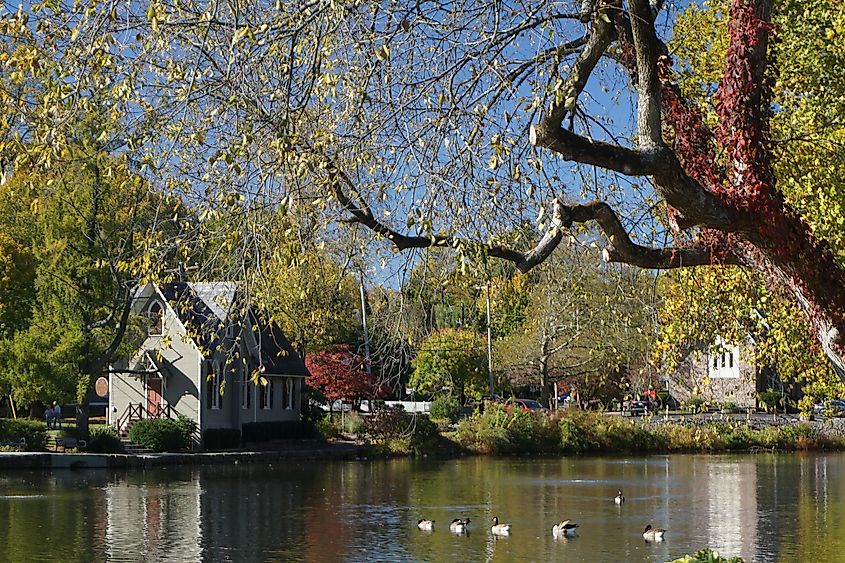 Entering Yardley feels as if you have entered a storybook town along the banks of the Delaware River. A visit to the Yardley Historical Association, housed in the historic Mapleton Preserve, is the road to discover the town's rich history, admire exhibits showcasing Yardley's evolution over the centuries, and check out local artifacts. Yardley is also home to the 200-year-old Delaware Canal, where you can embark on a scenic towpath walk or bike ride. Keep an eye out for the charming Locktender's House, a hidden gem showcasing the life of the canal's caretakers. The town's riverside location also offers opportunities for kayaking and picnicking by the water. 
In conclusion, Pennsylvania's most scenic towns offer many experiences that go beyond mere aesthetics. When you visit Lititz, you're not just indulging in chocolate but diving into a sweet chapter of Pennsylvania's past. Lancaster doesn't just showcase a bustling market; it lets you connect with local artisans and their crafts. Each of these towns is a living storybook filled with authentic experiences and hidden gems that reflect the essence of Pennsylvania. Beyond their picturesque exteriors, they offer an invitation to immerse yourself in the unique tapestry of this diverse and captivating state.