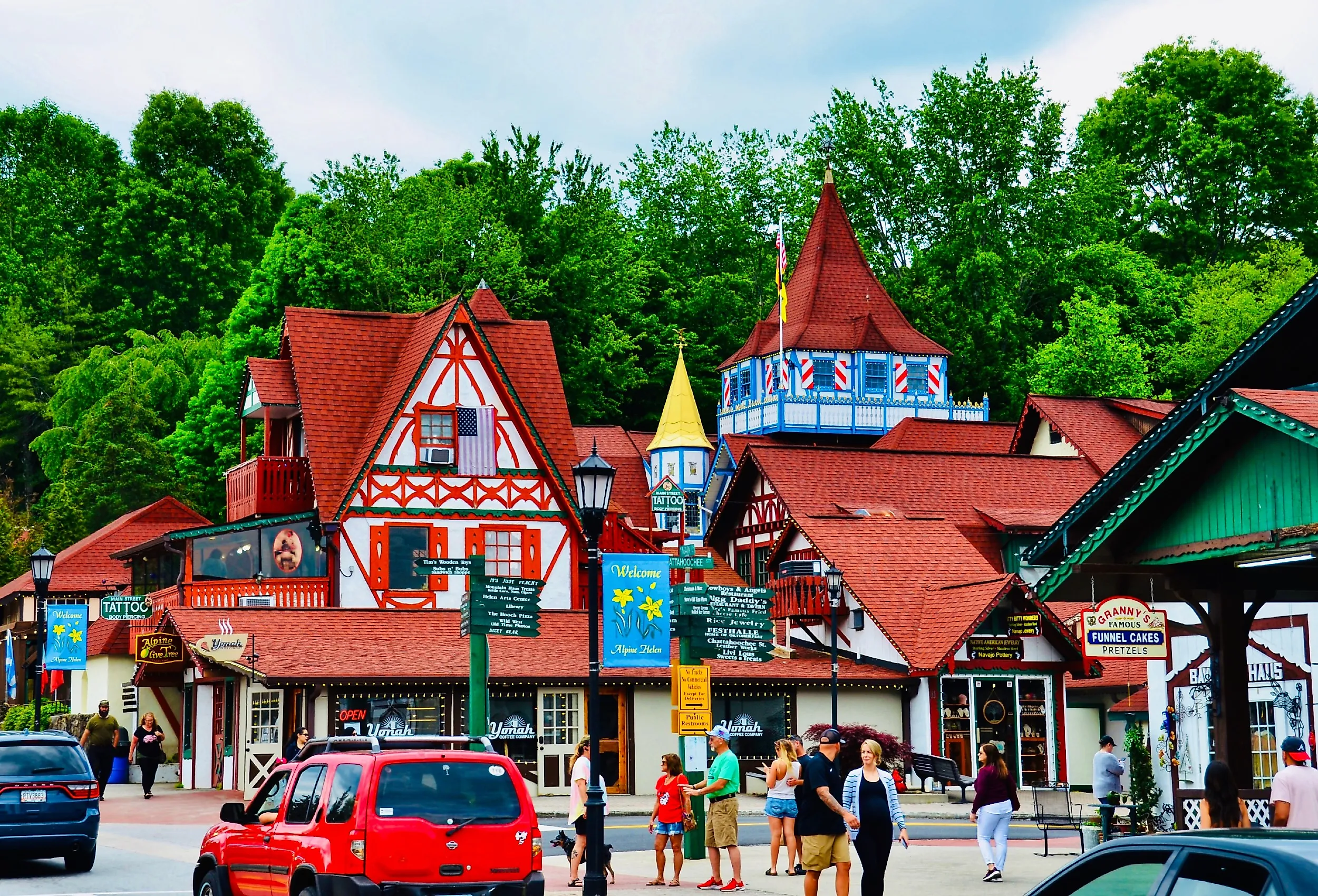 13 Most Beautiful Small Towns In Georgia You Should Visit
With momentous sites like Jarrell Plantation and Pickett's Mill Battlefield, Georgia is an incredible state, loved for its architecture and beautiful cities. It was established in 1732 and was the last of 13 British colonies before gaining independence and becoming a vibrant state in America. Since its inception, this state has had interesting historic moments, including the founding of Georgia's largest city, Atlanta, first known as Terminus in 1837. It preserves its history while housing various towns and hubs like Washington and Darien, representing the country's cultural heritage and history.
Through the charms of old houses like the Victorian-style Old City Hall in Brunswick, White mansions in Washington, natural wonders in Tallulah Falls, and various breathtaking sceneries, you can experience the unique and fascinating features each Georgia town offers. Take a spin through 13 beautiful towns in Georgia that should be on your list of getaway destinations. 
Blue Ridge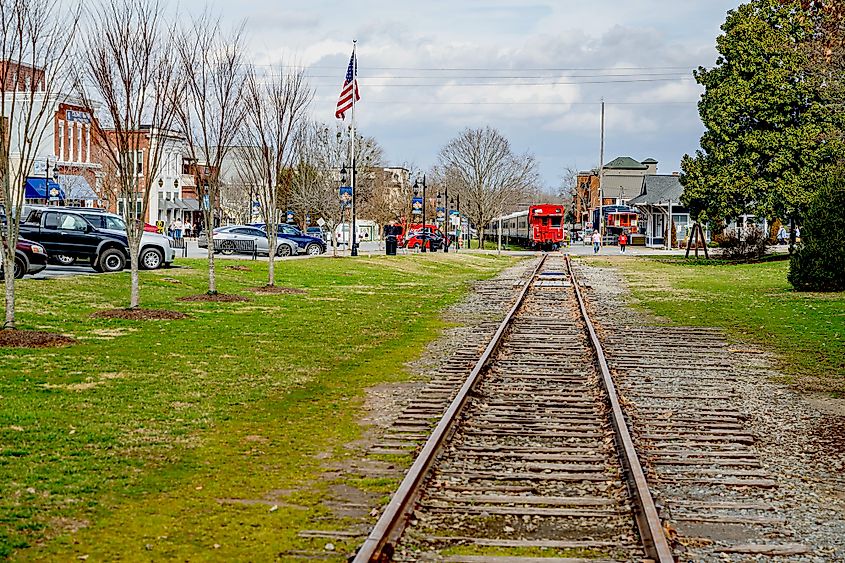 Ranked by Explore Georgia as one of the best small Mountain Towns in North Georgia, Blue Ridge is a 1300 populated town in Fannin County, Georgia. With several picnic areas and campgrounds spanning over 750,000 acres of forest land along with 850 miles of recreational trails, the city has the Chattahoochee National Forest, which offers adventurous opportunities such as fishing, swimming, hiking, and camping to visitors. 
You also have the opportunity of taking a four-hour 26-mile ride on the historic Blue Ridge railway from the Blue Ridge depot along the Toccoa River, giving you a perfect view of the landscape and allowing you a trip to the sister towns of McCaysville, Georgia, and Copperhill, Tennessee. History lovers can explore its local art galleries in the Historic Fannin County Courthouse Art Center and Blue Ridge Mountains Arts Association, or wine lovers can en route toward Blue Ridge's Breweries, wineries, and Orchards to take part in their wine-tasting sessions. 
Brunswick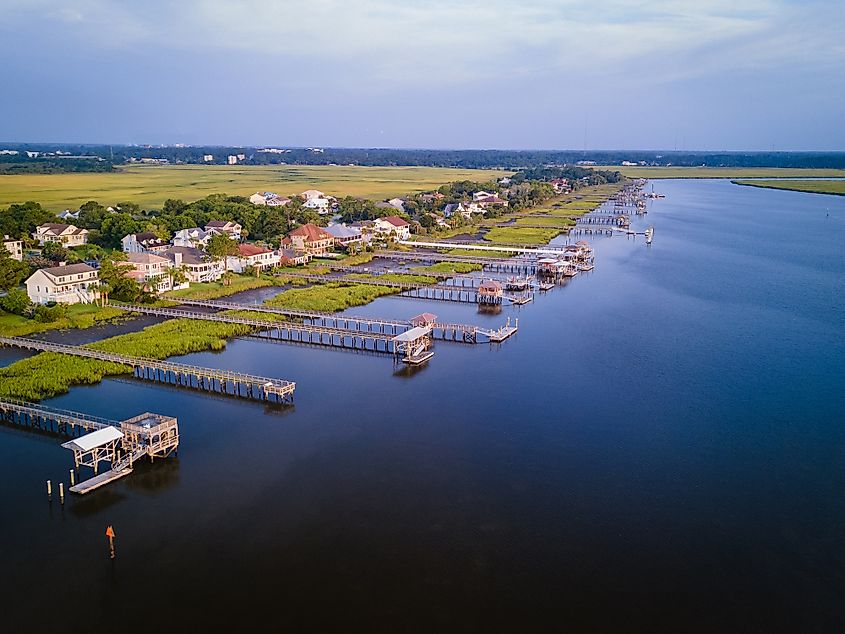 Brunswick has a long history and exhibits this with its historic sites, including the Historic Brunswick Courthouse, Old Town Brunswick Historic District, and the Historic Ritz Theatre. This historic port city has a similar grid to Savannah's but stands out for its inspiring cuisine in its downtown, parks like Ballard Park, amusement centers, cruises, and tours. 
Want to know what a perfect day in Brunswick would feel like? Have a memorable dinner experience on the Emerald Princess II casino cruise ship, a fun trip to the largest arcades in the Southeast – Pinball Palace or spend a swell time watching shrimp boats or partaking in park festivals in the Mary Ross Waterfront Park. If you're lucky, you'll also be able to attend the many other occasional festivals and events in the town, including the PorchFest, Brunswick Rockin' Stewbilee, and Mayfair. 
St. Marys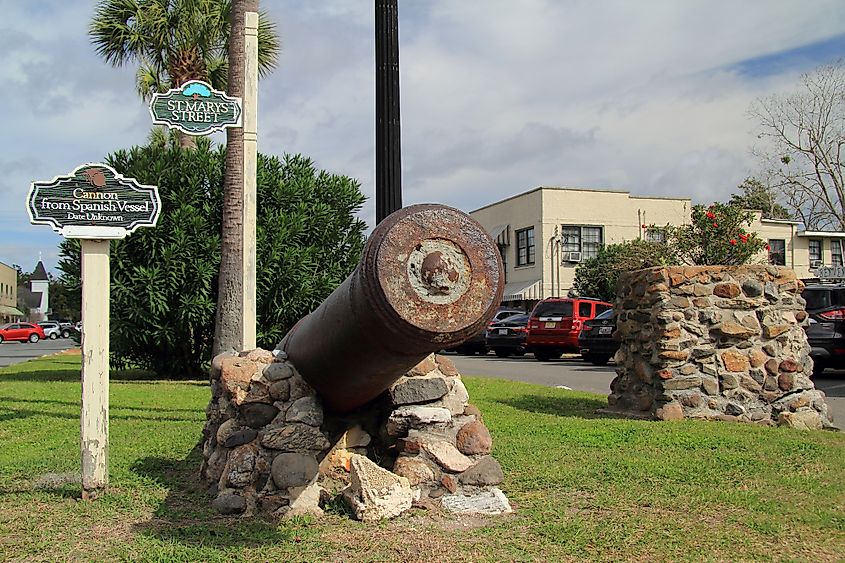 First explored in the 16th Century by Spanish settlers, St. Mary is home to over 18,000 people. Settled along the coast of Georgia in Camden County, just a ferry away from Cumberland Island National Seashore, the town gives you a Southern Charm for a perfect weekend getaway with its historic and fun structures. The St. Marys Submarine Museum and Waterfront Park have a fantastic appeal for a thrilling adventure. 
If you have the urge to go on an island escape, hop on a ferry to the Cumberland Island Seashore Museum and enjoy recreational activities such as biking, kayaking, camping, and more. You can also discover St. Mary's history in the downtown historic district housing various old buildings like the First Presbyterian Church, telling the town's exciting past. 
Blairsville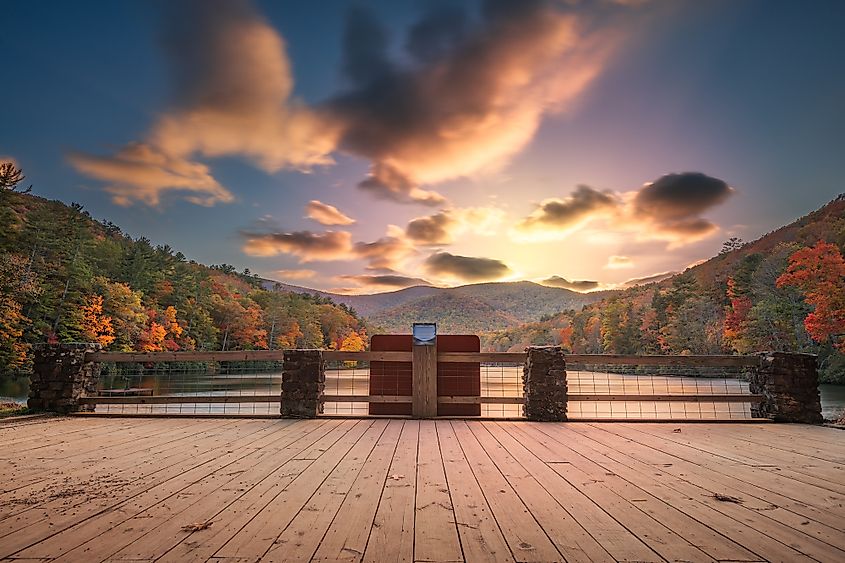 One of Georgia's finest Mountain Towns, Blairsville is tucked in the Chattahoochee National Forest and the Blue Ridge Mountains. This small town exhibits the beauty of nature and cultural heritage in its beautiful scenery, with much focus on landmarks like Brasstown Bald, the highest mountain in Georgia, the Appalachian Trail, Helton Creek Falls and Vogel State Park. It also reserves its history in the Track Rock Archaeological Area, where visitors can learn about the town's fascinating past. Blairsville also has Lakes Nottely, Lake Winfield Scott and Trahlyta within its ambits, all offering an array of water activities such as fishing and boating. You may engage in other recreational activities like picnicking and hiking through the many Blairsville hiking trails, including Meeks Park and the Appalachian Trail.
Tallulah Falls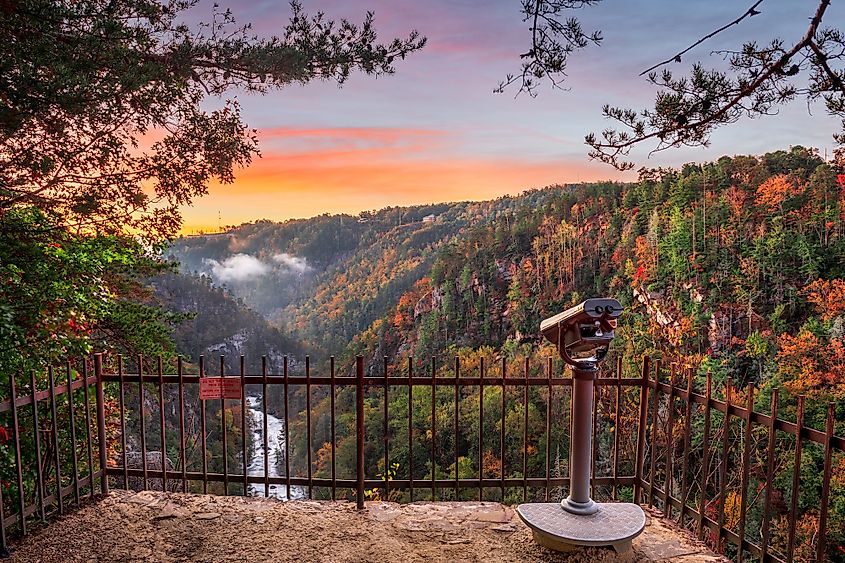 You could call this tiny town a Natural treasure as it has been a tourist destination since the 1880s, with a collection of six waterfalls, including the Hurricane Falls, flowing down through Tallulah Gorge, with a suspension bridge stretched across the waters to have a clearer view and feel. The small, unique town was named after the falls and is located in the Northeast corner of the Georgia Mountains, home to about 200 people. However, numerous travelers worldwide often visit this place to experience its natural wonders. The Tallulah Gorge also grants various attractions and activities besides the water, such as a hiking forested event, an educational trip to the Jane Hurt Yarn Interpretive Center, and events such as the Saturday Night Bluegrass Jam and Whitewater Boating Weekends.
Darien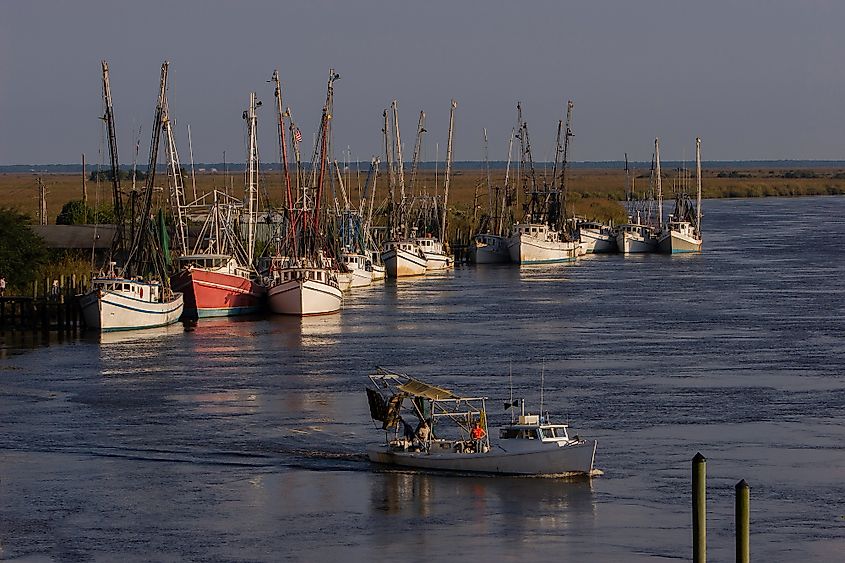 Darien takes you back in time to 1736 when it was founded as a Scottish Highlanders settlement, with its incredible, historic, and serene scenery. Being the second oldest town in the state, there's much to discover here at its attractive buildings, including the Fort King George, built in 1731, the Butler Plantation and rice fields, the First Presbyterian Church of Darien and Darien City Hall. You can also find trails for recreational activities in the Trailhead Center and cultural artifacts at the Old Jail Art Center and Museum and Hofwyl-Broadfield Plantation. Explore the water areas of this town on the Altamaha Coastal tours, Captain Gabby Charters, or walk through the Darien River Waterfront Park and Docks, reveling in the town's natural offerings. 
Dublin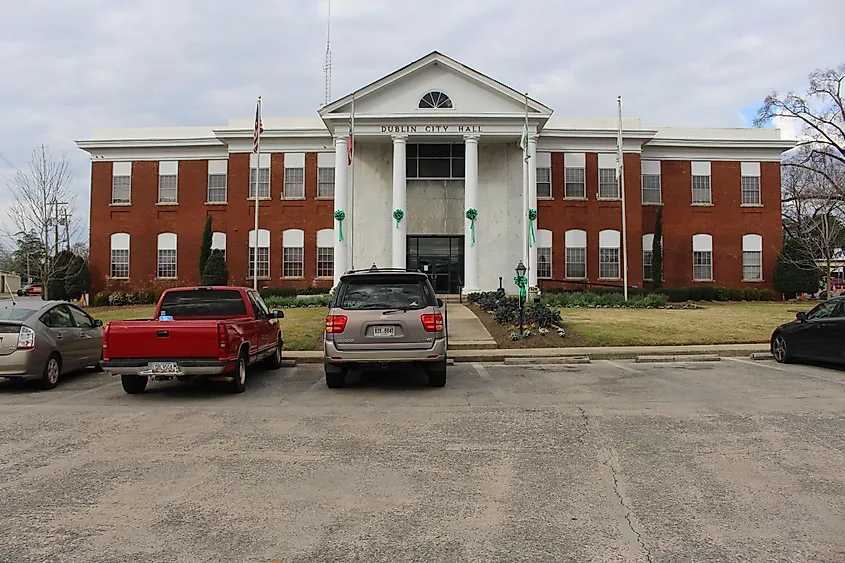 From top-notch Italian dining at the Ristorante da Maria or Company Supply and wildlife experience at River Bend Wildlife Management Area and Knight's Wildlife Studio to excellent performing arts at Theatre Dublin and a historic tour at Martin Luther King, Jr. Monument Park, Dublin packs a load of fun for visitors. The town is in Laurens County, central Georgia, home to beautiful areas, local eateries like Deona's Italian Grill and Tumpie House, and shops at Dublin International Market. Take a relaxing tour through the Dublin-Laurens Museums or the First African Baptist Church to learn a little about its history. Experience the wonder of nature and wildlife by bird watching, boating or fishing at its wildlife centers, including Beaver Dam and River Bend Wildlife Management Area. You may also take a Horse Riding tour on Frank's Farm.
Ellijay
In Gilmer County is the fascinating Apple Capital of Georgia, Ellijay, which also doubles as a mountain town. Ellijay is a lot of things but is best known for its most unique attribute- apples with various apple-picking areas, including B.J. Reece Orchards, Hillcrest Orchards and Farms, R & A Orchards and Red Apple Barn. While picking apples is enough fun, you can do other exciting things in this town, such as exploring Carter's lake on a pontoon boat, wine tasting at Cartecay Wine and Craft, or hiking on the Southern Terminus of the Appalachian Trail. The town also has an annual apple festival and occasional events on the square downtown featuring carnivals, antique sales, and live music. Word in the streets is there's always a fascinating event to attend in Ellijay, like the Ellijay Farmers & Artisans Market and Food Truck Tuesdays.
Lilburn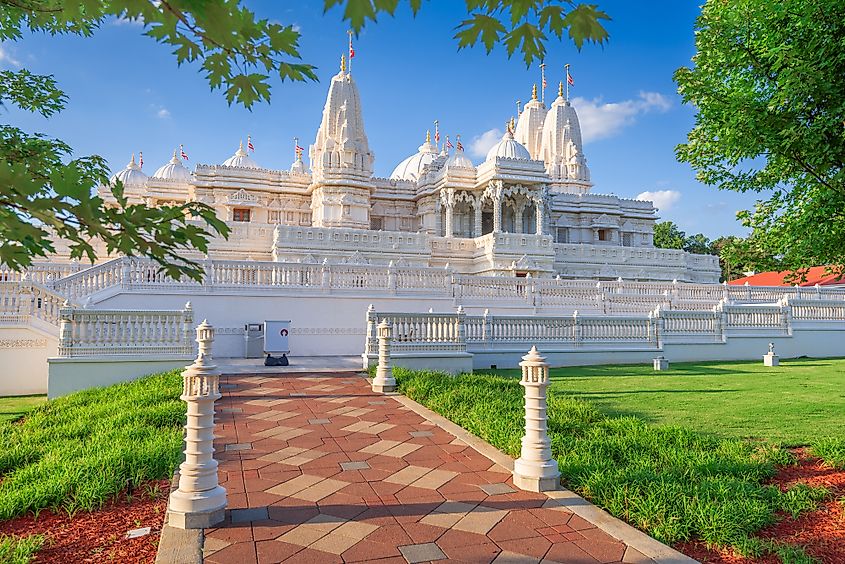 Populating about 15,000, Lilburn houses the largest Hindu temple in the Southeast, the BAPS Shri Swaminarayan Mandir. The town exudes cultural appeal in its unique environments and features great attractions like the Lilburn City Park, Lions Club Park, Yellow River Wildlife Sanctuary, and Mountain Park. Its main street gives a modern atmosphere with a touch of history, lamp posts, tree-lined sidewalks, and historical buildings. Take a tour exploring the town's amazing locations; you can also visit the Harmony Grove soccer complex if you're a sports enthusiast or learn the town's history through the Yellow River Post Office and more. Take advantage of a taste of Lilburn's cuisines in its local restaurants and breweries like Blackbird Farms Brewery, Oyster Barn Grill and Bar, and Agavero Cantina. 
Helen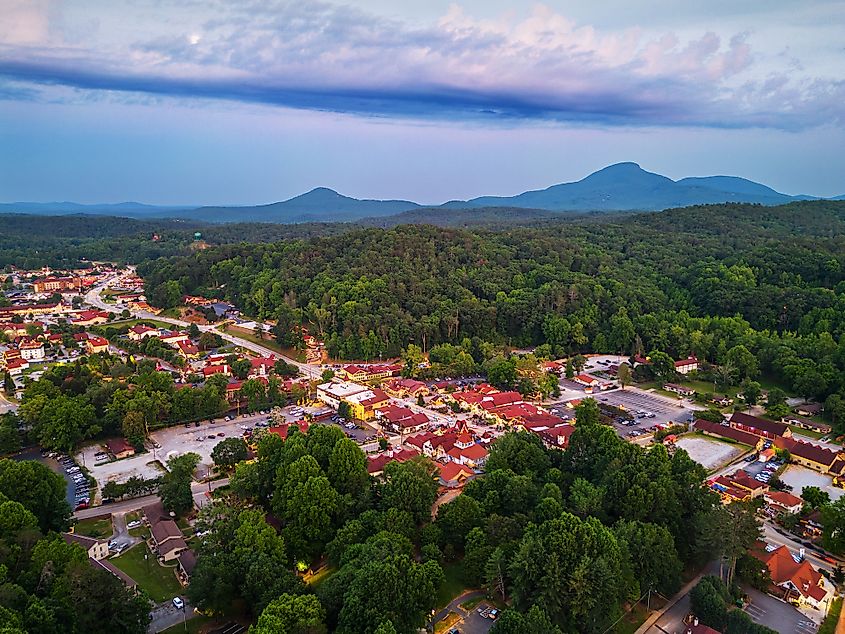 Modeled as a Bavarian Alpine village with traditional German architecture, cobblestones, and color scheme, Helen attracts many tourists. The town's revamp extended to street names, changing it to reflect typical German streets. It looks unreal and artsy, forming a perfect Bavarian village look, with every building having a classical South German style. Visit the downtown shops and areas and shop beautiful items at the Glassblowing shop and Hofer's of Helen. Take an adventurous trip tubing with outfitters like Cool River Tubing or go Ziplining at Nacoochee Adventure. You can also observe the waterfalls at Anna Ruby Falls, a double waterfall that meets. Helen holds an annual Oktoberfest event from September through October and occasional events like the Helen to the Atlantic Balloon Race and Festival in summer, Christkindlmarkt during the Christmas holidays and Winterfest Art Tour in Winter. 
Thomasville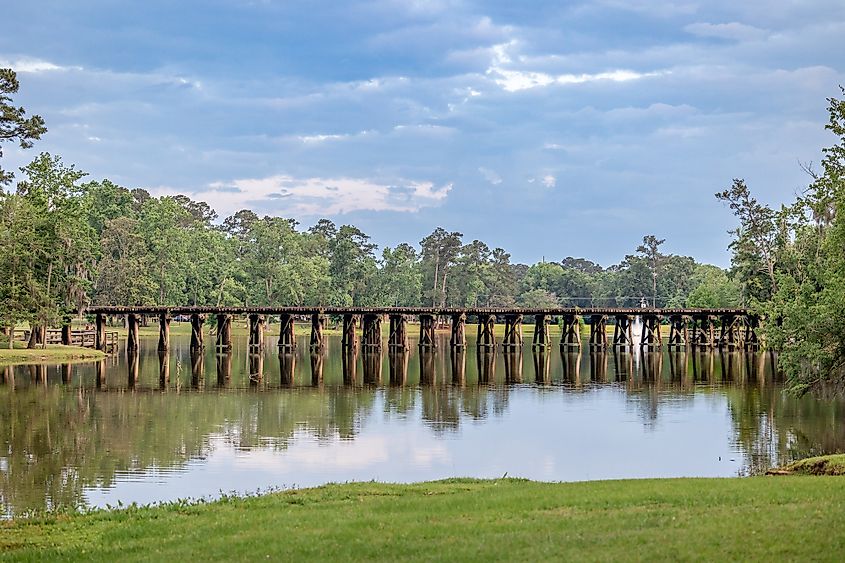 Being called Georgia's Rose City, America's main street and recognized by the National Trust for Historic Preservation, Thomasville is a popular historic destination with a great downtown, packed with museums and cultural trails like Thomasville Genealogical, History and Fine Arts Library and Power. The town's Rose garden displays over 1,500 flowers and holds the Rose Show and Festival to celebrate flowers every Spring. Thomasville also has various historic houses and museums depicting the town's past Victorian-era history. Visit places like the Pebble Hill Plantation, Jack Hadley Black History Museum, Lapham-Patterson House State, The Big Oak, and the Big Oak Cam, a tree over 327 years old. You may also taste fantastic wine at the Farmer's Daughter Vineyard, 1861 Distillery or Tvelo Brewing Company. Ensure you also take part in the town's tours, walk down cultural trails in the Cherokee Lake Park, and Hunt the Lost Quail in Downtown Thomasville and Thomasville Black Heritage Trail Tour.
Madison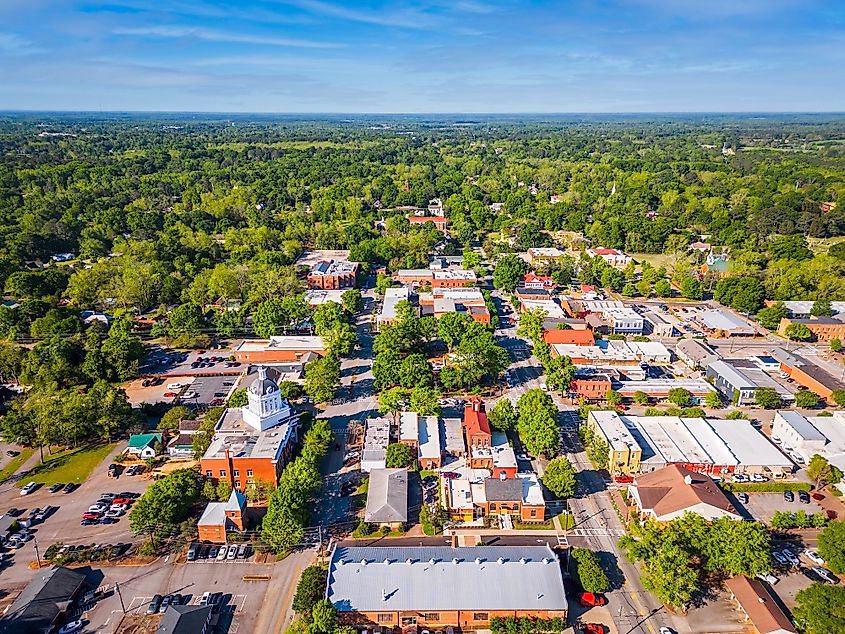 Madison is Georgia's typical southern destination with a host of luxury dining options such as Town 220 and The Silver Moon, historical houses including Bonar Hall and Boxwood, along with Victorian architecture. Madison is a vibrant-spirited town with many museums to explore its rich history, including Heritage Hall, Morgan County African American Museum, and the Rogers House & Rose Cottage. Discover arts and antiques in Madison Markets, J&K Fleas AnTiques and the Creative Mark. There are many other things to do here, from exploring farms like Crafdal Farm Alpacas to taking tours and walking trails on the Madison Historic District Audio walking/ driving tour. This place is perfect for a family weekend getaway, and you can settle in at the James Madison Inn & Conference Center.
Washington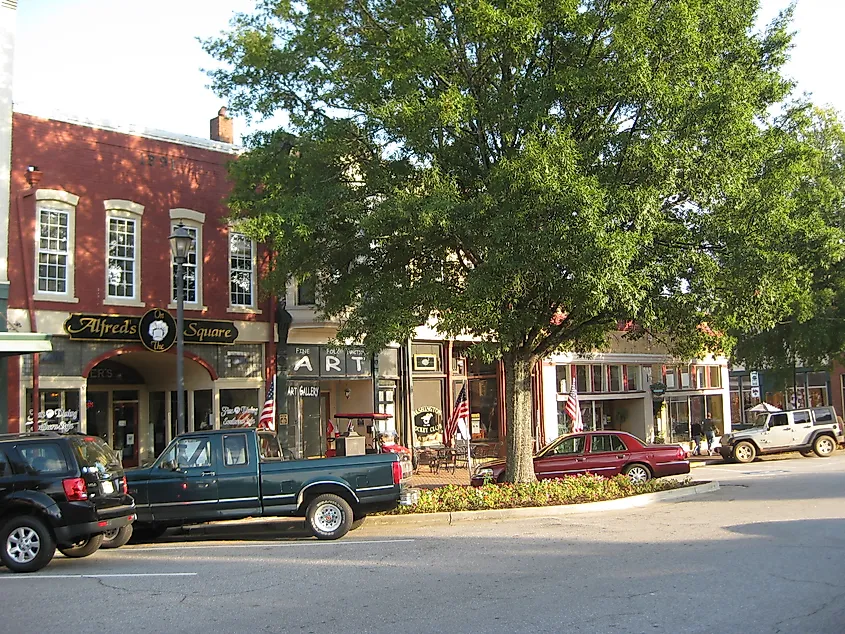 In Wilkes County, Georgia, with approximately 4,000 people, Washington Town is a base for natural attractions, historic sites, and beautiful landmarks. The town had a significant role in the Battle of Kettle Creek, which contributed to the liberation of Upper Georgia from British hold. The town's long history dates back to 1773, which honored George Washington, but now has been reshaped into a perfect destination for a long-term family stay and business growth over the years. Washington downtown is an excellent place for entertainment and culture in its various Art and antiques areas, including Boxwood Cottage Mercantile and On the Square Antiques & Gifts. You'll also find museums and sites such as the Robert Toombs House, Kettle Creek Battlefield, and Mary Wills Library, where you can explore the town's historical moments. Take a trip to the boutiques and specialty shops, including Pieces, Lakes, and Rivers, at Holliday Park and the Pope plantation.
Georgia is a charming delight for travelers who seek a weekend romantic getaway, family trip, or solo vacation through the beautiful towns in Georgia, including Thomasville and Washington. Georgia's towns are full of experiences, adventures, exploration, excellent cuisine, historical sites and culture that exceeds its beauty. From the elegant natural feel of the Tallulah Falls and Blue Ridge mountains to local and picturesque-themed atmospheres in Helen and Madison, Georgia has everything. Aside from numerous events and cheese and food festivals, you can also hike in the trail paths of Blue Ridge, kayak at Blairsville, or take a tour through the many museums of Washington and Dublin. There are also numerous events and festivals held in different towns throughout the year, so be sure to plan your visit accordingly. If you're still indecisive about your choice of one of the towns in Georgia for your next adventurous visit, you might want to go over the list again and find characteristics of each town that stand out to you.