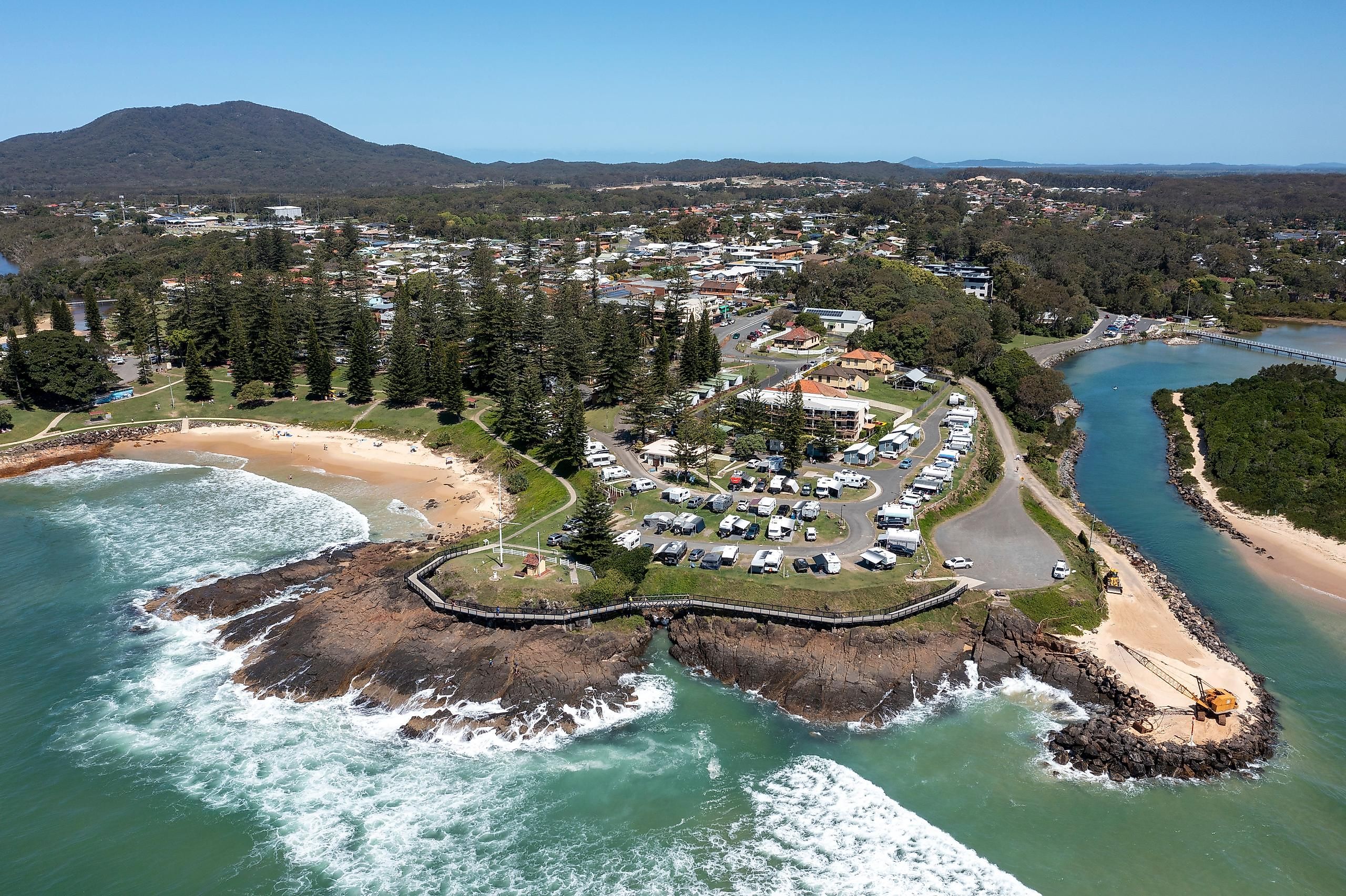 11 Most Beautiful Towns In New South Wales
New South Wales is a revered Australian east coast state destination for its golden beaches. The vibrant state overflows with verdant landscapes, wildlife, seascape views, and even island-hopping adventures for more magical sights. There are enough iconic landmarks, from blowholes to bridges and lighthouses, for a lifetime of memories. Choose one of these beautiful towns for a quick detour along your New South Wales road trip or as an escape from city life.
Avoca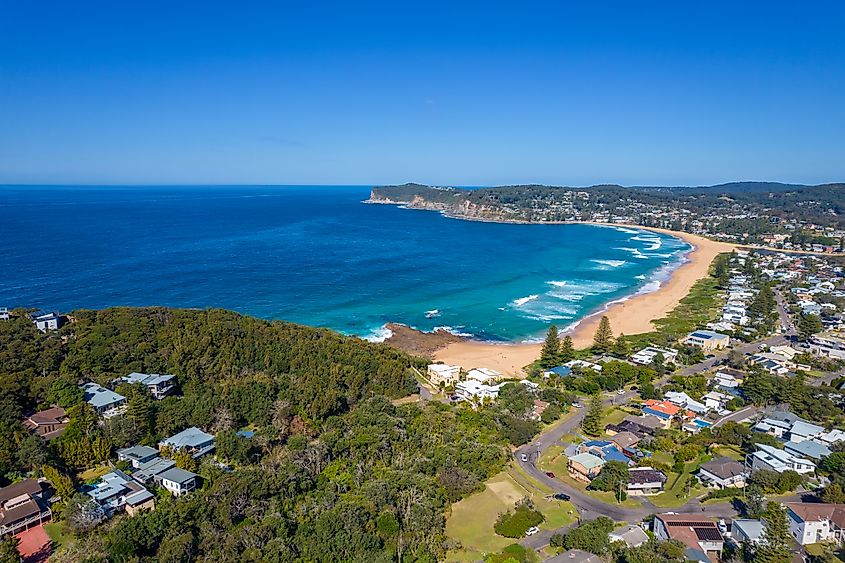 Just an hour and a half from Sydney, the town of Avoca awakens visitors with beautiful coastal nature, the sandy curve of Avoca Beach, and the cutest downtown vibe. Lounge along the paradisiacal sands in between spectacular red outcrops and venture up for an overlook of some of NSW's most stunning natural rock pools, stark against the swelling blue waters and the blazing sunsets. There is also an artificial reef from the hurt warship under two kilometers off the shore with HMAS Adelaide, with incredible wildlife accessible to divers and snorkelers.
Leave the beautiful beaches for a moment to gorge on some of the best Italian food at Bombini, with wood-fired pizza alongside innovative flair in authentic cuisine. Spend an evening at the Avoca Beach Picture Theatre, a real eye-catcher in operation since 1948, screening blockbusters and indie pictures. Extend your stay in this town in a holiday rental right on the sands for more lounging along the scenic Avoca Beach, and check out the breezy Copacabana Beach next door.
Berry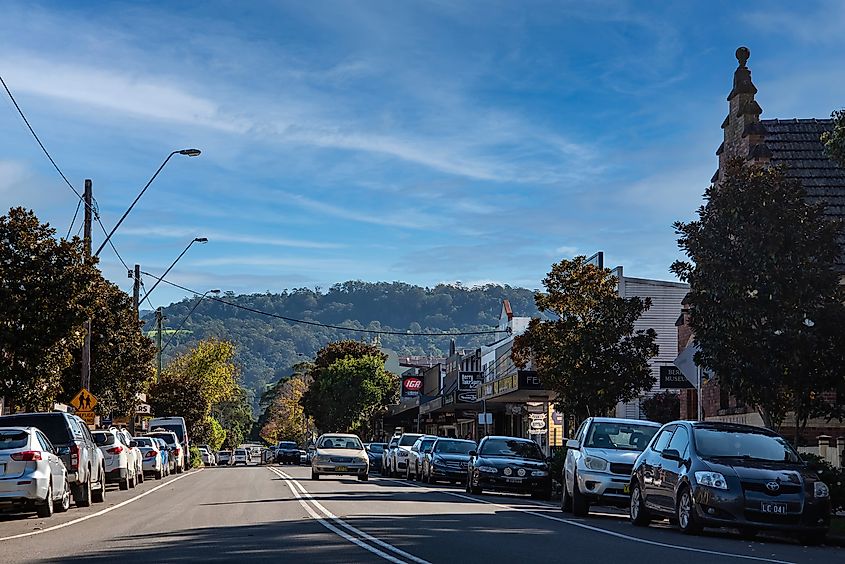 This cute town is a match made in heaven for you if you like trendy boutique shopping, eclectic local markets, outdoor cafes, and an award-winning foodie scene. Get to know Berry firsthand on a day of shopping along Main Street and strolling side streets and alleyways for more hidden gems. Browse the abundance of homeware stores with unique decor and find plenty of cafes serving quality coffee and ditto cuisine to enjoy on a whim while people-watching.
Just two hours' drive from Sydney, Berry is a revered seascape in NSW's Shoalhaven region for a complete 360° view from the city to the verdant, lush landscape. It is impossible to get enough of Berry's immaculate architecture in between all the restaurants and stores, nor to avoid the magnetic pull of antiques and markets throughout town and the irresistible Berry Donut Van-famous delights in the area.
Bundeena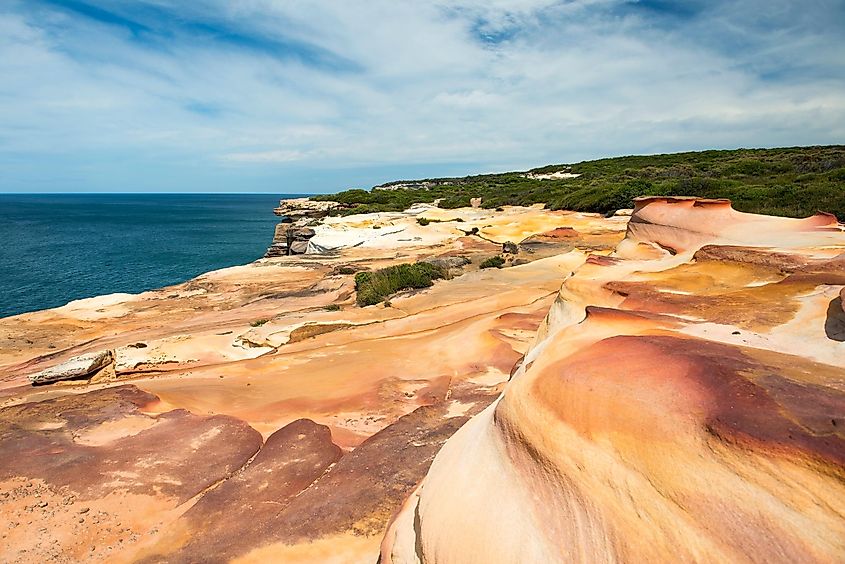 Bandeena is a regional destination to exchange city views for a beautiful environment with perfect beaches and fantastic waters. Families love the adorable little village feel, and tourists continuously fall for Bundeena's charm. Make a detour here for swimming, browsing, or, if your destination is next door, Sydney's Royal National Park. With some of the most picturesque trails, like coastal views and mesmerizing waterfalls, you can get lost wandering for days through the natural heaven.
Not far from Sydney, Bandeena is your ideal escape into idyllic nature to relax and enjoy easy-going pursuits, from picnicking to fishing and kayaking. Explore the picturesque beach town inside and out with a friendly vibe, cafes, and the popular family-friendly bistro at Bundeena Bowling Club for Thai cuisine.
Eden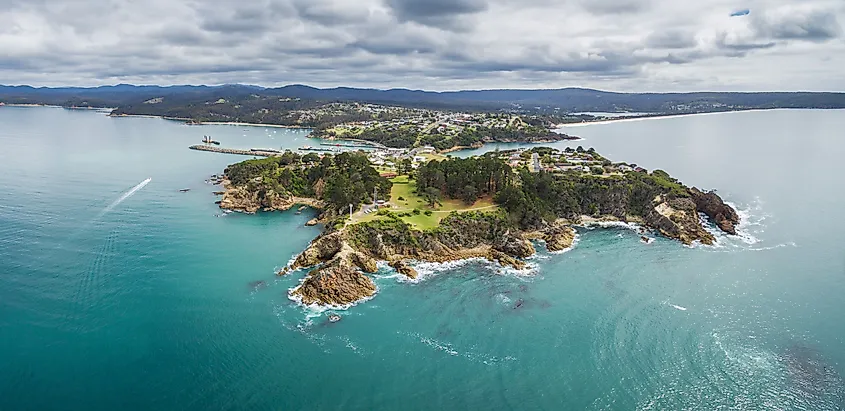 The town, amid Ben Boyd National Park on Twofold Bay, lives up to its biblical name through the power of nature. Eden is a destination for humpback whale watching from May to early November when they migrate via this third-deepest natural harbor in the Southern Hemisphere and have a deep connection to Eden's history. Visit in November to celebrate these giants local style at the annual Eden Whale Festival.
Enjoy more natural wonders around, like Snug Cove, and watch the fishermen unload their catch that will be delivered to nearby restaurants and cafes serving fresh seafood. Take a hike at the Garden of Eden, uh, the Ben Boyd National Park, and choose a pet-friendly cabin at the Eden Holiday Park for rest with ultimate access to Curalo Lake and Aslings Beach. Then there's fishing, kayaking, and lounging along the beach as you soak in the sun and views of the spectacular Sapphire Coast.
Grafton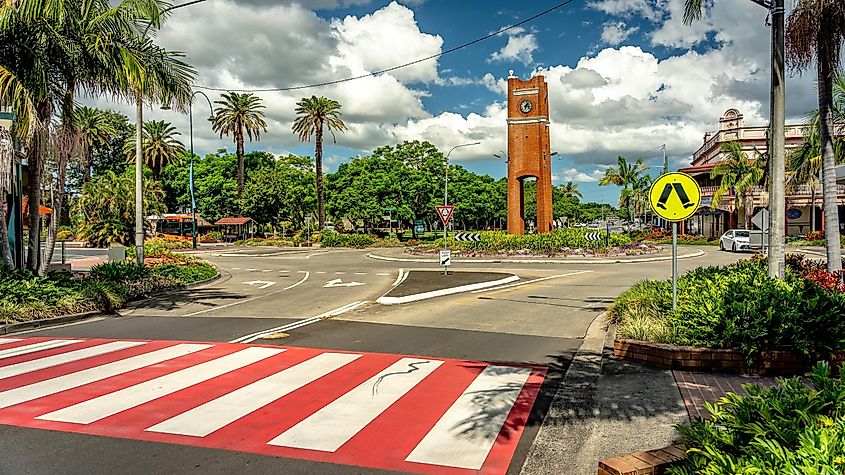 The "Jacaranda Capital of Australia," with its beautifully preserved heritage buildings, is a delightful town to visit for sightseers, history buffs, and architecture fans. Grafton is not too shabby in culture and nature either, hosting a vibrant arts scene nearby national parks, right in the heart of the Northern Rivers in the embrace of the Clarence River. Enjoy canoeing, kayaking, and waterskiing, or rugged hikes and outdoor adventures at the nearby Nymboida National Park.
Stroll through the historic streets for Victorian and Edwardian architecture lining the banks, and visit in the spring (October and November) to Instagram the blazing-purple town with over 2,000 blooming jacaranda trees. Take a cultural walk through Prentice House with Grafton Regional Gallery, which comprises the largest collection of artworks on NSW's North Coast.
Kangaroo Valley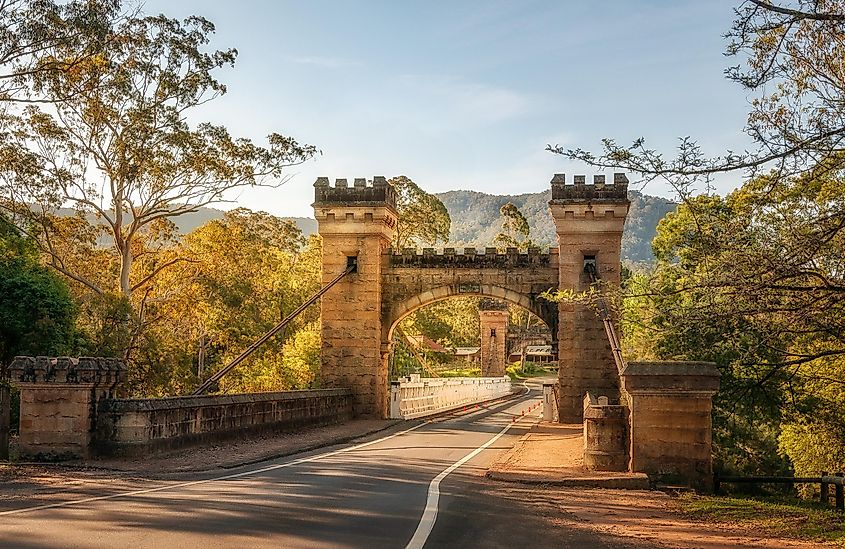 This beautiful town, amid breathtaking valleys, creeks, unique swimming locations, and the Kangaroo River, is a revered regional destination to get inspired through art and nature among the most passionate people who call "The Valley" home. Kangaroo Valley is also an excellent destination for outdoor lovers, with stunning natural beauties to enjoy on any type of adventure or a simple hike. Stroll through the artsy scene with markers by the many talented and creative residents along the main street. The striking river that runs through the town is a magnet for outdoor recreation right on the doorstep.
The Upper River's lush natural banks call for scenic picnicking waterside, while the historic 19th-century Hampden Bridge over the river is a revered sight among historians. This is Australia's only remaining timber-decked vehicular suspension bridge. Bond with nature on a horseback riding adventure with The Man From Kangaroo Valley Trail Rides around the area or a magical water tour along the river with Kangaroo Valley Safaris to the Shoalhaven Gorge. Absorb local culture over a caffeinated brew of choice for Bangalay Dining at the famed Kangaroo Valley Coffee cooperative.
Kiama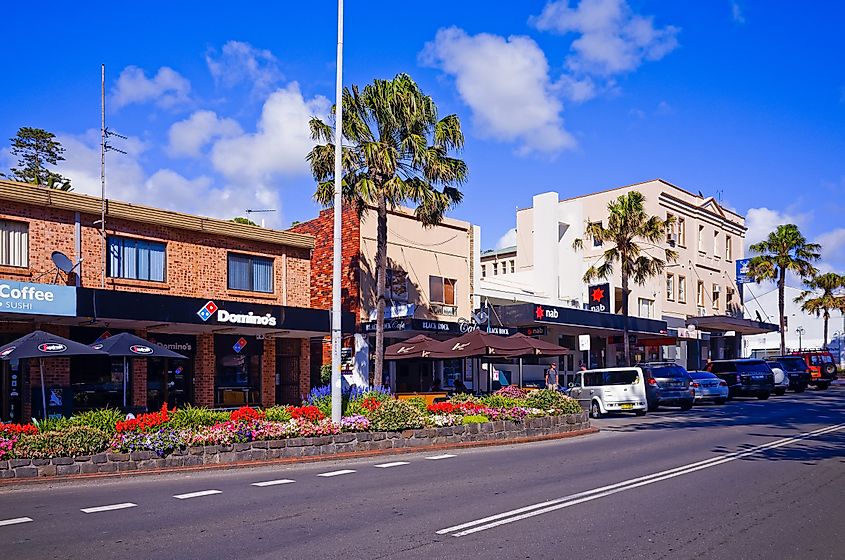 Kiama is a beautiful town with a zen-inspiring name and beachscape, worth a detour from the city into tranquility. Spend days along the breaking waves and breathtaking sights under the watchful eye of Kiama's iconic lighthouse. The town with "where the sea makes a noise" behind its reference name from the Wodi Wodi Indigenous language is home to some of the world's biggest blowholes. See these giant water spurts for awe-inspiring relaxation along the sandy beach, including the infamous Kiama Blowhole.
Lounge amid the sunkissed scenery with refreshing waters until sunset, or head for a midday picnic in the park with free WiFi. The town is a great destination for chilled gatherings, family adventures, couples trips, or a pitstop you will want to extend. Relish in the down-to-earth vibe downtown, complete with boutique stores, cafes, and restaurants, and find the Blowhole Point for 360-degree views, the Kiama Visitor Information Center, the lighthouse, and two large blowholes all in one place.
Narooma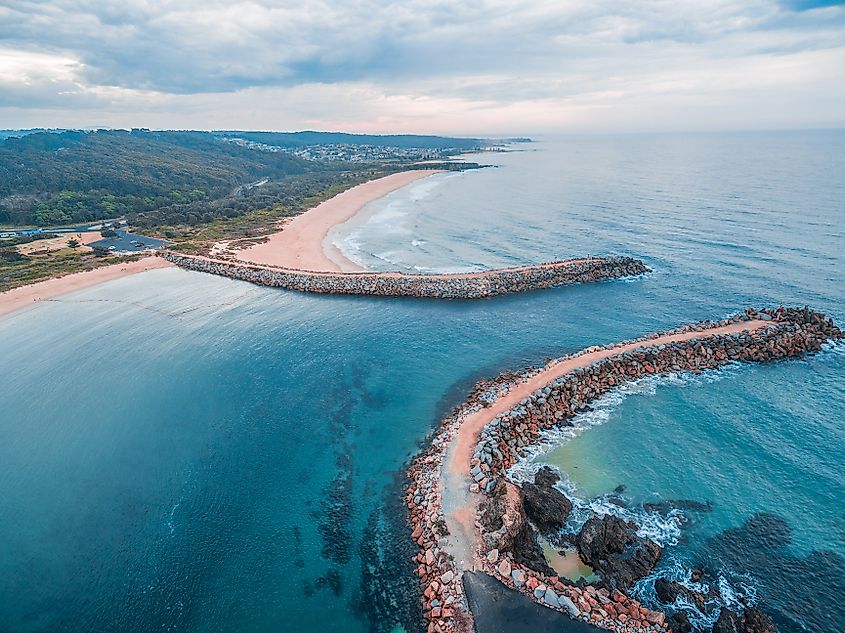 Five hours from Sydney, the charming town of Narooma boasts the eye-catching nature of fluorescent estuaries, ancient caves, and wildlife encounters for the most memorable getaway in NSW. Drive south with scenic stops along Nowra and Batemans Bay to Narooma, a natural heaven on earth, home to penguins, a thriving colony of fur seals, thousands of birds overhead, and whale sightings in the sea. Hit Narooma Surf Beach or picnic at Handkerchief Beach, and scavenge for ancient rock formations like Glasshouse Rocks and Pillow Lava.
Feast your eyes on sights and your taste buds at Quarterdeck, which is a quirky, local favorite tiki bar under Sydney hospitality king Justin Hemmes. You can also expand your horizons on a 21-kilometer cycling path to Dalmeny or take a sightseeing boat ride to Barunguba or Montague Island, some 20 minutes away, for more wildlife like underwater safaris and snorkeling with seals. Explore the endlessly scenic walking track and visit the granite lighthouse on the island. Choose a stay at Hemmes' Whale Inn on the mainland with an on-site French-inspired bistro, Chez Dominque, with a changing menu based on locally sourced producers and vegetables.
South West Rocks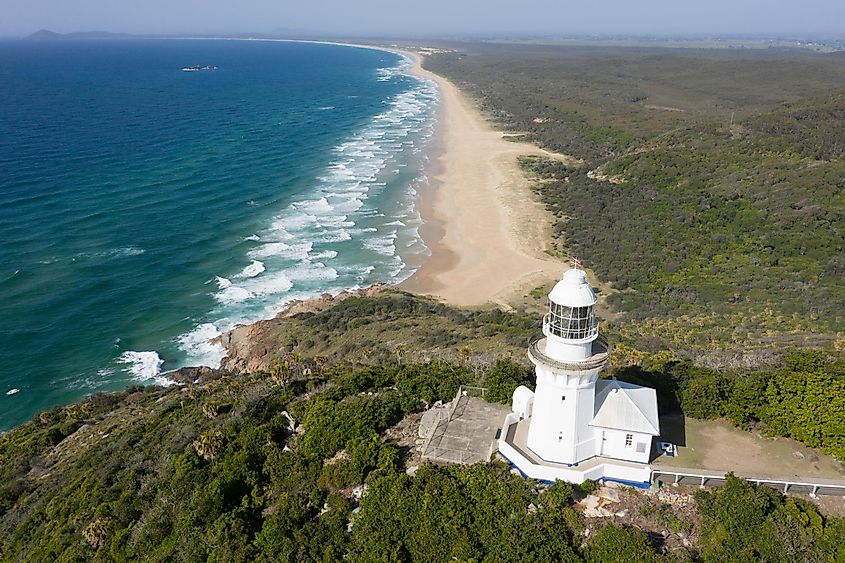 It is no secret in NSW that South West Rocks is a coastal hotspot getaway for holidaymakers, but it retains a humble vibe that makes it attractive for everyday travelers to experience authentic NSW without the trendy feel. Find the perfect town with postcard-like beaches at the mouth of the Macleay River and many family-friendly accommodations to explore around, steps away from the water. South West Rocks is a quintessential beachside escape from Australia's cities for active recreation, beach strolls, and relaxation by the water.
Play a round at the 18-hole golf course under the sun or enjoy some peaceful fishing along the river estuary. The town is full of easy-going pursuits to absorb the local lifestyle in the outdoors amid the vibrant culture and natural beauty, like perusing the Beachside Markets on the second Saturday of each month. There are some of the country's most stunning swimming spots all around to mingle with the surfers at popular beaches or find privacy to lounge all day under the sun and take refreshing dips in the ocean.
Terrigal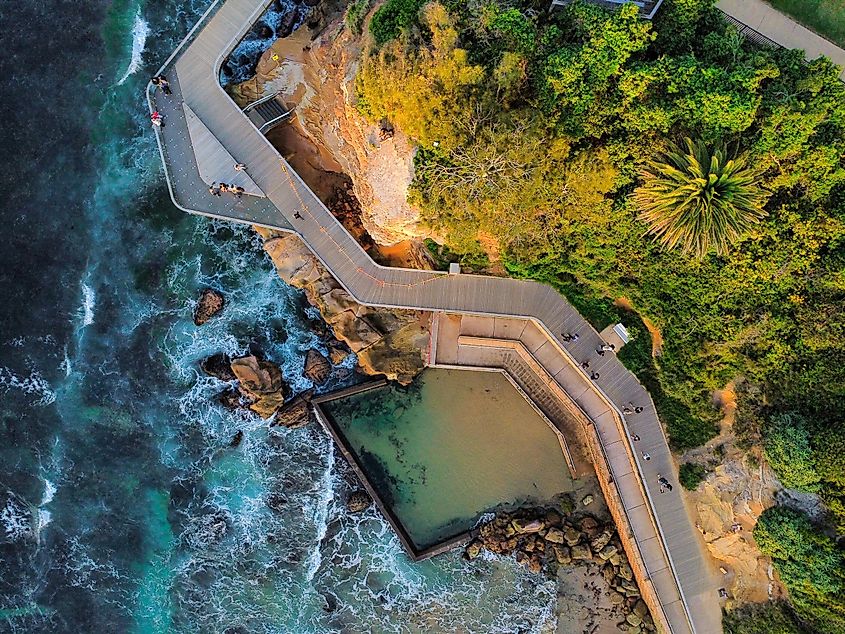 The uniquely charming town of Terrigal is a secret hotspot for some of the Central Coast's most revered treasures. Find tranquility along Terrigal Beach with its aptly named Terrigal Haven for a selfie in this small, sheltered cove along the sands. The active and not-so-active must find the most accessible iconic landmark, the Skillion, which offers spectacular views of the golden town under the sun. Enjoy quick access to Terrigal to experience the best of NSW with a local vibe.
Find golden sand beaches away from the maddening crowds, as well as underwater adventures and exciting nightlife in the town. Browse through the thriving local market scene for fresh produce, local delights, and people-watching, and head for a real cultural experience at the unmissable Avoca Beach Theatre. This venue, with old-school accolades and nostalgia-inducing vibes, was nominated among the world's top ten most beautiful cinemas.
The Entrance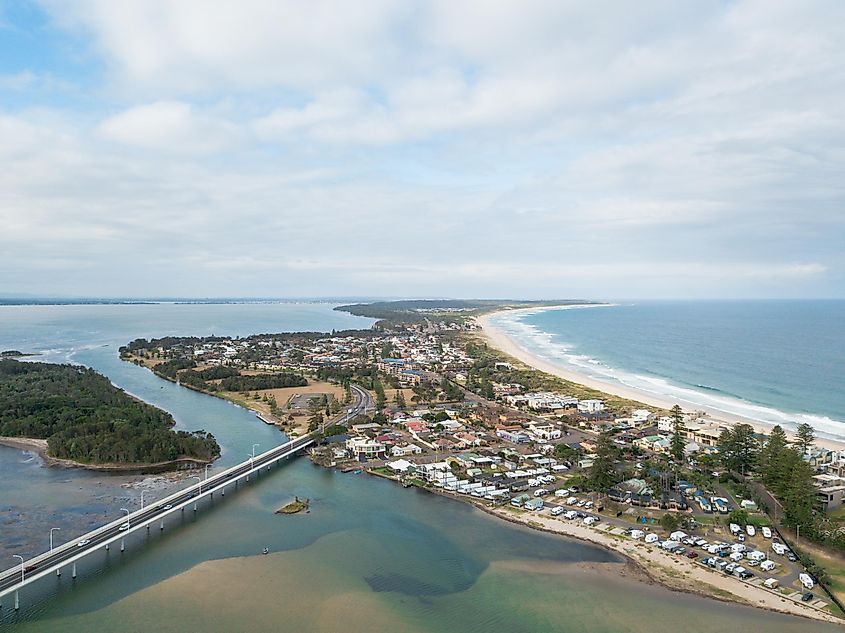 The town with a loud name, just two hours away from Sydney, is a great day trip from the city and a worthy detour on your road trip to the beautiful Entrance Beach. Stop for a dip on a hot summer's day, and the sands will hold you captive until the sunset enters the scene to leave you breathless. This lovely seaside town is a long-favorite escape for Sydneysiders to relax on the weekend from work and stay active in the beautiful outdoors.
Enjoy swimming in turquoise waters with great surf for wave handling, and take a cycling adventure alongside the brilliant views of Tuggerah Lake. Find plentiful high-street eateries, terraced cafes, and pubs to mingle with the locals and enjoy authentic Down Under cuisine and terraced cafes overlooking the waters. Trail after some ice cream parlors or browse through retro shops and find a cozy cafe for people-watching and live music in the evening.
Enjoy easy access from Sydney to find your personal slice of heaven in one of these beautiful towns. The accessible state is also home to Nymboida National Park, Ben Boyd National Park on Twofold Bay, and Sydney's Royal National Park. Choose your daily adventures and return to the shores for spectacular sunsets from every coast.
Enjoy sophisticated dining styles with authentic Down Under cuisine and fresh seafood delights. There is also plentiful modern-day shopping and local markets in between deep heritage and retro sights that induce deep nostalgia for how Australia was over half a century ago.