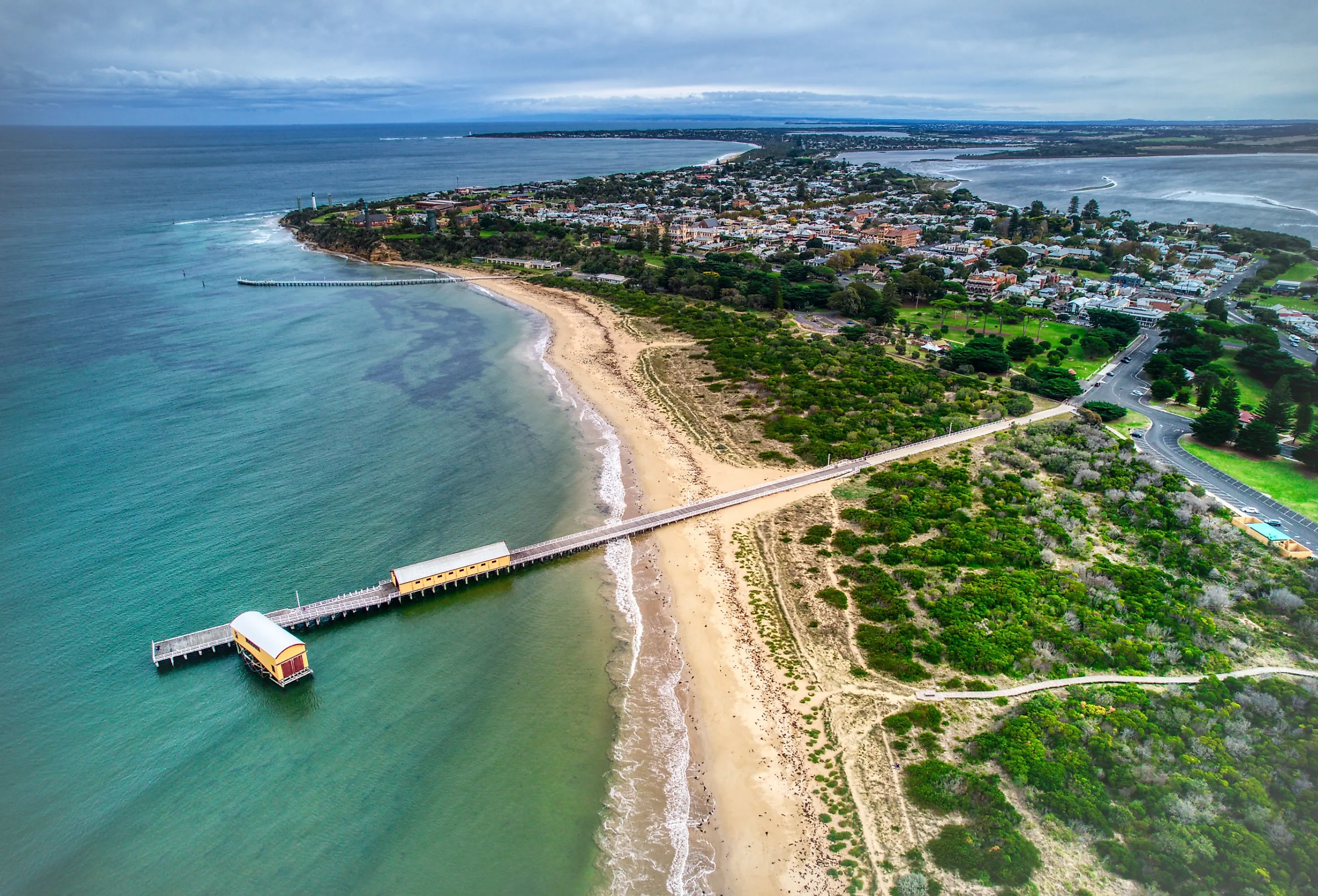 11 Most Beautiful Small Towns In Australia
Between legends of the incredible aboriginal and an exotic collection of dangerous species, Australia cradles a reserve of quiet small towns that provide a cultural backbone to its 'down-under' majesty. Both international and domestic travelers hold high expectations for both provision and safety, and after two hundred years of development, Australia is now more accessible than ever. For starters, the cuisine here is the result of a fusion of British, Asian, and even Middle Eastern recipes. Jaw-dropping geography complements the character-rich villages that dot Australia's remote frontiers; these hubs also provide high-quality hospitality, acting as beacons of comfort amidst an untamable landscape.
Byron Bay, New South Wales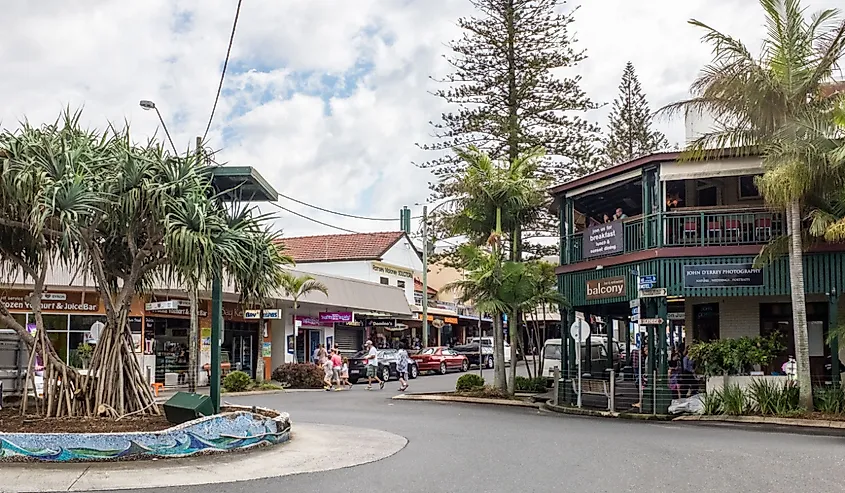 Byron Bay brings a touch of luxury and extravagance to a relaxed and unpretentious atmosphere. Located as the easternmost town in the country, it offers locals and tourists a resort-like ambiance in New South Wales. With pristine beaches and splendid coastal trails, Byron Bay is a popular destination for surfers, swimmers, and kayakers from both Australia and internationally. Every year, many are drawn to its prime waters. The tranquil seascape, replete with underwater life, is an ideal place to swim, relax, and sunbathe.
Byron Bay is not only a haven for snorkelers and divers but also a hub for spiritual seekers and a hotspot for celebrity sightings. Visitors can explore the land, sea, and even the sky with a hot-air balloon ride over the picturesque townscape and surrounding area. Other unique activities include tandem skydiving and hang-gliding. You can also take an aboriginal tour or sample the highly praised Italian food at Belongil Beach. Recently, locals staged a "paddle out" protest against the filming of the Netflix reality show "Byron Bay" in the area.
Esperance, Western Australia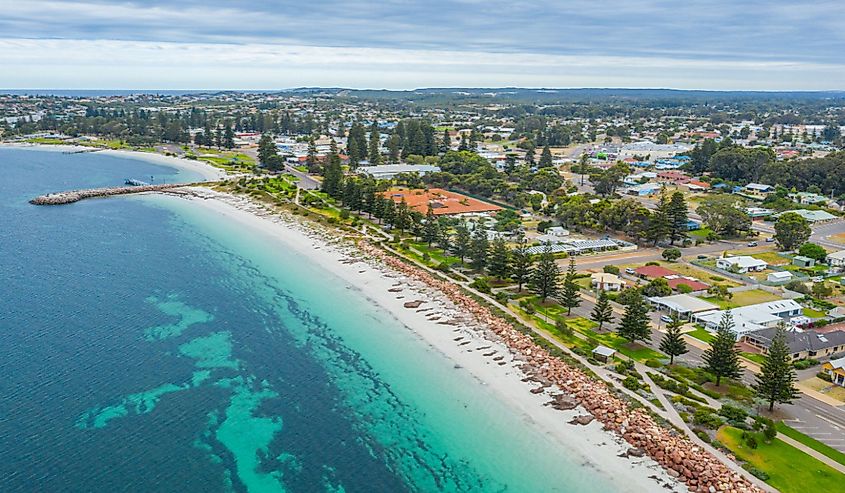 This small yet enchanting town in western Australia is bounded by breathtaking white-sand beaches along an immaculate coastline. Any vacationers who experience Esperance's crystal-clear waters are left in astonishment, with a life-long urge to return. Esperance is a beautiful green town with five state parks around it, spliced by trails for refreshing hikes, and the Cape Le Grand National Park, where you can sunbathe with kangaroos.
Enjoy plentiful diving and swimming off and around the beach, and visiting the ancient salt lakes with therapeutic waters. Try snorkeling and scuba diving for unreal marine life, or stay high above the surface and ride the world's heaviest wave, the Cyclops. Cruise around the many isolated rock islands along the coast and choose your favorite to camp at. Additionally, you can even picnic in a secluded environment beside the aquamarine ocean's sights and sounds. Last, this gorgeous beachfront town is also home to Pink Lake.
Kiama, New South Wales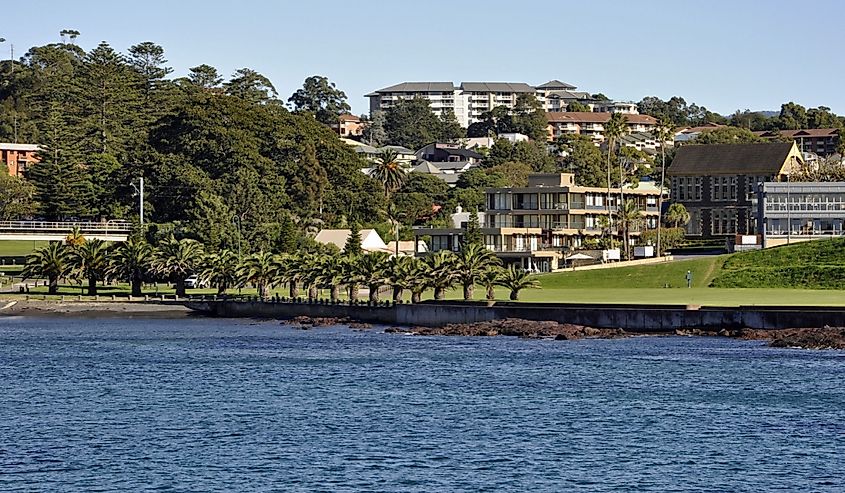 This beautiful town, just like its name, is zen-inspiring with a beachscape where only the hum of waves breaks into your consciousness. Give into tranquility along the scenic beachscape with a reassuring wink from the iconic lighthouse. A day's escapade inlcudes the chance to check out some of the world's biggest blowholes. Kiama, or "where the sea makes a noise" in the Wodi Wodi Indigenous language, has an instant relaxing effect on all who visit. Once just a stop along the way for journeying travelers, Kiama is now a full-blown coastal escape for locals around the region without a touristy vibe.
After you scope out Kiama Blowhole and a few rockpools, enjoy a picnic in Kiama park where free WiFi helps you stay connected. Head downtown for boutique stores, cafes, and restaurants, and choose another local beach for sunset. Mix it up or choose a niche for any kind of getaway, from chilled gatherings to family adventures or a hideaway for romantics. The Blowhole Point is ideal because it offers 360-degree views to get your bearings, along with the always helpful Kiama Visitor Information Center, the lighthouse, and two large blowholes for your first selfie.
Lorne, Victoria
Lorne, situated in Victoria, is a small town that impresses all around, from its golden beaches to its lush greenery punctuated with sparkling waterfalls. Its acclaimed fine dining scene will stylishly revive you after all your scenic explorations. This popular town, devoid of the typical tourist trap vibe, exudes a charmingly humble personality, making you feel right at home in unfamiliar surroundings. Lorne is your ideal pitstop on the Great Ocean Road journey, enticing you to stay for its captivating sights and activities. Take on the waves at Bells Beach or wander through the ancient forests of Great Otway National Park.
Don't miss visiting QDOS Fine Arts and relish exquisite meals at HAH Lorne Beach or the Great Ocean Road Bakery. Watch the sunset while enjoying a waterfront dinner or from Lorne Pier afterward. This petite beach town has many surprises in store, allowing you to kickstart another scenic day with the best Eggs Benedict breakfast burger at The Bottle of Milk and savor Spanish tapas at MoVida as a midday boost.
Leura, New South Wales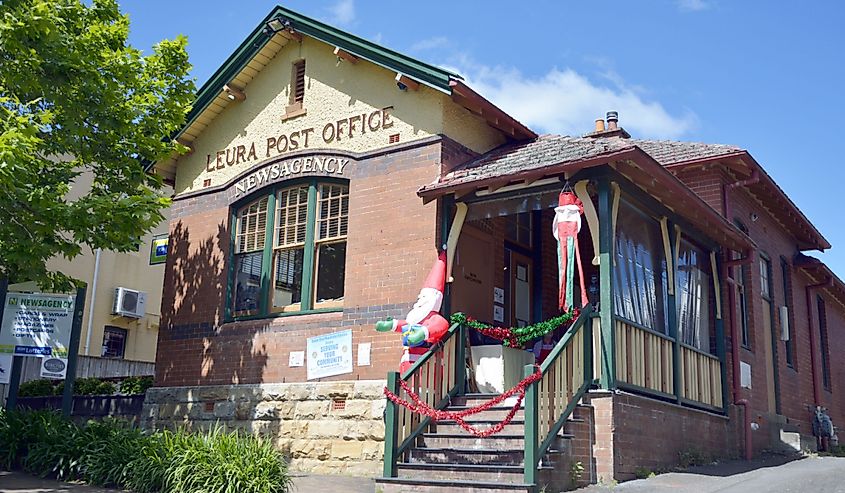 The UNESCO World Heritage-listed town of Leura, nestled in the scenic Blue Mountains region, is a destination where beautiful dreams often become reality. This charming town, with its cozy cafés providing breathtaking views over coffee and its adorable shop fronts, truly has a character of its own. Enjoy delightful walks amid tree-lined streets adorned with Edwardian-era architecture, including guesthouses that extend a warm welcome and top-notch service at a fair price.
Discover beautiful, verdant English-style gardens, fresh produce stands, and an endless expanse of refreshing wilderness ideal for bushwalking. Embark on hikes to nearby waterfalls, such as Leura, Empress, and Wentworth, or opt for a scenic stroll and relaxation at the Art Deco-style Everglades House Gardens within the town. Broaden your vistas at the Gordon Falls Reserve, Sublime Point lookout, and Olympian Rock, and arrange a picnic with views overlooking the Jamison Valley. Last, feel free to select from a variety of handsome and vintage B&Bs or rental cottages with panoramic views for a cozy stay.
Margaret River, Western Australia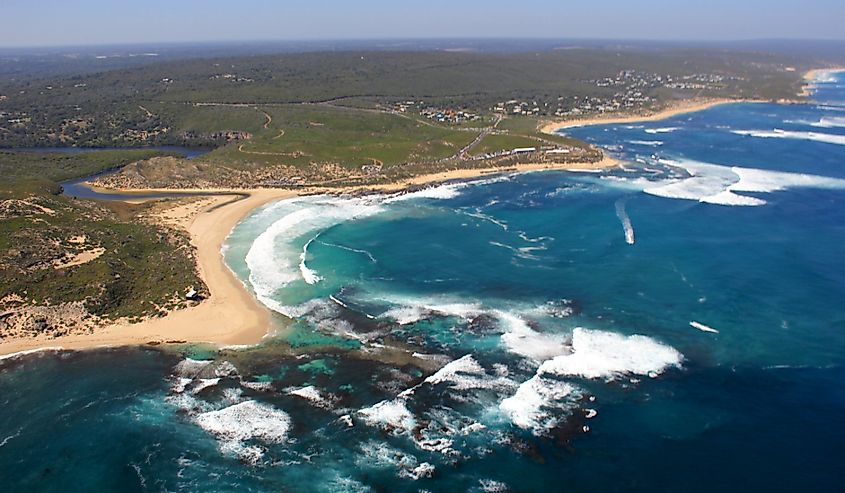 Margaret River offers immense possibilities for visitors as a small town with a wide array of attractions. Its vast surf beaches beneath picturesque limestone headlands complement the dense, towering timber forests and the encompassing wine region. This eponymous town, with its captivating natural beauty, also appeals to culture enthusiasts through its excellent art galleries, boutique shopping, artisan and produce stores, cafés, and restaurants. These establishments offer a sensational mix of local and national cuisine, featuring farm-themed dishes, seafood creations, and raw goods. The Saturday farmers' market, a celebration of the region's fertility, is a noteworthy event and a destination for national visitors.
Visitors can hike or bike along Margaret River, right through town to the scenic Indian Ocean beachfront of Prevelly. Indulge in a glass of the renowned Cabernet Sauvignon, or take a bottle to savor at the tranquil nearby beach, surrounded by serene nature. The Mammoth Cave, with its multi-chambered expanse, boasts fossils dating back over 35,000 years. Margaret River is your lavish weekend getaway in Australia, featuring fine dining and top-notch wineries such as Vasse Felix, Cullen Wines, and Arimia. Return home feeling spectacular and rejuvenated after traversing a scenic stretch along the Cape to Cape Track, offering 76 miles (123 kilometers) of stunning coastal views.
Minnamurra, New South Wales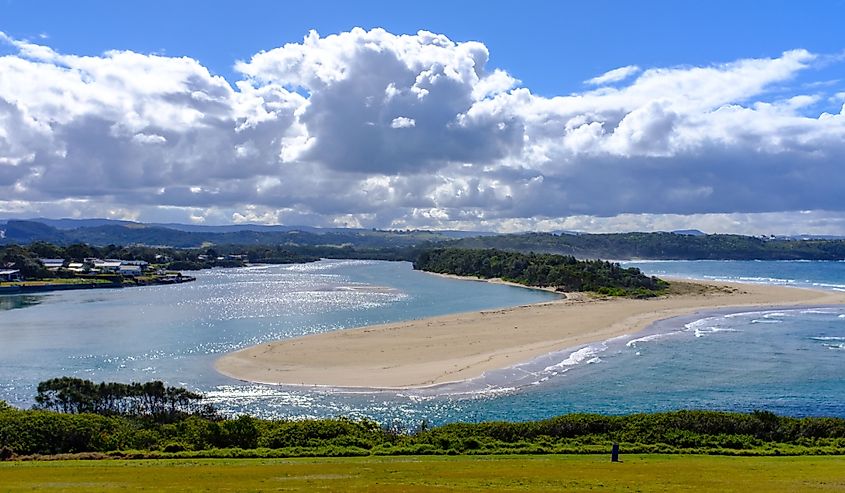 This lovely town known by the tagline "where river meets ocean," positioned at Kiama's northern boundary, serves as a perfect retreat for families and watersport enthusiasts. Delight in secure swimming or navigate a kayak, a paddleboard, or other compact vessels, allowing you to bask in the splendid views from the water. Opt for the sandy sea beaches, each possessing a unique tidal personality, ranging from serene floating to surfing. Minnamurra, marking the north entrance for the well-known Kiama Coast Walk, is just a short ascent from the verdant headland, providing panoramic vistas of the township.
From here, you might catch a glimpse of your subsequent stop, a golf course beautifully situated in the curve of the river, or decide to venture to the secluded Mystics Beach, boasting the off-coast Stack Island for an incredible geological journey ahead. Stay on this path, and you will witness an awe-inspiring coastline, opportunities for whale-watching, and the world's most photogenic Cathedral Rocks. Following the "plenty of fish" implication behind the town's name in the local Aboriginal dialect, explore the apparent shell middens and stone tools left by the Dharawal people at the Minnamurra River's mouth.
Port Douglas, Queensland
Port Douglas exists as a tropical escape on the edge of the Coral Sea, and it is additionally a gateway to the Great Barrier Reef. Experience Australia's genuine style, from soaking in lagoon pools to exploring artisan and fresh produce stalls at vibrant Sunday markets or feasting at Melaleuca. Devote an entire day to lounging under the palms of the stunning Four Mile Beach, taking periodic dips until a striking sunset transforms the horizon.
This charming fishing village serves as your entry to the timelessly wise Daintree National Park, hosting the world's oldest living rainforest. If you're not tempted to lift yourself from the pristine white sands of Four Mile Beach, consider snorkeling with turtles or playing beach volleyball. When hunger strikes, let the enticing aromas from nearby eateries guide you to expertly prepared ocean delicacies.
Port Fairy, Victoria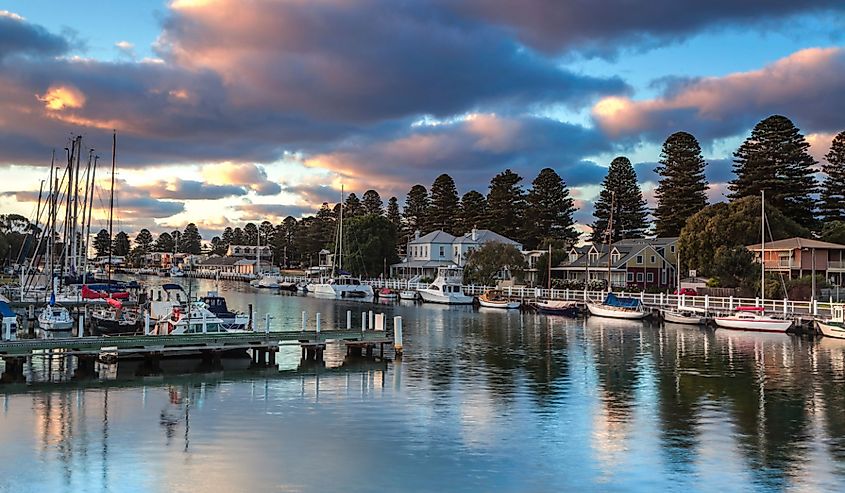 Recognized as one of the most livable towns worldwide, the charming town of Port Fairy offers much within its modest spread in Victoria. This oldest port in the state is also conveniently located along the Great Ocean Road. Its past, steeped in fishing, now thrives on tourism, presenting a bounty of services and sights in a relaxed, unassuming ambiance. Wander around the harbor, where over 50 historic architectural structures stand as reminders of a traditional lifestyle in a port once managed by Irish whalers, juxtaposed with modern-day attractions.
Port Fairy boasts a vibrant art scene with a range of entertaining and cultural events across the town. Engage with locals at the nation's most respected, extensive, and longstanding folk music festival, the Port Fairy Folk Festival. The preserved buildings along the meandering streets lead you to the core of its maritime history, a working harbor. Take in the scenic array of yachts and boats, returning later for a romantic sunset viewing—one of the most captivating in Australia. Spend your evening by the water and explore the town's esteemed and celebrated restaurants, offering dining options for all preferences under a gently lit evening sky.
Queenscliff, Victoria
This grand Victorian-era town, located south of Melbourne, boasts an incredible scenic appeal. Queenscliff, perched on the tip of the Bellarine Peninsula, offers views across the Bass Strait Rip and further to the Mornington Peninsula. With jetties, museums, lighthouses, and a fort from the 19th-century Gold Rush, the town is a must-visit for history enthusiasts. They can explore this structure and learn about its purpose - to shield the cargo ships.
Tour the exquisite downtown architecture and immerse yourself in the coastal nature. This vibrant resort town features bay and surfside beaches, plus a myriad of great dining spots. Stroll along the jetty and consider a ferry trip across the channel to the historic village of Sorrento, casting rearward glances at the captivating town that awaits your return.
Strahan, Tasmania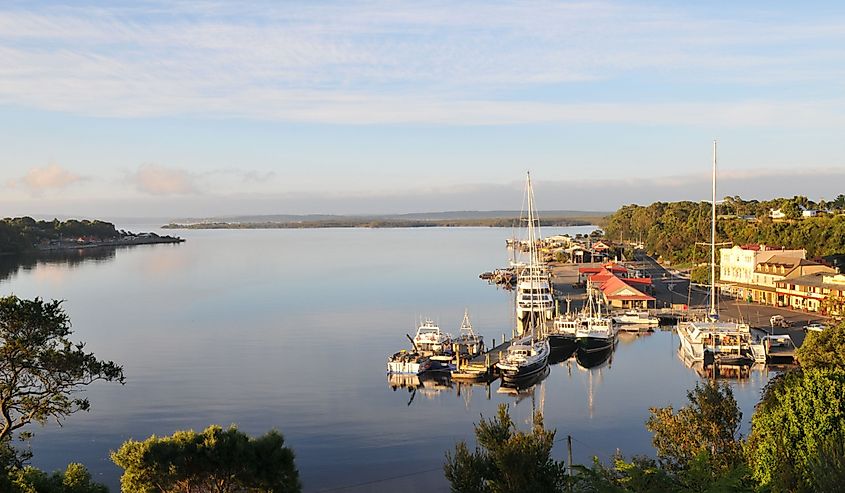 Discover the town of Strahan, pronounced "Strawn," situated about five hours northwest of Hobart, Tasmania's capital, to appreciate the vastness of Australia's smallest state. Strahan isn't simply a delightful seaside town; it is an ideal getaway enveloped by every conceivable type of natural landscape. Embark on a trek through the rugged terrain of Franklin-Gordon Wild Rivers National Park, or visit the beautiful Donaghys Hill and invigorating Nelson Falls. Experience a serene cruise down the striking Gordon River, floating amongst temperate rainforests, and don't miss the rainforest path leading to Hogarth Falls.
Venture into the People's Park situated within the town's confines or set your sights on the historic convict settlement on Sarah Island, notorious for its grim past. The infamous Macquarie Harbour Penal Station was operational there in the 19th century. The remote, yet appealing town of Strahan warrants the visually captivating journey to its attractively clustered homes surrounding a lovely harbor. Choose to stay in a waterside B&B, immersing yourself in serene solitude with scenic hikes, or embark on a train journey on the West Coast Wilderness Railway to explore more regional vistas.
Relax in tranquility amid pristine beachscapes and gorgeous botanical gardens. Explore wondrous tropical rainforests and state parks stricken by crisp waterfalls. You can spend days captive by the sun, sand, and surf or choose to escape underwater to the Great Barrier Reef or the world's oldest living rainforest. The sunset from the beach, or headland, overlooking the crashing waves "down under" will be the most beautiful of your life. Follow up with some waterfront dining to recharge for another day of scenic adventures, or engage in friendly banter at a local bar and try to pick up that distinct accent.