Are you ready to traverse the fantastic sights and sounds of Washington? With some of the most fascinating cities in the US, the vast array of experiences you can have in this state will enthrall you! These beguiling cities in Washington allow you to experience a unique combination of cosmopolitan charm and rural serenity. Whether you are looking for a romantic getaway or a family-friendly destination, you will find it in one of these stunning cities.
Ellensburg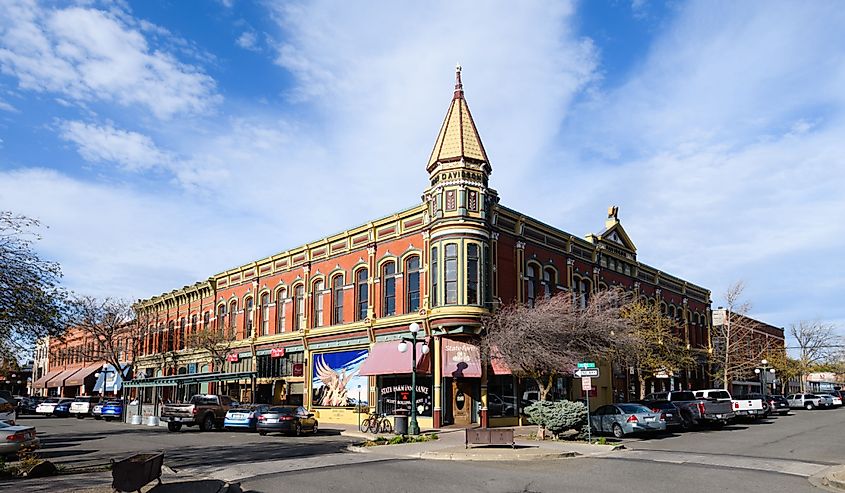 Ellensburg is one of Washington's most picturesque cities in the beautiful Kittitas Valley. It is known for its vibrant downtown core, unique shops and eateries, and many outdoor activities like fishing, camping, hiking, biking, and boating. 
The area also boasts several breathtaking state parks, such as Olmstead Place State Park, with expansive views of the Kittitas Valley and Yakima River Canyon State Park. You can take in incredible vistas while enjoying the river's rushing waters. The Helen McCabe State Park is an excellent quiet walk and reflection place.
Leavenworth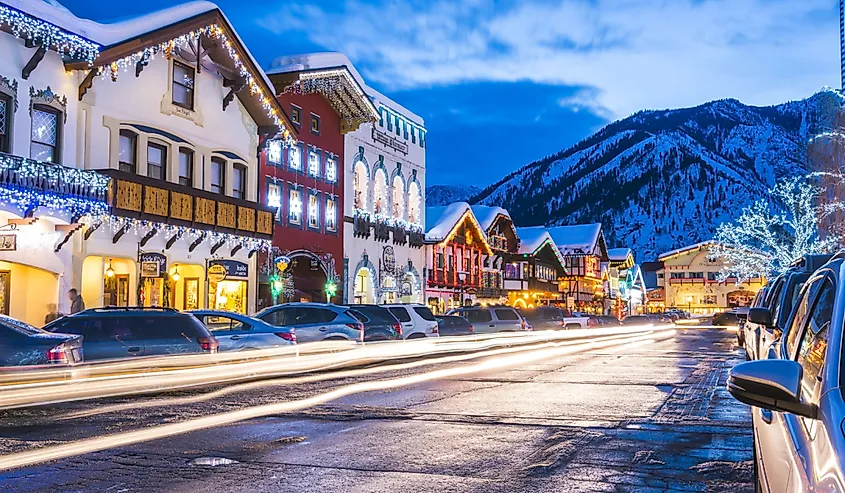 Leavenworth is a fantastic city in Washington State with many stunning sights and activities. Stroll downtown and admire the historic buildings, then head to nearby Lake Wenatchee for fishing, swimming, or just soaking up the sun's rays. With the mighty Wenatchee River running through the city, there are plenty of water activities to engage in.
The area also offers plenty of hiking trails for adventure seekers and popular state parks such as Waterfront Park, Wenatchee Confluence State Park, and Enchantment Park. Enjoy the breathtaking views and wildlife and birds coloring the area. For those interested in beer brewing, Icicle Brewing Co is the place to visit. Enjoy the clear waters of the river mixed with unique ingredients resulting in delicious ales and lagers.
Poulsbo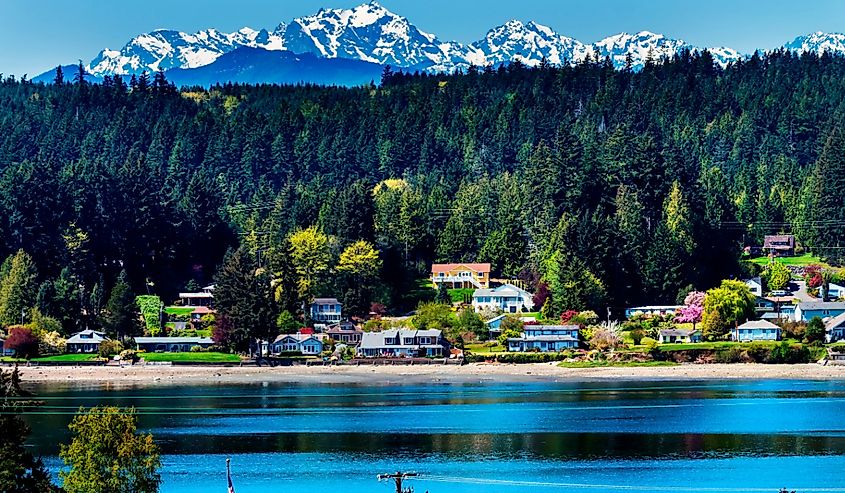 Poulsbo is a charming small town with breathtaking views of Liberty Bay near the Olympic Mountains. It provides outdoor adventure and access to some of the most pristine natural attractions in the state. Visitors delight in the abundance of outdoor activities available here. From kayaking in the bay, fishing along Hood Canal, or hiking in Kitsap Memorial State Park, there is something for everyone in this stunning location.
With quaint shops, cozy cafes, and a historic downtown district, Poulsbo offers visitors an unforgettable experience. Whether relaxing by the water, exploring the great outdoors, or indulging in delicious local cuisine, Poulsbo has it all.
Walla Walla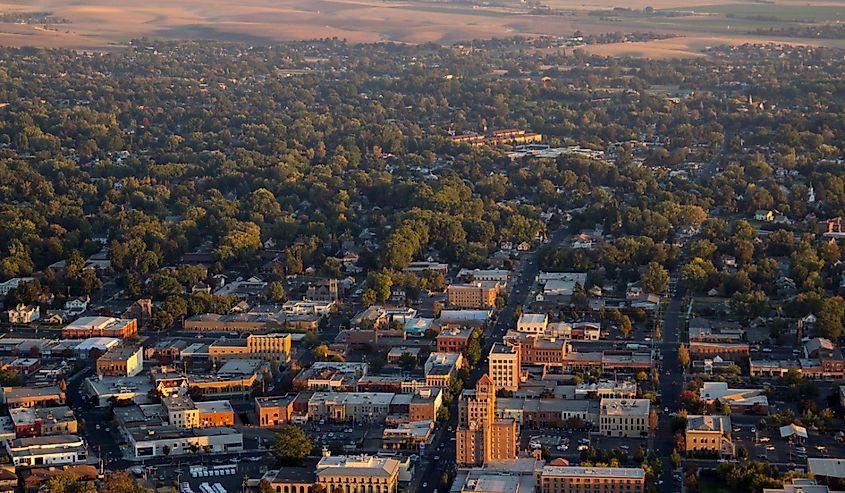 Nestled between rolling hills and the Columbia River, this charming city boasts stunning views of nature, renowned for its lovely small-town atmosphere and scenic landscapes. Outdoor enthusiasts can explore nearby lakes like Bennington Lake and Blalock Lake. The State Parks near Walla Walla provide an excellent backdrop for hiking and camping.
With the rolling hills of the Blue Mountains to the east, it is easy to find an outdoor adventure or peaceful picnic spot here. Take a stroll along the Rooks Parks or Hat Rock State Park. Walla Walla has much to offer, from camping under starry skies to climbing mountains to fishing and boating.
Republic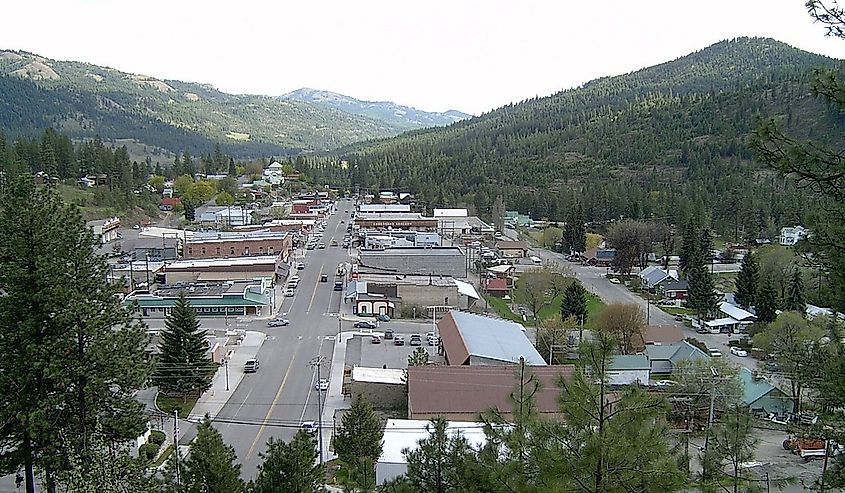 Republic, initially named Eureka Gulch, is close to incredible natural wonders like Lake Roosevelt and the Columbia River. Explore stunning state parks or relax on the shores of Curlew Lake State Park, or hike the Ferry County Rail Trail.
Immerse yourself in history by visiting the Stonerose Interpretive Centre and Ecosene Fossil. Alternatively, visit the Ferry County Historical Center and learn the area's history. Visit Kaufman cabin, the oldest structure in Republic. Republic is the perfect place for a getaway with its breathtaking landscapes and endless activities.
Bellevue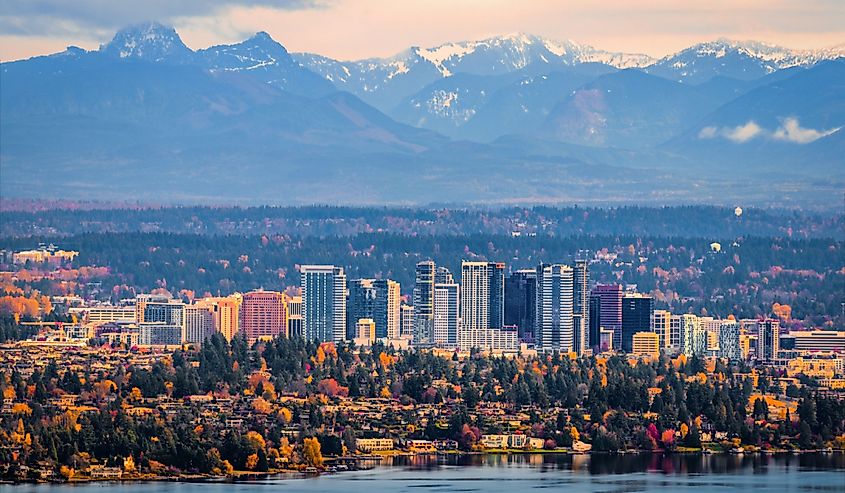 Located on the eastern side of Lake Washington, Bellevue offers breathtaking views of lush green hills and sparkling blue waters. With stunning views of the Cascade Mountains and Puget Sound, many people call Bellevue home. It is one of the most populous cities in Washington and the perfect place for several outdoor activities. Its history dates back to the 1800s when settlers began inhabiting the area and established many farms. 
Explore historical sites like Eastside Heritage Centre and Bellevue Art Museum. Take part in outdoor activities at its popular state parks in Bellevue Downtown Park, or Kelsey Creek Park. Bellevue is an ideal spot for kayaking, fishing, and canoeing. Enjoy the beauty of nature with Lake Sammamish and Mercer Slough nearby. Whether you are looking for an exciting urban experience or some quiet time surrounded by natural beauty, Bellevue is the place to visit.
Tacoma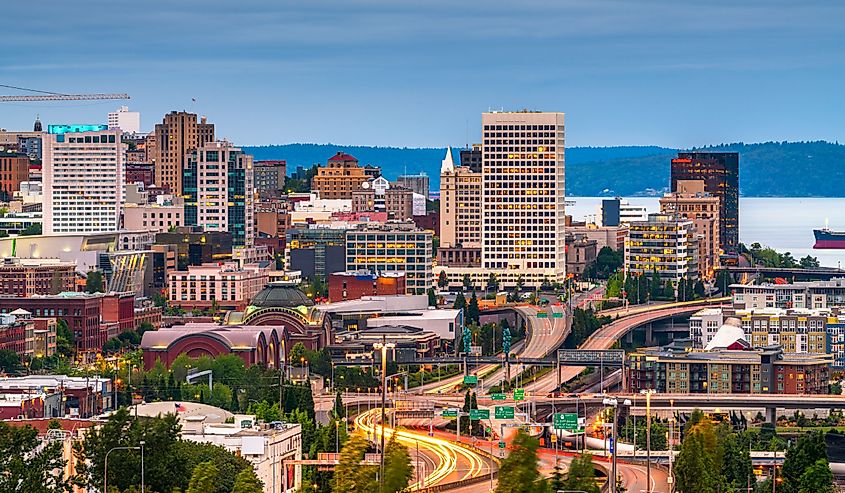 South of Seattle, Tacoma has two large rivers, the Puyallup and the Nisqually that flow through its vibrant neighborhoods. Tacoma has picturesque waterfronts and lush state parks. The town is famous for its world-renowned glass art. It is the best place to explore glass, art, and history. Visit the Museum of Glass and the Chihuly Bridge of glass to experience glass in its glory.
A trip to Point Defiance Park will let you view Tacoma from a different angle and enjoy the sights of Puget Sound, Gig Harbor, and Vashon Island. For a more historical look, visit Fort Nisqually Living History Museum or participate in the oldest Independence Day celebration in Washington at Wright Park. Tacoma's other natural attractions include Point Defiance Zoo and the Tacoma Nature Center.
Olympia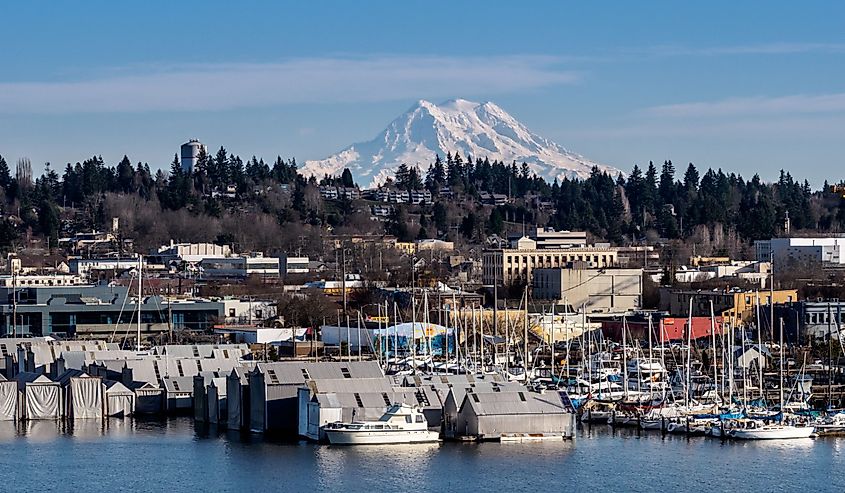 Olympia captures the beauty of the Pacific Northwest. Situated along the banks of Budd Inlet and surrounded by lush forests and towering mountains, it is easy to see why this charming city has become a popular tourist destination. A walk through downtown reveals plenty of historical buildings like the Washington State Capital building.
Visit the Olympia Farmers Market and shop for your favorite groceries. It is also the best place to purchase souvenirs. Squaxin Park, Westbay Parkland, Olympic National Park, and LBA Park are great picnic destinations. Spend an afternoon walking in these areas, or relax after a long day exploring the area. Whether exploring its vibrant culture or enjoying the great outdoors, Olympia will offer an unforgettable experience.
Bellingham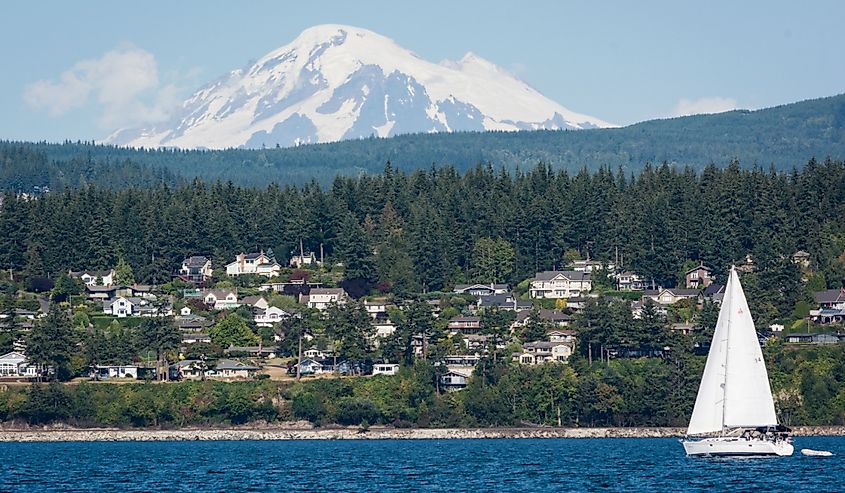 Bellingham offers stunning views of snow-capped mountains, lush forests, and pristine lakes and rivers. With breathtaking views of picturesque lakes and rivers, visitors can spend hours enjoying nature's beauty. Explore the history by visiting Whatcom Museum or the Mindport Exhibit, a science museum and learning center.
Camp, organize picnics, or relax at Big Rock Garden Park, Larabee State Park, and Samish Park. Hike through Stimpson Family Nature Reserve or Fragrance Lake Trail. Alternatively, Drive on Chackanut Scenic Byway and enjoy spectacular views. Bellingham allows you to enjoy different recreational activities, from kayaking, swimming, hiking, biking, and fishing.
Port Angeles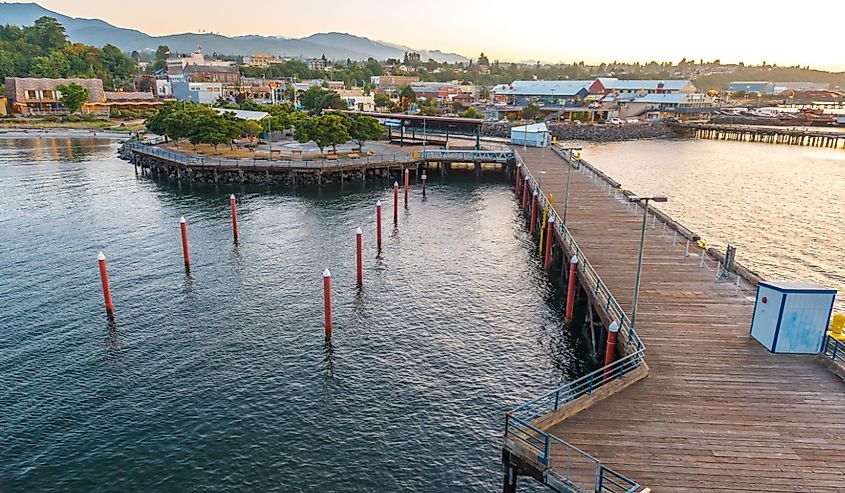 Port Angeles is near the northern tip of the Peninsula and overlooks the Strait of Juan de Fuca. Surrounded by stunning views, Port Angeles boasts breathtaking Lake Sutherland and the Elwha River. It is also near spectacular state parks like Salt Creek Recreation Area and Lincoln Park. Spend your days exploring Lake Crescent, a shimmering lake with crystal-clear water that is a perfect spot for swimming, fishing, and kayaking. 
You can also visit the Sol Duc River for breathtaking views while floating or fishing down its winding paths. Spend a day exploring these natural wonders for a memorable experience.
Winthrop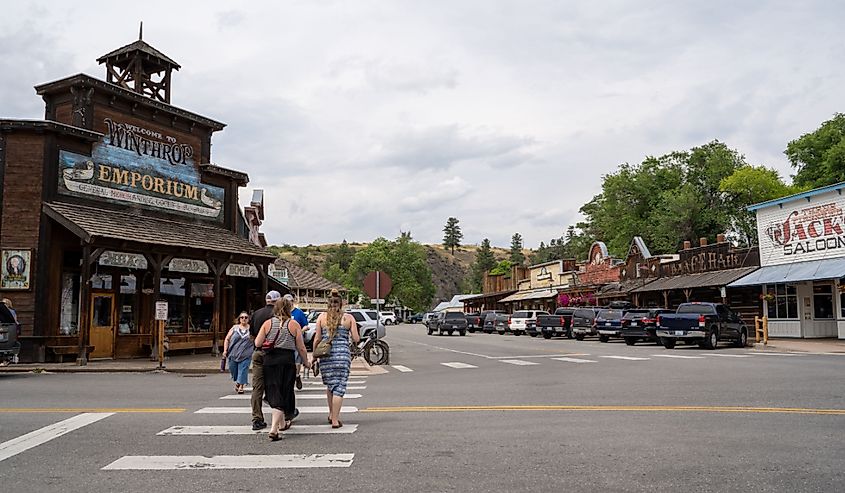 Winthrop is an enchanting Washington city with breathtaking views of the Cascade Mountains and lush green forests. Located along the banks of the Methow River, this charming town offers numerous outdoor activities. Fish or kayak on Pearrygin Lake, a part of the Okanogan-Wenatchee National Forest. Other activities to enjoy in Winthrop are mountain biking, horseback riding, and rock climbing,
Explore the Shafer Historical Museum or wander around town to explore local shops, restaurants, and galleries. Finish your day by strolling across Spring Creek Bridge. No matter what you are looking for, Winthrop is sure to impress.
Washington is an incredibly diverse and beautiful state with various cities to explore. From snow-capped mountains and lush forests to ocean views, Washington is home to some of the most beautiful cities in the world. Whether looking for a quiet beach getaway or an exciting city adventure, these eleven stunning cities will provide lasting memories and breathtaking sights. Start planning your trip to one of these incredible cities today.