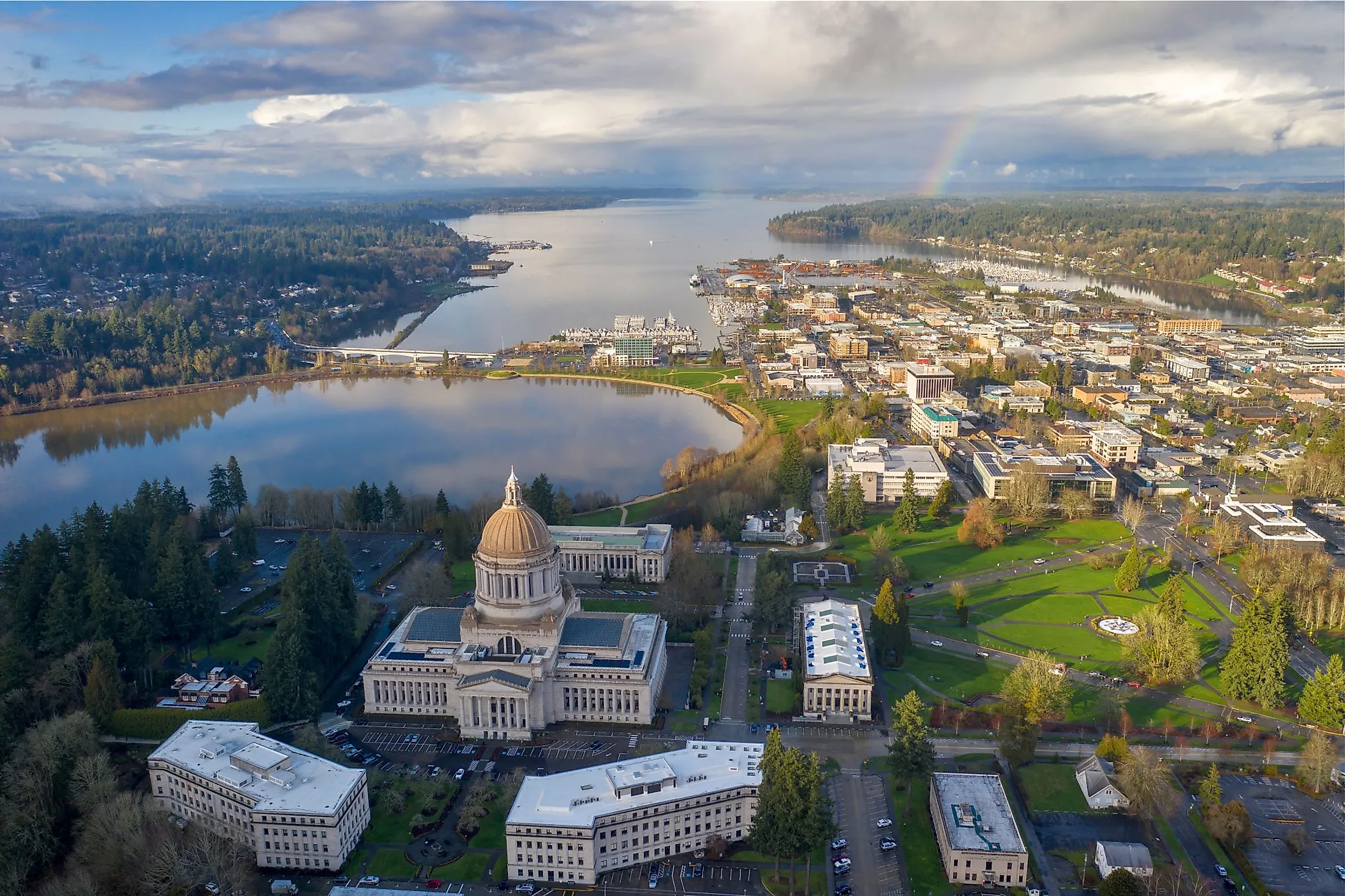 Olympia serves as Washington State's capital and the county seat of Thurston County. With a population of 55,605 residents, it is the county's biggest city and the state's 23rd-largest city. Located approximately 100 km southwest of Seattle, Olympia is also the southern Puget Sound region's cultural center. In spite of significant influences from adjacent major metropolises, Olympia's art and music scenes are remarkably broad and vibrant for a town of its size. The city's natural beauty is particularly noteworthy. From downtown, one can view the imposing Mt. Rainier to the southeast, near the state capitol building and Capitol Lake, and the Olympic Mountains to the northwest, hidden behind Budd Inlet on Puget Sound.
Geography And Climate Of Olympia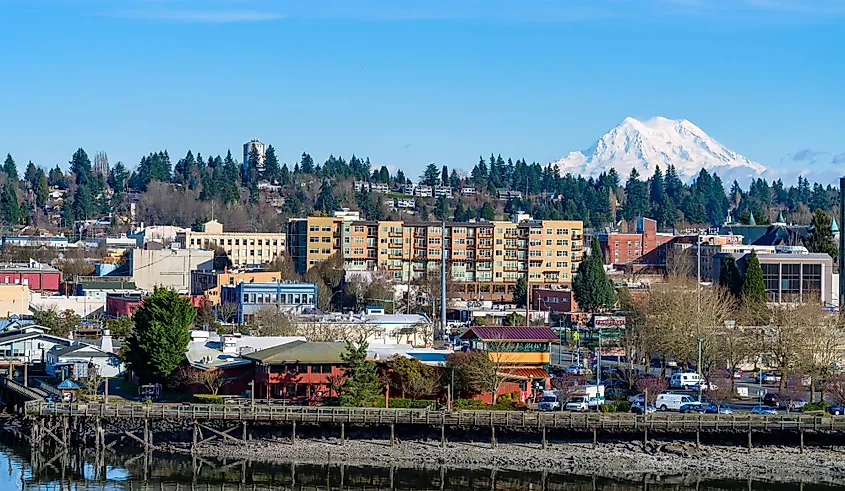 Olympia covers a total area of 50.97 sq. km, of which 46.15 sq. km is occupied by land, and 4.82 sq. km is covered by water. A major portion of downtown Olympia's lower area is situated on reclaimed land. The city of Lacey borders Olympia to the east, while the town of Tumwater borders it to the south. Placed at the base of the Olympic Peninsula, the city acts as a gateway to the Olympic National Park. Olympia is home to several public parks and nature conservation areas, such as Percival Landing Park, Watershed Park, Woodruff Park, Sunrise Park, and Woodard Bay Natural Resources Conservation Area, etc. 
According to the Koppen Climate Classification, the region surrounding Olympia experiences a warm-summer Mediterranean Climate with dry, brief, and warm summers and wet, bitterly cold winters. August is the warmest month, having an average temperature of 64.1°F, while December is the year's coldest month having an average temperature of 38.4°F. The city receives an average precipitation of 50.62 inches annually, with 75% cloud-cover year-round. Olympia receives an average snowfall of 3.9 inches. 
Brief History Of Olympia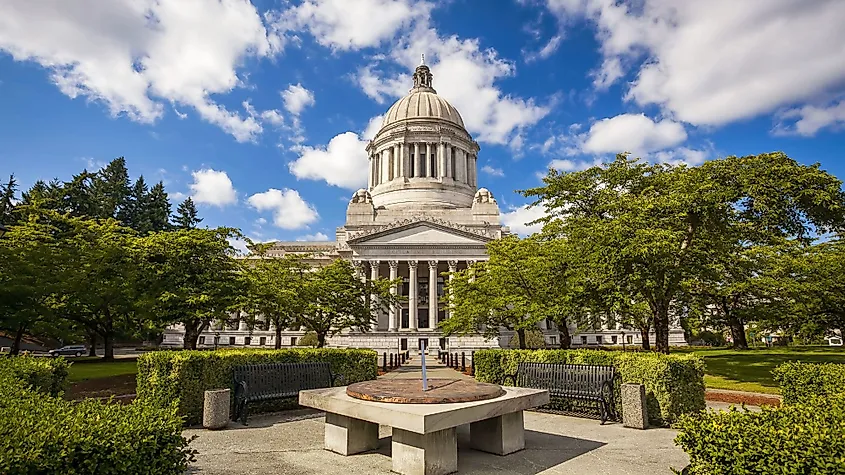 The indigenous Lushootseed-speaking people initially inhabited Olympia for several years. Many Native American groups, such as Squaxin, Nisqually, Chehalis, Duwamish, Puyallup, and Suquamish tribes, also visited the area. The first recorded Europeans came to Olympia when members of the British Vancouver Expedition led by Peter Puget explored the area in 1792. Levi Lathrop Smith and Edmund Sylvester claimed an area that presently constitutes downtown Olympia in 1846. The US Congress created the Customs District for the Washington Territory in 1851. Over the years, the area's population began to grow with the settling of the Oregon Trail immigrants.
In 1850, a resident named Colonel Issac N. Ebey suggested the name "Olympia" for the settled town, as the Olympic Mountains in the northwest were clearly visible from it. Issac Stevens, the territorial governor, arrived in Olympia in November 1853. Olympia continued to serve as the state's and the territory's political hub from that point forward, despite some controversy and strife. With the arrival of a side-wheeler steamboat from San Francisco in 1853, Olympia started to develop as a port city. The following year, a "long pier" extending from the city center into deeper water allowed other boats to dock. The Olympic Brewing Company was established in the city in 1896 and brewed Olympic Beer till 2003. Many historic buildings were damaged beyond repair due to a major earthquake that struck Olympia in 1949. The city was also struck again by two powerful earthquakes in 1965 and 2001. 
Population And Economy Of Olympia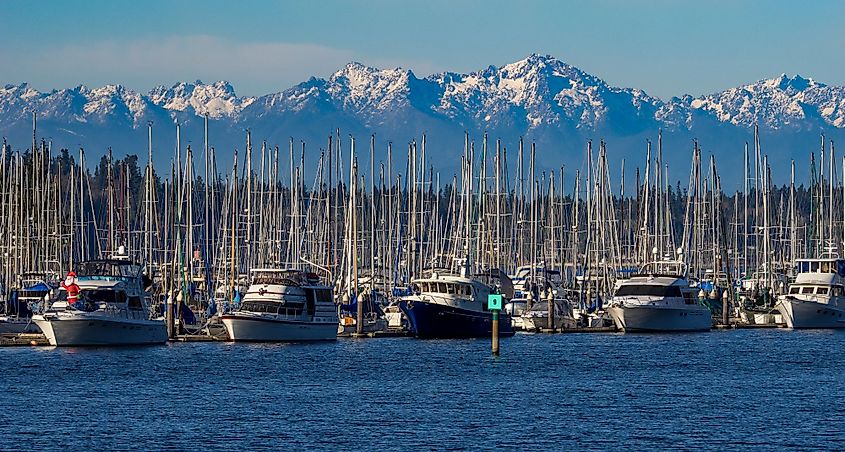 As per the latest US Census, Olympia has  a population of 55,605 inhabitants, making it the state's 23rd largest city. Olympia's population has grown by 3.28% from the most recent census, and is now rising at a pace of 1.62% annually. The five biggest ethnic groups in Olympia include the Non-Hispanic White at 74.1%, Asians at 7.34%, Hispanic White at 6.06%, Two or more races at 4.29%, and Black at 2.77%. With a 14.66% poverty rate, the city has an average household income of $63,185. The economy of Olympia employs about 25,800 people. The biggest employers in the city include: Public Adminstration, Health Care & Social Assistance, and Retail Trade. South Puget Sound Community College and Fosbre Academy of Hair Design are Olympia's two largest universities. 
Attractions In Olympia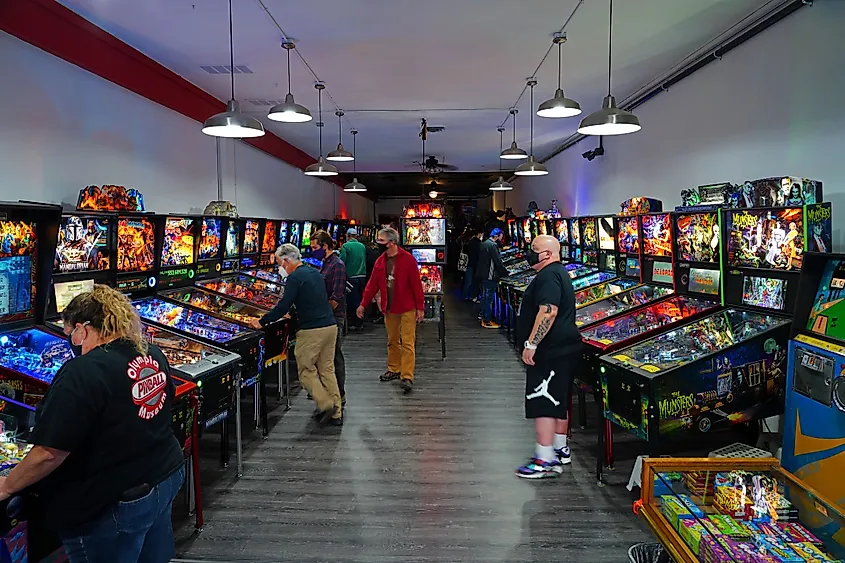 Olympia doesn't fall short when it comes to cultural enlightenment. There are several must-see attractions for families with young children. Some of these significant attractions include: the Hands on Children's Museum, the Olympia Pinball Museum (fun for both adults and kids), and the Puget Sound Estuarium. You don't have to travel far in Olympia, as in pretty much all of Washington State, to see some genuinely breathtaking natural beauty. Start by spending some time in the 4,529-acre Billy Frank Jr. Nisqually National Wildlife Refuge, which is located where the Nisqually River and Puget Sound converge. There are several things to see and do in this area, including winessing over 200 different bird species and a variety of hiking paths.