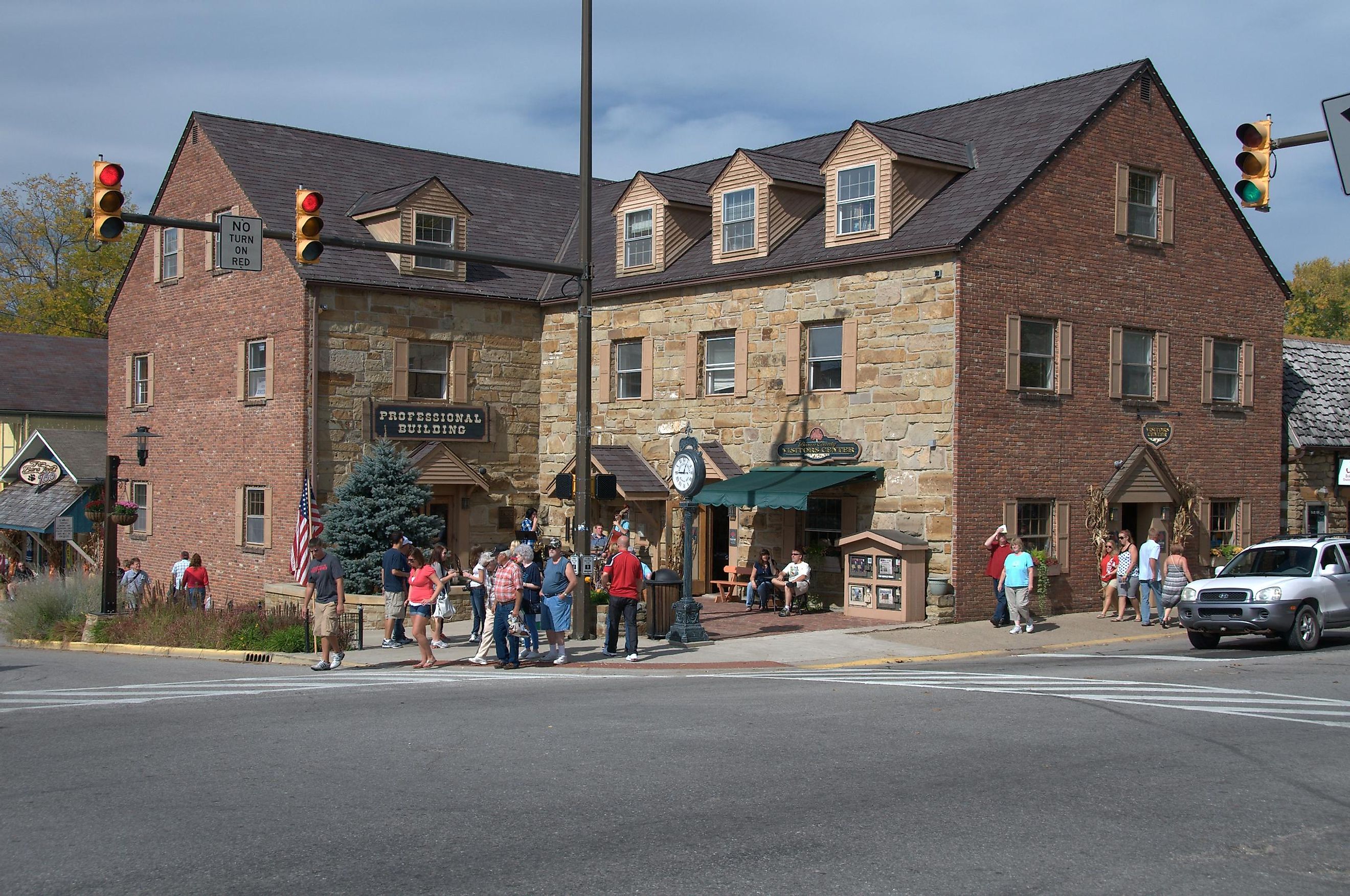 11 Gorgeous Indiana Towns To Visit In 2023
Indiana is quintessentially Midwestern. Apple pie, basketball, and automobiles are synonymous with the Hoosier State. Similar to Detroit, many of the Midwestern states were known as manufacturing powerhouses. There is so much more to the region in general and Indiana in particular than muscle cars, however. Those who wander from the beaten path into Indiana's small towns and villages will be more than pleasantly surprised at the warm hospitality on display. For a real treat and a real taste of what Indiana is all about, leave the major cities and venture into the small towns for a delightful excursion you will not forget.
Patriot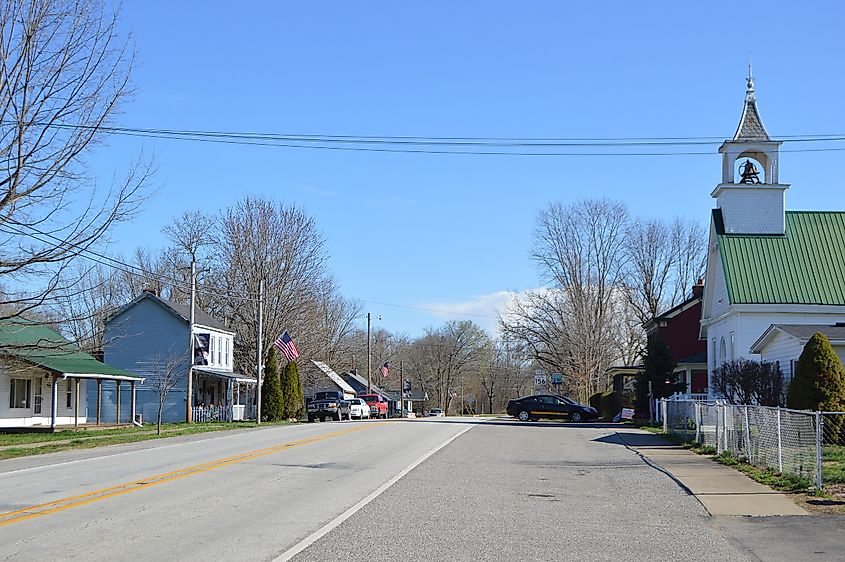 The website Family Destinations Guide surveyed 3,000 American families to determine the 150 best small towns to visit and rounding out that list was Patriot. Established in 1820, the town was known for its lawlessness and its multiple salons. Patriot today is idyllic, small-town Americana at its finest, however, and is the perfect place to get away from big city hustle and bustle. Patriotism is always on display in town as expected, and you can visit Patriot Memorial Park has a 300-pound piece from one of the Twin Towers in memoriam. The Ohio River is excellent for kayaking while the Patriot Boat Ramp is a fine camping spot. 
Madison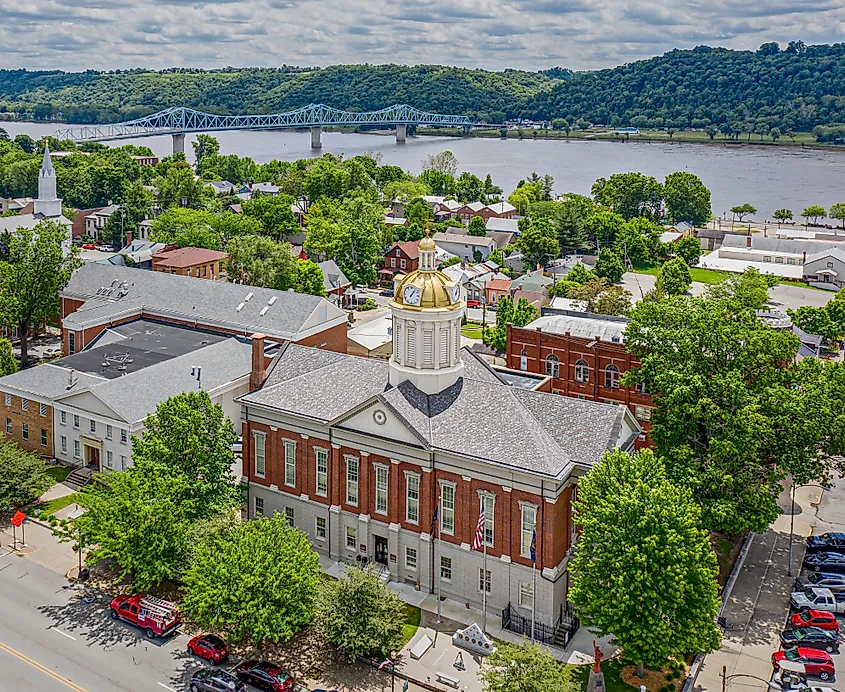 The town of Madison is home to one of the largest National Historic Landmark Districts in the nation. Madison was a runner-up in The Travel's Best Main Street survey and USA Today readers voted it as having one of the country's best small-town food scenes. The Historic Broadway Hotel & Tavern is a local favorite, while Shipley's Tavern has some of the best beers in town.
 Madison's streets are bookended with shady trees which make it walkable. This charming town sits along the Ohio River Scenic Byway and features historical sites like the Shrewsbury-Windle House and the Lanier Mansion State Historic Site. Built-in 1844, the Lanier Mansion is one of the best places to visit in the brightly-colored Historic District. 
Angola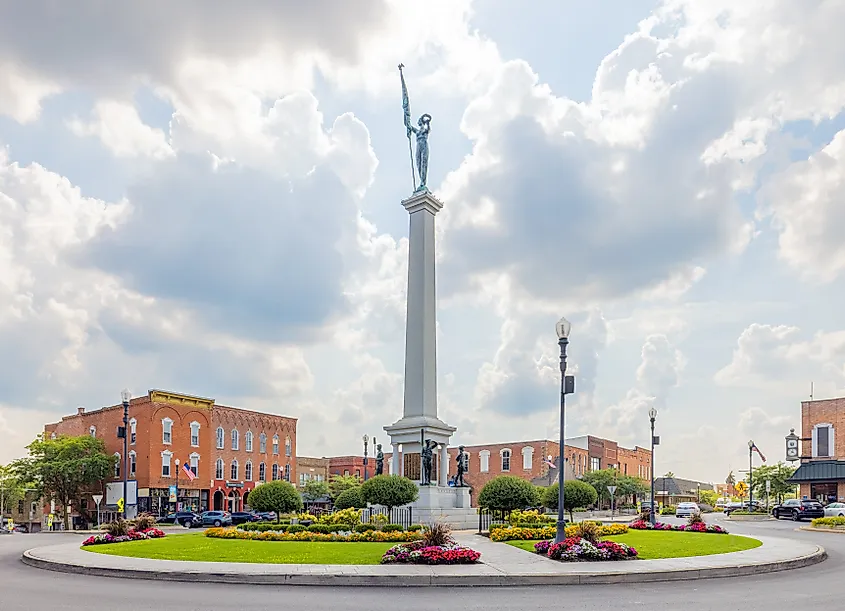 USA Today called Angola one of America's Best Historic Small Towns in 2019 due to its many well-preserved buildings. The town's manicured downtown core and historic nature make Angola a desirable destination. Watching a movie at Brokaw Movie House is as enjoyable in equal parts for the Art Deco-style architecture as it is for the blockbusters projected on the two silver screens inside. 
History buffs will be interested in the Steuben County Courthouse and jail, while The Monument is a colossal obelisk erected in tribute to those lost during the Civil War. As far as natural attractions, the nearby Pokagon State Park is popular all year for the fishing, cross-country skiing, and toboggan opportunities it provides. 
Corydon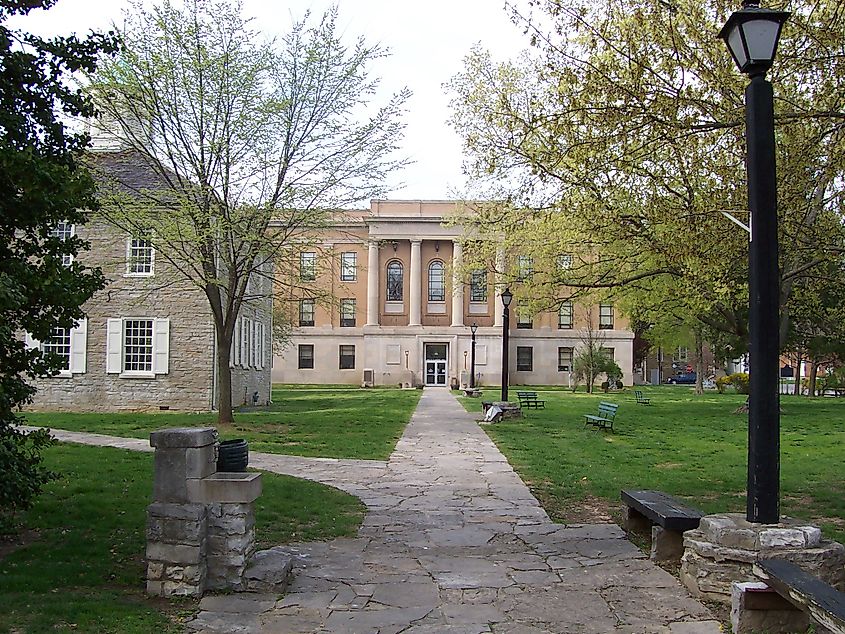 This Indiana town was the former state capital until 1825, contributing to the rich history that visitors continue to enjoy today. For instance, Corydon was the site of the old Civil War battle fought on Indiana soil and the town has memorized this battle at Corydon Memorial Park. Visitors will also want to see The Capital State Historic Site where the lovingly maintained state capital building can be found. There are plenty of other reasons to visit Corydon besides its history such as the Hayswood Nature Reserve. Go hiking, zip lining, and biking at Haywood. Birders will want to stop by Harrison Crawford State Forest which is home to 135 species of birds.
Aurora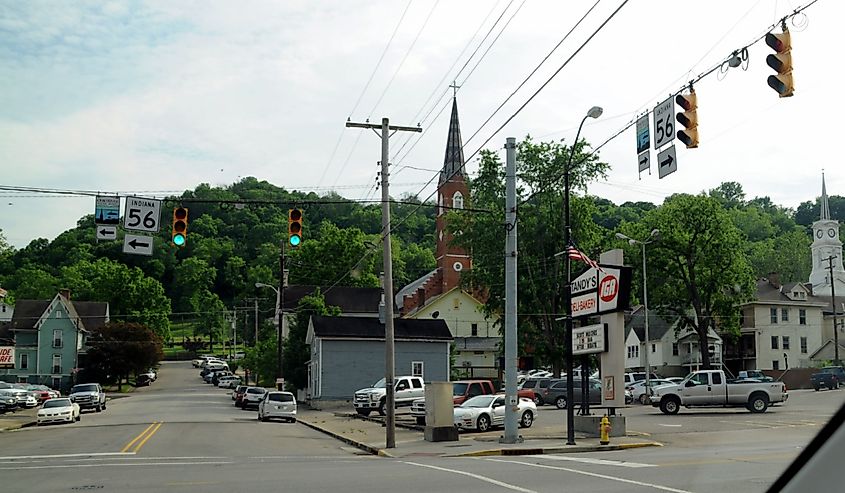 Found up the Ohio River from Madison, Aurora is a town of lush riverbanks, centuries-old architecture, and delicious barbecue. The brewery scene is burgeoning in Aurora with establishments like Great Crescent Brewery, Proof 124 Table, and Tavern as standouts. Aurora's main street is charming and worth seeing. Nineteenth-century structures and spires throughout Aurora give the town an authentic, old-world feel such as the Hillforest mansion was built in 1855 in the Italian Renaissance style. Lesko Park and bike path features a walking trail that runs parallel to the Ohio River. It is the perfect place for an afternoon picnic.
Nashville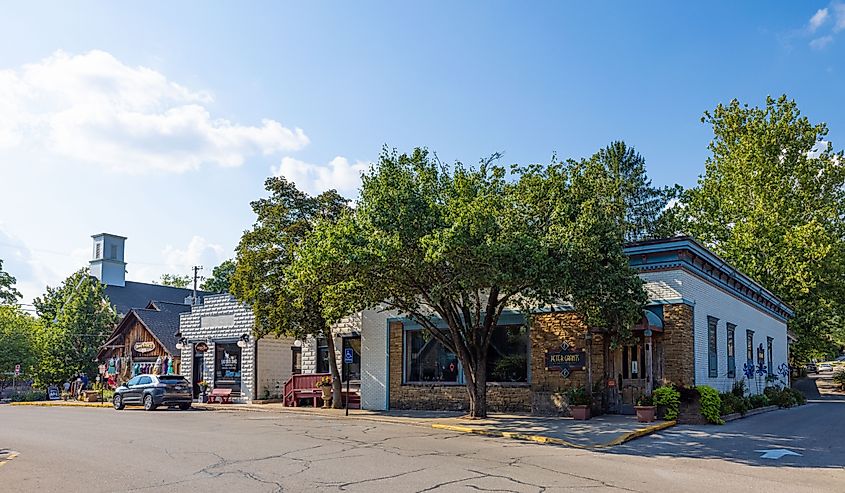 Indiana's Nashville may not be a country music Mecca, but the town has respectable artistic bonafides of its own. The Brown County Art Colony was founded as a refuge for artists in 1908 and its members founded the Brown County Art Gallery. The gallery is a 15,000-square-foot space dedicated to artistic achievement called home by about 60 active artists today. Visitors to the gallery will find both the work of these resident artists on display. 
Nashville's art scene is incredibly diverse and you are highly encouraged to spend an evening at the Brown Country Playhouse or to catch a live music show at Brown County Music Center. Looking to unwind? What better way than with a wine tasting? Brown County Winery has walk-in tasting rooms in downtown Nashville, while nature lovers may want to visit the extensive Brown County State Park. The park is nearly 16,000 acres of rugged hills and ravines perfect for a scenic retreat from urban sprawl.
Shipshewana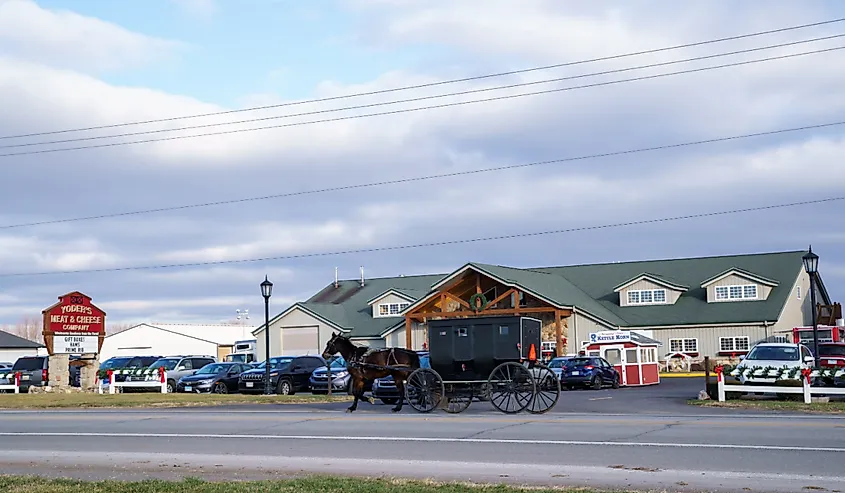 Found in the heart of Amish country, Shipshewana is a lovely northern Indiana town known for its close-knit communities and its simple way of life. Visitors to Shipshewana will often hear the clop of horse hooves as they draw buggies around town. If you enjoy baked goods, the Blue Gate Restaurant has some of the most scintillating cinnamon buns and bread around. No mass-produced food here.
 Everything in Shipshewana is farm-to-table delicious. 
Visitors interested in Amish and Mennonite culture would do well to visit the Menno-Hof museum which features multi-media presentations and a 24-stop tour reaching back to the Anabaptist movement of the 16th century. You can travel by foot or by car, but why not hop aboard a horse-drawn buggy? There is no better way to take in the local scenery than in this wonderfully retro mode of transport.
Danville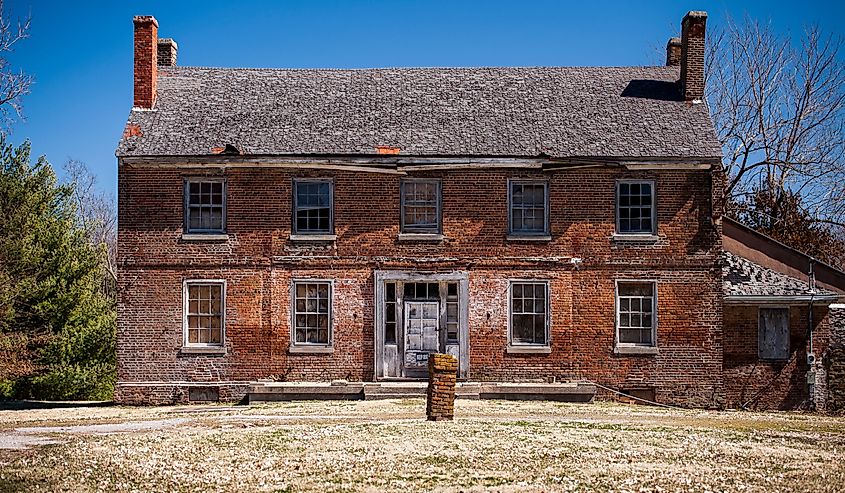 The town of Danville is one of the best places to live in Indiana. Found 20 minutes from Indianapolis, the town is a popular weekend getaway for big-city residents in search of some peace. One of the most notable spots in town is the Mayberry Cafe. Here, Andy Griffith plays on a loop and the food is delicious. Equally well-known is the Royal Theater. This iconic 1920s building shows both premiere movies as well as the classics. 
With matinee prices as low as $4, spending an afternoon at the Royal Theater is hard to beat. Danville comes alive both during its Mayberry in the Midwest festival and during Christmas. In the winter months, visitors flock to see the town square where everything from the courthouse to the restaurants are strewn with bright and cheerful lights.
Jeffersonville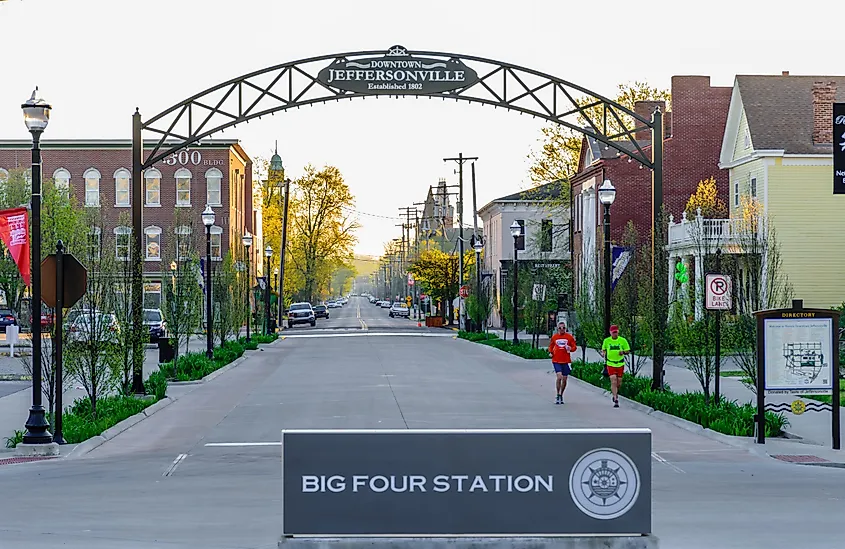 The town of Jeffersonville is full of small-town whimsy and charm that visitors are sure to love. Tourists and locals alike rave about this town which serves as a look back into simpler times. What better way to reminisce about the days of sock hops and soda parlors than with a visit to Schimpff's Confectionary? The store has been around since 1891 and it is easy to see why. Featuring a candy museum and public tours, Schimpff's is a genuine piece of Americana. Be sure to try a chocolate soda from the 1950s-era soda fountain!
For a more substantive meal, The Red Yeti is a standout. Burgers, shrimp and grits, and brisket are all on the menu here and are best paired with a crisp craft beer. The Big Four Bridge spans one mile and links Jeffersonville and Louisville, Kentucky. The bridge lights up after dark and is as much fun to look at as it is to walk. With Louisville and its amenities so close, there is no shortage of things to do in Jeffersonville.
Williamsport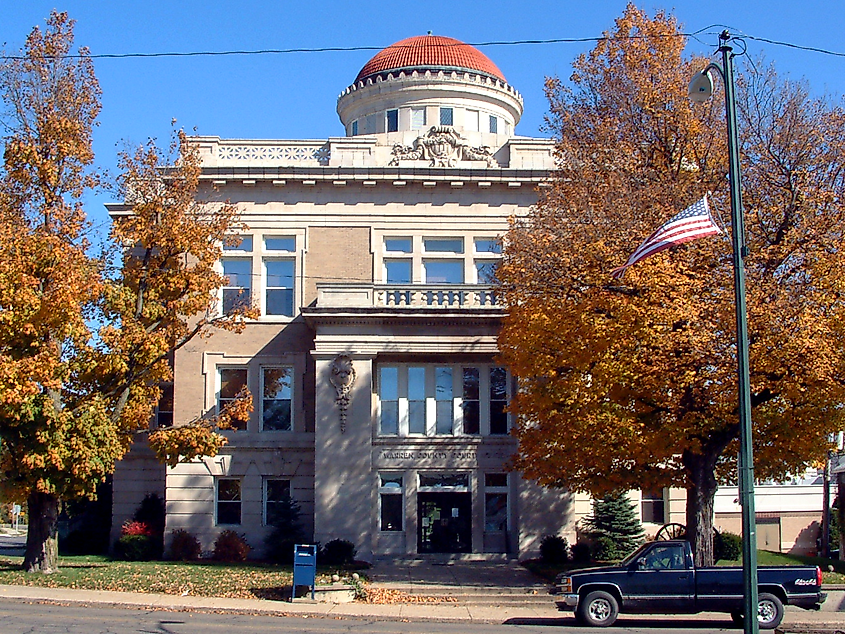 The natural beauty of Williamsport is its greatest strength, but certainly not its only one. With its historic old town and the stately Warren County Townhouse looming overhead, Williamsport is a veritable treat to explore. The mom-and-pop stores throughout the town are certainly worth peeking into on your way to restaurants looking out over the winding Wabash River. For some mouth-watering barbecue, it is hard to beat ACME BBQ four blocks up from the riverwalk.
Williamsport Falls is the tallest waterfall in the state. Best of all, it is only a few minutes walk from the center of Williamsport. The falls cast water down in sheets from a limestone bluff nearly 100 feet in the air. The forest surrounding the falls is gorgeous and the water runs off into a swimming pool below. Looking to burn off that second plate of ribs? Hike the Williamsport Falls Loop Hike. Even when the falls are dry, the birds and flora in the area make this one of the town's best attractions.
Paoli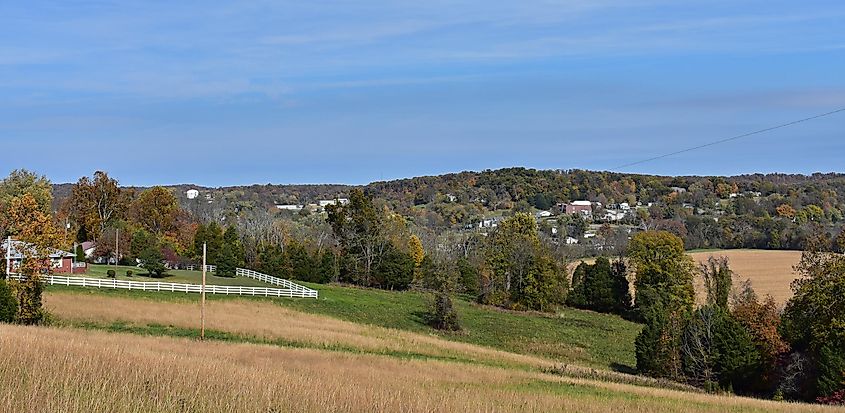 This Indiana town is an outdoor enthusiasts' paradise, featuring premier skiing, winding trails, and all the riverfront you could dream of. Paoli is home to under 4,000 full-time residents but that number does little justice to the per-capita fun to be had here. Paoli Peaks is where those in the know head for some of the best skiing in the state. Seriously. During the warmer months, however, Hoosier National Forest has enough variety to keep most athletes and explorers occupied. The park includes miles of winding hiking trails and plenty of opportunities to jump into the Ohio River.
The town was established in the early 1800s by Quakers searching for territory free of slavery, a practice they opposed. Traveling with the Quakers were more than a few former slaves who had won their freedom. As a result, the plots of land occupied by the freed slaves became a stop on the Underground Railroad. A small cemetery remains today, but there are plenty of other historical sites to visit like The Lindley House. The Thomas Elwood Lindley House was built in 1812 and was listed on the National Register of Historic Homes in 1985.
Indiana is replete with noteworthy sites and breathtaking scenery. Travel the majestic Ohio River and see the best the Hoosier State has to offer. From the state's former capital to its mountain peaks and waterfalls, Indiana may just surprise you with the fun it has in store. We cannot list every noteworthy small town in the state, but we feel these are a great first step to experiencing Indiana.