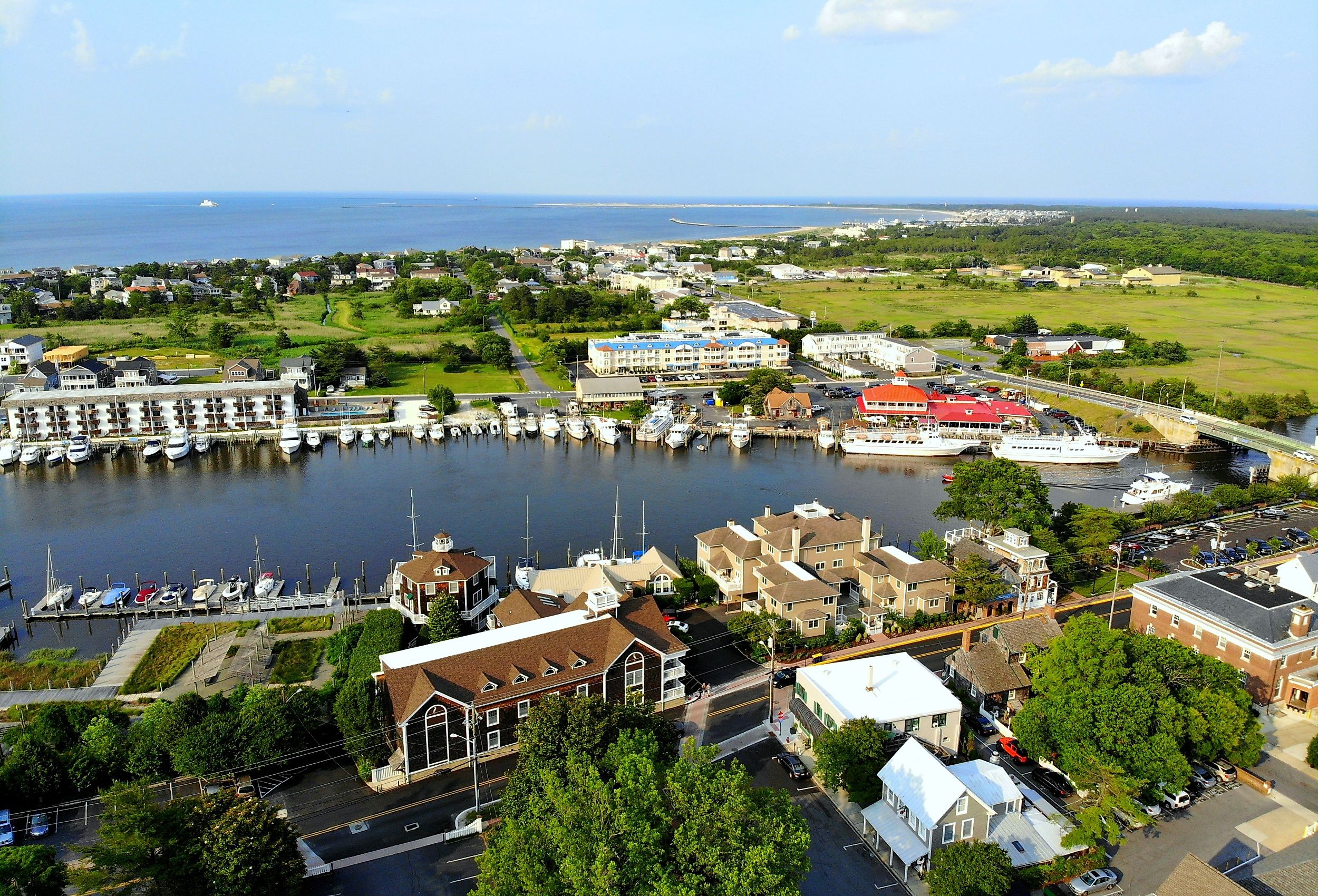 These Small Towns In Delaware Were Ranked Among US Favorites
From the stunning Atlantic coast to the lively city of Dover, Delaware is a stunning state in the Mid-Atlantic United States. Home to a combination of beautiful sights, culture, and history, the state is a favorite amongst tourists from all over the country. Throughout the state, one can find a range of amazing small towns ranked among America's favorites. Whether it is good food, beachside relaxation, or even vibrant wildlife, these small towns offer an endless range of fun rarely found elsewhere!
Rehoboth Beach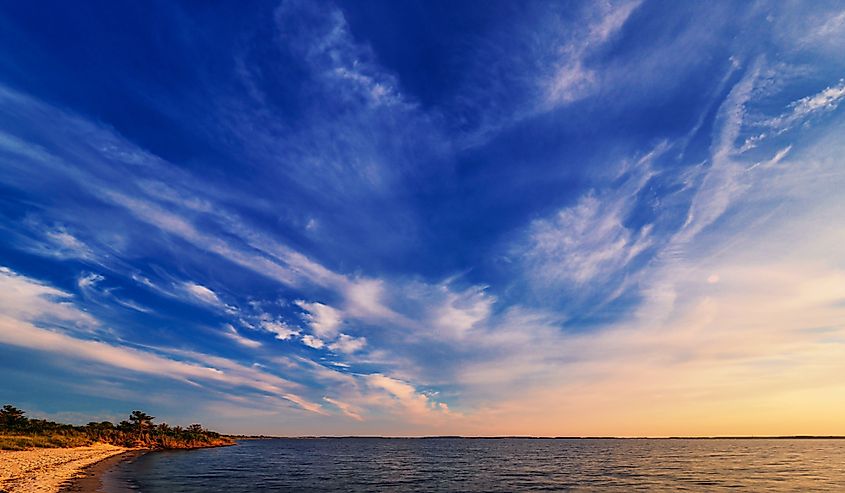 Rehoboth Beach is a waterside town in Sussex County and the perfect way to get into Delaware's coastal beauty. The town boasts a stunning beach and boardwalk which are jam-packed throughout the year. Set up a towel and umbrella to adore white sand, crashing waves, and fresh air. The beach is usually clean with a friendly atmosphere making it perfect for a family outing. After spending a few hours on the beach, indulge in some entertainment on the town's famous boardwalk. From entertainment to amazing food at spots such as Victoria's Restaurant, there is no end to the waterside fun at Rehoboth Beach.
While the coast is more than enough to justify why Rehoboth Beach is one of America's favorite small towns, there is much more to enjoy. Head into town and the quaint population of 1,100 is full of friendly faces and open arms. Here, visitors can opt to visit Funland or Jungle Jim's, two lively amusement parks with dozens of rides. So, whether it is a relaxing splash pool or a haunted mansion, there are plenty of activities for everyone. After all the fun, stop by Tanger Outlets to grab some luxury souvenirs at affordable prices!
Lewes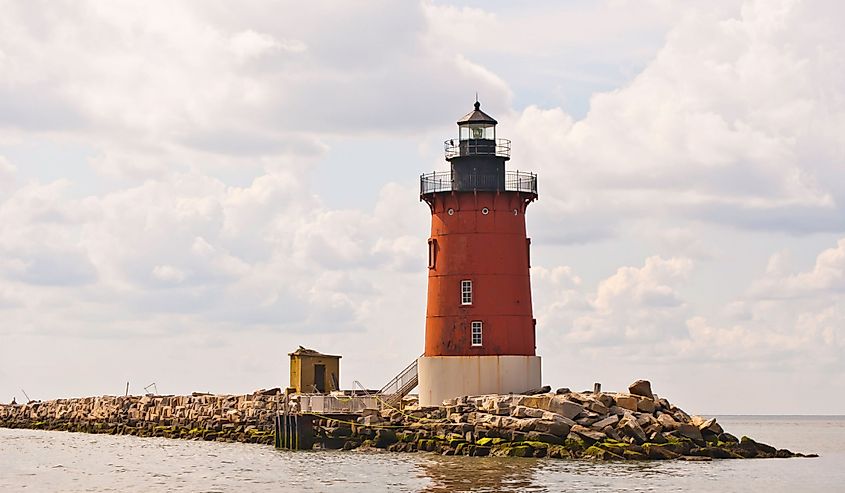 Continuing the waterside charm from Rehoboth Beach, Lewes is another small town in Sussex County. Filled with historical significance, Lewes offers a unique take on the waterside charm that takes visitors seemingly back in time. For example, Cannonball House and Zwaanendael Museum are two of the most popular spots. The 1700s Cannonball House is named after the bombardment of the town in 1812. To this end, one can find interesting memorabilia and stories throughout the establishment. Similarly, the Zwaanendael Museum honors Delaware's first European settlement with unique items such as a famous statue of the exhibition's leader.
Come back into the present and you can head out to explore Lewes's natural attractions. Most outdoor enthusiasts will appreciate the expansive Cape Henlopen State Park which is located nearby. Featuring a ton of open space, activities such as swimming, fishing, surfing, and biking are popular for a fun day under the sun. If you're more of a water lover, head out to sea on one of the many boat tours that take place here. Pirates of Lewes is a fan favorite offering regular trips with trained guides so you can take in the sights while being completely safe. With its unique combination of attractions, Lewes is a great choice for a vacation.
Bethany Beach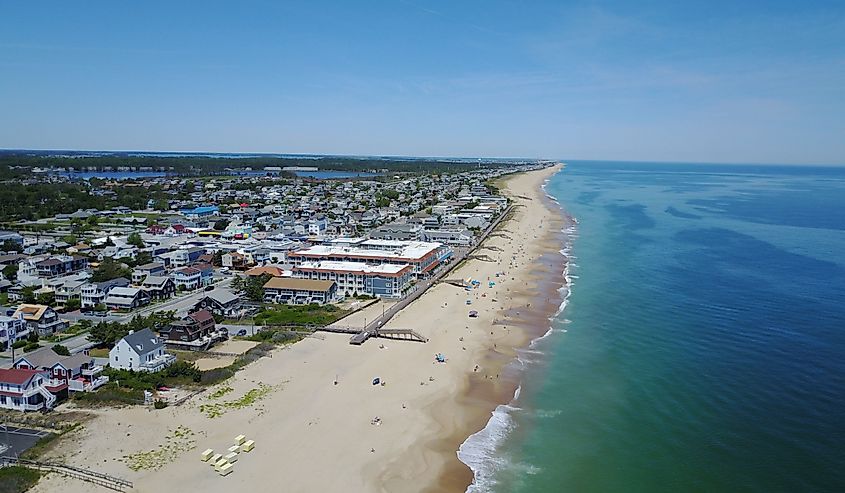 Straight back to the coast with Bethany Beach and there's no doubt that this is one of the best towns to visit in Delaware. Aptly named for its stunning beach, the town gets thousands of visitors each year for its beautiful ambiance and activities. Thanks to this, there are many ways to enjoy the ocean, whether this is on the boardwalk, sand, or in the water. For example, you can dive into the deep end with a kayak tour along the nearby Fenwick Island to witness tranquil waters for miles on end. Or, stay dry with a scenic walk along the Bethany Beach Boardwalk which is lined with food stalls and shops. These include delicious destinations such as Grotto Pizza and Mango's where you can get tasty pizza and drinks respectively.
If planning on visiting this tourist hotspot for an extended trip, you may want to venture into town to witness the lively streets throughout. Meet one of the 1,000 residents who can be found enjoying their time at quirky establishments such as Bethany Beach Books and the Thunder Lagoon Waterpark. If you're short on time, hop on the Bethany Beach Trolley, a lovely bus that'll take you through all of the town's sights. So, if you want to de-stress and enjoy a fun time in Delaware, Bethany Beach is a great option.
Smyrna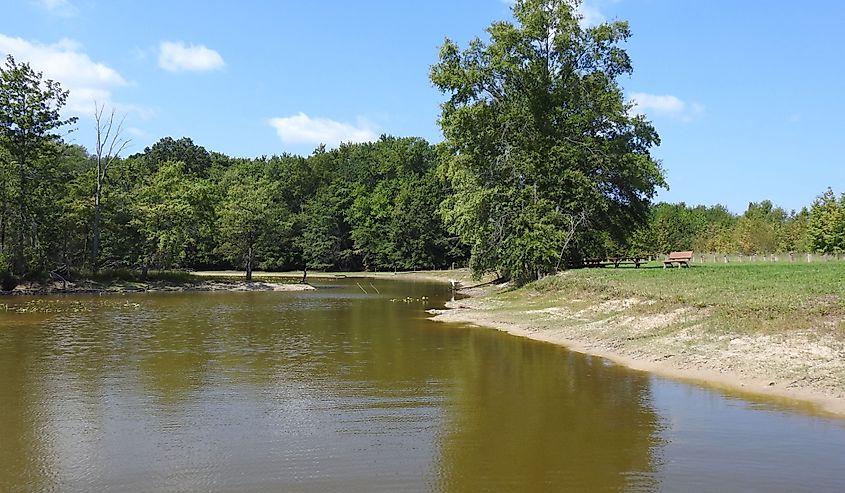 Smyrna is any history lover's dream location as visitors can delve into Delaware's colorful history and culture. Home to 13,000 people, the town has a longstanding past spanning more than 200 years. Originally named "Duck Creek Cross Roads," historic hotspots such as Smyrna Museum, Smyrna Opera House, and Marian Coffin Gardens are a great way to learn about the past. Smyrna Museum, for example, was built in the 1700s and exhibits unique artifacts from the early Federal to late Victorian periods. Similarly, a trip to the Smyrna Opera House is sure to be a blast as you'll be engulfed by rustic architecture and an antique vibe. Plan your visit and you can watch one of the events taking place here such as concerts, shows, and workshops. If these sights aren't enough to quench your inquisitive thirst, stroll down to the historic downtown area where you'll find more than 500 historic buildings.
Parallel to the interesting past, there is also a range of pursuits available for the average tourist. Fancy a bite? Order a delicious meatloaf at the Brick Works Brewing & Eats. Or, relish some authentic Irish drinks at Sheridan's Irish Pub, which is always bustling with people. As the day comes to an end, one can retreat to one of the many hotels and motels in Smyrna which offer solace from the chilling autumn winds.
Hockessin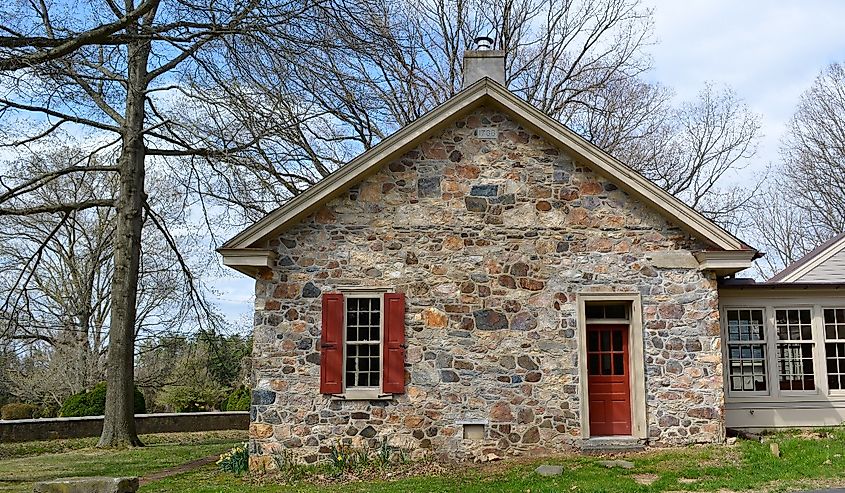 Hockessin is the perfect place in Delaware to continue your trip to America's favorite small towns. Home to a slightly larger population of 15,000, there is no end to the interesting conversations you can have. If you want to have a relaxing time surrounded by nature, head over to one of Hockessin's many natural parks. Tourists flock to Brandywine Creek State Park thanks to its 2,000-acre area filled with verdant forests, clear waters, and rich wildlife. Continue the outdoor vibes with a relaxing walk through Swift Memorial Park, a quaint park filled with families out for a fun evening. So, you can set up a picnic, play some sports, and enjoy a happy day out in Delaware.
While these parks in Hockessin are wonderful, have you ever heard of a park without greenery? If not, Delaware Park might be the place for you. This casino and race park is full of entertainment from gambling on slots to gambling on races. One can enjoy hours of roulette, golf on the 18-hole course, or attend one of the regular events. All the while, the park has great food and rooms so you can explore a world of luxury and joy in Hockessin. On the flip side, if you're here with family, cultural attractions such as the Marshall Steam Museum and Grand Opera House might be more to your liking. Essentially, no matter what visitors are into, there is something for everyone to enjoy in this iconic Delaware town.
Milford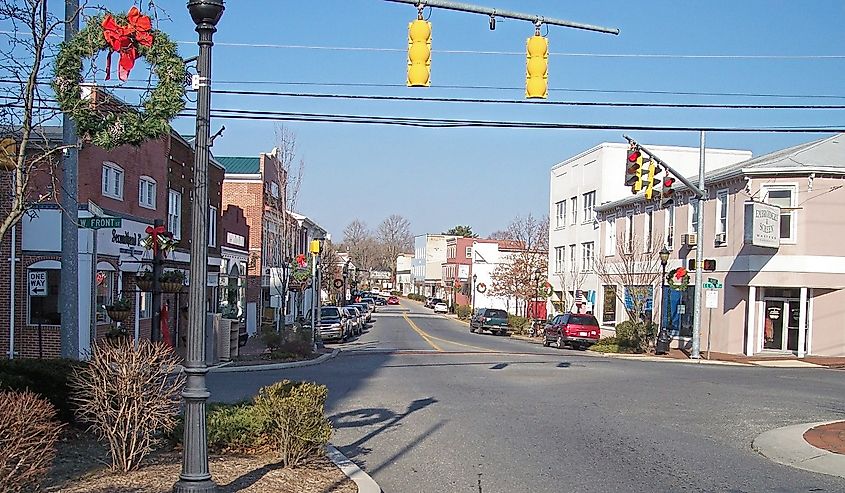 Speaking of iconic, few towns in Delaware have as much on offer as Milford. Home to 11,200 people, this town is bustling with life which is palpable everywhere you go. The best place to take in the aura is at the Mispillion Riverwalk, a magnificent area combining rural and urban vibes. Here, you can jog through scenic trails lined with small shops and stores in downtown Milford. So, feeling tired after a run? Stop by Arena's Milford for a delicious drink to recharge your batteries. As you relish your drink, the nearby autumn leaves provide a one-of-a-kind environment perfect for one of America's favorite towns.
Nature aside, Milford is also a town deep-rooted in culture. This is prevalent through the endless events, fests, and cultural attractions you'll find here. For a lively experience, match your dates to the Bug & Bed Festival which commemorates the state's official bug, the ladybug. This event is loaded with food, drink, games, and people for a load of fun all day! On the other hand, the Milford Community Parade is another get-together that takes a patriotic approach to fun. With people coming together for a grand parade, you can watch the show with your friends and family. Stop by the Milford Museum before you leave, and you have a perfect trip to a Delaware small town.
Dewey Beach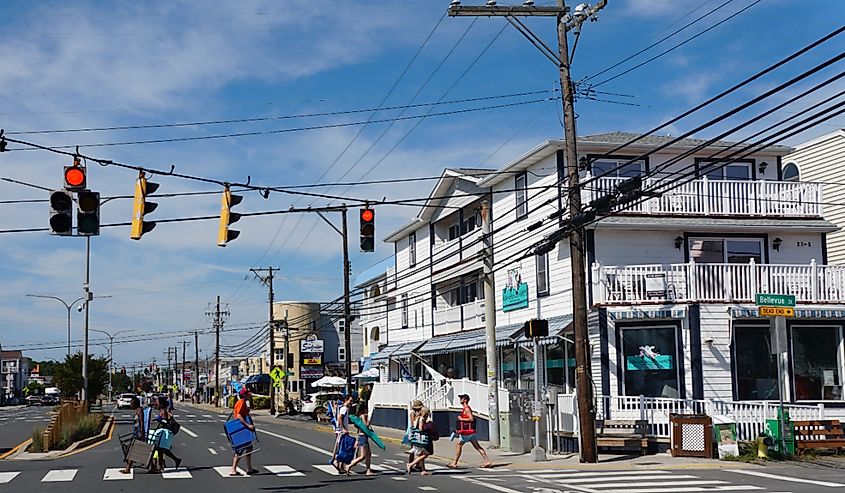 A short drive away from Milford, Dewey Beach is an entertainment hub in Sussex County. Boasting a lovely shoreline, great nightlife, and endless activities, there's no doubt it is one of America's top-ranked small towns. Start your trip at the happening waterside where you can relax in white sand coveted by turquoise waves at regular intervals. Feeling a bit more active? Well then head out to the rental areas to get a jet ski, kayak, or boat to enjoy the waters firsthand. Or, hop on a Sand Dollar Cruise which boasts amazing group boats where you can enjoy food, drinks, and gorgeous aquatic scenery.
As evening sets, most towns die down but Dewey Beach is the exact opposite. The whole town comes to life from pubs with delicious drinks to clubs with live music. Some of the best spots loved by the locals are Woody's, Bottle & Cork, and The Starboard. Here, you can have a fun night out before retreating to your hotel or motel along the ocean.
Milton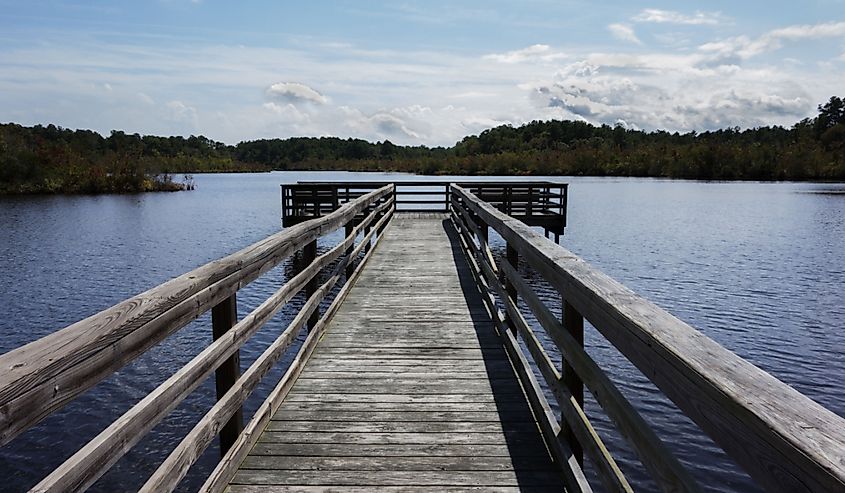 For folks who do not plan on partying through the night, Milton is a lovely town that offers serene and peaceful surroundings. The town is another one of Sussex County's gems housing a tight-knit community of 2,600 people. To this end, everyone knows everyone and there is a homely vibe from the moment you enter. That said, apart from the human residents, Milton is also a great place for other species thanks to the nearby Prime Hook National Wildlife Refuge. Animal lovers rejoice as this 10,000-acre refuge features nearly 400 animals including horseshoe crabs, the state marine animal. Parallel to the fauna, one can appreciate alluring flora at Milton's Lavender Fields Farm. Coveted by endless fields of purple lavender flowers, it is a treasure trove of mother nature's appeal.
While there are plenty of natural places to take in some fresh air, Milton is also known for having great drinking spots. Dogfish Head Brewery is one of the most famous attracting visitors from all over the state. With some of the finest brewed beer such as their Citrus Squall, you'll never want to leave. Compliment the drinks with some delicious seafood from Po'Boys Creole & Fresh Catch for the perfect end to your day. With so much to see and do, Milton is sure to be one of your favorite small towns in Delaware.
Odessa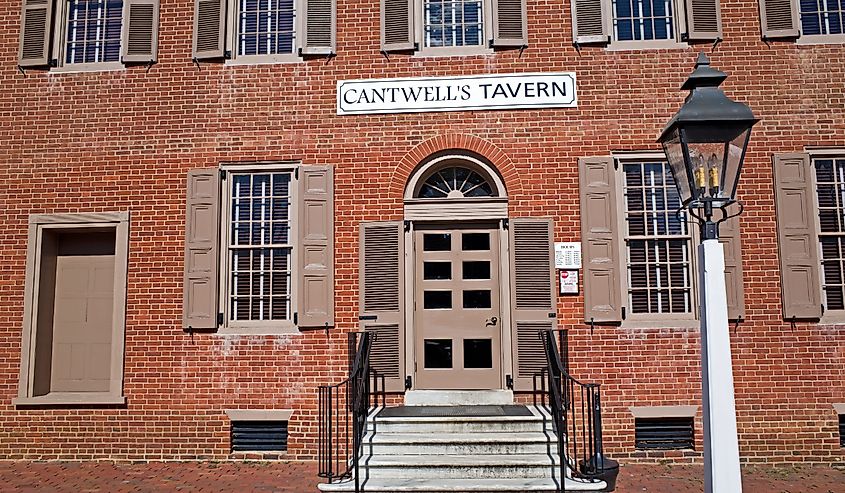 After Milton, end your trip to Delaware's best small towns in the quaint reprieve of Odessa. Just an hour's drive away, this town is an escape from urban hustle and bustle with a population of less than 400 people. Sit back and relax, enjoy a stroll through town, or make new friends. While the population may not be booming, Odessa has immense culture and history. A short walk to the nearby Historic Odessa Foundation, you can indulge in unique stories from the town's 300-year past. Moreover, sites like the Appoquinimunk Friends Meeting House provide further knowledge making it perfect for history enthusiasts. So, Odessa is the place to be if you are looking for relaxation and tranquility!
Conclusion
These small towns in Delaware provide everything from captivating natural beauty to delicious food and drink. Whether this is at the bustling boardwalk of Rehoboth Beach or the historic streets of Odessa, there is something for every tourist's taste. Moreover, with cheaper lodging, less traffic, and a calm environment, these small towns rank among America's favorites. So, what are you waiting for? Book your trip to Delaware today!