Dewey Bay is situated on a narrow strip of land less than two blocks wide, wedged between the Atlantic Ocean and Rehoboth Bay. The beach is only a short walk away, no matter where you live in this small Delaware community of fewer than 500 people. Dewey Beach is famous for its nightlife and public activities such as live music and festivals. After a seafood supper at one of the town's restaurants, one can spend the evening bouncing between nightclubs and pubs. Throughout the summer, Dewey Beach conducts various activities, including outdoor movies and community bonfires. This small town hosts the Dewey Beach Music Conference, which draws in-demand musicians to the region for a weekend of performances. In 2011, the Delaware Beaches scored first in water quality among the 30 states having a coastline.
Geography Of Dewey Beach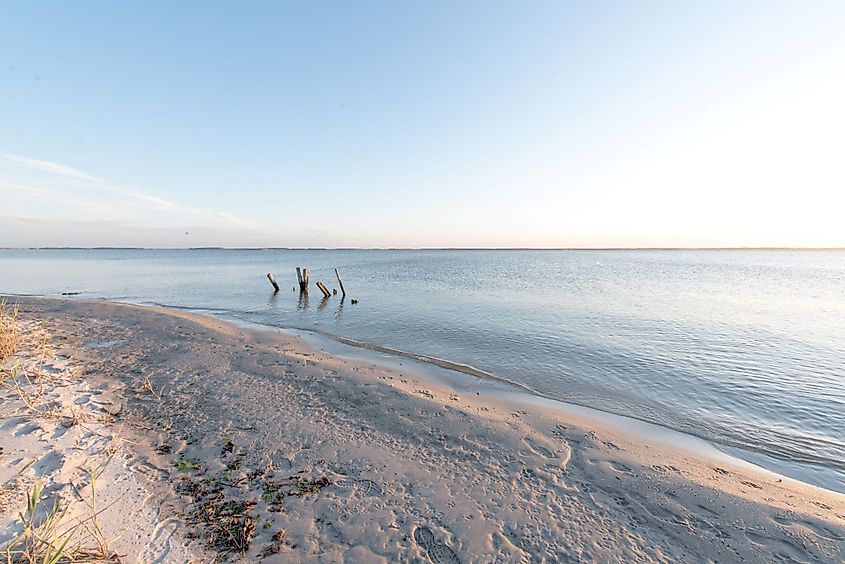 Dewey Beach is a coastal town situated in the southeastern part of the US state of Delaware and belongs to Sussex County. It is located directly south of Rehoboth Beach and along Rehoboth Bay. Dewey Beach forms a part of the "Salisbury, Maryland-Delaware Combined Statistical Area." Dewey Beach is located approximately 40.23 miles southeast of Dover, the state's capital. The town covers a total area of 0.78 sq. km, all of which is occupied by land. 
According to the Köppen Climate Classification, Dewey Beach experiences a humid subtropical climate that is characterized by hot, humid summers and cold to mild winters with evenly distributed precipitation throughout the year. The average annual temperature is 13°C, with August and January recording the highest (31°C) and lowest (-3°C) average temperatures, respectively. 
Brief History Of Dewey Beach
Dewey Beach's story began in 1631 when the Dutch established Lewes. Farmers cultivated the ground south of Lewes that is now known as Rehoboth and Dewey Beach from 1670 to 1730. However, the concept for the Dewey did not emerge until around 1885, when Clementine and Robert West purchased 135 acres of property from a gentleman named John Roades. That strip of land, now known as Dewey Beach, stretches from Lake Comegys and Silver Lake in the north to the bay in the south. Its southern boundary is now Dagsworthy Street. While the town's classic grid form design was established, only a small number of parcels were constructed. Subsequent developers who created the Rehoboth by the Sea Realty Company in Georgetown in 1925 appear to have been responsible for making what is now the northern half of Dewey Beach, though it was known as Rehoboth By The Sea at the time. The state commissioned Morgan T. Gum, a land surveyor, in 1915 to develop a subdivision plan for what is now the southern half of Dewey Beach, from Dagsworthy Street to Collins Street. Gum also created a rudimentary grid system layout as a continuation of the northern section established in 1855. The initial plan of Dewey Beach was produced by the continuity of the physical pattern of growth; however, the term Dewey Beach was probably not in use in 1885. Dewey was a tranquil town with farmland to the northwest and vacant marshes and beaches to the south until the end of World War II. The term Dewey Beach appears to have been initially used in a book authored by Robert Robinson in 1879. Robinson said the town was named after Admiral George Dewey, hero of the Battle of Manila Bay during the Spanish-American War. Other theories concerning the name's origins remain to this day. In 1944, the "Storm of the Century" caused millions of dollars of losses to the coastal towns in Delaware. Following the hurricane, the town received water and sanitary sewage systems, which was a significant upgrade that attracted a larger number of residents. From 1950 to 1960, the town enjoyed modest growth as these facilities were expanded to encompass Dewey. By the mid-1970s, developers were highly interested, and Dewey was incorporated in 1981. 
The Population And Economy Of Dewey Beach
As per the latest US Census, Dewey Beach has a population of 353 residents. The racial makeup of the town is 97.06% white (Hispanic/Latino and non-Hispanic/Latino) and 2.94% two or more mixed races. English is spoken by 95.7% of the population. The rest speak Spanish (1.4%), Indo-European languages (2.3%), and other languages (0.7%). Only 40% of the population in Dewey Beach are naturalized US citizens, while veterans make up 6.6% of Dewey Beach's population. As per the same 2020 Census, 37.1% of the population are employed, with a poverty rate of 8.4%. The homeownership rate in Dewey Beach is 90.6%, where the median gross rent cost is $1,375 per month.
Attractions And Activities In Dewey Beach
Dewey Beach Parasail
One will get the best coastal view with this one-of-a-kind experience. Anyone from the age of six to 96 can fly. No prior experience is required.
Delmarva Board Sport Adventures
In Dewey Beach, the watersports concession sits directly on the sea. They provide Paddle Boarding, kayaking, and Windsurfing classes, rentals, and tax-free sales around southern Delaware. They are well-known for their friendliness and excellent certification levels.
Sand Dollar Cruises
The Sand Dollar provides a variety of scenic tours around Rehoboth Bay. One may go on a sunset cruise by oneself, or one can hire the entire yacht for one's loved ones for any special occasion. Sand Dollar Cruises also brings to the waters of Rehoboth Bay an interesting new concept: Delaware's first Cycleboat. It is a bike, a boat, a bar, and a lot of fun! 
Coastal Highway
A brewery, a hot dog stand, pubs, and restaurants providing seafood, pizza, and Mexican food can be found on the town's main street. A grocery shop and convenience store are also located on the highway for all of one's beach day necessities.
Dewey Beach is well-known for attracting the most active visitors to Delaware beaches. Water sports, from jet skiing to kayaking, are popular throughout the day. And as the sun sets, the nightclubs and bayside restaurants come alive. Dewey Beach is unquestionably the destination of choice for a relaxing holiday.