Smyrna is a small community in the south-central portion of the US State of Delaware situated to the south of Wilmington. With its proximity to the Delaware Bay and the Atlantic Ocean, Smyrna has activities to correspond with all seasons. It was named after a European port city found in Turkey of the same name. Smyrna was once a large shipping center in Delaware's early history. As of today, Smyrna is sought by visitors for its small-town feel, with many historic Georgian buildings and outdoor recreational areas such as Blackbird State Forest and Lake Como. 
Geography And Climate Of Smyrna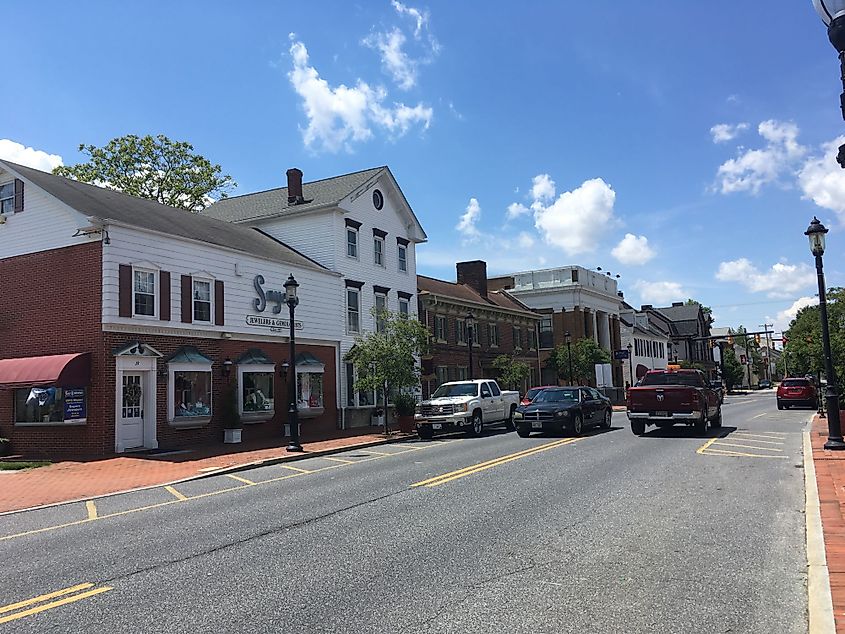 The town is a part of Kent County and New Castle Counties and is found west of Duck Creek on the western banks of the Delaware River. Smyrna thus covers a total area of 9.8 sq. km, of which 9.6 sq. km is occupied by land and 0.26 sq. km is covered by water. Other nearby Delaware cities include the state capital Wilmington which is 31 miles north; Dover, which is 11 miles south; and Newark, which is 28 miles northeast of Smyrna.
According to the Köppen Climate Classification, Smyrna experiences a humid subtropical climate. Due to its proximity to the Atlantic Ocean, Smyrna has cold, snowy, and windy winters and warm summers. The average temperature is 57.75 °F, ranging from an average low of 47.3 °F in January to an average high of 66.2 °F  in July. Over a year, Smyrna collects precipitation over 112.9 days from rain and snow. Rainfall totals to 46.1 inches, with May being the rainiest month. The town receives about 16 inches of snowfall from October to April. 
History Of Smyrna
In 1792, Smyrna was formerly known as the Duck Creek Cross Roads and briefly served as the State Capital of Delaware. This was due to nearby Duck Creek, which served as a shipping center and used the Delaware Bay as a significant shipping waterway serving Delaware and New Jersey. However, in 1806, the name Smyrna was widely used when referencing this area and was long thought to be named after the port of Smyrna in Turkey. Moreover, commonly traded items included grain, produce, and timber, but demand for the shipping trade fizzled out by the 1850s. As such, agriculture became the dominant industry in its place. By 1832, Delaware's first railroad began construction and was effectively called the north-south line, connecting Sussex and Kent counties. Smyrna Station opened its doors in 1855 and was located in Clayton County. Two years later, in 1857, the railroad commenced full operations providing freight and transportation between Philadelphia, Wilmington, and Baltimore.
The Population And Economy Of Smyrna
 As per the latest US Census, Smyrna has a population of 12,883 residents, with a population density of 796.66 people per sq. km. The median household income is $83,635, and the gross monthly income is $1,183. About 11.08% of the population lives below the poverty line. The median age of a resident is 37.6 years, with males averaging an age of 31.8 and females at 41.4 years old. The cultural/racial breakdown is 61.66% identified as white, 33.07% were black, 4.53% represented two races, 0.69% were Asian, and 0.05% identified as American Indian or Alaskan Native.
The unemployment rate is 3.6%, whereas the US unemployment rate is 6.0%. The main industries that make up the economy of Smyrna are scientific and technician services at 13.0% overall, healthcare and social assistance at 10.8%, and retail trade at 10.7%. The highest paying jobs come from scientific and technical services with earnings of $83,517, finance and technical services at $56,292, and real estate at $53,795.
Attractions Around Smyrna
Blackbird State Forest
Blackbird State Forest is the northernmost state forest in Delaware. It is a dedicated green space that serves as a quiet location for outdoor recreation. Blackbird State Forest offers hiking, biking, birding, hunting, fishing, and horseback riding. The main feature of this state forest is a wheelchair-accessible interpretive Tybout Tract trail that is under a kilometer in the distance. Additionally, visitors can camp on-site, but the campsites are available on a first-come, first-served basis.
Lake Como
Lake Como offers some of the best beaches found in the state of Delaware. It has long been a summer destination among generations of families for outdoor and summer recreation activities. Infrastructures around the lake include a dedicated swim area with lifeguards, paddle boats, a playground, picnic areas, pavilions, and a boat launch with rentals available for a fee. Additionally, Lake Como is revered as a fishing spot that draws visitors for its black crappie, bluegill, brown bullhead, chain pickerel, pumpkin seed, largemouth bass, white perch, and yellow perch. As mentioned, there is a boat launch that also acts as put-in/out for those who want to kayak, canoe, or paddleboard on Lake Como.
Smyrna has all the services and amenities found in the larger cities of Delaware without compromising its quiet and small city charm that visitors enjoy. Located on the north-south line of Delaware's railroad that connected Smyrna to the capital of Wilmington, transportation has long been at the forefront of Smyrna's economy and history. Small glimmers of the past can be seen in the Georgian architecture of the historic homes and businesses of downtown and rivers such as Duck Creek that once spawned the name of this former shipping center. Overall, these advancements have blossomed the settlement of Duck Creek Cross Road into the city of Smyrna that many adore today.