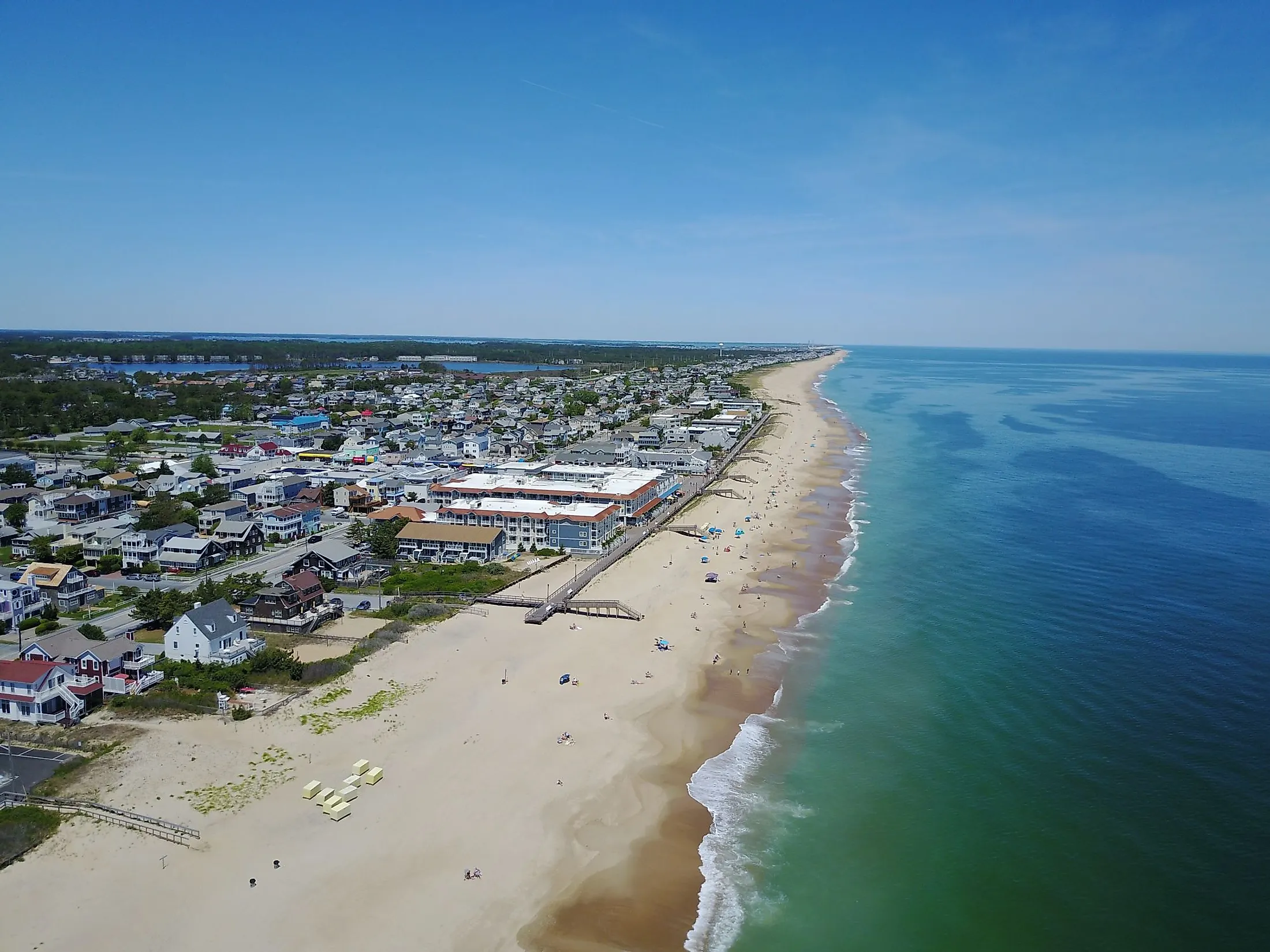 Also referred to as the "Quiet Resort," the town of Bethany Beach lies in the US State of Delaware, making up a series of beaches along the state's Atlantic coast. This coastal town sits along Delaware State Route 1, nestled between Ocean View and South Bethany. With a population of 954 people as per the latest US Census, Bethany Beach is a small Delaware town that attracts crowds of tourists in the summer due to its picturesque beaches, state parks, and historical landmarks.
Geography And Climate Of Bethany Beach
Bordered by South Bethany to the south, Ocean View to the west, and Delaware Seashore State Park to the north, Bethany Beach is located in Delaware's Sussex County. Bethany Beach covers a total area of 3.01 sq. km, of which 2.97 sq. km is occupied by land and 0.04 sq. km is covered by water. Originally established atop a natural sand dune, Bethany Beach today sits snug beside a manmade sand dune, which was built in 2007. This artificial dune was constructed to save the local beach, which can recede year-round, depending on changing weather or wave conditions. Delaware beach towns like Bethany Beach are often forced to "replenish" the beach with sand due to seasonal erosion, which causes the beach to recede from the coast.
According to the Köppen Climate Classification, Bethany Beach experiences a humid subtropical climate, experiencing warm, humid summers and cold, windy winters. Precipitation varies year-round in Bethany Beach, with its wettest season occuring between May to August. Though snowy periods in Bethany Beach occur between December to March, most of the town's precipitation is in the form of rainfall. Rainfall varies year-round at Bethany Beach, with most rain experienced in August at an average rainfall of about 3.8 inches. Bethany Beach's warmest month is July, with average temperatures hovering at 82.4° F (and a low of 69.8° F). Meanwhile, the town experiences its coldest month in January, with average temperatures falling as low as -30.2° F (though temperatures during this time may reach up to 44.6 ° F).
History Of Bethany Beach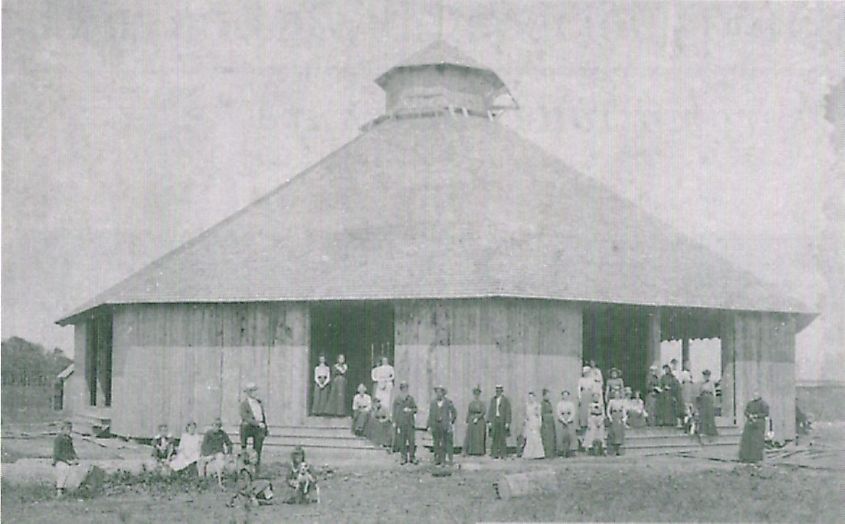 The Nanticoke originally inhabited the lands surrounding Bethany Beach. Eventually, Bethany Beach was established in the lands by members of a Christian church known as the Disciples of Christ, which would be used as a gathering for the church members. In 1901, the town's first building was built, an octagon-shaped tabernacle that served as an assembly ground for church members from the Disciples of Christ.
Despite the hard work put into building the tabernacle, it was an architectural failure. The building was ruined by termite infestations and water. A team was set up, which included a lawyer, a plumber, a steel manufacturer, a tea merchant, the president of West Virginia, and the president of the Bethany Improvement Company. Over the years, this team would overlook the town's development. As a result, Bethany Beach's first boardwalk was eventually established in 1904, which attracted visitors to this booming tourist destination.
Population And Economy Of Bethany Beach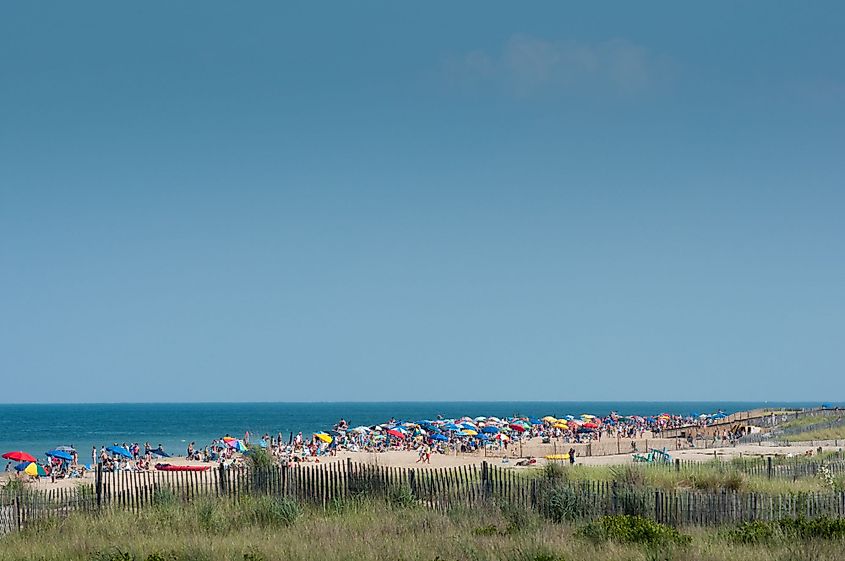 As per the latest US Census, Bethany Beach has a population of 954 residents. Of these, approximately 96.0% of Bethany Beach locals are over 18, with around 56.4% of them 65 years old (or older). Thus, the average age of locals is about 66.9 years old. The top ethnic groups in Bethany Beach are White, Hispanic, Asian, and African American.
The median household income at Bethany Beach hovers around $102,279, significantly higher than Delaware's median household income of $71,091, with a poverty rate of 2.5%. Moreover, the majority of Bethany Beach's workforce is employed in industries related to retail trade (15.8%), finance and insurance (15.5%), management/administration (19.4%), and arts/food services (20.0%). 
Attractions In Bethany Beach
Though considered a quiet town year-round, Bethany Beach and its shores attract thousands of tourists every summer. This coastal town is also home to several landmarks and tourist attractions filled with visitors in the warmer months.
Chief Little Owl
Located at the entrance of the town, this 24-foot statue faces north and depicts the visage of Charles Cullen Clark, the first president of Delaware's Nanticoke Indian Association. Crafted in 1976 by Peter Wolf Toth, Chief Little Owl was part of Toth's statue collection entitled "Trail of Whispering Giants." Donated to Bethany Beach, this massive statue pays homage to the Nanticoke tribe, who inhabited Delaware for three centuries.
The Bethany Beach Boardwalk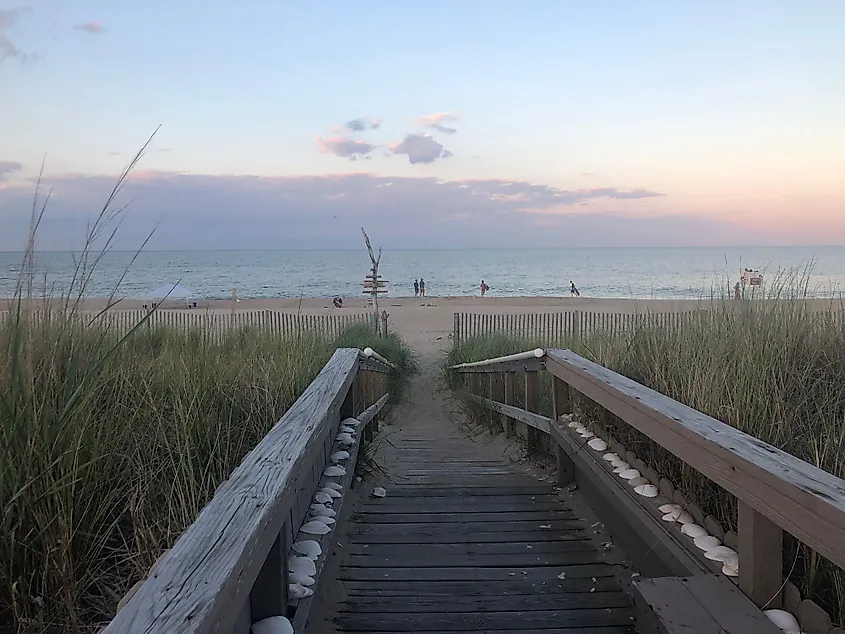 Also known as The Town Boardwalk, the Bethany Beach Boardwalk stretches for 0.38 miles at 12 feet wide. Though small, the wood-lined boardwalk is lined with local homes, small gift shops, and a three-star hotel. Equipped with a bandstand, the boardwalk also hosts live music and concerts throughout the year, especially in the summer. Moreover, the Bethany Beach Boardwalk allows visitors access to the beach, which is cleaned three times a week (during the summer) and patrolled by town staff throughout the day.
Fenwick Island State Park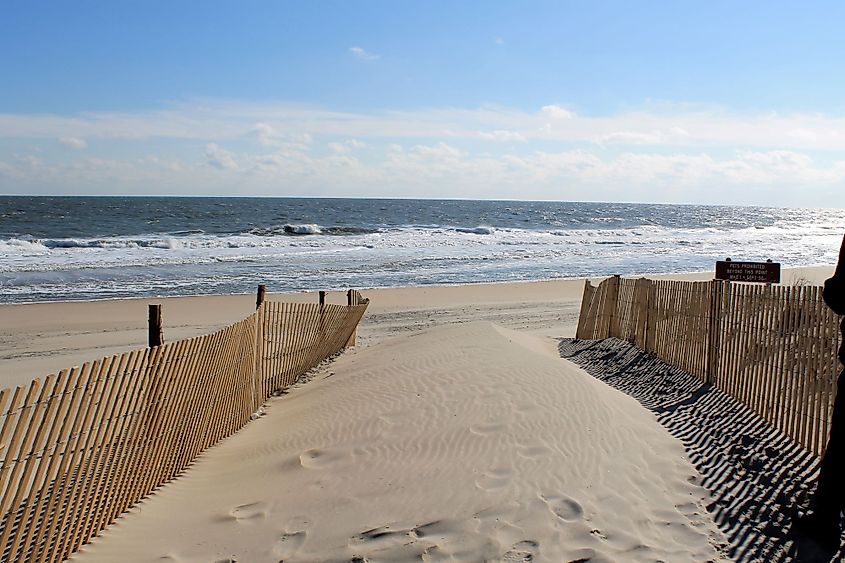 The Fenwick Island State Park is considered Delaware's most southern beach, stretching for three miles by the Little Assawoman Bay. From the late 19th and 20th centuries, this state park housed sites that protected the coastline or aided distressed travelers around the Delaware coast. Today, Fenwick Island State Park is a popular site for kayaking, swimming, sailing, and surfing.
Bethany Beach may not be as populous as other Delaware destinations like Wilmington, Dover, or Newark, but its charm effortlessly attracts beach-loving tourists during the warmer months. Whether the visitors love the local weather or enjoy a small Delaware town's tranquility, Bethany Beach is considered a picturesque coastal town.