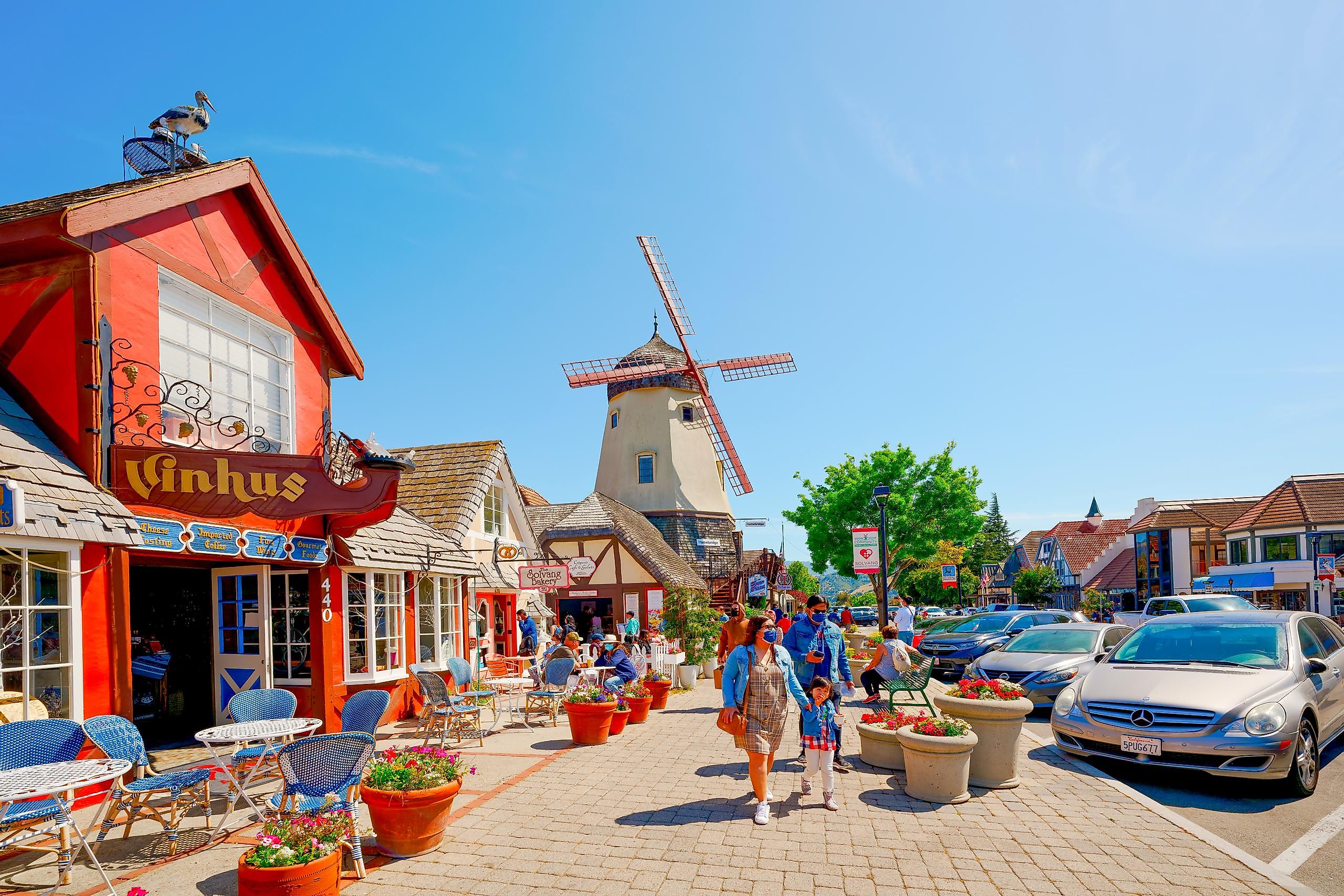 10 Off The Beaten Path Southern California Towns
One of the most beautiful regions in the United States, Southern California is also the land of hidden gems. Off-the-beaten-path towns are often the ones to offer more vibrant tourist attractions with fairer price points and, best of all, low crowds to enjoy it all with your loved ones. Brimming with opportunities like no other, through its small towns, you can enjoy the same SoCal natural scenery with unobscured views, as well as destination eateries and hotspot shopping like boutiques and antiquing. From gorgeous beaches to mountain ranges, you will get the local experience for a real cultural immersion that feels alien to your city eyes and nature-starved soul. These towns, including a real desert lookalike, an aesthetic Old West "ghost town," and a whole island of Catalina Island with a population of under 5,000, are some of the prettiest in the country. Discover SoCal beyond the sun, sand, and surf, but hit the beach towns if you wish to enjoy it all without crowds and the most spectacular breeze over the views of the Pacific Ocean.
Santa Catalina Island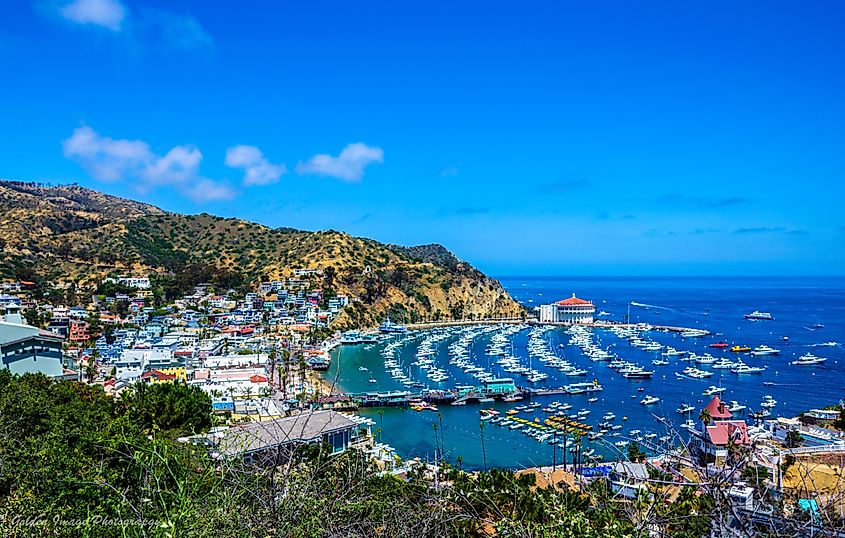 With a total population of under 5,000, the pristine Santa Catalina Island is a secret destination for fishing, boating, kayaking, and other water sports under the persistently beautiful SoCal weather. With hiking trails through the hills and canyons, along with the sea views and beaches that rim the island, it is a great place to find solace for a weekend escape. From easy to strenuous hikes, including the Cat Harbor Overlook Trail, you can always take a dip after to cool off. Hermit Gulch Lookout on the eastern side, together with Hermit Gulch Campground, offers dense woods and water access. You will feel like the luckiest person in the world on Catalina Island, so check out its renowned casino scene to score big and extend the trip!
It is easy to get to the out-of-the-way island, just off the coast of southern California, via a scenic hour-by boat or a cool 15-minute helicopter flight from either Long Beach or Los Angeles. Land or debark next to the popular yet still removed Avalon, among other small communities, amid plentiful natural beauty for outdoor activities. Two Harbors, or "The Isthmus," is a town in between the island's west and east portions, while the campgrounds rimming the island offer a more budget-friendly stay near the beaches, like the popular Harbor Sands Beach. For a unique and memorable dinnertime, head to Harbor Reef Restaurant & Bar in Harbor on the Water.
Dana Point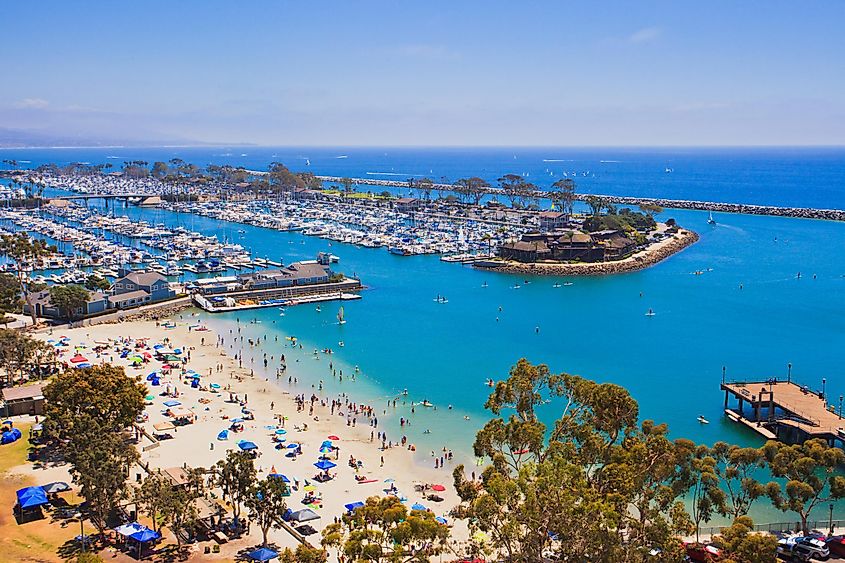 Dana Point, a charming SoCal town, is still a vastly undiscovered tourist destination with prime access to the warm Pacific under the hot SoCal sun. The three attractive beaches of Doheny State Beach, Salt Creek Beach, and Monarch Beach offer a different vibe and tide, with the common denominator of pristine sands and a lapping tide. You can hit the water running in any way you like, with perfect wave conditions for swimming, surfing, or zoning out to the sounds. There's also plenty of fish in the sea and access to launching off the harbor in a boat to catch and cook up a dinner of bass, catfish, perch, and halibut. '
This Orange County gem hosts a cozy downtown area with family-friendly restaurants and unique shops to browse away from the ocean. Its pedestrian-only Lantern District, right in the heart, is a whole shopping area with places like OC Beads, Lighthouse Thrift Store, and even Blake's Christmas Tree Lot. With over 60 small businesses to browse, from boutiques to casual eateries, you are bound to get hungry for cozy places like Cali Costa Restaurant & Cantina or the popular Harbor House Cafe. Come for the holidays or chase away the winter blues with some whale sightings between December and April, when these gray giants migrate south not far off the coast.
Idyllwild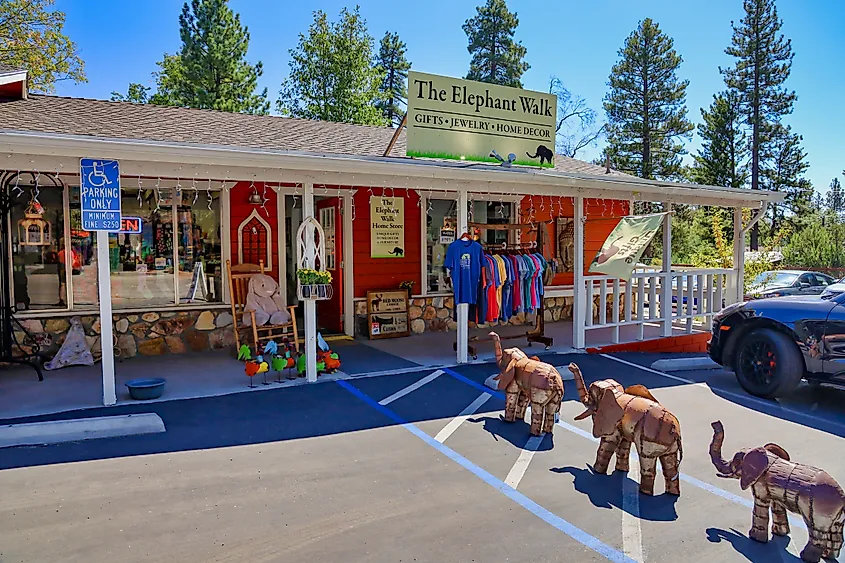 The picturesque SoCal town of Idyllwild is idyllic for unwinding with your loved ones without crowds in wild nature and an artsy downtown area. From galleries and studios around every corner, the town's thriving arts scene is also musically inclined, hosting regular concerts to enjoy great music in the outdoor local parks. The picturesque town, surrounded by nature on all sides, hosts an authentic feeling of an alpine retreat under blue skies, with the fresh breezes from the gigantic pines mixing with mountain air.
All levels of hikers find their ideal trail here, like the moderate, three-mile Devil's Slide Trail with the best views of the San Jacinto Mountains. Snatch a site from the many campgrounds around to fully immerse yourself in the enchanting San Jacinto Mountains scenery and still enjoy easy access to downtown. The small town charm abounds here with notable places to shop and eat, like Alpaca Coffee & Tea in the morning and FERRA or La Casita for dinner.
Julian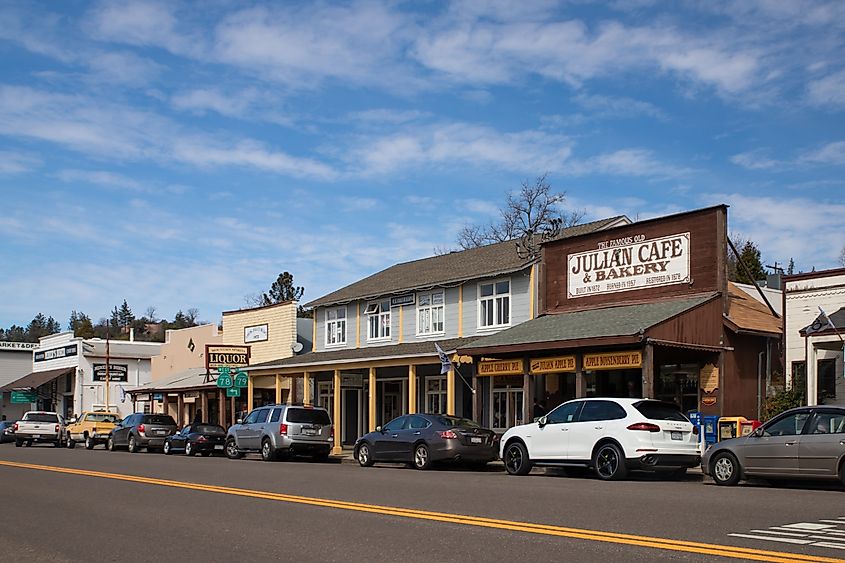 This sleepy, historic gold mining town in the Cuyamaca mountain range is a real find for history, food, and nature fans seeking a respite from the city. Leaving SoCal beaches behind, Julian looks down from above at 1,288 meters above sea level over San Diego County. The town is filled with shops and eateries, including cafes for the famous apple pie, each with its own spin, like the Julian Pie Company, which has country-wide followers. Rooted in the late 19th-century gold rush, Julian is an ideal escape from the hectic city rush for shopping, sipping, and pie-tasting through historic buildings from as far back as the 1870s.
With beautiful alpine nature year-round and regular events, there's a reason in every season to visit Julian! The romantic B&Bs and historic hotels welcome you now to commence hikes and picnics through the beautiful fall foliage amid oaks and pines along the mountain slopes and fun times apple picking with your family. With an architecture-laden downtown and hiking trails like Santa Ysabel Open Space Preserve West, you can take a self-guided historic walk through town or hike to Desert View Park just south of the downtown, all in mountain-fresh air. A whole wine country replete with wineries and vineyards awaits fine drink fans with fair prices just to the southwest of town.
La Jolla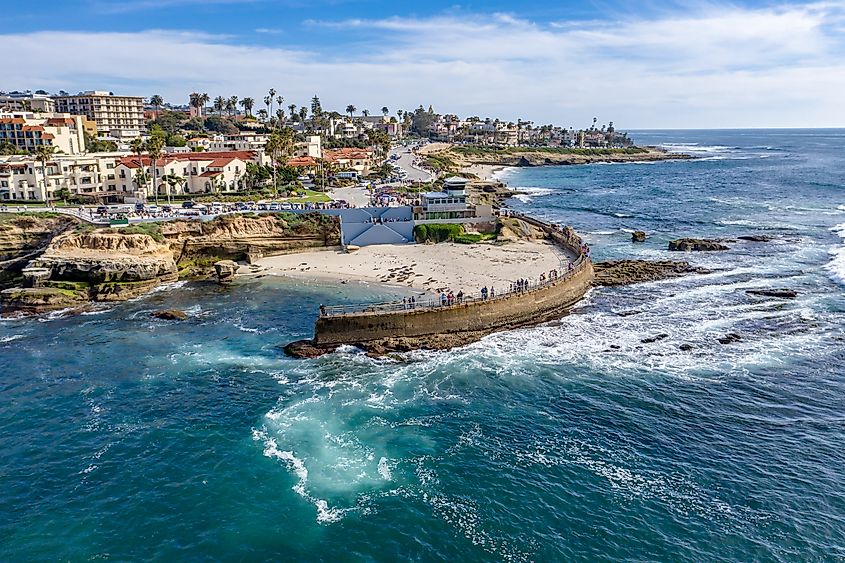 La Jolla is an under-the-radar eco-tourism destination with immense small-town charm, similar to Carmel by the Sea in views and attractions but at fairer price points. Home to pristine beaches with a crystal-clear sea lapping the sandy shore, it is a real water enthusiast's dream come true for fun family gatherings and swimming. Moreover, La Jolla's surrounding sea cave explorations and wildlife sightings are even more famous than the town itself!
With seven sea caves to explore on a kayak in the immaculate environment and 6,000 acres more of sandy flats, craggy sea caves, and dazzling reefs just north of San Diego, you are in for the sightseeing of a lifetime. This part of California's network of marine protected areas is a habitat replete with dolphins, turtles, and leopard sharks, pristine beaches, and crystal clear waters, perfect for snorkeling for underwater fans. Explore the cool Sunny Jim's Sea Cave, one of the largest, without getting wet via a walking entry!
Lake Arrowhead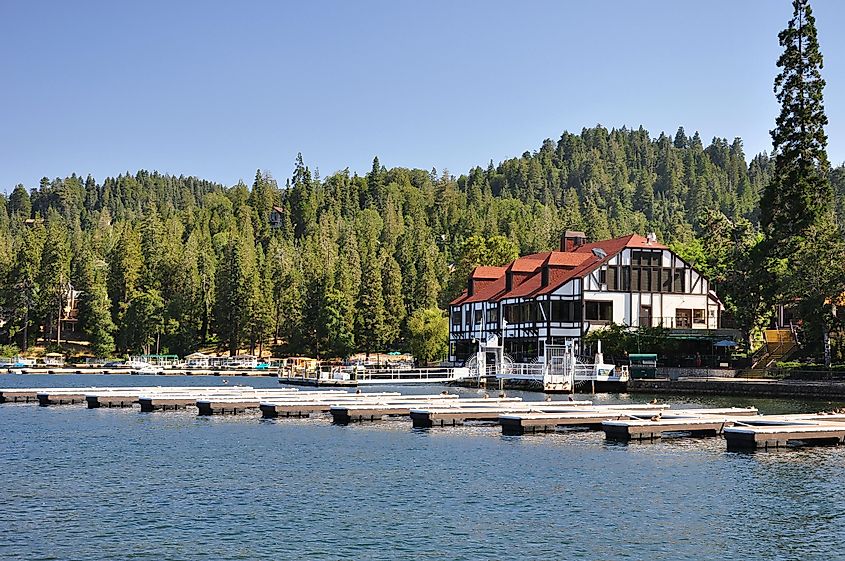 This stunning mountain resort town sits off the beaten path some two hours east of Los Angeles amid natural beauty that cannot be ignored. The lake, right in the heart of town, offers a perfect weekend getaway in the summer for water fun and great spots to browse downtown after with all the views. Hiking through the towering pines and rocky cliffs feels alien to the city sights and heavenly for nature-starved souls seeking an escape. Choose the highly-rated Cedar Glen Inn with a restaurant, or dine at the popular RB's Steakhouse, and don't forget to visit the mega-famous Cedar Glen Malt Shop for a sloppy treat under the sun!
The San Bernardino National Forest, surrounding the town and the lovely alpine lake, offers hiking opportunities abounding. It is a real adventureland with crisscrossing trails, including bike paths along the chilly waters to lounge and take post-activity dips on a hot summer afternoon. From serene fishing to a relaxing boat ride amid sights for days, Arrowhead Pinnacles Trail is perfect for those itching for some muscle strain. Offering a gorgeous overlook of the pristine lake itself, its beautiful, winding path through pines and meadows is pet-friendly for hikes and picnics with all your loved ones!
Los Alamos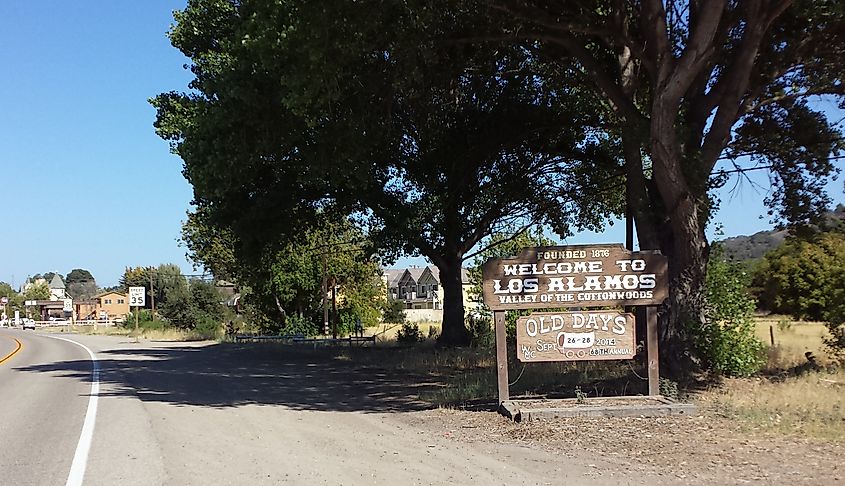 Los Alamos is a real SoCal gem, some 50 miles north of Santa Barbara and 20 miles south of Santa Maria, often overlooked just off Highway 101, located on California State Route 135. From art to rustic restaurants and vintage wines with strolls through various vineyards in the surrounding wine country, the town is a magical blend of history and contemporary, with plentiful antiquing for every taste. Home to Los Alamos Depot Antique Mall, one of the state's largest, you can browse among 60 antique dealers for unique finds and local sights.
T & T Antiques, one of the cool galleries that doubles as antique shops, is a real haven for collectors and sightseers, together with a small historical museum depicting life through the years in Los Alamos Valley in art and artifacts. English sporting equine gifts and art at the Gentleman Farmer Antique Shop will decorate the homes of real horse lovers. 
Pioneertown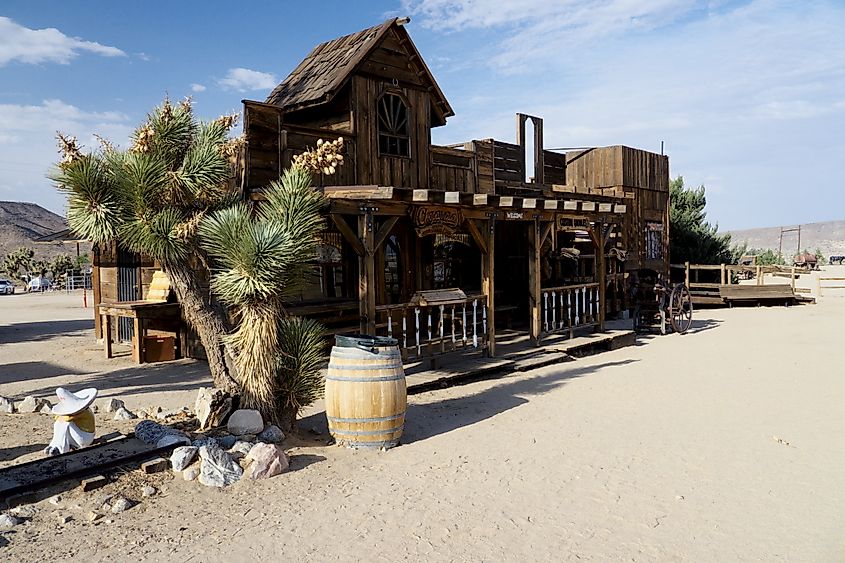 With hundreds of atmospheric, abandoned Wild West towns dotting this side of the country like ramshackle filming sites, none are as lively, quirky, or memorable as Pioneertown. This SoCal town near Joshua Tree National Park thrives as a hip Western-themed attraction, popularly appearing in movies, but remains a hidden gem that many have never heard of before and drive past. It would be most wrong not to take a look at the 40s and 50s scene unraveling here, with some of the most unique buildings housing great shops and eateries like The Red Dog Saloon.
This tiny town of under 500 people, developed in the 1940s, is the perfect escape from life as you know it to an Old West movie set! Developed as one, you can enjoy the whole cowboy scene of west-style storefronts, fake gunfights, live music at the Sound Stage, and more tunes over good grub at Pappy and Harriet's Pioneertown Palace. Many artists live in rickety homes, working at the saloon bar, setting world-class acts, and welcoming a few tourists. Choose from homey accommodations like the House of Roy, which offers a cozy stay with an atmospheric terrace.
Redondo Beach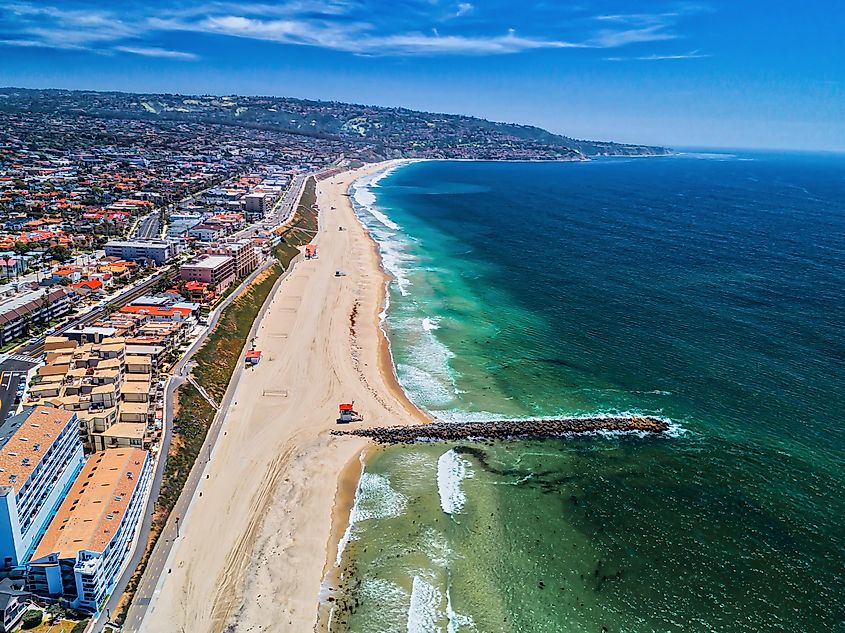 The beach village of Redondo Beach is a year-round getaway from everything and everyone at the southernmost tip of the South Bay Area in Los Angeles County. Home to a wide, sandy, and perfectly swimmable beach, you can spend days lounging and sunbathing or surfing the perfect tide. An off-season escape still offers persistently warm weather, where you will likely see more pods of dolphins playing in the surf than other people. It is also the optimal time between December and April to see whales from the Redondo Beach Pier while strolling, fishing, or enjoying the views from one of the dining spots.
The picturesque King Harbor Marina, with hundreds of boats, is a real Instagrammable place to linger and mingle. You can learn boogie boarding on the southern shoreline near Torrance and Palos Verdes, with good waves for beginners. King Harbor offers perfect waves for stand-up paddle boarding and plenty of local marine wildlife like sea lions, while numerous parks have all-level scenic trails for dry adventures. When you are ready to lift yourself from the long stretch of sandy beach, the Riviera Village awaits with its high-end boutiques and casual eateries.
Solvang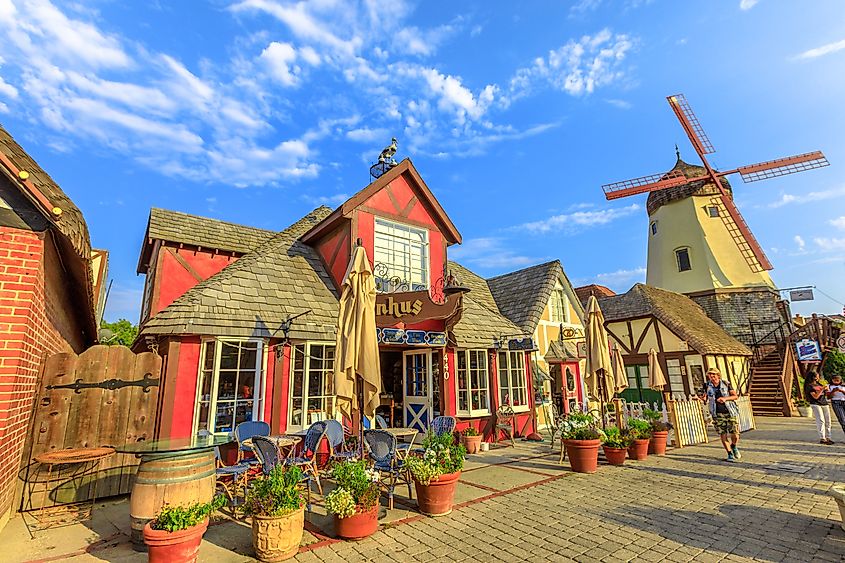 The small town of Solvang, a must-visit when in the state, is like stepping into Denmark. Although Solvang is a very walkable town, the Solvang trolley, an ancient, wooden horse-drawn streetcar, is a must-cultural experience, especially memorable for families with kids to scope out the hotspots for later visits. The quaint town in the Santa Ynez Valley is full of Danish heritage and architecture, hiding gems like charming boutiques, cafes, and bakeries. The main street is a shopping thoroughfare to browse and taste Danish pastries from many of the town's bakeries. Visit the renowned Elverhoj Museum of History and Art before a snack at the most popular and highly rated Olsen's Danish Village Bakery, or choose a hidden nook for a private dinner like Leonardo's Ristorante-Pizzeria for Italian or California Tacos Cantina and Distillery for Mexican and drinks.
Although off the beaten path, it is definitely easier to enjoy the town's authenticity on a weekend escape in Solvang with fresh air and cultural experiences than visiting the country overseas. The surrounding Santa Ynez Valley is spliced with trails for all levels of activity, sightseers, and photographers, not to mention wine aficionados. Hunt through the beautiful canyons and hills with a camera and a picnic basket to spread out at tremendous views, like the popular Inspiration Point. The Spyglass Ridge Road, a moderately strenuous 3.6-mile loop, offers exercise that you will actually enjoy along a dirt trail through Los Padres National Forest to an incredible overlook from the top.
The renowned SoCal beaches, lively cities, and tourist hotspots do a job well done and deter tourists from some real, small, shining gems that enjoy staying hidden. Offering a plethora of charm to those who stumble upon them in search of a laid-back weekend escape from the city, you get the relaxed atmosphere and all the benefits of a small town.
From sleepy beach villages to mountain enclaves with alpine peaks, a desert town, and an island scene replete with more beaches and campgrounds, you can enjoy it all through unique and unforgettable experiences that feel crafted just for you. These 10 SoCal towns of unforgettable charm will enchant you with fascinating historic tales of natural beauty, cultural heritage, and the country's gold mining scene.