10 Off The Beaten Path Northern California Towns
Northern California is a largely undiscovered part of the state with many towns, including gold rush towns, hidden through the mountain creases and off the beaten path, offering a best-kept local secret. These hideaway towns, with easy access despite their off-the-grid markers, offer the pristine beauty of unspoiled nature and unobscured views to enjoy it all without crowds. Visit Shasta Lake, where visitors can rent a part of on a houseboat, or explore the immense waterways of the California Delta with the most magical sunsets and moonlight strolls of one's life!
San Francisco Bay is the world's largest land-locked harbor. Known for the gold rush of the mid-late 1850s and is the location of the Kennedy mine; the richest and deepest in North America. With many peculiar places that evoke truly unique feelings, Point Reyes is a town along the coastal slice which Kennedy designated as a national seashore, while the spectacular Mount Shasta is what Native Americans thought was the divine connection to the heavens.
Aptos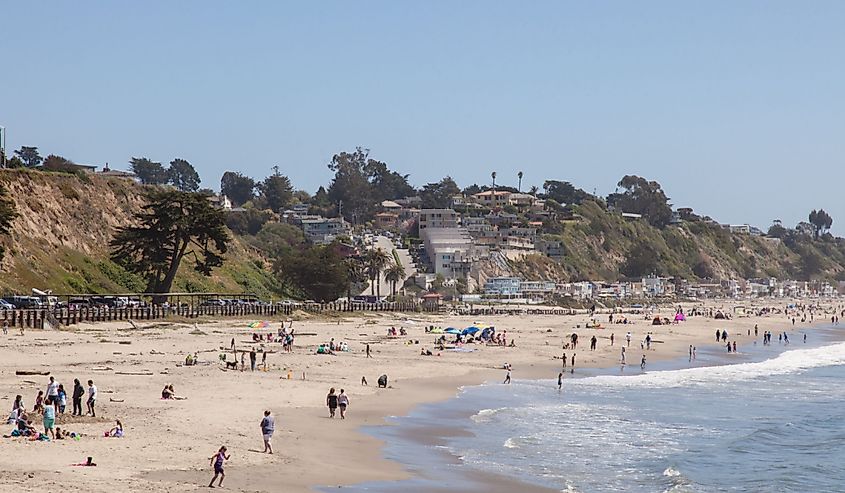 This coastal town on the sound shores of Monterey Bay is a quintessential hideaway in between two great parks. Often overlooked for the buzzing Santa Cruz and Monterey scenes, look no further than Aptos for a NorCal escape to remember after just one stroll along its six-mile Rio Del Mar Trail with ocean views. At the stunning, sandy Seacliff State Beach with its perfect tide and campground, visitors can enjoy nature access from their doorstep. Enjoy lounging and handling the waves by day to get lulled to sleep by the tranquil sounds of the surf, and don't forget the mega-popular Marianne's Ice Cream near Seacliff!
Forest of Nisene Marks State Park calls the venturers for wilderness trails with a mix of lush canopies and dense redwoods for horseback rides, biking, hiking, and waterfalls to chase. Just a 15-minute drive from Santa Cruz to the peace-inducing nature, charming downtown, and vineyards along the Corralitos Wine Trail, you can unwind in your favorite way. With the Tasting Barn at Lester Estate Wines to sip and chill every evening, make the popular Farm Bakery Cafe & Gifts your first java stop of the day and your visit before you leave with a unique souvenir.
Arnold
This lakeside mountain gem is hidden at the western end of the Ebbetts Pass National Scenic Byway in the ancient Stanislaus National Forest. The scenic drive-in guides travelers over the Sierra Nevada mountain range, with epic adventures ahead and chillin' like never before! Arnold, a mountain sports haven and a first-rate winter recreation hub with the nearby Bear Valley Mountain ski resort, offers all-season accommodations, snowshoeing, and cross-country skiing throughout the park. From golf to free live music concerts throughout the summer, White Pines Lake, with plenty of fish, offers picnic tables, a kid's play zone, and basketball along its sandy stretch of beaches for swimming, kayaking, and paddle-boarding.
Minutes from the Calaveras Big Trees, Arnold is a great basecamp to explore the park's navigable trail systems amid these 300-foot-tall giant sequoias with roots dating back 2,000 years. From easy strolls along the leveled North Grove to South Grove's rugged trails through fall colors and spring flowers and a wide range of flora and fauna in their natural habitat, there are also camping and historic lodging options. The dog-friendly Arnold Rim Trail winds for 17 miles through old-growth forests, shady canyons, and overboulders for a memorable picnic in the scenic central valley. You can unwind year-round with fine dining and unique boutique shopping, as well as arts and crafts festivals.
Auburn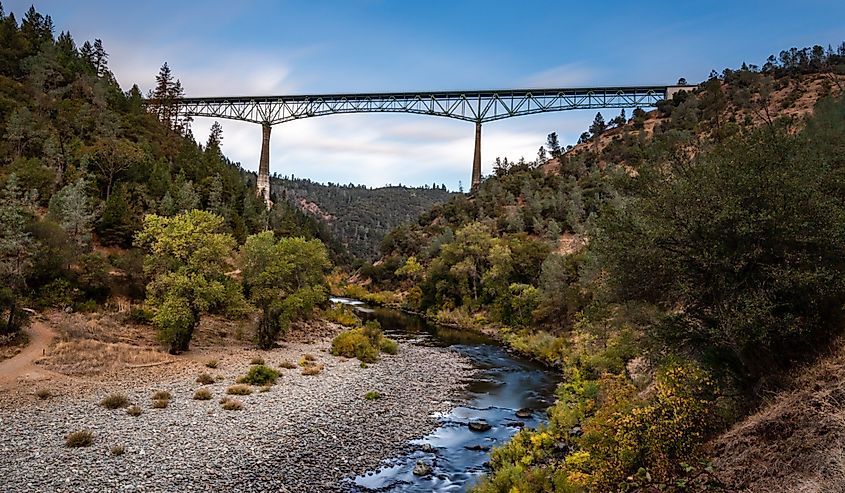 Auburn, an appealing town at the confluence of the American River's North and Middle Forks—a whitewater rafting destination—is more than just a pit stop before Lake Tahoe's north shore. It is where history, modern culture, and adventure combine, just half an hour from Sacramento. Home to the prestigious, most enduring sporting event of the 100-mile Western States trail-running race, you can enjoy your own mountain biking, hiking, and horseback riding along the lacing trails at Auburn State Recreation Area. The handsome Old Town is lined by restaurants like Auburn Alehouse with a Shanghai Lettuce Wrap over Brew and Old Town Pizza for an indulgent deep-dish pie, with art galleries and antique shops in between.
Join the "Gold Crush" fever through the growing number of local vineyards, wineries, and relaxing tasting rooms to unwind, or the two award-winning breweries of the town's craft beer boom. One of Gold Country's hottest brewers, Moonraker Brewing Co., with its "hazy" brew, hosts a homey tasting room, an outdoor dining area, and food trucks, while Knee Deep is a popular microbrewery for West Coast-style IPAs in a welcoming, dog- and kid-friendly atmosphere. With plentiful year-round lodging options like Park Victorian, a recently renovated 1874 mansion steeped in history, you can visit now for the Mountain Mandarin Festival in late fall and return for "Rocklin" next warm season. About a dozen miles southeast on Interstate 80, this thrilling adventure park with Quarry Park Adventures features experiences like the Cliff Hanger Free Fall, a via Ferrata, paddle boats, and Kidz Kove to climb, bounce, and go monkey.
Fort Bragg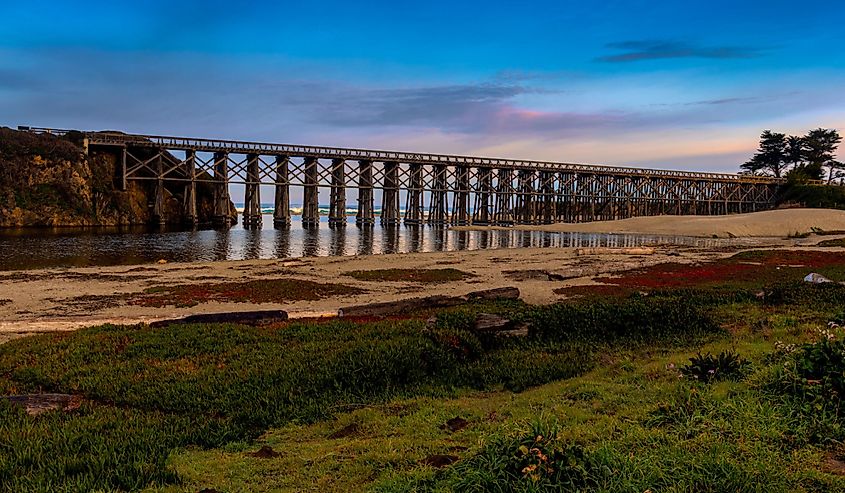 This geographically isolated NorCal town along the coast in Mendocino County is a charming blend of seaside and bucolic California. Home to some 7,500 people, Fort Bragg is a popular destination to escape it all, despite being off the beaten path, as well as an economic hub for the county's inland communities and a designated California Historic Landmark. The cozy town welcomes visitors after a scenic Shoreline Highway drive, with waterfront properties and outdoor activities for all through diverse landscapes, unique sights, and experiences.
Fort Bragg's beautiful architecture, plentiful vacation rentals, and small-town businesses peek through the fringe of the rugged coastline lined by the infamous NorCal towering redwoods and dense forests. You can spend days browsing the iconic Glass Beach for free souvenirs in between water pursuits and lounging. From the wetlands to the dunes and the whole of MacKerricher State Park, the moderate climate lets you enjoy the picturesque outdoors year-round. The Mendocino Coast Botanical Gardens are great for serene strolls and some R&R in the fresh air of the peaceful natural environment.
Groveland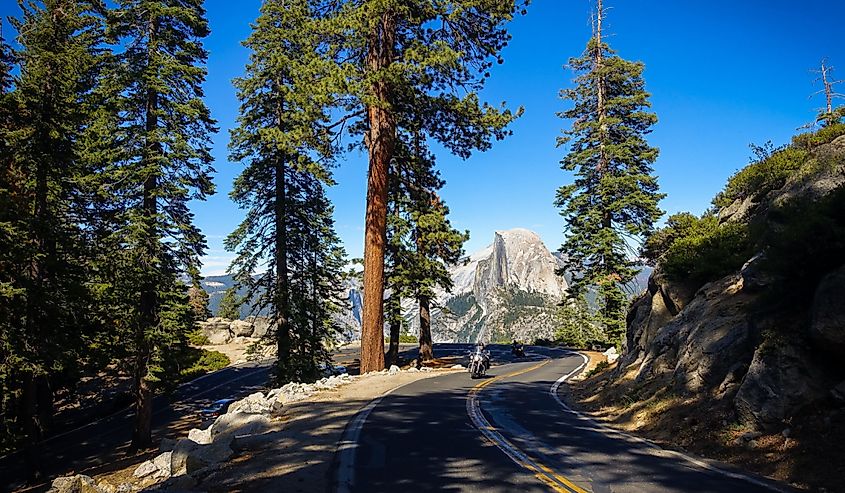 Groveland sits surrounded by Yosemite National Park along Pine Mountain Lake, with sailing, kayaking, and nearby skiing. The nearby rivers are perfect for whitewater rafting, fly fishing, and snowshoeing along the trails. The laidback town is a real year-round adventureland for seasoned and beginner nature enthusiasts, like the 1.4-mile hike to the 30-foot Carlon Falls on the South Fork of the Tuolumne River, 30 minutes away from the trailhead. Yosemite's Hetch Hetchy entrance is only 45 minutes up Highway 120 from Groveland, with Lucky Buck Café in between offering a robust vegetarian menu, burgers, and fries for before or after the ventures. You can cool off in the natural Rainbow Pool formed by a waterfall in the Stanislaus National Forest, just fifteen miles east of town, while Groveland District Ranger Station is home to the trailhead for the kid-friendly Little Golden Forest Trail, offering a self-guided tour brochure on the foothill ecology.
From natural history, the Gold Rush era, and indigenous heritage at Groveland Yosemite Gateway Museum to the beautiful Sierra landscape photography of Robb Hirsch, there's something for everyone to get acculturated. Unwind over a glass of Grenache Rosé or Tannat made from grapes grown in a vineyard at 3,000 feet in elevation at the Yosemite Cellars or at the iconic Iron Door Saloon, built of solid granite in 1852 with imported doors from England. As a former store and post office before becoming California's oldest continuously operating saloon since 1896, it serves chargrilled burgers in a historic atmosphere and St. Louis-style pork ribs, with live music on weekends. The Monterey-style adobe Groveland Hotel with wraparound balconies opened as a trading post in 1849 and was a gambling house, saloon, and ranger station.
Hopland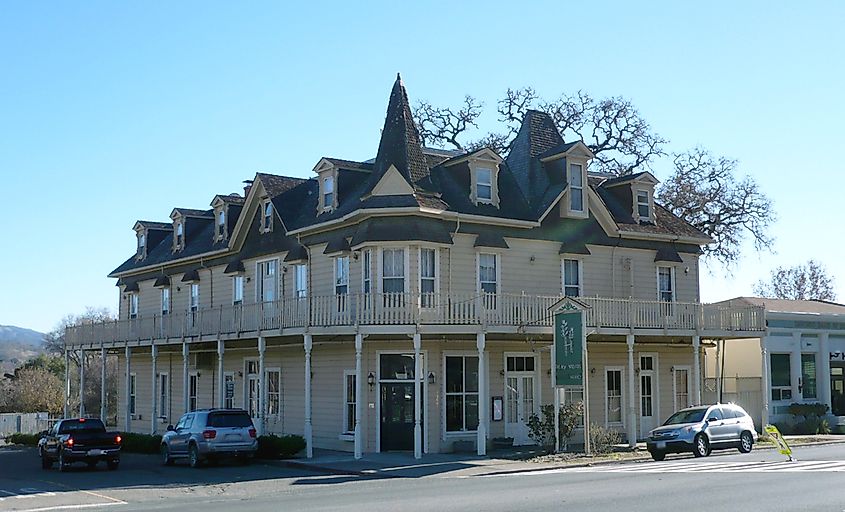 The lovely town in the southeastern corner boasts Mendocino County's staples: incredible wildlife, trails, and massive redwood forests along the coast—some of the state's purest nature on a reprieve from urbanites. Hopland is also an epic destination for wine connoisseurs, a hop away from the world-class wineries and downtown that feel like an old-fashioned vacation you've been craving. Check into the timeless Thatcher Hotel from 1890, with a bar, amenities, and stylish Victoriana rooms.
From the nature strolls through Montgomery Woods State Natural Reserve, a forest of giant redwoods, you can unwind over tastings at Saracina or Alta Orsa wineries with picnic grounds and an outdoor covered patio with scenic valley views and the Mayacamas mountain range. After a few days soaking in the hot springs at Vichy Springs Resort, you will be energized and rejuvenated, leaving with a bout of nostalgia. Oscar's Place, a haven for farm animals in need, welcomes visitors for hands-on interaction that delights the kids while showing the abused animals the kind side of humanity.
Mount Shasta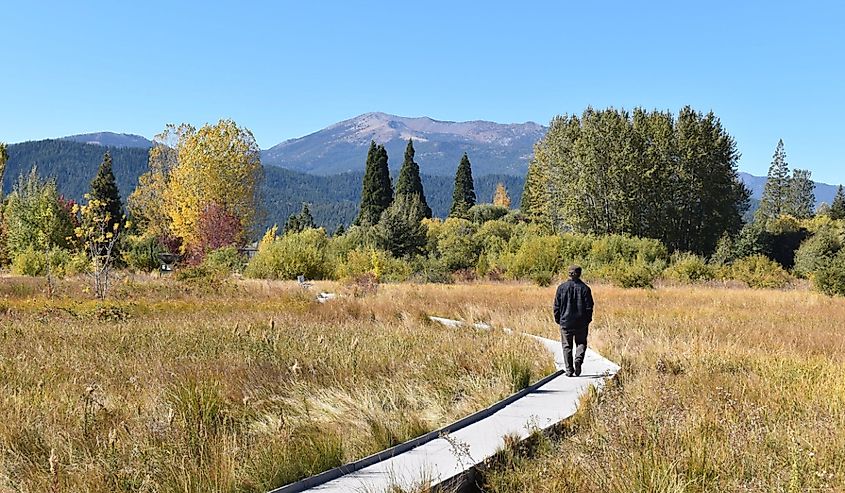 The little mountain town in the shadow of a 14,179-foot-high natural skyscraper welcomes worldwide travelers seeking everything from outdoor adventures to the most captivating and spiritually exhilarating experiences. The area in Siskiyou County was originally occupied by Native Americans who believed that the monolithic totem scraping the heavens was the home of the creator and thus one of the world's most sacred sites. Mt. Shasta, a real, very big volcano visible from almost anywhere in the northern part of the state, erupted in 1786. Rising dramatically rather than gradually to its towering, snow-capped majesty of a Fuji-esque peak, John Muir, a famous journalist, wrote about it as "blood turned to wine." Today, the charming community of "new agers" is a mountaineering destination for the hardiest of climbers, with backcountry cabins for daytime explorations and cozy overnight stays in nature.
The town amid mystic mountains feels like a real alpine paradise under the turquoise-blue sky and lenticular clouds passing over the peaks thanks to the unique wind currents. With shops and restaurants for all tastes, every season is magical in its way, like wildflower-filled meadows and cooling forests in the summer. From strenuous hikes with wildlife like eagles, deer, and black bears to cycling and mountain biking in the west, there is also camping, caverns, and world-class fly fishing. Enjoy easy loops or the mellow two-mile path along the McCloud River south of the mountains to a beautiful trio of waterfalls, including the breathtaking Middle Falls. The low-key, local Mt. Shasta Ski Park on the western slope offers 38 trails over 2,038 vertical feet, with 20 percent for beginners, 45 for intermediates, and 35 percent for advanced, while all other snow bunnies can ski, shoe, and sled in the lower foothills.
Point Reyes Station
An hour north of San Francisco near the Russian River, Point Reyes, a tiny coastal town behind the redwoods, is the largest at the edge of the national seashore. These 25 pristine miles from the Golden Bridge Gate, just off Route 1, with little development and only a few buildings, are thanks to President John F. Kennedy, who declared the peninsula a national treasure. Today, you can enjoy the "au natural" along the coastal trails, where wildflowers and endemic fauna thrive off the beaten path. The 10-mile-long Tomales Point Trail, with wildlife views and foggy Pacific Ocean vistas, will make you hungry enough for a stop at Point Reyes Farmstead Cheese Company before dining on the most popular fresh oysters at Hog Island Oyster Company right on Tomales Bay.
Point Reyes, the coast's commercial anchor, is as natural as it gets, with grazing stock and a more lively weekend atmosphere at the town's great bakery, notable restaurants, a surf shop, and a local craft store. Visit the photographer's studio for his lifelong dedication to capturing the Point Reyes landscape, while a stroll along the park with access to wide expanses of beaches will inspire your photoshoots. From whales, birds, and elephant seals to Italianesque architecture and the wood-sided Point Reyes Emporium from 1898, it doesn't get any more picturesque than this former railway town, Olema Station, with readily available accommodations like small inns and cottages to enjoy it all.
Rio Vista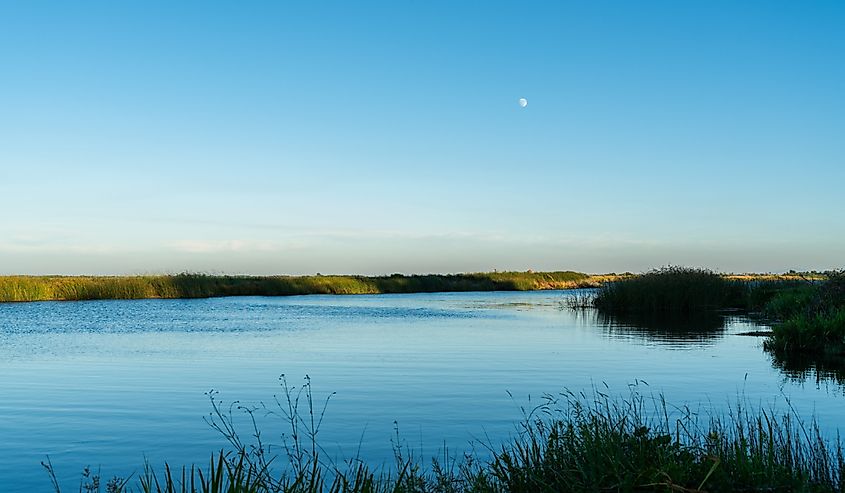 The NorCal Delta region is famous for its endless skies and waters, with the most spectacular sunsets reflecting in the immense and remarkably diverse labyrinth of pristine waterways. Leaving the nearest metropolis just 20 minutes away, Rio Vista, a small enclave in your backyard, embraces you with pristine nature and the catalyst of vibrant colors. City dwellers who aren't used to such sights find the atmosphere most tranquil, inspiring, and scenically charged. The former Gold Rush town feels stuck in time around the bend in the river, with marinas and cool restaurants, little to no road traffic, and hundreds of species of wildlife and birding. From exhilarating watersports like sailboats to motor yachts and houseboats, you can rent your own to access all of the delta's wonders thanks to a stout system of levees and crisscrosses.
The California Delta, where the mighty Sacramento and San Joaquin rivers collide, offers hundreds of miles of uninterrupted water travel. Explore the world of quiet beauty and a visually stark landscape by day, and take a waterside stroll when the night descends into the delta, under the near full moon on the river. There is plentiful camping with a full-hookup RV park or campground, fishing for abundant sturgeon and striped bass populations in the rivers, waterside dining, wine tasting, and strolls in the moonlight. You can unwind with a cold beer and a hot meal at Foster's Bighorn, one of the family-friendly local restaurants.
Shasta Lake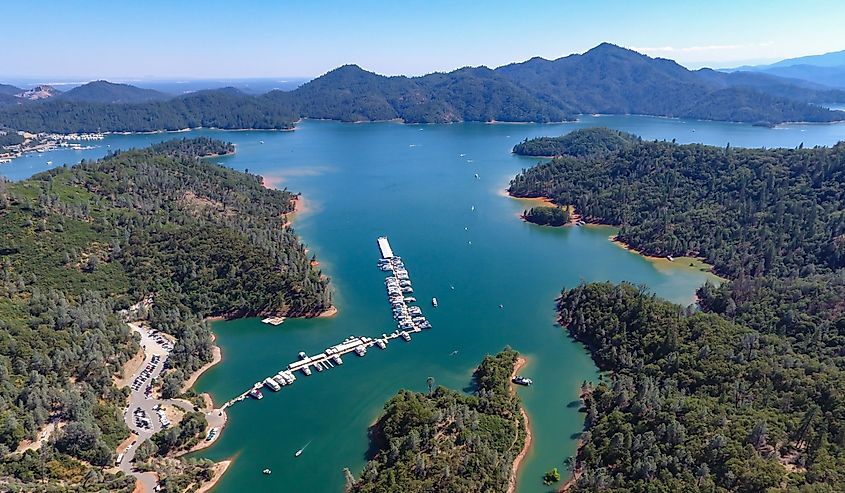 The town along the state's largest, 30,000-acre reservoir, just 10 miles north of Redding, is not your typical lakeside getaway. The lake's 370 miles of shoreline with mirror-smooth coves is a destination for anchoring and swimming, with bald eagles and osprey in the sky and views of Mt. Shasta's perennially snowcapped, 14,180-foot peak. From swimming in the clear, bright blue waters to camping along the verdant banks in the surroundings of the picturesque mountains, there is also a free tour of Shasta Dam, at 602 feet, the country's second-largest concrete dam, with photo ops and history as well as a daily drawdown from a viewing platform.
Shasta Lake is an alternative to a year-round exhilarating vacation with a quieter vibe as a well-kept local secret for year-round recreation. While Lake Tahoe steals much of the attention, you will find the same level of dinner cruises and learn about how Woody Guthrie wrote his ode to America while helping build the dam. With fishing, jet skiing, tubing—anything that floats—you can stay at a real decked-out floating vacation home like a multi-tiered, floating palace with a whirlpool spa, gourmet kitchen, and more, or opt for camping along several campgrounds in the area. The year-round Lake Shasta Caverns offer a fascinating underground adventure in a boat to see 250 million years in the making. You can always kick back with a cocktail on a houseboat, the most popular activity here, and enjoy serene fishing for bass, crappie, catfish, and sturgeon.
 Conclusion
Northern California is home to San Francisco, Yosemite National Park, Santa Cruz, and Monterey, some of the top destinations with easy access to these off-the-beaten-path towns. From strolls along the breezy ocean coastline with wild coastal views to the Golden Gate Bridge, you will see the vastly different sides of Northern California, which excels at catalyst contrast to spur emotions and create memories on any season getaway for every group.
These hideaway towns welcome avid tourists and adventurers to explore the wilder side of the state with wineries, wildflowers, and woodlands of coastal redwood groves. Stay on budget with readily available accommodations, small-town businesses, and the hottest restaurants. From plentiful cool shopping ops for inspiring home decor and unique gifts to second-to-none galleries depicting the state's renowned nature through paintings and photography, you can always pick up a free souvenir from the Glass Beach in Fort Bragg!