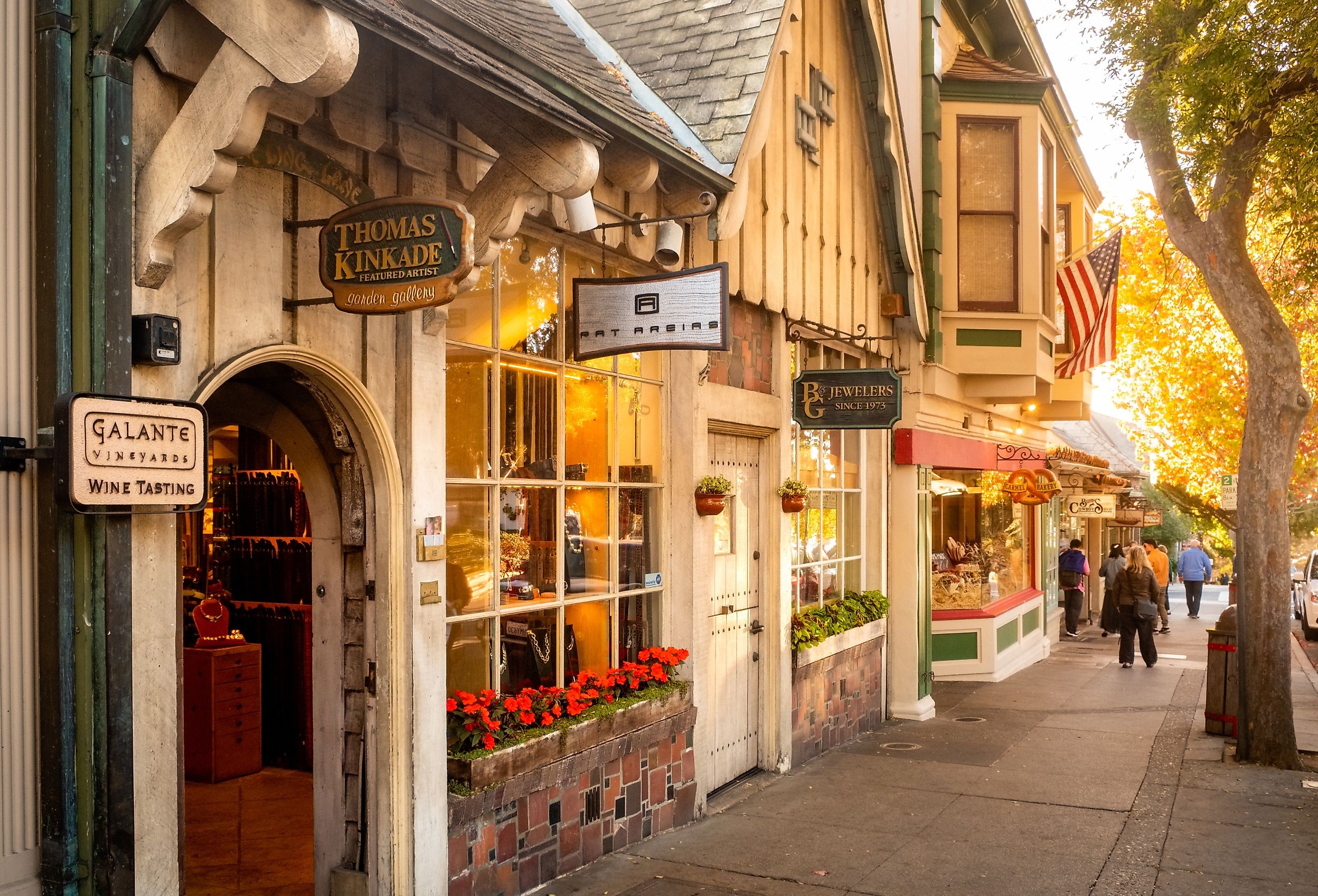 8 Best Small Towns To Visit In California
One of the best features of a vacation is discovering new activities, scenery, and most importantly, exploring new towns and cities. Thankfully, California is home to a plethora of communities full of natural beauty, from the turquoise waves of Laguna Beach to Moonstone Beach in Cambria. Some of these towns are renowned for being like a Scandinavian European city in the south of California along the Pacific Coast, while others are beloved for their coastline resembling a rainbow built from cute homes along the beach. No matter where you go, California is sure to please, but these towns offer something special, more than your average California small town.
Laguna Beach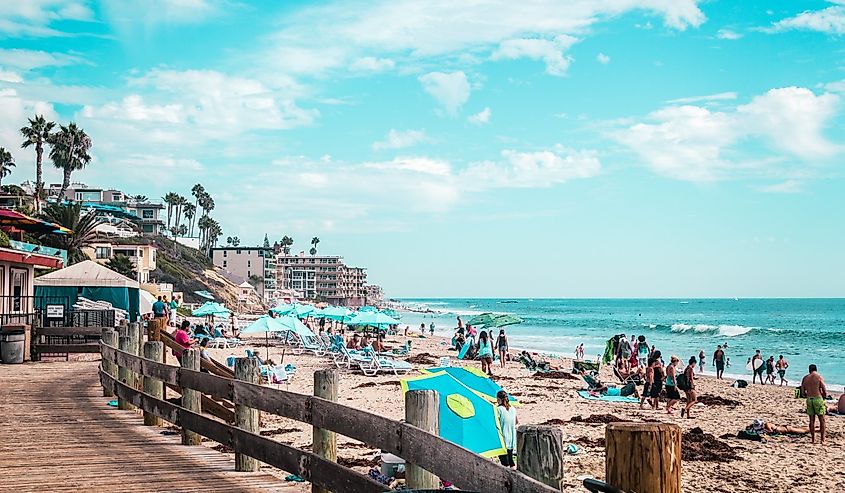 Surfing over turquoise waves in Aliso Park Beach, and breathing in the refreshing ocean air as you stroll through Crystal Cove Underwater State Park are just a couple of exciting experiences to discover in the popular and gorgeous small town of Laguna Beach with 22,795 residents. Tide pools carrying crystal clear water harnessing diverse sealife and an expertly crafted boardwalk brings visitors through the wonderland of the impeccable Laguna Beach. When in this summer paradise of a small town, check out the gorgeous Heisler Park, which embraces the impeccable shorelines of the Pacific. For fun and enlightening activities, check out the culturally significant Laguna Art Museum for educational and beautiful works of art.
Sausalito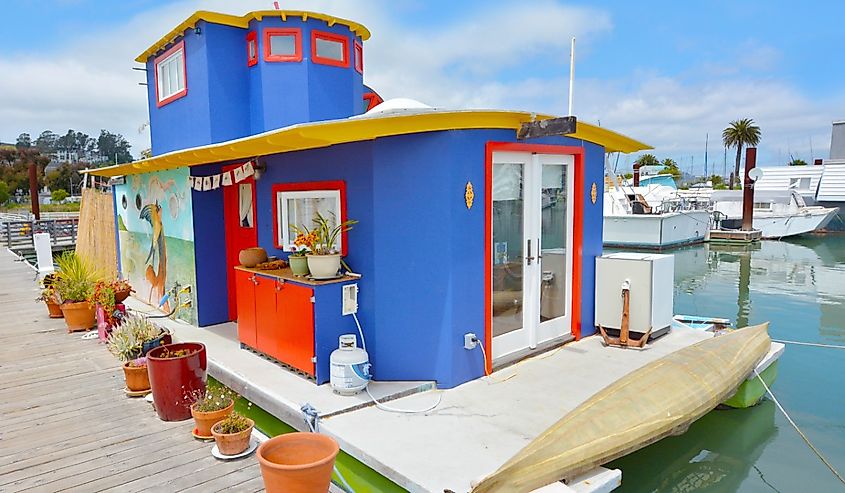 Home of the iconic Golden Gate Bridge, which efficiently transports excited visitors from the big city of San Fransisco to the underrated town of Sausalito, this town with a steady population of 7,269 is the perfect destination for a road trip. Sausalito, meaning "small willow grove," rests along the stunning Richardson Bay, a beautiful, sparkling body of water home to houseboat enclaves. These were creatively constructed by resilient artist squatters after World War II, providing an interesting historic landmark to the town. Unsurprisingly, the Bay Area in general, especially Sausalito, encompasses a vibrant art scene that draws in a plethora of visitors. Visit immersive experiences like Bay Area Discovery Museum and The Marine Mammal Center.
Sonoma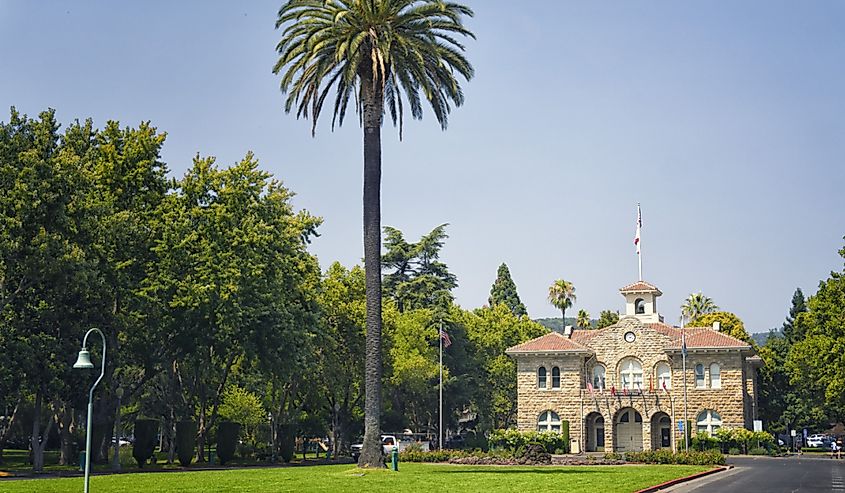 In the picturesque region of Northern California, east of the Sonoma Mountains, is the charming town of Sonoma. Take a tranquil stroll through the intriguing Sonoma State Historic Park, where you may learn about Sonoma and the surrounding area's interesting history. This marvelous small town of Sonoma, in the vibrant core of the Sonoma Valley, rests within the wine industry.
Solvang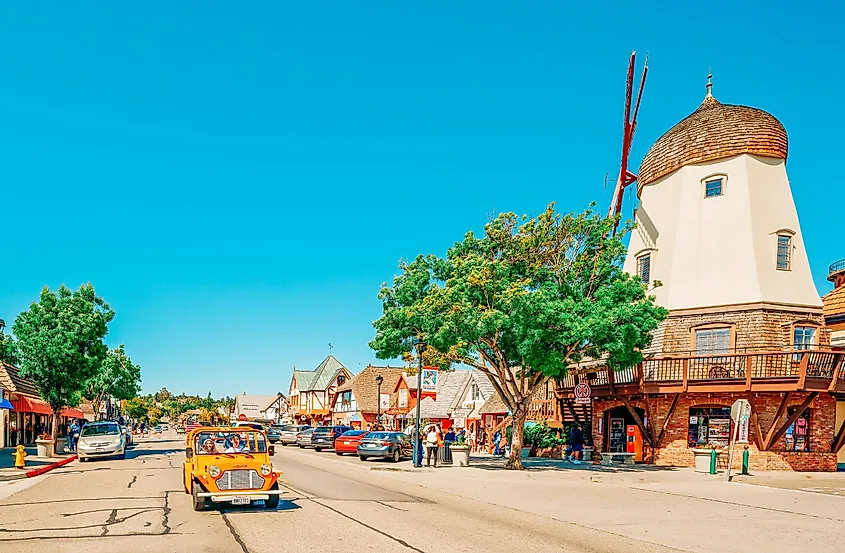 Adored for the town's unique, Danish-inspired architecture built by Danish immigrants who began to settle in the region in 1850 after leaving their home country of Denmark due to economic problems within the country. Once settled in the Santa Ynez Valley town of Solvang, these close-knitted Danish immigrants did a remarkable job of retaining their culture and bringing Danish-style architecture to California. Some popular destinations in the region include Old Mission Santa Ines, which, unfortunately, was used to evangelize indigenous Americans in the area. It is an important landmark for tourists to become educated on that piece which is a part of Solvang's long and complex history.
Capitola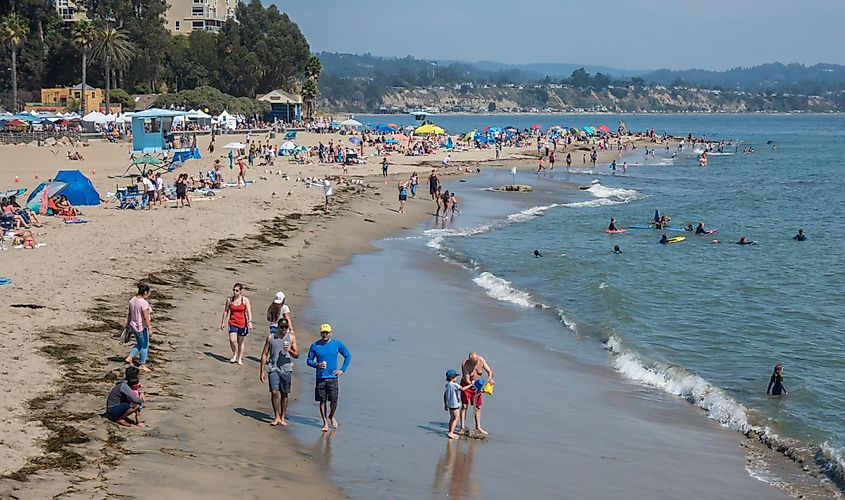 A colorful shoreline decorated with one-of-a-kind rainbow homes is one intriguing feature of Capitola that tourists can't seem to get enough of. Feel the soft sand of Capitola Beach and New Brighton State Beach between your toes as the gentle breeze brought forth by the Pacific Ocean cools down visitors who get to experience the beauty of Capitola's shoreline. Built upon an indigenous Awaswas village until the Spanish mission removed the original inhabitants, American Frederick A. Hihn then transformed Capitola into a resort town, and his plan proved successful, resulting in a 1.1 billion dollar tourism industry! Some popular attractions include the Capitola Historical Museum and plenty of wineries.
Cayucos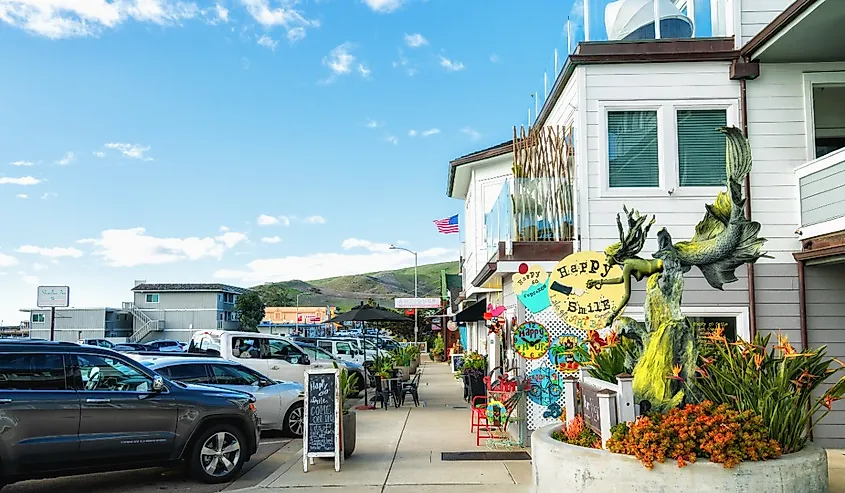 Inhabited by the indigenous Chumash people since around 11000 BCE, and later colonized and settled by Europeans, first the Spanish in 1769 and later settled by Captain James Cass in 1867. Pristine waves of the beautiful Morro Bay crash upon the famous Morro Rock, which is a point of attraction for many visitors. Not too far from Cayucos, is a volcanic plug in Morro Bay, California, on the Pacific Coast at the entrance to Morro Bay harbor. Closer to Cayucos are beloved beaches such as Cayucos Beach, graced with aquamarine beaches and soft white sandy shores. After a tranquil and fun day at the beach, grab seafood at the popular Schooners seafood restaurant to end the day with fun and satisfaction in the beautiful town of 2,228 residents.
Carmel-By-The-Sea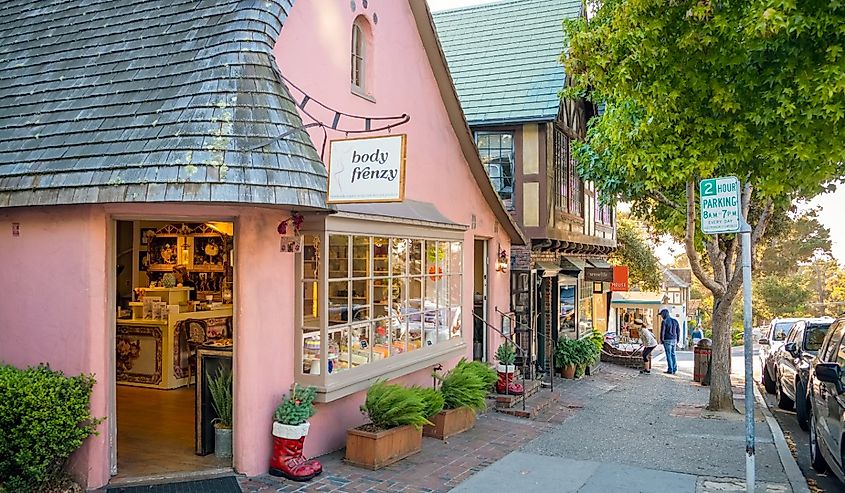 Upon the dreamy Monterey Peninsula is the popular small town of Carmel-By-The-Sea. With beautiful landmarks like Carmel Mission, unfortunately, riddled with a dark history despite beautiful architecture, missions across California serve as popular tourist landmarks and important tools of education. One outstanding feature of Carmel-By-The-Sea is the stunning 17 Mile Drive, allowing visitors to drive along the amazing California Coastline. After such a lovely drive along the Pacific Coast, stop by the famous Carmel Beach, which attracts many tourists each year.
Cambria
This stunning seaside village in San Luis Obispo County, along the jaw-droppingly beautiful Pacific Ocean, is a must-visit destination in the popular state of California. With awe-inspiring sites such as Moonstone Beach, Cambria enchants all its visitors, creating lifelong memories one may attain even within a three-day weekend. Comprised of aesthetically pleasing pine forests, walking trails, and oceanside bluffs, Fiscalini Ranch Preserve is heaven on earth, sure to impress everyone to visit this natural paradise.
California has been influenced by a variety of people and cultures, whether the indigenous peoples of California who have contributed for tens of thousands of years, Danish immigrants creating towns like Solvang, or the architecture of these fantastic towns being built and inspired by the period in which California was apart of Mexico. With all this diversity and years of development of these small towns, each community has flourished into a distinguishable town with exciting features that draw in visitors and new residents to enjoy all California offers.