Which Presidents Are From New York?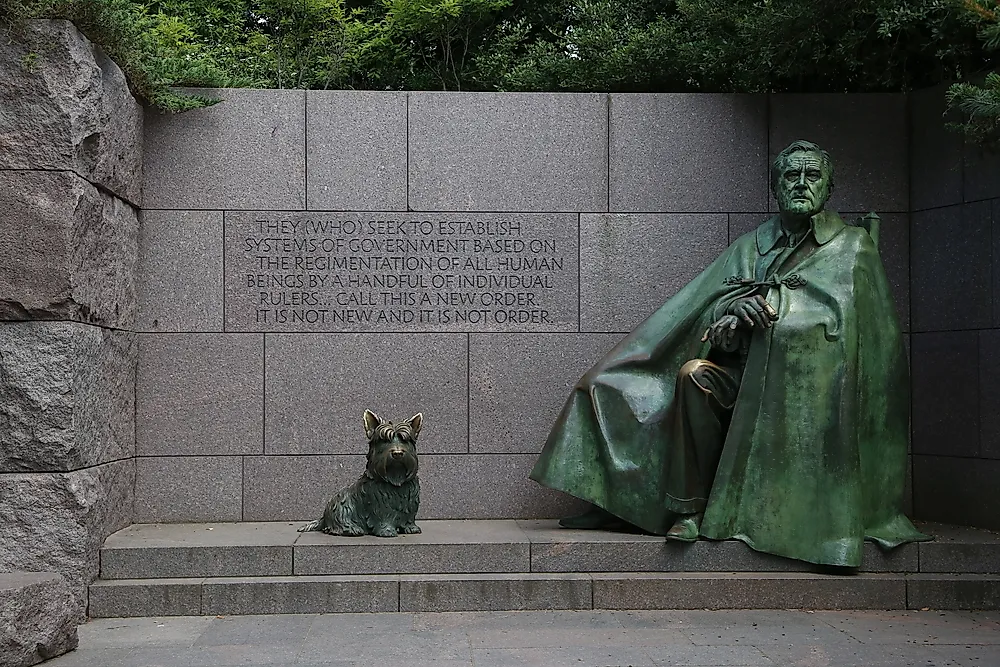 5 out of the 45 presidents of the U.S were born in New York, including the current president Donald Trump. The presidents are Martin Van Buren, Millard Fillmore, Theodore Roosevelt, Franklin D. Roosevelt, and Donald Trump. Details of the five are as below.
US Presidents From New York
Martin Van Buren
Martin Van Buren was the 18th president, having served from 1837 to 1841. He was born on December 5, 1782, in a region known as Kinderhook to Abraham and Maria. He received education within his village before enrolling in Kinderhook Academy. He later joined Washington Seminary. In 1796, he started self-education in law under Peter Silvester in Kinderhook. He also assisted in running his father's hotel. Van Buren latter joined public life where he served as the Governor of New York, U.S secretary of state and vice president. He was elected president in 1836 under the then strong Democratic Party. He was president during the Panic of 1837. There was economic depression leading to collapse of key institutions and therefore high unemployment levels. He is remembered as an advocate of antislavery but rated as average by historians. He died in July 1892.
Millard Fillmore
Milliard was the 13th president having served from 1850 to 1853. He was born and brought up in Finger Lakes region. He was born on January 7, 1800, to Nathaniel and Phoebe Fillmore. Before becoming president, he was elected as a representative to the New York Assembly and later as a member of the U.S House of Representatives. He was the running mate of President Zachary Taylor in 1848. He succeeded president Taylor upon his death on July 9, 1850. He is praised by some people for the enactment of foreign policies while others dislike him for enforcing the Fugitive Slave Act. He is poorly rated by historians as well as politicians.
Theodore Roosevelt
Theodore Roosevelt, the 26th president of the U.S was a statesman and a writer. He served from 1901 to 1909. He was born on October 27, 1858, in New York City's East 20th Street to Theodore Roosevelt Senior and Martha Stewart. Theodore Roosevelt was a sickly child but that did not prevent him from being a high achiever. He was homeschooled by his wealthy family who hired tutors for him. He later joined Harvard University. He served in various positions such as Assistant Secretary of the navy, member to the New York State Assembly and also the Governor of New York. He was the running mate for William McKinley in the 1900 presidential elections which they won. Unfortunately, McKinley was shot on September 6 and died on 14th September. Theodore Roosevelt was immediately sworn in. He is known as the president who served without a vice president. He was elected to serve a 2nd term in 1904. Roosevelt is remembered as a president of bold character coupled with putting the institution of the presidency in the center stage in the new century. Historians and political analysts rank him very highly as a leader of great impact.
Franklin D. Roosevelt
FDR, as he was commonly referred to, was the 32nd president from 1933 to 1945. He is on record for serving 4 consecutive terms. Roosevelt was born in very wealthy and prominent family on January 30, 1882, in the Hudson Valley. His distant cousin Theodore Roosevelt was the 26th president and a mentor to the young FDR. He attended prestigious schools such as Groton school, Columbia law school, and Harvard. He practiced law before joining politics. He served in various positions such as Senator of New York, then an assistant secretary in the navy and eventually the governor of New York. He was later elected as president in November 1932 and sworn in the following year in March. FDR served as president until his death on April 12, 1945. He left a memorable legacy despite serving during the Great Depression and the Second World War. Both politicians and historians rank him highly both as an influential figure and a great leader.
Donald Trump
Donald John Trump, the incumbent is the 45th president having assumed office on January 20, 2017. Trump was a businessman and T.V personality before joining politics. He was born in the City of New York on June 14, 1946, to Frederick Christ and Mary Anne. He schooled in Kew Forest School and New York Military Academy. He later enrolled at Fordham University and then graduated from the University of Pennsylvania. The Economics graduate engaged in numerous businesses that deals with hospitality, casinos and real estates. In 1996, Trump bought Miss Universe as well as Miss USA pageants from ITT Corp which he managed until 2015 when he sold them off. The very wealthy man was a host of the widely watched reality show titled, The Apprentice. He joined the race to White House in 2016 and defeated opponents to the surprise of many. Trump has so far done major reforms of both domestic and foreign policies which are supported in as equal measures as are being opposed. 
The Legacy Of American Presidents
All presidents worked hard but some are highly regarded while others are seen to have had little impact on the history of the country. Some served in times of economic and political instability while others had very little support from within. Some presidents served in times of economic prosperity and political calm. New York has produced some presidents who are held in high esteem while others are lowly ranked by both historians and political analysts
Which Presidents Are From New York?
| Rank | President | In Office |
| --- | --- | --- |
| 1 | Martin Van Buren | 1837-1841 |
| 2 | Millard Fillmore | 1850-1853 |
| 3 | Theodore Roosevelt | 1901-1909 |
| 4 | Franklin D. Roosevelt | 1933-1945 |
| 5 | Donald Trump | Incumbent |