The Biggest Cities in Grenada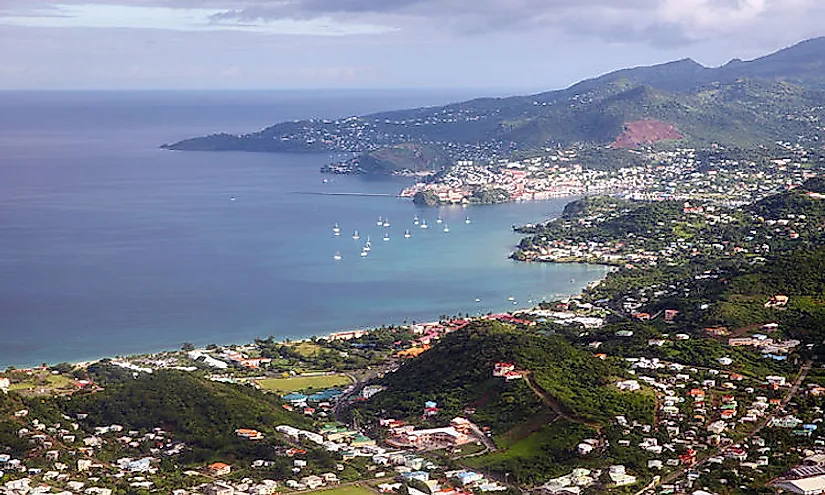 Grenada is an island nation including the main island of Grenada and six smaller islands located in the southeastern section of the Caribbean Sea at the southern end of the Grenadines. Trinidad and Tobago, Venezuela, and Saint Vincent and the Grenadines are the neighbors of Grenada. Known as the "Island of Spice," the island of 344 square kilometers houses a population of 110,000. The biggest and capital city of Grenada is St. George's. Here, we discuss the biggest settlements on the island of Grenada and their important features.
The 5 Biggest Settlements In Grenada
St. George's
The capital and the most populous urban center of Grenada is St. George's. The town is on a horseshoe-shaped harbor surrounded by a hillside of an old volcano crater. The town is a popular tourist destination in the Caribbean region. The St. George's University School of Medicine, a major university of medical education is located here. The Maurice Bishop International Airport, the main international airport of Grenada, is situated in St. George's. The moderate tropical climate of the town allows the spice production to thrive. Cocoa bean, nutmeg, mace spice, and cacao are the chief export items here. The town holds a major carnival in the second week of August which involves dancing, feasting, and entertainment activities.
Gouyave
Gouyave is the most populous city and the capital of St. John in Grenada. It is located on the country's west coast. Famous for its guava trees, the city was named Gouyave by the French although it was formerly named as Charlotte Town. An important annual event called the Fisherman's Birthday is celebrated in Gouyave every June 29. Competitive boat racing, feasts, and entertainment activities are held during this event and fishermen from all over the town participate in these activities.
Grenville
Grenville is Grenada's fifth biggest town, and it is the capital of the country's largest parish, the Saint Andrew Parish. The town is located on the Grenville Bay and is an important center of export of agricultural products. Grenville is a significant transportation and economic hub in the region and home to the country's biggest nutmeg-processing plant. Fruit, vegetable, and meat stalls are hosted by the marketplace of the town. Minibuses operate within the town offering a means of commuting to the public residing here. The first airport of Grenada, the Pearls Airport is located on the outskirts of Grenville. Three secondary schools are also located here.
Victoria
Located in the Saint Mark Parish, Victoria is Grenada's fourth most populous town. It is situated between Gouyave and Nonpareil settlements on the northwest coast of the island. It is a small fishing village and the St. Mark Parish's center of activity.
St. David's
St. David's is Grenada's fifth biggest town located in the Saint David Parish region.
Which Are The Biggest Cities In Grenada?
| Rank | Name | Population |
| --- | --- | --- |
| 1 | St. George's , Saint George | 7,500 |
| 2 | Gouyave, Saint John | 3,378 |
| 3 | Grenville, Saint Andrew | 2,476 |
| 4 | Victoria, Saint Mark | 2,256 |
| 5 | Saint David's, Saint David | 1,321 |
| 6 | Sauteurs, Saint Patrick | 1,320 |
| 7 | Hillsborough, Carriacou and Petite Martinique | 1,000 |