Travel
Where To Travel In Europe For The Cheapest City-Break
Krakow offers the cheapest city-break in Europe.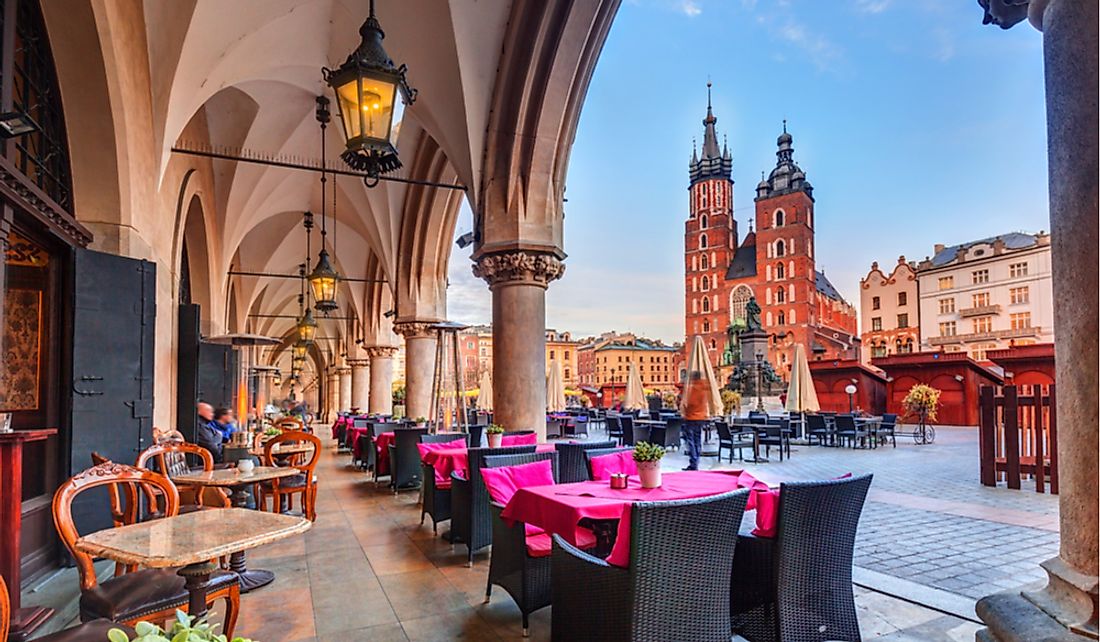 Many European cities are endowed with a wealth of historical and cultural attractions that renders them top tourist attractions. Although visits to several of these cities can burn a hole through the pocket, there are many others that can be toured on a good deal. These cities are no less interesting or beautiful than the more expensive ones. They have their own set of attractions and activities.
To help tourists traveling on a tight budget, Post Office Travel Money prepared a list of the cheapest "city-break" destinations in Europe. They did so by summing the price of nine typical expenses that a visitor might incur when visiting these cities for two nights. These expenses included accommodation for two people for two nights, airport transfer, 48-hour travel car, a bus tour for sightseeing, meals for two, a glass of wine and bottle of beer, soft drinks/tea/coffee, and entries to top museums/art galleries/heritage attractions. 36 city-break destinations in Europe were assessed and Krakow was found to be the cheapest among them.
8. Athens, Greece
With its recorded history spanning over 3,400 years, Athens, the capital of Greece, is one of the oldest cities in the world. It is often referred to as the "cradle of Western civilization". For centuries, Athens has been a center for the arts and philosophy. Today, the ancient monuments and works of art of Athens attract a large number of visitors from all corners of the globe to this city. The Parthenon is the most famous of all these monuments. Roman, Byzantine, and Ottoman monuments can all be seen in the city. The Daphni Monastery and Acropolis of Athens are two UNESCO World Heritage Sites within Athens. The first modern-day Olympic Games was hosted in Athens in 1896. The city also has many museums and cultural institutions.
7. Prague, Czech Republic
Prague is another beautiful city-break destination in Europe that is not too heavy on the pockets. It is the Czech Republic's capital and most populous city. It is based on the banks of the Vltava River. For several centuries, Prague served as the seat of several Holy Roman Emperors. It was also an important city of the Austro-Hungarian Empire. It is thus dotted with famous historical and cultural attractions like the Prague Castle, Jewish Quarter, Old Town Square, ten major museums, numerous theaters, galleries, cinemas, and more. Its historical center is a UNESCO World Heritage Site.
6. Moscow, Russia
The Russian capital of Moscow is one of the world's fastest growing tourist destinations. Moscow has an immense wealth of historical monuments and cultural attractions. Many major events that shaped the world's history occurred in this city. The Red Square and the Kremlin are located at the very heart of Moscow. The St Basil's Cathedral is another major attraction. Moscow's streets, squares, and buildings all have a story to tell. They remind one of the rise and fall of the Soviet Union, the victorious battles, and the Russian war heroes. The many museums in the city like the Bunker-42 Cold War Museum allow one to get an in-depth knowledge of the Soviet system. Moscow's cultural attractions also thrill visitors. One can watch ballet performances or the famous Russian circus shows while in the city. There are over 600 churches in Moscow whose golden domes peek out at nearly every turn in the city.
5. Budapest, Hungary
The beautiful Hungarian city of Budapest is the fifth cheapest city-break European destination. It is the capital and most populous city of the country. Several international rankings have placed Budapest among the world's most charming and liveable cities. The city houses many historical attractions and cultural institutions. Its central area is based on the banks of the Danube River and is a UNESCO World Heritage Site. The Liberty Statue, Gresham Palace, Fisherman's Bastion, Széchenyi Chain Bridge, and Matthias Church are some of its major landmarks. Budapest also has 80 geothermal springs, the world's third-biggest Parliament building, and the world's second biggest synagogue. Budapest's many green spaces, gardens, and islands add a touch of natural charm to the city.
4. Warsaw, Poland
Poland's capital city, Warsaw, also offers tourists amazing experiences on a low budget. The city stands on the banks of the Vistula River. Like other cities on this list, Warsaw is also associated with centuries of history and culture that has been well-preserved by the Poles. It also has a historical Old Town that was inscribed as a UNESCO World Heritage Site. Until World War II, Warsaw was often described as one of the world's most beautiful cities and was nicknamed 'Paris of the North'. During the war, however, the city was almost completely ravaged. It did manage to quickly recover post the World War. Its remaining ancient structures were protected by the government. Today, Warsaw boasts of an Old Town with structures representing almost every historical period and architectural style of Europe. The Castle Square, Wilanów Palace, St. John's Cathedral, King Sigismund's Column are some of Warsaw's major architectural attractions.
3. Riga, Latvia
Riga is the third cheapest European city for a city-break journey. It is a coastal city located at the mouth of the Daugava river on the Gulf of Riga. It serves as Latvia's capital and is the country's most populous city. It was founded in 1201 and its ancient historical monuments are protected as a UNESCO World Heritage Site. Riga also offers all modern-day facilities of entertainment and recreation like open-air cafes, museums, concerts, operas, theaters, shopping malls, and cozy restaurants. The city also has many green spaces. Riga has a good network of public transport that allows tourists to explore it easily.
2. Vilnius, Lithuania
Lithuania's capital and biggest city is Europe's second cheapest city-break destination. Vilnius is known for its historic Old Town, a UNESCO World Heritage Site. In 2009, Vilnius shared the title of "European Capital of Culture" together with Linz, an Austrian city. Travelers associate its Old Town with a "dream-like" quality. The historical monuments of the area have been well-preserved over the centuries. The cobbled-streets and weather-worn buildings nestle many cafes, guest-houses, and boutique stores. Vilnius is also very green. About 40% of the city has a green cover. Ancient churches and cathedrals amidst greenery make the cityscape extremely picturesque.In the past, Vilnius was nicknamed "Jerusalem of the north" due to a large number of Jews who lived there. Unfortunately, much of the city's Jewish population was lost during the Holocaust. Reminders of the dark days can be still seen in Vilnius as war cemeteries, former torture chambers and ghettos, and museums related to the Holocaust.
1. Krakow, Poland
Poland's second biggest city is the cheapest city-break destination in Europe. Located on the banks of Vistula River in Lesser Poland, Krakow bears witness to centuries of history starting from the 7th century. In the past, Krakow was the Polish capital and an important cultural, economic, and academic hub of the nation. The Old Town of Krakow takes one back in time with its ancient charm and well-preserved historical monuments. It is a World Heritage Site. There are over 120 quality hotels in Krakow which offer over 15,000 overnight accommodations. Most tourists to the city rate it highly for the friendliness of its people. Besides the historical Old Town, there are several places of tourist interest around the city like the Tatra Mountains, Wieliczka salt mine, Ojcowski National Park, Auschwitz Nazi concentration camp, and Częstochowa.
Where To Travel In Europe For The Cheapest City-Break?
| Rank | European City | Typical cost of a 2 night stay (2018) |
| --- | --- | --- |
| 1 | Krakow | £164.8 |
| 2 | Vilnius | £165.3 |
| 3 | Riga | £172.17 |
| 4 | Warsaw | £180.53 |
| 5 | Budapest | £183.51 |
| 6 | Moscow | £199.64 |
| 7 | Prague | £199.86 |
| 8 | Athens | £200.42 |
About the Author
Oishimaya is an Indian native, currently residing in Kolkata. She has earned her Ph.D. degree and is presently engaged in full-time freelance writing and editing. She is an avid reader and travel enthusiast and is sensitively aware of her surroundings, both locally and globally. She loves mingling with people of eclectic cultures and also participates in activities concerning wildlife conservation.
This page was last updated on March 15, 2019.
Citations
Your MLA Citation
Your APA Citation
Your Chicago Citation
Your Harvard Citation
Remember to italicize the title of this article in your Harvard citation.