Society
When Is Mother's Day?
The very special mother-child bond is celebrated every year on the second Sunday of May as Mother's Day.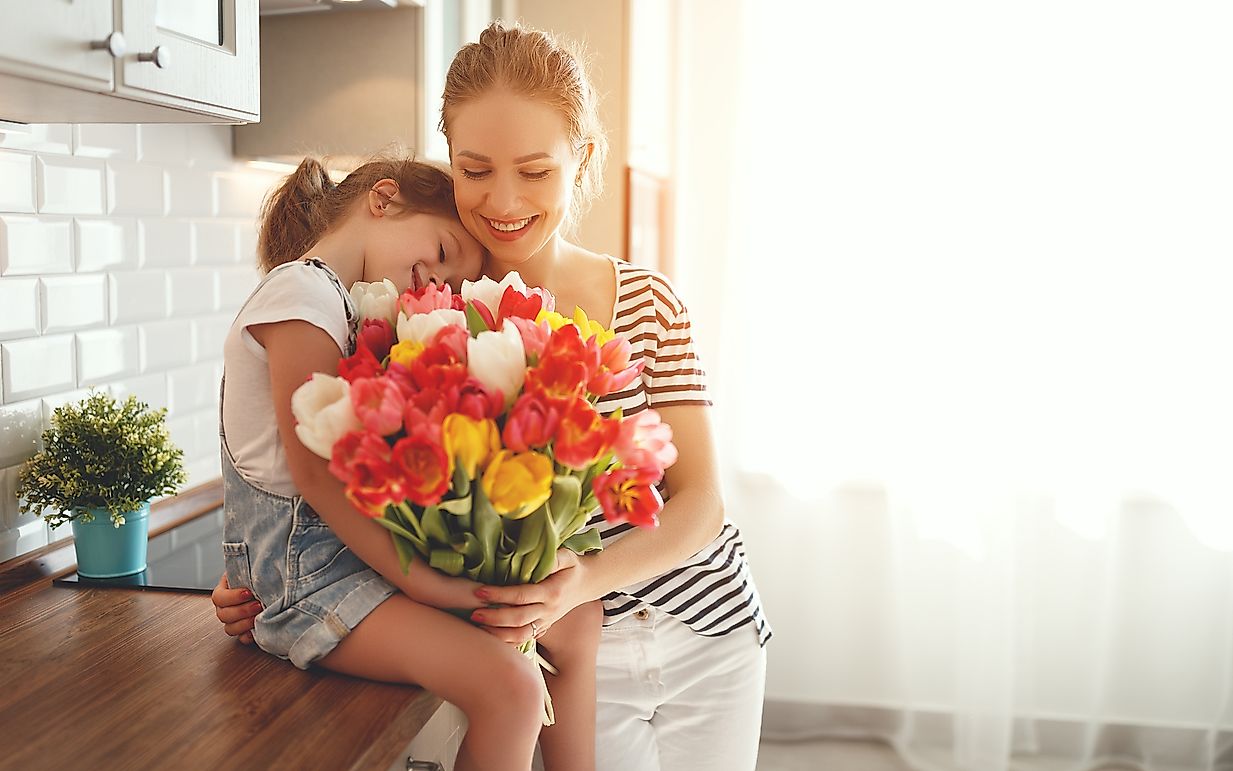 Mothers are the most special people in the society. They are "homemakers," mentors, role models, and great caregivers among other things. In ancient days (and many places today), the role of a mother was to take care of their homes, a role they carried out with such grace and joy. However, modern mothers not only take care of the "kitchen" but also work to supplement their family income. Because of the important place of a mother in society, a day is set aside every year to celebrate and show them affection and love. This day is popularly known as Mother's Day and observed in over 40 countries worldwide. It is the second Sunday of May.
Origin Of The Holiday
The first Mother's Day was celebrated in 1908 when Anna Jarvis (United States) held a memorial service in Grafton's St. Andrew Methodist Church in honor of her late mother. The church hosts the International Mother's Day Shrine. When Anna's mother died in 1905, she began a nationwide campaign to have Mother's Day a recognized holiday in the US. Her mother was a peace activist who nursed the wounded soldier and created the Mother's Day Work Club. Anna was determined to continue the work her mother begun and to set aside one day in a year to honor the mothers because they have "one more for you than anyone else in the world." In 1908, the proposal to make Mother's Day a public holiday was rejected by Congress. However, Mother's Day was finally observed in 1911 in all of the US, with West Virginia officially recognizing it. In 1914, President Woodrow designated the second Sunday of May as a day to honor all mothers and named in Mother's Day.
Mother's Day And Not Mothers' Day
The contention over the years has been "why Mother's Day and not Mothers' Day" since all mothers are being celebrated on this day. When Anna Jarvis formed the Mother's Day International Association in 1912, she was specific about it being "Mother's" so that each family could honor its mother and not a plural form (mothers') honoring all mothers in the world. it is for this reason that President Woodrow, in his proclamation, used "Mother's." Other US presidents have also used the same spelling in their proclamations concerning the same.
Mother's Day Is Popularly Celebrated On The Second Sunday Of May
Although Mother's Day originated from the United States, it has since been adopted by many countries around the world. The second Sunday in May has traditionally been set aside to celebrate and honor mothers. In 2019, Mother's Day was commemorated on Sunday, May 12 in over 90 countries around the world. This year (2020), Mother's Day will be on May 10, 2020, while May 9 has been set aside for the celebration in 2021. Mother's Day will be commemorated on May 8 and May 13 of 2022 and 2023 respectively.
Countries That Celebrate Mother's Day On A Different Date
While most countries celebrate Mother's Day on the second Sunday in May, other countries hold the commemoration on a different date. Mothering Sunday is celebrated in the UK, Ireland, and Nigeria on the fourth Sunday in Lent. France, Algeria, Cameroon, Sweden, Tunisia, and Mali commemorates the day on the last Sunday of May or the first Sunday of June. Other dates include first Sunday of July, Second Sunday of February, March 21, March 25, May 8, May 10, and last Sunday of November
About the Author
John Misachi is a seasoned writer with 5+ years of experience. His favorite topics include finance, history, geography, agriculture, legal, and sports. 
This page was last updated on February 5, 2020.
Citations
Your MLA Citation
Your APA Citation
Your Chicago Citation
Your Harvard Citation
Remember to italicize the title of this article in your Harvard citation.