Society
What Is High Tech Architecture?
Also known as late modernism or structural expressionism, high tech architecture is a style that emerged in the late 1970s.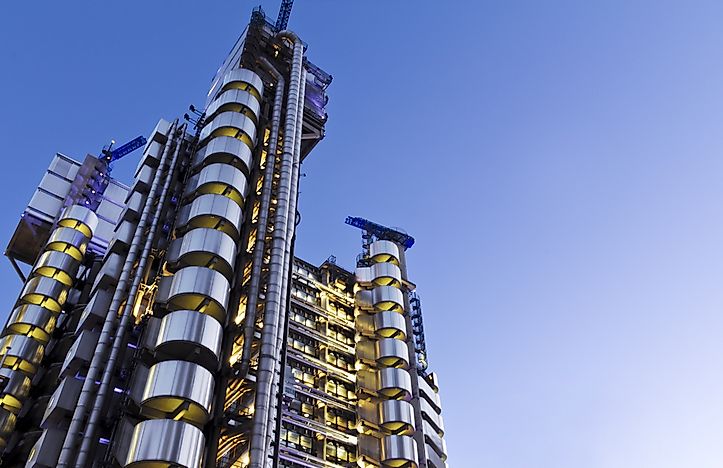 High-tech architecture is an architectural technique characterized by integrating high-tech industrial and technological components into the structure of a building. The architectural movement emerged in the 1960s and is seen as a characterization of the transition from modernism architecture to post-modernism architecture.
High-tech architecture featured the preferred application of sheer surfaces and lightweight materials. The architectural design was driven by the concept of showing how technology can improve the world by placing technical features of a building on a building's exterior. The architects Richard Rogers and Norman Foster were the key figures of implementing high tech architecture in the 1970s, and elements can be seen in their designs all over the world.
Characteristics Of High Tech Architecture
The exterior frame of buildings built using high-tech architecture is composed of steel and glass which have a skeletal structure with interiors being spacious with easy access to floors. The materials used in the construction of the building are mainly lightweight materials, and the pipework is colorful. High-tech architecture was a favorite design employed in the construction of many malls, stadia, and commercial buildings.
Famous Examples Of High Tech Architecture
1. John Hancock Center (Chicago, US)
The John Hancock Center is a skyscraper located in Chicago, Illinois. It is among the tallest buildings in the city with 100 floors. John Hancock Center is currently the eight tallest skyscraper in the United States and rises to 1,128 feet above the streets of Chicago. Construction of the building commenced in 1965 and was designed by Skidmore, Owings and Merrill architects together with Fazlur Rahman Khan who used the high-tech architectural design which is expressed on the building's exterior which has an X-braced exterior used as an external skeleton to reinforce the building from strong winds and even earthquakes.
2. Centre Pompidou (Paris, France)
The Centre Pompidou (also known as the Centre Georges Pompidou) is a large building located in France's capital, Paris. The building occupies 103,305 square meters of floor area and hosts the Musee National d'Art Moderne, the biggest modern art museum in Europe and the Bibliotheque Publique d'Information, a large public library. The Centre Pompidou was constructed from 1971 to 1977 and was designed by several architects including Italian Renzo Piano and Gianfranco Franchini and British Richard Rogers. The building is one of the best examples of the application of high-tech architecture and features an elaborate external skeleton made of colorful tubes.
3. Lloyd's Building (London, England)
Lloyd's building is located along Lime Street in London, England and is the headquarters of Lloyd's of London, an insurance company. The building was constructed from 1978 to 1986 and was designed by the architectural firm Richard Rogers and Partners. Lloyd's building exhibits high-tech architecture and is also known as the "Inside-Out Building" due to its appearance where major structural appliances such as stairs, elevators, electrical systems and water pipes being on the building's exterior, a distinct characteristic of high-tech architecture.
Decline In Popularity
High-tech architecture was popular in the 1970s but started to experience a decline in the 1980s. The primary cause of the decline is the emergence of post-modern architecture in the late 20th century which absorbed many characteristics of high-tech architecture.
Examples of High Tech Architecture
| Rank | Building Name | Location | Year Constructed |
| --- | --- | --- | --- |
| 1 | John Hancock Center | Chicago, USA | 1969 |
| 2 | Pompidou Centre | Paris, France | 1977 |
| 3 | Onterie Center | Chicago, USA | 1986 |
| 4 | Lloyd's Building | London, UK | 1978 |
| 5 | Internationales Congress Centrum Berlin | Berlin, Germany | 1979 |
| 6 | Leadenhall Street | London, UK | 2014 |
| 7 | Burj Al Arab | Dubai, UAE | 1999 |
| 8 | Bank of China Tower | Hong Kong | 1990 |
| 9 | Hotel Arts | Barcelona, Spain | 1994 |
| 10 | Willis Tower | Chicago, USA | 1973 |
This page was last updated on June 14, 2019.
Citations
Your MLA Citation
Your APA Citation
Your Chicago Citation
Your Harvard Citation
Remember to italicize the title of this article in your Harvard citation.