Society
What Is A Gompa?
A gompa is a structure related to Buddhism.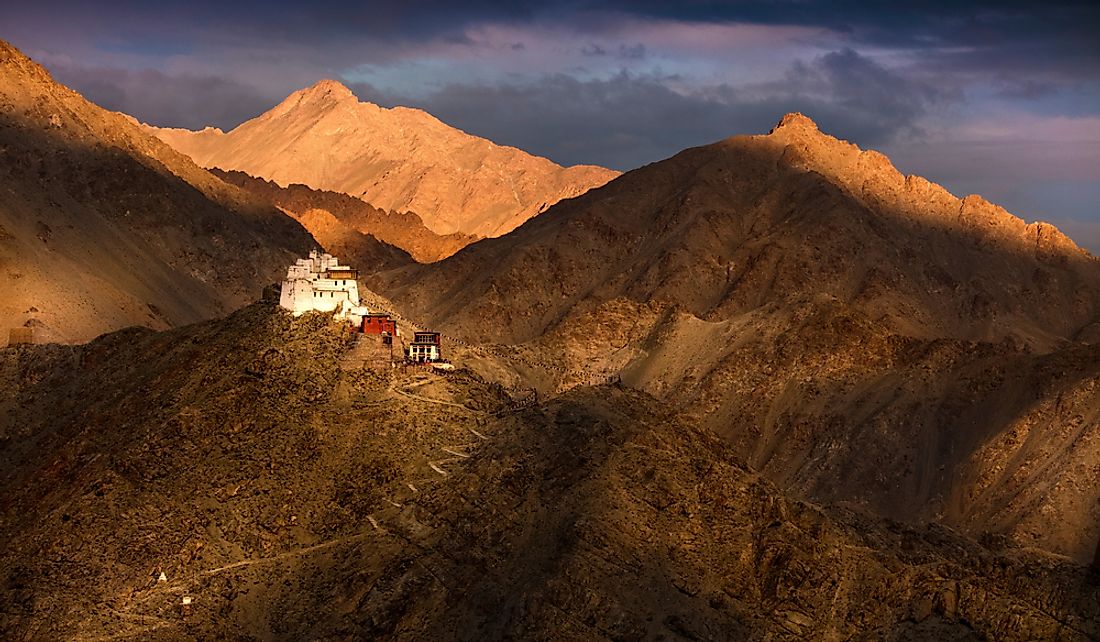 Gompas are Buddhist temples or monasteries common in the historical region of Tibet including parts of China, Nepal, India, Bhutan, and Ladakh. A monastery is a spiritual center where Buddhist ideas and beliefs are taught and where one leans to renounce their materialistic and sensual desires and cultivate the right attitude. Therefore, a gompa is a room where a Buddhist meditates and listens to the teachings. Although the designs and interior details of gompas vary from region to region, they all have a central prayer hall furnished with a Buddha statue and benches that nuns or monks use to engage in prayers. They also have living accommodations and some may be accompanied by any number of stupas (a mound-like structure used as a place of meditation).
Inside a Gompa
Inside the whitewashed walls of the Buddhist monasteries are great pieces of arts and decorations including sculptures and rainbow-colored murals. The artwork is not inspired by the surrounding environment but by the imaginations and belief of the religion. Inside the gompas are mythical beings, symbolism, and deities. One of the common feature found inside the monastery is the Wheel of Life depicting the principle of Karma (law of cause and effect). The buildings are also filled with statues of Buddhist deities. Every gompa is guarded by a fearsome deity known as Dharmapala who is ringed by fire and has wild eyes, long fangs, and sharp claws. The work of this deity is to protect the dharma or Buddhist teachings from outside influence.
Gompas in Ladakh
Ladakh is a high altitude desert region in India located in the state of Jammu and Kashmir. The region extends from Siachen Glacier to the Main Great Himalayas. The region is one of the most sparsely populated in India and is well known for its remote mountain beauty and culture. The region of Ladakh has over 100 monasteries and gompas. The gompas in Ladakh are mainly inhabited by the monks who have dedicated their lives to living there and adhering to the Buddhist way of life. Most of the gompas are located in a remote area, especially high cliffs. Most of these monasteries were either built by the Mahayana or Hinayana Buddhists. Mahayana Buddhism is the predominant religion practiced in Ladakh and is based on the 8th tenet of the eightfold part taught by Buddha. This religion stresses on concentration and meditation. The largest gompa in Ladakh is the Hemis Gompa, situated approximately 45 kilometers from Leh, Ladakh's capital. Other popular gompas in Ladakh include Namgyal Tsemo Gompa built in 1430 and housing a 3-storeyed statue of Lord Buddha, Sankara Gompa, and Likhir Monastery.
Other Common Gompas
Although there are gompas across the Himalayas, the most outstanding ones are found outside Tibet where Tibetan Buddhists escaped the purges of Chinese Cultural Revolution. Some of these common monasteries in India include Dharamsala, Tawang (second largest gompa in the world), Tabo Gompa, and Rumtek. In Tibet, the gompas include Potala Palace (the largest gompa in the world) and Pelkhor Chode monastery while those in Nepal include Bodhnath and Swayambhunath.
This page was last updated on March 29, 2019.
Citations
Your MLA Citation
Your APA Citation
Your Chicago Citation
Your Harvard Citation
Remember to italicize the title of this article in your Harvard citation.