Which Countries Border Malaysia?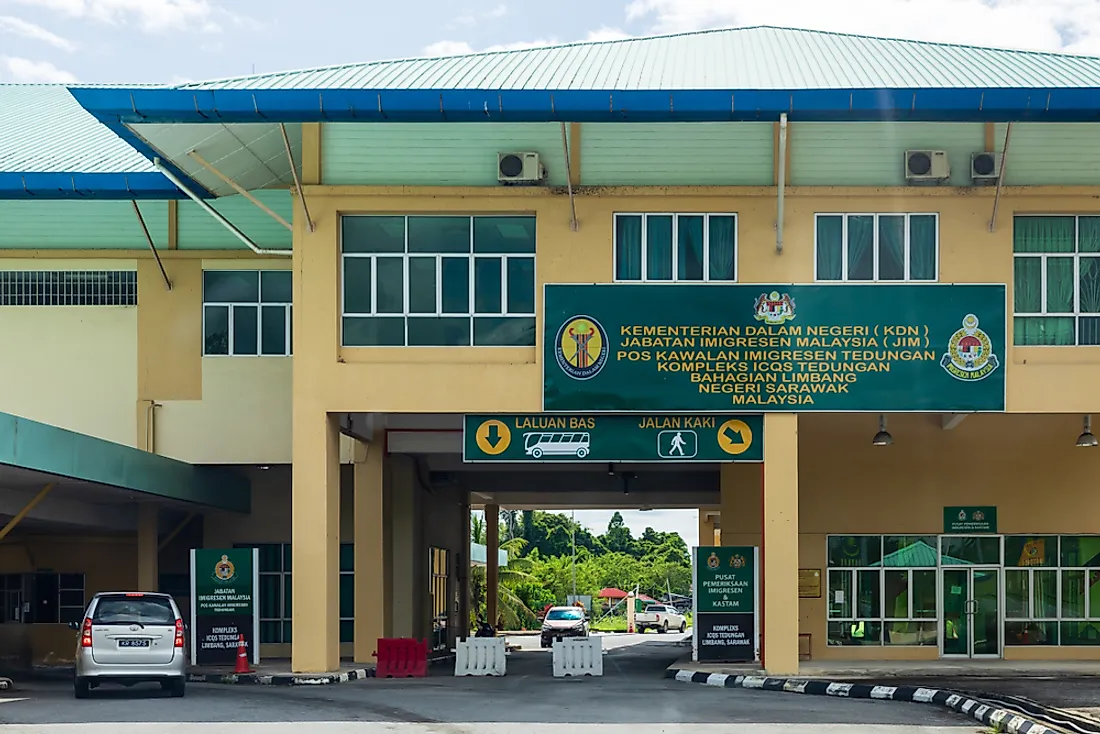 Malaysia is located in southeast Asia. It is divided into two parts by the South China Sea; Peninsular Malaysia and East Malaysia. The nation, which comprises a total land area of 126,854 square miles, is made up of thirteen states and three federal territories (Kuala Lumpur, Labuan, and Putrajaya). Malaysia's population is estimated to be 32,216,377 with a density of 253 people per square mile.
Malaysia is a constitutional monarchy which gained its independence from the United Kingdom in 1957. Its head of state is known as the Yang di-Pertuan Agong or King who is elected to a term of five years. The country is currently a member of the Commonwealth of Nations, Association of Southeast Asian Nations, Organisation of Islamic Cooperation, and Asia-Pacific Economic Cooperation.
Malaysia is bordered by several countries both by land as well as by water. The portion of the nation known as Peninsular Malaysia shares a border with Thailand, Singapore, Vietnam, and Indonesia while East Malaysia borders Brunei, Indonesia, Philippines, and Vietnam.
Vietnam borders both Peninsular Malaysia (also referred to as Malaya or West Malaysia) as well as East Malaysia. Formally known as the Socialist Republic of Viet Nam, this country of 96,890,637 people has a population density of 806 citizens per square mile. Over 85% of its residents are Vietnamese with the remainder being comprised of about 53 different ethnic minorities.
Indonesia is comprised of some 17,000 separate islands and occupies a total land area of 699,451 square miles. It shares both land as well as maritime borders with Malaysia and is home to 267,968,323 inhabitants, with a population density of 381 people per square mile. The country ranks the fourth most populous nation in the world, behind the US, India, and China. Java, one of Indonesia's islands, also holds the distinction of being the most populated island on Earth with an estimated population of 145 million residents.
Officially known as the Kingdom of Thailand, this southeastern Asian country is home to a population of 69,235,944 people. The nation is divided into 76 provinces and covers a land area of 197,256 square miles. Formerly known as Siam, Indonesia is primarily a Buddhist nation with almost 95% of its population following the religion. Other minority religious denominations in Thailand include Islam, Christianity, Hinduism, Judaism, Sikhism, and Confucianism.
The Republic of Singapore is a city-state comprised of one main island and 62 smaller islets. With a population of 5,824,496, Singapore occupies only 270 square miles of land. A former colony of the United Kingdom, Singapore gained its independence in 1965. Its current government operates as a parliamentary republic with both a Prime Minister and President.
Formally known as the Nation of Brunei, the Abode of Peace, this small country, located on the northern coast of the island of Borneo, is comprised of a total of 2,035 square miles of land. Its current population stands at 436,328 with a density of 213 people per square mile. A former British colony, Brunei gained its independence in 1984. The nation relies heavily on oil and natural gas to fuel its economy. These natural resources account for an estimated 90% of its gross domestic product.
The Republic of the Philippines is made up of approximately 7,641 islands. In total the country occupies a land area of 115,124 square miles and is home to a population of 107,194,154 people. Although the national language is Filipino residents speak a number of minority languages including Arabic and Spanish. The ethnic mix of the country includes citizens from various backgrounds including those of Visayan, Chinese, Moro, Tagalog, Zamboangueño, Ilocano, Pangasinense, Bicolano, Igorot, and Kapampangan origin. The overwhelming majority of residents in the Philippines are Christian while minority faiths include Islam, Buddhism, Hinduism, and Judaism.