World Facts
Top Source Countries Of Tourists To Malaysia
Singapore, Indonesia, and China were the three top sources of tourists visiting Malaysia in 2016.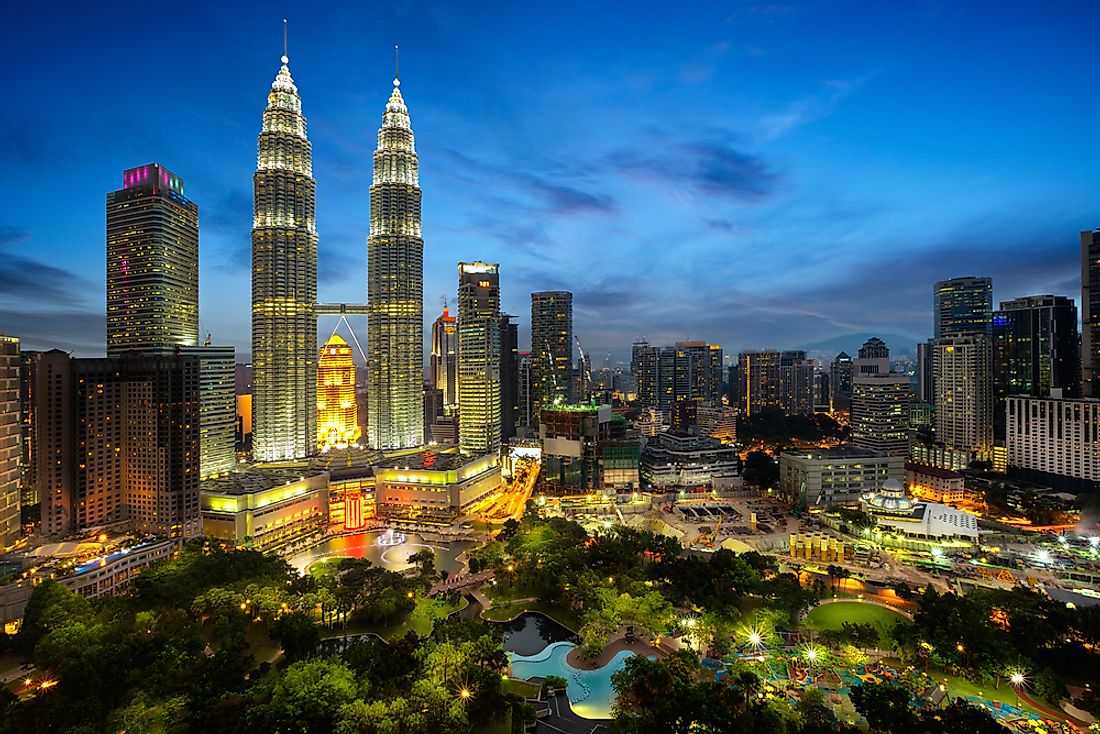 Malaysia is one of the popular tourist destinations in the world. It is ranked ninth in the world for tourism arrival. The government of Malaysia has made several initiatives in the past few years to promote tourism in the country with the aim of diversifying the economy and making it less dependent on exports. As a result, tourism is currently the third largest foreign income earner in Malaysia accounting for over 7% of the country's economy. Tourism in Malaysia is promoted by the Tourism Malaysia Agency or the Malaysian Tourism Promotion Board (MTPB) which was formed in 1992. Malaysia also launched a worldwide campaign in 1999 that was dubbed "Malaysia, Truly Asia" as a marketing tool leading to about 7.5 million tourists visiting the country.

Tourism Malaysia
Tourism Malaysia or MTPB was established in 1972 under the Ministry of Trade and Industry to promote tourism in the country. Through several promotional activities, Tourism Malaysia has about 34 overseas and 10 marketing representative offices. The government agency has signed contracts with several countries and organizations including Manchester United, Chelsea, and other football (soccer) teams in an effort to promote Malaysia. The diverse culture, beautiful holiday destinations, and unique attractions have made the country one of the most popular destinations for tourists. The government has also started a campaign dubbed "1Malaysia Green, 1Malaysia Clean" in an effort to let the tour operators and travelers know the importance of protecting nature while promoting eco-tourism. Tourism Malaysia has also focused on niche tourism products such as sports, bird watching, medical and wellness, and shopping in order to boost the tourist numbers.
Tourist Arrivals In Malaysia
The tourism industry in Malaysia indicated signs of recovery in 2016 with the figures showing more tourist arrivals in the country after a slowdown in 2014 and 2015. The country recorded about 26.7 million tourist arrivals in 2016 up from 25.7 million in 2015 signifying a 4% upward growth. The bad publicity that came with the disappearance of Malaysia Airline Flight 370 with 239 people on board made the country well known to the world, for better or for worse. Singapore, Indonesia, and China were the three top sources of tourists visiting Malaysia in 2016 with 13 million, 3 million and 2 million arrivals respectively. The ASEAN region continues to be the largest contributor of tourist arrival with about 76% of the total arrivals. Thailand registered the highest growth from 1.3 million arrivals in 2015 to 1.7 million arrivals in 2016 representing 32.5% upward growth. It was followed by Brunei arrivals that grew by 22.7%, Indonesia (9.4%), and Singapore (2.6%). However, arrivals from France, Vietnam, Philippines, and India decreased significantly. The stronger tourism performance in 2016 is attributed to cheaper air travel and numerous flights due to the expansion of the low-cost carriers in the region. The tourist receipt rose by about 19% contributing $18.1 billion in 2016 up from $15.71 billion in 2015 translating to an average per capita expenditure of $698.
Tourist Destinations And Attractions
Malaysia is a preferred tourist destination because of the hundreds of tourist attractions and destinations spread across the country. The major attractions include historical structural buildings such as Stadthuys and Malacca Christ Church, museums, national parks, beaches, resorts, and towers. Malaysia is also a shopping destination with varieties to offer shoppers. Medical tourism is also popular in the country with the Malaysia Health Care Travel Council reporting an arrival of 640,000 foreign patients
Where Do Tourists From Malaysia Come From?
Singapore, Indonesia, and China were the three top sources of tourists visiting Malaysia in 2016.
Top Source Countries Of Tourists To Malaysia
| Rank | Country | Visitors(2016) |
| --- | --- | --- |
| 1 | Singapore | 13,272,961 |
| 2 | Indonesia | 3,049,964 |
| 3 | China | 2,124,942 |
| 4 | Thailand | 1,780,800 |
| 5 | Brunei | 1,391,016 |
| 6 | India | 638,578 |
| 7 | South Korea | 444,439 |
| 8 | Philippines | 417,446 |
| 9 | Japan | 413,768 |
| 10 | United Kingdom | 400,269 |
| 11 | Australia | 377,727 |
| 12 | Taiwan | 300,861 |
| 13 | United States | 217,075 |
| 14 | Vietnam | 216,877 |
| 15 | France | 134,257 |
About the Author
John Misachi is a seasoned writer with 5+ years of experience. His favorite topics include finance, history, geography, agriculture, legal, and sports. 
This page was last updated on August 1, 2017.
Citations
Your MLA Citation
Your APA Citation
Your Chicago Citation
Your Harvard Citation
Remember to italicize the title of this article in your Harvard citation.