What Are The Biggest Industries In Belarus?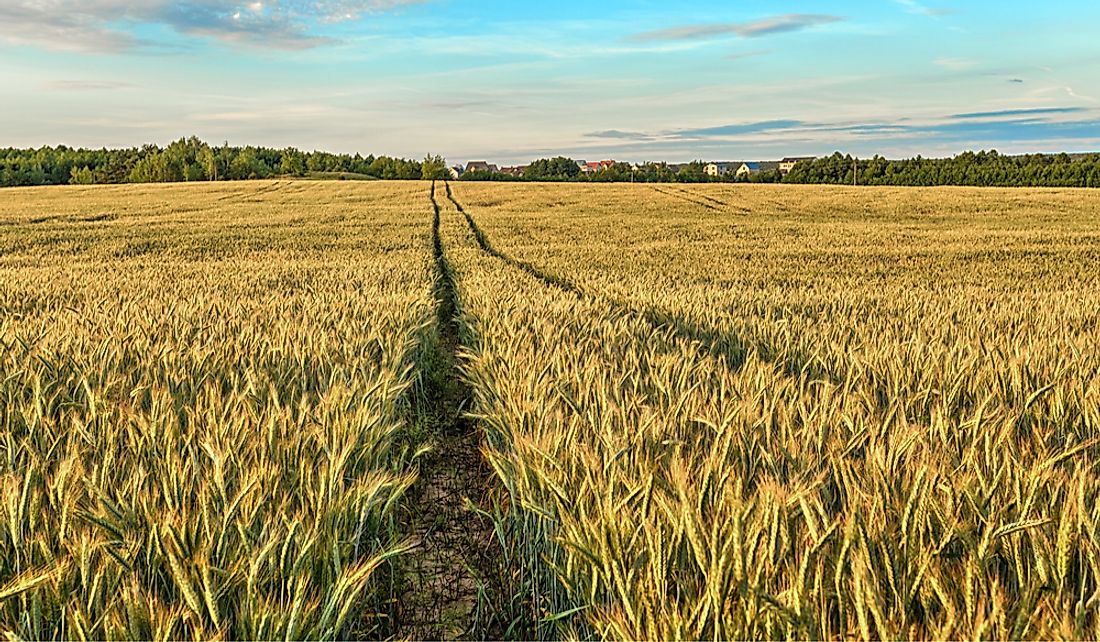 The Republic of Belarus is a landlocked country located in Eastern Europe. With an area of 207,595 km2 and an estimated population of 9,491,800, Belarus ranks as the 84th most extensive and 93rd most populous country in the world. The total gross domestic product (GDP) of Belarus was US$54.44 billion in 2017, with 4.35 million individuals employed in the workforce. Of this total, 39.3% were employed by government-owned companies, 57.2% by privately-owned companies, and 3.5% by foreign companies. The major economic drivers in Belarus are the manufacturing and service industries, and women make up a great proportion of the country's workforce. 
Manufacturing Industry
The manufacturing industry, which includes sectors such as metallurgical, light, food, chemical & petrochemical, and mechanical engineering, contributes 37% of the GDP of Belarus. In 1994, the country's primary exports were heavy machinery, especially tractors, trucks, and earthmovers, agricultural products, and energy products. Additionally, Belarus specializes in the manufacturing of the world's quarrying, mining, and construction vehicles. Although the government has allowed private companies to invest in the manufacturing industry, it maintains control over major industries. Presently, Belarus also manufactures and exports motorcycles, refrigerators, textiles, radios, and televisions.
Belarus's largest trading partners in 2006 were Russia and the European Union. Analysts speculated that the unemployment rate in Belarus was 15% in 2009 due to disguised unemployment, as well as strict regulations. However, the economy has grown in recent years. In 2017, Belarus' primary trading partners were Italy, Turkey, China, Ukraine, Russia, United Kingdom, Netherlands, Germany, and Poland. Examples of manufacturing corporations in Belarus include the Belarusian Automobile Plant, Minsk Wheel Tractor Plant, Mogilev Automobile Plant, and Neman.
Agriculture Industry
The agricultural industry accounts for more than 15% of Belarus' GDP and serves as a significant source of foreign currency. Farmers are engaged in both livestock rearing and crop cultivation, with crop production slightly outweighing livestock production. The main agricultural products in Belarus are cranberries, sugar beets, wheat, cucumbers, flax, sunflower oil, potatoes, rapeseed, rye, triticale, and barley, while animal products include poultry, pork, and beef. The proportion of land used for crop farming varies: cereals and legumes (41%), crops for animal feed (43%), potatoes and vegetables (11%), and industrial crops (4%). Belarus is one of the leading exporters of butter, yogurts, cheese, 
Although the agriculture industry is performing relatively well, it has declined in recent years. In 2007, agriculture's share of the national GDP dropped to 7.4% from 11.6% in 2000. This decline is attributed to the mass migration of the country's residents from rural to urban areas. As a result, this shift to urbanization has led to a decline in available agricultural labor.
Transport and Logistics Industry
Belarus has strong transportation infrastructure due to centuries-old trade routes from the Baltic Sea to the Black Sea, and from Russia to Western Europe. The country's public roads measure a total length of 63,131 miles, and 86.47% of this total are paved roads. Belarus has 3,412 miles of operational railway lines and 755 miles of electrified railway. Additionally, the transport and logistics industry also includes 1,854 miles of oil and gas pipelines. There are 38 logistics centers in Belarus, which includes both warehouse space (Class A and B) and floor space.
Economic Environment and Growth
The economic environment in Belarus is not very favorable to foreign investors due to its stringent policies, cumbersome licensing system, lack of an independent judiciary, and price controls. Nonetheless, increased trade cooperation between Belarus and Russia, as well as reformative policies, have made economic growth possible.