Society
US States by Jehovah's Witness Population
According to the PEW Research Center, most states do not have dramatic populations of Americans who identity as Jehovah's Witness.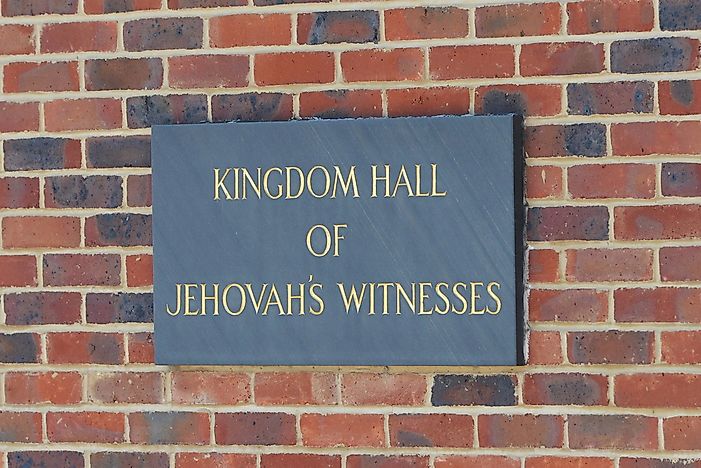 People in the United States of America have the freedom to the religious beliefs of their choosing. Major religions in the USA include Christianity, Islam and Judaism. Other religions represent smaller percentage of the US population. These groups include Buddhism, Hinduism, Sikhism, Jainism and Rastafari. Generally, Christianity carries the majority of the USA population with seventy percent (70%) of the people being Christians according to research done by the PEW Research Center.
Jehovah Witness religious group fall under the larger umbrella of Christianity in the USA though the number is not very large when compared to the entire population. This group of Christians is believed to have established itself in the early 19th century in the USA. They are mostly identified through their evangelical mechanism of moving door to door. What makes Jehovah's Witness unique among the Christian groups is their teaching that Jesus is the son of God but definitely not part of the Holy Trinity. The survey got statistics from all over USA states and it is evident that the Jehovah Witness people are very few in the entire country.
States With Notable Jehovah's Witness Populations
Arizona
Although still small when compared to the entire population in the USA, Arizona reports around 1% of its population as Jehovah's Witness. This accounts to around 70,000 members.
California
California reports around 390,000 members who identify as Jehovah's Witness. There are a number of Kingdom Halls located in the state.
Florida
Florida is home to a small but notable percentage of Jehovah's Witnesses. There are around 120,000 people who identify as Jehovah's Witness in the state.
Hawaii
Hawaii State is critical as far as the Jehovah Witness population is concerned. The state carries one percent of the total population of the Jehovah witness members in the USA which when presented in numbers represent 8,411 members.
Illinois
This state is documented as having one percent of the total USA population that belongs to the Jehovah Witness people. This percentage represents an estimated 128,000 members.
Conclusion
The research done by the survey team from PEW Research Center gives a clear indication concerning the demographics of the USA population as it pertains Jehovah Witness members. The numbers shows that at the moment, the number is still low especially when compared with other denominations of Christianity.
US States by Jehovah's Witness Population
| Rank | State | % Identifying as Jehovah's Witness (Source: PEW) |
| --- | --- | --- |
| 1 | Arizona | 1% |
| 2 | California | 1% |
| 3 | Florida | 1% |
| 4 | Hawaii | 1% |
| 5 | Illinois | 1% |
| 6 | Kansas | 1% |
| 7 | Louisiana | 1% |
| 8 | Michigan | 1% |
| 9 | Montana | 1% |
| 10 | Nevada | 1% |
| 11 | New Jersey | 1% |
| 12 | New Mexico | 1% |
| 13 | New York | 1% |
| 14 | North Carolina | 1% |
| 15 | Ohio | 1% |
| 16 | Pennsylvania | 1% |
| 17 | South Carolina | 1% |
| 18 | Tennessee | 1% |
| 19 | Texas | 1% |
| 20 | Wisconsin | 1% |
| 21 | Georgia | 2% |
| 22 | New Hampshire | 2% |
| 23 | Rhode Island | 2% |
| 24 | Washington | 2% |
| 25 | Wyoming | 3% |
| 26 | Alabama | < 1% |
| 27 | Alaska | < 1% |
| 28 | Arkansas | < 1% |
| 29 | Colorado | < 1% |
| 30 | Connecticut | < 1% |
| 31 | Delaware | < 1% |
| 32 | District of Columbia | < 1% |
| 33 | Idaho | < 1% |
| 34 | Indiana | < 1% |
| 35 | Iowa | < 1% |
| 36 | Kentucky | < 1% |
| 37 | Maine | < 1% |
| 38 | Maryland | < 1% |
| 39 | Massachusetts | < 1% |
| 40 | Minnesota | < 1% |
| 41 | Mississippi | < 1% |
| 42 | Missouri | < 1% |
| 43 | Nebraska | < 1% |
| 44 | North Dakota | < 1% |
| 45 | Oklahoma | < 1% |
| 46 | Oregon | < 1% |
| 47 | South Dakota | < 1% |
| 48 | Utah | < 1% |
| 49 | Vermont | < 1% |
| 50 | Virginia | < 1% |
| 51 | West Virginia | < 1% |