US States by Jehovah's Witness Population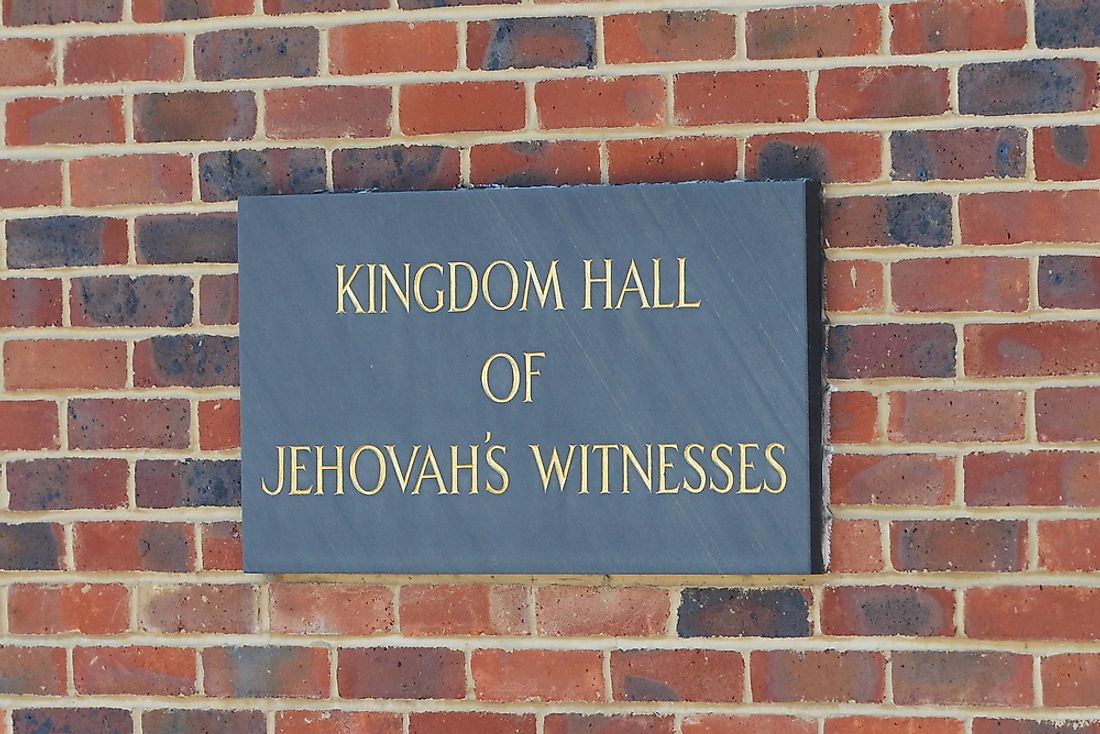 Christianity is the dominant religion in the United States accounting for about 70% of the religious population. Jehovah's Witnesses is one of the Christian denominations found in the United States. In fact, the religion's headquarters are located in Warwick, New York. However, populations of Jehovah's Witnesses are relatively small from state to state. Jehovah's Witnesses make up only 1% of the US population and more than 1% of the population in only five states. The state of Wyoming has the largest percentage of Jehovah's Witnesses at 3% of the population. 
States With Notable Jehovah's Witness Populations
The state of Wyoming has the highest percentage of Jehovah's Witnesses within the population at 3%. Washington, Rhode Island, New Hampshire, and Georgia all have population representing 2% of the state population. The remaining states have populations of Jehovah's Witnesses of 1% or less. New York, the state in which the church is headquartered, has a population of only 1%.
Demographics
The majority of Jehovah's Witnesses in the United States are 30 to 49 years old (34%) followed by 50 to 64 years old (29%). Women make up 65% in comparison to men at 35%. Race is fairly equally distributed with 36% White, 32% Latino, and 27% Black, however, Asians make up less than 1%. Interestingly, 48% of Jehovah's Witnesses have a household income of less than $30,000 and 63% have a high school degree as their highest level of education. 
Beliefs and History
This group of Christians is believed to have established itself in the US in the early 19th century. They are mostly identified through their evangelical mechanism of recruiting members by moving door to door. What makes Jehovah's Witness unique among the Christian groups is their teaching that Jesus is the son of God but not part of the Holy Trinity. They are also extremely dedication with 90% of members absolutely certain in their belief in God and rating religion as very important. In addition, 85% of members attend religious services and prayer groups at least once a week and 90% pray at least daily.
US States by Jehovah's Witness Population
| Rank | State | % Identifying as Jehovah's Witness (Source: PEW) |
| --- | --- | --- |
| 1 | Wyoming | 3% |
| 2 | Washington | 2% |
| 3 | Rhode Island | 2% |
| 4 | New Hampshire | 2% |
| 5 | Georgia | 2% |
| 6 | Kansas | 1% |
| 7 | Louisiana | 1% |
| 8 | Michigan | 1% |
| 9 | Montana | 1% |
| 10 | Nevada | 1% |
| 11 | New Jersey | 1% |
| 12 | New Mexico | 1% |
| 13 | New York | 1% |
| 14 | North Carolina | 1% |
| 15 | Ohio | 1% |
| 16 | Pennsylvania | 1% |
| 17 | South Carolina | 1% |
| 18 | Tennessee | 1% |
| 19 | Texas | 1% |
| 20 | Wisconsin | 1% |
| 21 | Illinois | 1% |
| 22 | Hawaii | 1% |
| 23 | Florida | 1% |
| 24 | California | 1% |
| 25 | Arizona | 1% |
| 26 | Alabama | < 1% |
| 27 | Alaska | < 1% |
| 28 | Arkansas | < 1% |
| 29 | Colorado | < 1% |
| 30 | Connecticut | < 1% |
| 31 | Delaware | < 1% |
| 32 | District of Columbia | < 1% |
| 33 | Idaho | < 1% |
| 34 | Indiana | < 1% |
| 35 | Iowa | < 1% |
| 36 | Kentucky | < 1% |
| 37 | Maine | < 1% |
| 38 | Maryland | < 1% |
| 39 | Massachusetts | < 1% |
| 40 | Minnesota | < 1% |
| 41 | Mississippi | < 1% |
| 42 | Missouri | < 1% |
| 43 | Nebraska | < 1% |
| 44 | North Dakota | < 1% |
| 45 | Oklahoma | < 1% |
| 46 | Oregon | < 1% |
| 47 | South Dakota | < 1% |
| 48 | Utah | < 1% |
| 49 | Vermont | < 1% |
| 50 | Virginia | < 1% |
| 51 | West Virginia | < 1% |