It is hard to resist the white sand beaches, steamy rainforests, and welcoming smiles of Thailand. So much so that 39,000,000 tourists visit Thailand each year, making it one of the most visited countries on earth. Thailand is flecked with alluring cities, but Bangkok and Chiang Mai are the heavyweights. A fierce competition exists between the two, both battling for the title of "best city in Thailand." Read below to find out more about these exceptional cities and decide which is your favorite. 
Bangkok
Thailand's buzzing capital city has a population of more than 8,000,000 people, and in 2019, the metropolis welcomed nearly 11,000,000 visitors. Get lost in the chaos of this sprawling city and uncover the charm that earned Bangkok the number one spot in Mastercard's 2017 "Global Destination Cities Index." But what makes Bangkok such a great city?
Old Meets New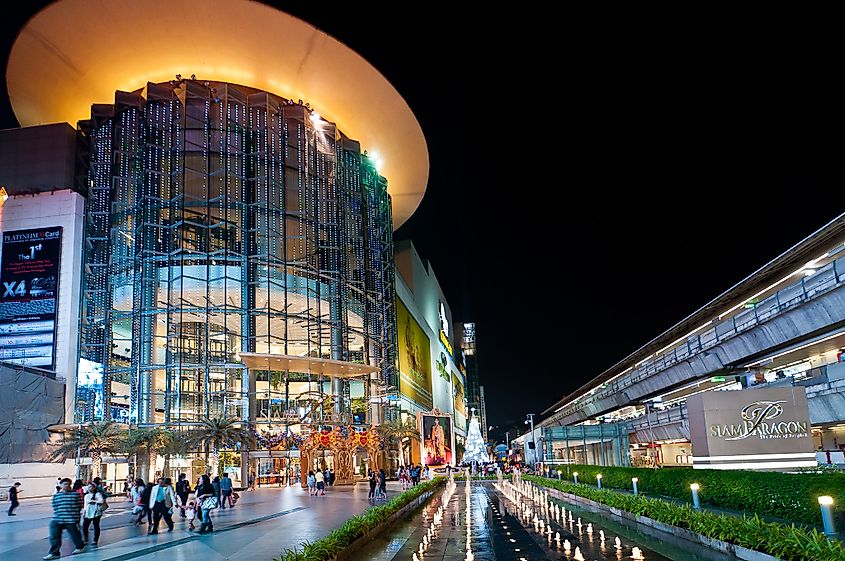 Ornate temples are tucked among soaring skyscrapers in this city of two halves. You can spend a morning in front of the mystifying reclining Buddha in Wat Pho, built in the 16th century it is one of Bangkok's oldest temples. Learn about the history of the temple and discover the intricacies of the eight-hectare complex, including Thailand's largest collection of Buddha images. A short trip via public transport will take you straight back to modern-day Bangkok. The sleek Siam Paragon Mall is one of the largest in Thailand; it is full of international and luxury brands. Shop until you drop or watch the latest movies at the on-site Cineplex.
 Incredible Food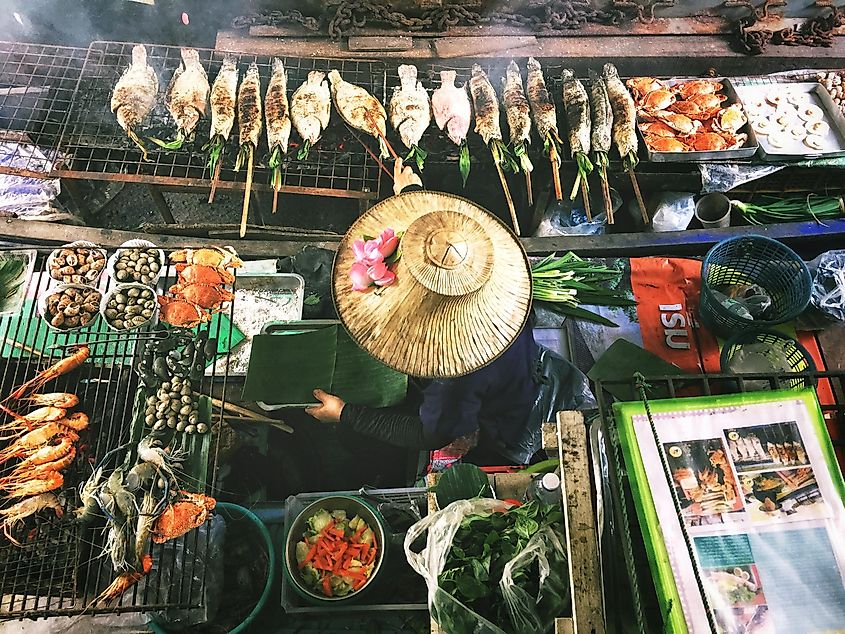 No matter what food you are craving, Bangkok has it all. The city is a melting pot of cultures and it is reflected in the variety of cuisines. Why not sample the flavors of France in Le Normandie restaurant? This elegant eatery has one Michelin star. Or, for an authentic taste of Thailand, look no further than the street stalls that line the roads where tasty Thai dishes are whipped up there and then. Try one of Bangkok's most loved dishes "Khao Gaeng." You can choose the curry, or if you are feeling adventurous, let the vendor choose for you.
Transportation Options
Bangkok spans a gigantic 605 square miles and it would be almost impossible to explore the whole city on foot. Luckily, Bangkok has great transport links that can take you to all four corners. From the reliable and modern Skytrain to traditional tuk-tuks, there are plenty of affordable options at your disposal.
The Markets
Bangkok is home to some of the best markets. With over 15,000 stalls, the Chatuchak Weekend Market is one of the largest open-air markets in the world. Get lost in the lanes and pick up antiques, fresh local produce, clothes, and accessories. If you want to avoid shopping in the heat, then try one of the many night markets.  For a unique shopping experience, visit Amphawa Floating Market. The best time to visit in the morning; take a longtail boat cruise and purchase local sweets from the vendors cruising down the canal.  
Chiang Mai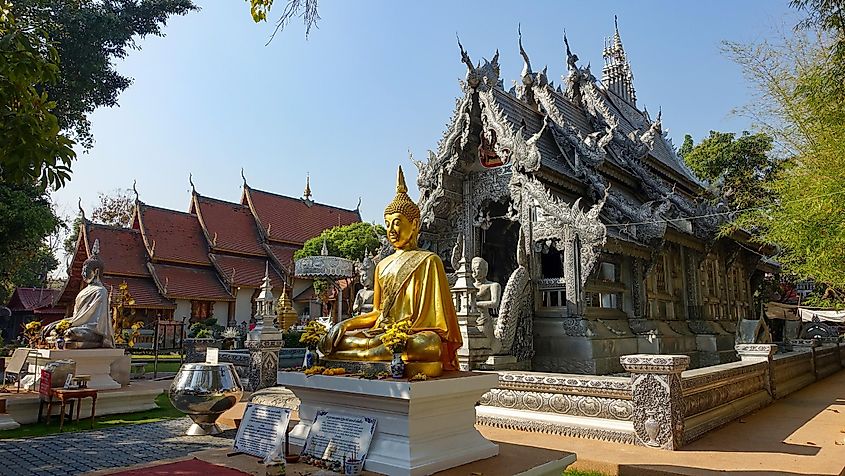 Get away from the throngs of crowds in Thailand's capital and head north to Chiang Mai. With a population of fewer than 200,000 people, it is a fraction of the size of Bangkok. Chiang Mai's relaxed culture and stunning landscapes make it a favorite getaway destination. Here are some of the best bits about Thailand's northern capital:
Day Trips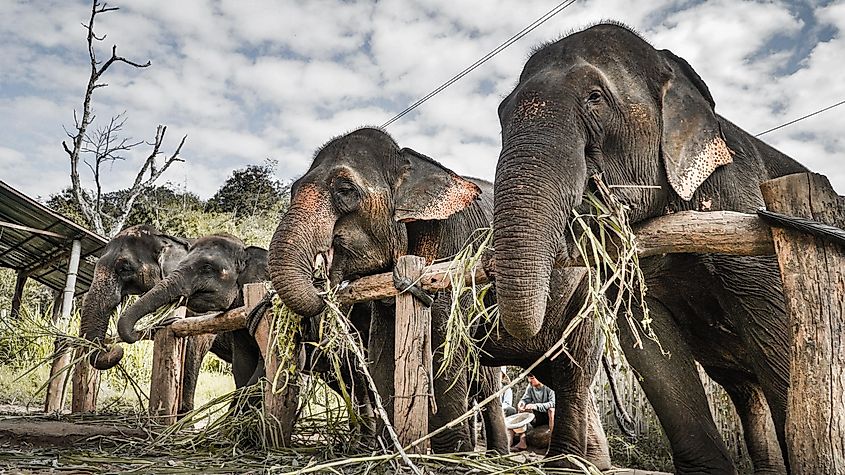 Even though Chiang Mai does not have the same intensity as Bangkok, a break from city life is always welcome. As Chiang Mai is situated between mountains, there are plenty of opportunities to get close to nature. Take a day trip to Mae Wang National Park: Trek through the luscious jungles, pass by thundering waterfalls and become acquainted with the Karen Hill tribe. Guided tours are available or you can go it alone; outdoors enthusiasts should embark on a trek of Doi Pha Tang mountain. For those who want to brush up on their culture and history knowledge, embark on excursions to the magnificent White Temple and the White Buddha On Top Of The Hill.
Weather
Like Bangkok, Chiang Mai has warm weather all year round. However, it does not suffer the same intense heat as the capital. The best time of year to visit Chiang Mai is from October to April when it is pleasantly cool and highs average around 87°F. April is the city's hottest month, but if you visit during this time, you will get to cool off during Songkran – a huge water fight that celebrates Thai New Year.
Affordability
Chiang Mai is considerably cheaper than Bangkok, so you will not break the bank if you spend time here. Accommodation is much more reasonable in Chiang Mai, and you can stay in contemporary apartments and up-market hotels for a good price. As the city is quite compact, you will not spend much on transportation. Walking is encouraged in order to discover the city's coveted restaurants and ancient temples.
Tasty Cuisine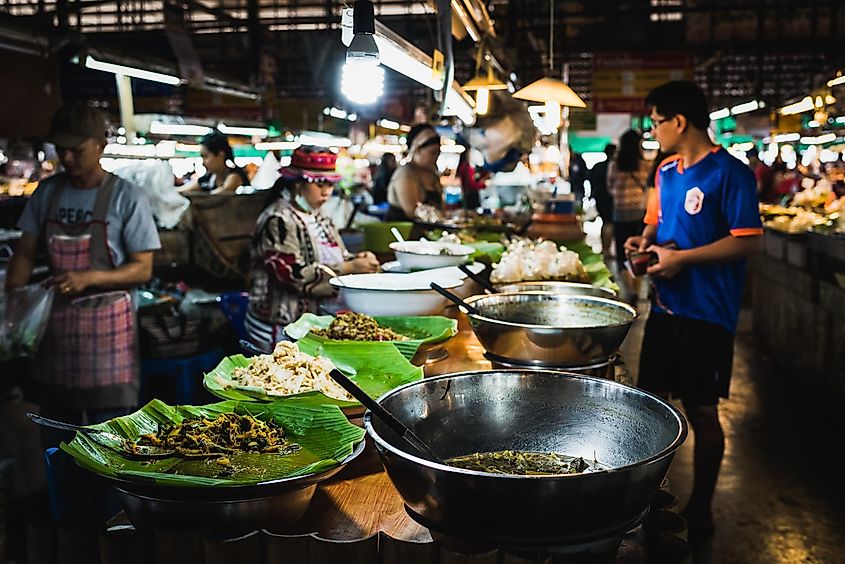 The cuisine from the north of Thailand is some of the best in the whole country. Many of the dishes draw influence from neighboring counties, specifically Myanmar and India, providing the meals with a richer taste; a mellow contrast to the fiery flavors that most visitors are familiar with. Try the famous Khao Soi, regarded as Chiang Mai's greatest dish it is a creamy and tangy soup that is typically served with braised meat and topped with crispy noodles. You can find this dish in any restaurant and street stall across the city.