Ecological Regions Of Thailand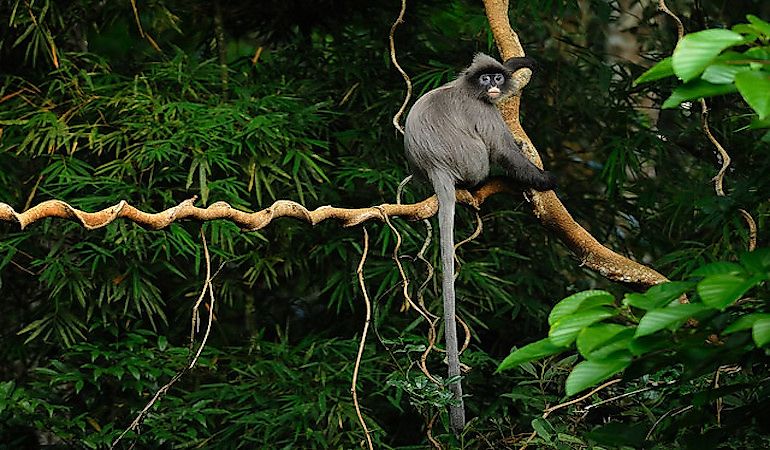 Thailand
Thailand is a Southeast Asian country located in the middle of the Indochinese Peninsula. It shares borders with Myanmar, Cambodia, Laos, Malaysia, the Gulf of Thailand, and the Andaman Sea. The country is made up of 198,120 square miles that encompass everything from mountains and river valleys to forests, and coastal areas. Thailand is rich in wildlife and has nine distinct ecological regions within three different biomes. This article takes a look at these areas.
Tropical And Subtropical Moist Broadleaf Forest
Tropical and subtropical moist broadleaf forests are typically located along the equatorial belt and experience variable temperatures and high levels of precipitation. The forests contain both evergreen and deciduous trees. In Thailand, the ecological regions within this biome include Kayah-Karen Montane Rainforests, Northern Indochina Subtropical Forests, Tenasserim-South Thailand Semi-Evergreen Rainforests, Cardamom Mountains Moist Forests, Peninsular Malaysian Lowland and Mountain Forests, and Central Indochina Dry Forests.
In many of these eco-regions, the Tenasserim Pine tree dominates; although, the Cardamom Mountains are home to an endangered canopy tree, the Hopea pierrei. These regions provide homes to many endangered animals including the Asian elephant, Indochinese tiger, clouded leopard, Malayan sun bear, and Sumatran rhinoceros. While much of the region is protected by a national park and national reserve status, it is still at risk due to human activity such as deforestation, livestock grazing, crop cultivation, and excessive burning. Some larger animals, like those mentioned, are at risk due to hunting and poaching activities.
Freshwater Ecology
The freshwater biome includes the Mekong River and the Salween River ecological regions in Thailand. Freshwater biomes are characterized by systems of rivers, lakes, streams, coastal rivers, floodplains, and wetlands. The Mekong River, the 12th longest in the world, has the second richest level of biodiversity of any other region globally. The area is home to 20,000 plant species, 1,200 bird species, 430 mammal species, 850 freshwater fish species, and a combined total of 800 reptile and amphibian species.
Researchers are constantly discovering more plants and animals in this ecological region. Some of these creatures are endangered including the Irrawaddy dolphin (only 85 left), Siamese crocodile, and the smooth-coated otter. The Salween River region is also rich in biodiversity and includes three different protected areas, 2 of which are in Thailand. These areas are home to teak trees, Asian redwoods, and cherrywood. The area has suffered due to logging activities which strip the local fauna of their homes and contributes to the widespread erosion of the soil. Additionally, damming in several places along the river has changed the landscape and the environment.
Marine Ecology
The marine biome includes the Andaman Sea ecological region. This area is a popular tourist destination due to its extensive coral reef system and also supports the fishing and sea-trade industries which cause damage to the flora and fauna living here. Both human and natural activities (like tsunamis) have degraded and reduced the natural areas in this region. Along the coastlines of the sea are diverse mangrove forests and seagrass meadows which help prevent erosion and clouding of the waters as well as provides shelter for predators and various fish species. Endangered dolphins, leatherback turtles, hawksbill turtles, green turtles, and Olive Ridley turtles make their homes here.
Ecological Regions Of Thailand
| Rank | Ecological Regions of Thailand | Biome |
| --- | --- | --- |
| 1 | Kayah-Karen Montane Rainforests | Tropical and Subtropical Moist Broadleaf Forests |
| 2 | Northern Indochina Subtropical Forests | Tropical and Subtropical Moist Broadleaf Forests |
| 3 | Tenasserim-South Thailand Semi-Evergreen Rainforests | Tropical and Subtropical Moist Broadleaf Forests |
| 4 | Cardamom Mountains Moist Forests | Tropical and Subtropical Moist Broadleaf Forests |
| 5 | Peninsular Malaysian Lowland and Mountain Forests | Tropical and Subtropical Moist Broadleaf Forests |
| 6 | Central Indochina Dry Forests | Tropical and Subtropical Dry Broadleaf Forests |
| 7 | Mekong River | Freshwater |
| 8 | Salween River | Freshwater |
| 9 | Andaman Sea | Marine |