Top Titanium Producing Countries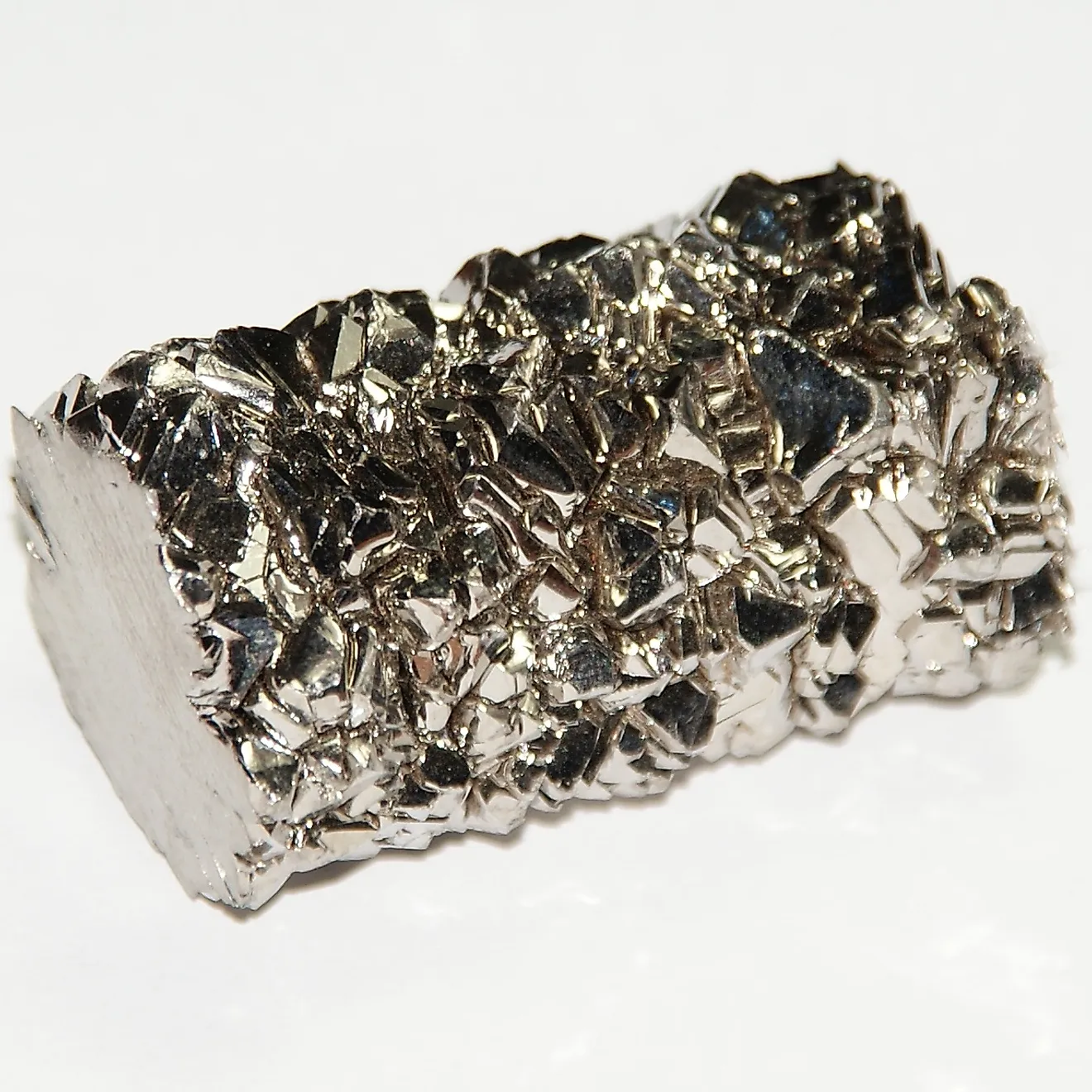 Titanium is a metallic element that occurs with a number of other mineral deposits and is widely distributed across the Earth's crust. Titanium is known for its high strength to weight ratio and has a low density. It has a metallic white color and is lustrous. It is a refractory metal due to its relatively high melting point, oxidizes immediately upon exposure to air and is on of the few elements that burn in pure nitrogen gas. Extracting titanium is difficult and costly and the most efficient way to produce it is using the Kroll process.
Top Titanium Producers
6. India
India produces the sixth most titanium in the world at 500 metric tons in 2013. India is home to major rutile deposits which are one of the primary minerals that bear titanium. There are abundant reserves of these deposits in concentrated producing areas, but they feature a lower grade of titanium concentrates than other primary minerals.
5. Ukraine
Ukraine produces the fifth most titanium in the world at 10,000 metric tons in 2013. The titanium industry consists of ilmenite and rutile production, titanium sponge production at the Zaporozhye Titanium & Magnesium Combine (ZTMK) and titanium ingot production by a few different smaller producers.
4. Kazakhstan
Kazakhstan produces the fourth most titanium in the world at 27,000 metric tons in 2013. In eastern Kazakhstan, over the last few years, large titanium ore deposits have been discovered. In recent years Kazakhstan has attracted international attention for its abundance of minerals and metals, with titanium being no exception. In 2010 a South Korean company POSCO announced they were working with UKTMP Kazakhstan to increase titanium production.
3. Japan
Japan produces the third most titanium in the world at 40,000 metric tons in 2013. The Kabasawa mine located by the city of Sendai, in the Tohoku region produces titanium. Japan mainly produces titanium by producing titanium sponge and the Osaka Titanium Technologies Corporation is the world's second largest producer of this product.
2. Russia
Russia produces the second most titanium in the world at 45,000 metric tons in 2013. Three of the largest titanium mines in Russia are the Pudozhsky mine in the Republic of Karelia, the Ruchar mine in the Far Eastern Federal District and the Yugo-Vostochnaya Gremyakha mine in the Murmansk Oblast. In 2010 Russia announced the Titanium Valley, which is a planned special economic zone in Sverdlovsk Oblast to focus on creating titanium products. This SEZ will be headed by the world's largest titanium producer, Russian company VSMPO-AVISMA.
1. China
China produces the highest amount of titanium in the world at 100,000 metric tons in 2013, twice as much as Russia and Japan combined. China has found titanium resources across 108 mine fields in 21 provinces, autonomous regions, and municipalities. Sichuan province is the main titanium producing area in the country, China also has the world's largest titanium reserves, with the main source being from llmenite.
The Applications Of Titanium
Titanium has many different applications. The common compounds of titanium dioxide, titanium tetrachloride, and titanium trichloride are used in white pigments, smoke screens, and the production of polypropylene. Titanium can be alloyed with many other elements, like iron, aluminum, and more. When alloyed with these other elements, titanium can be used to produce alloys for jet engines, spacecraft, jet engines, jewelry, mobile phones, cars, medical and dental implants and so much more.
Top Titanium Producing Countries
| Rank | Country | Titanium Production (in metric tons), 2013 |
| --- | --- | --- |
| 1 | China | 100,000 |
| 2 | Russia | 45,000 |
| 3 | Japan | 40,000 |
| 4 | Kazakhstan | 27,000 |
| 5 | Ukraine | 10,000 |
| 6 | India | 500 |