Economics
Top Copper Producing Countries In The World
Chile is the world's largest producer of copper, followed by China and Peru.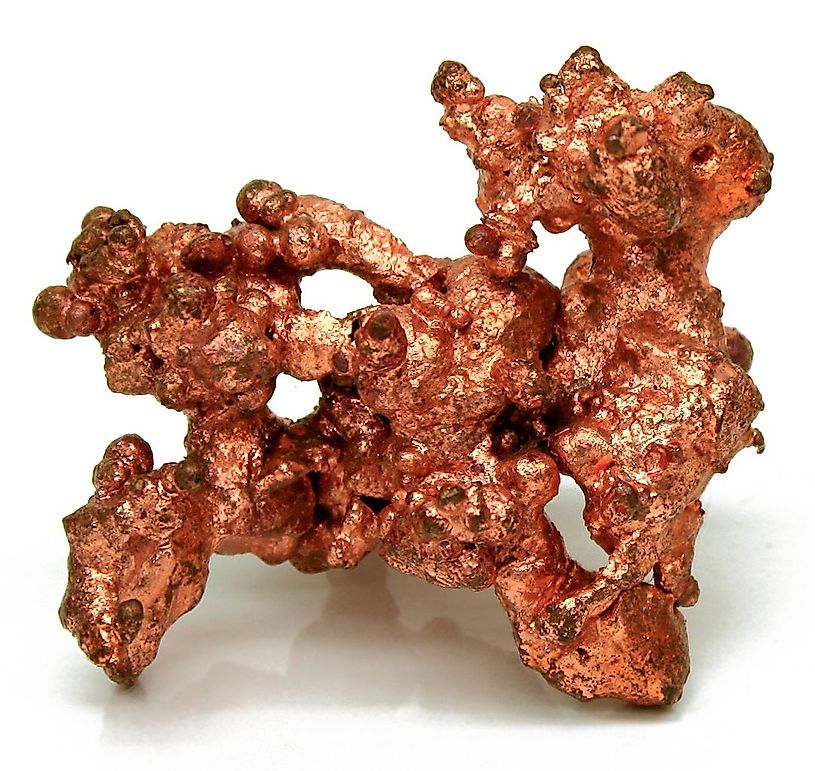 Copper is a naturally occurring metal that gives off a stunning reddish-orange metallic color when polished. Its chemical symbol is Cu, and atomic number is 29. Mining operations extract copper from the ground via open pit mines. Once the copper-containing earth is extracted, the extract is ground to fine ore and put through a froth flotation process. This process combines the ore with water and a collector chemical that makes copper hydrophobic (a condition which repels water). Air bubbles are introduced into the slurry mixture and the now hydrophobic copper rises to the top with the foam. The froth is removed and contains a copper concentration which can be exported or further refined for industrial uses.
Top Copper Producers
Chile
The top producers of copper are found throughout the world. The number one producer is Chile, a South American country. Chile produces 5,750,000 tons of copper annually. The country attracted foreign private investments in the 90's when the government passed a mining law that compensation regulations for the case of mine nationalisation.
China
The second top producer is China, though the copper mining industry here is nowhere near the production capacity of Chile. Copper production in China reaches 1,760,000 tonnes per year. This country is the largest consumer of copper.
Peru
With its sights set on beating China in copper production, Peru came close to that goal. At number 3, this country produces around 1,380,000 tonnes per year. Production has increased over the last decade with China being the top importer of Peruvian copper.
United States
Close to the production rates of Peru, the United States takes the fourth position in copper mining. This country extracts 1,360,000 tonnes of copper every year. Mines are located in several southwestern states including Arizona, Utah, New Mexico, Nevada, and further north in Montana. The demand for copper in the US comes from the construction industry.
The Democratic Republic of Congo
The fifth largest copper producer in the world is the Democratic Republic of Congo at 1,030,000 tonnes annually. Though the DRC does not have the highest production rate, the second largest copper reserves in the world can be found within its borders. The slightly lower production here may be explained by a lack of appropriate technology.
Australia
Following the DRC is Australia. Production levels of 970,000 tonnes annually make Australia number 6. The majority of copper deposits are located in Southern Australia and also contain uranium and gold. The second large mining location is Mount Isa which is one of the biggest underground mines in the world.
Russia
In 7th place, Russia produces 742,000 tonnes of copper. Russia is running into a problem with depleting resources and no new reserve discoveries to take their place. One example is the top producer of copper, the Norilsk Nickel mine. This mine focuses on nickel but extracts copper during the froth flotation process. Since its nickel reserve is running out of the mineral, the company will extract more copper heavy ore in an attempt to maintain its nickel production. This act could possibly increase copper production for Russia, though not by much.
Zambia
The remaining top copper producers are Zambia (708,000 tonnes), Canada (696,000 tonnes), and Mexico (515,000 tonnes). Many of the countries on this list rely heavily on mining and extract other metals and minerals.
Copper Applications
Copper is useful in many applications, but the primary use is in electrical wiring. Theis is because copper makes an excellent electrical conduit. The roofing and plumbing industry also has a high demand for copper as well as industrial machinery. This metal has other uses; for instance, copper paint is used to prevent plant growth on boats and fungicides for agricultural use require copper content.
Which Country Produces the Most Copper?
Chile produces more copper than any country in the world, followed by Peru, China, and the United States. In Chile alone, there are around 5,750 thousand tons of copper produced every year.
The Top Copper Producing Countries In The World
| Rank | Country | Copper Production (in thousand tonnes), 2014 |
| --- | --- | --- |
| 1 | Chile | 5,750 |
| 2 | China | 1,760 |
| 3 | Peru | 1,380 |
| 4 | United States | 1,360 |
| 5 | Democratic Republic of Congo | 1,030 |
| 6 | Australia | 970 |
| 7 | Russia | 742 |
| 8 | Zambia | 708 |
| 9 | Canada | 696 |
| 10 | Mexico | 515 |
About the Author
Amber is a freelance writer, English as a foreign language teacher, and Spanish-English translator. She lives with her husband and 3 cats.
This page was last updated on April 25, 2017.
Citations
Your MLA Citation
Your APA Citation
Your Chicago Citation
Your Harvard Citation
Remember to italicize the title of this article in your Harvard citation.